KTM 2016 200-500EXC ,W ,F
.
1)
For all the KTM PDS (No LINK) and WP bikes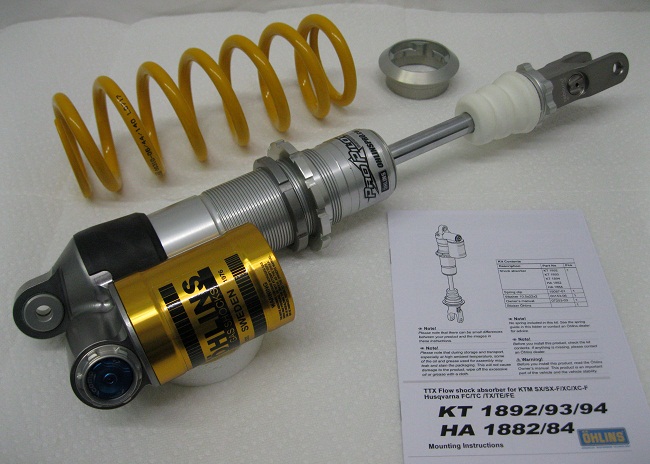 2)
BAM! The New 2018 …Whooop-there-It-IS! ~ 
(we call them regular non 4CS WP Fork and non link bikes category) KTM bikes 200-500 EXC,W,F
The 2016 Ktm's offroad side stays with the No link PDS Style Shocks from the past and the WP open chamber fork design but updates the front axle from the 26mm to the 22mm and reduce the offset by 2mm (like the motocross SX got a couple years ago and the XC Link bikes now) got it? good! (see below…)

You can Revalve and Respring the stock WP to better suit your needs or replace some or all as shown below with options many people do.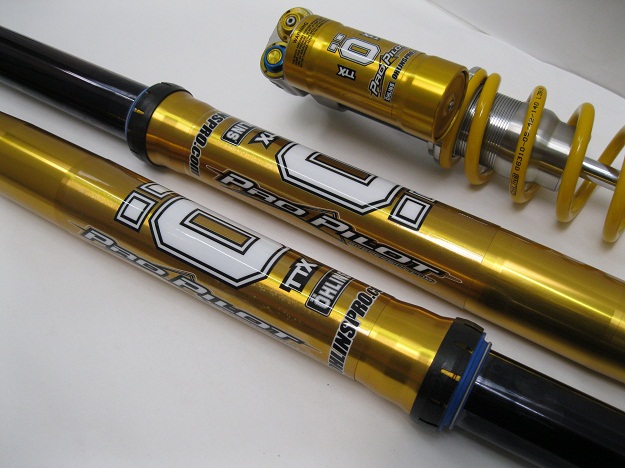 2)
2016 …..   GAME CHANGER!

We know dirt!
Our state is the home of  KTM's 8-Time AMA National Enduro Champion, 3-Time ISDE Gold Medalist, and the XC-1 Atlantic grand Prix Champion among many others including many AMA multi time National Number Motocross racers, and many Adventure Rides including the Pine Barrons 500.

With a "No-Link" design you really want the shock to be working exceptionally well.
3)
Then you need to ONLY have them Serviced on One of these below … (see videos condensed below)….
4)
The ONLY way to professionally get 100% of the air from Shocks and Forks is to use these Machines. They have too many passages to try any other method.

So ANY WP Shock Must be Factory Vac  built to be correct at routine service intervals.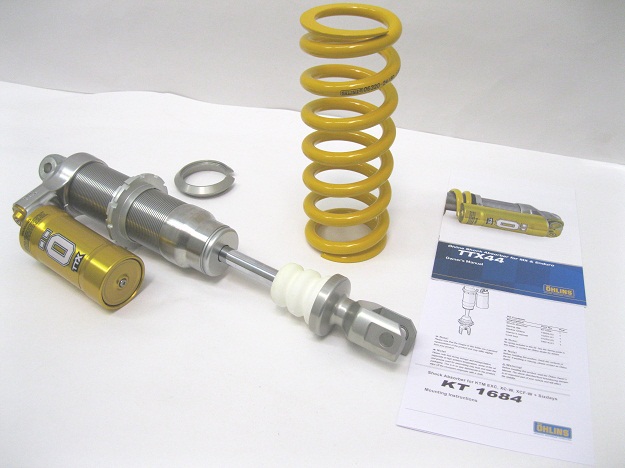 5)
2016 KTM Ohlins TTX Shock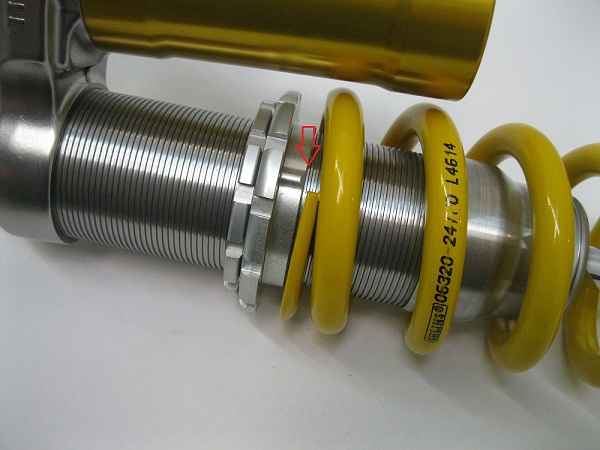 6)
Ohlins 2016 guided Aluminum spring spanners Not plastic! like the WP.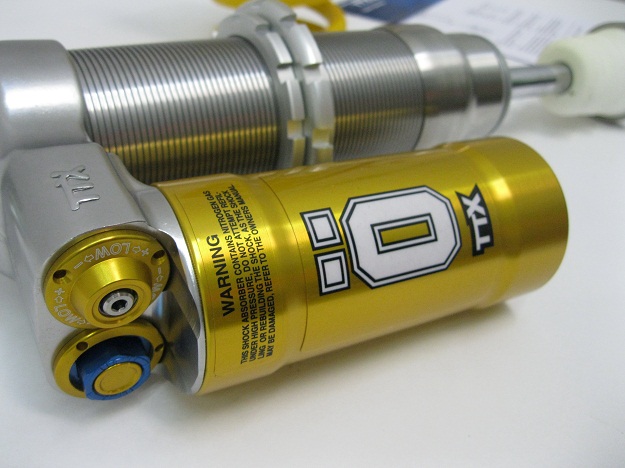 7)
Independent TTx Ohlins HI/Lo Circuits and twin wall directional fluid flow design (see below…).

 8)
The Ohlins TTX Twin wall PDS shock about 1.5 lbs lighter than Stock WP PDS in this example, and see below about the unique design features that make them work like no other shock.

( That's a big difference where weight matters most !  )

9)
Wp PDS shock about 9.5 lbs  (about 1.5 lbs more than Ohlins TTX PDS in this example)
10)
WP / PDS  Rebound Adjuster Cap with improved sealing  (helps eliminate seized rebound adjusters) common after a while exposed to the eliments.

11)
Ohlins 2016 KTM Shock bottom bracket.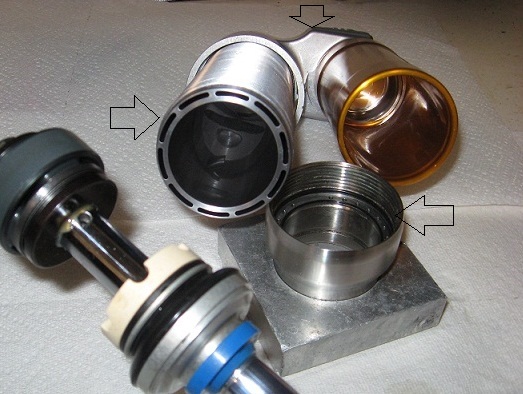 12)
Top Secret Spy Photos!
Arrows showing the Ohlins Twin wall TTX, directional fluid flow with the twin wall body, tapered end cone with matching passages, and top cylinder head passages where fluid passes through the double adjusters in a planned and metered direction.  (See our TTx Shock page for more info).
The Ohlins shock has a major improvement in ride quality by providing a much improved pressure balance within the shock as it goes back and forth and the fluid even lasts longer by this design.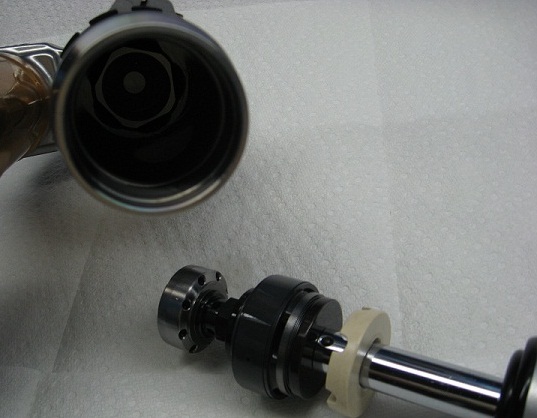 13)
Ohlins TTX PDS "Top Secret Spy photo's"
Many Ohlins designs have Dual Piston (Position and speed sensitive) Look closely into cylinder tube to show tapered end cup that position sensitive piston tapers into, the Twin wall TTx Design with tapered body end cone and matching cylinder head holes is very unique so the feel of Ohlins TTx PDS shocks is incredible over other brands.
14)
Above Left WP New 22m Fork Axle and new offset and  Above Right Ohlins already has them.

The motocross KTM bikes changed to the 22mm front axle and 2mm less offset a couple years ago but use the WP 4CS Fork.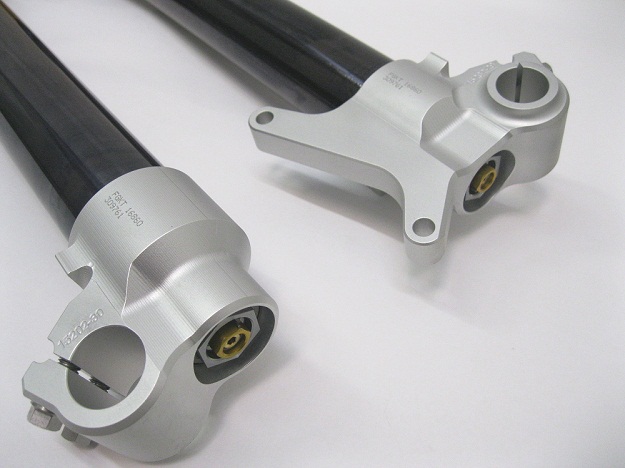 15)
2016 KTM Ohlins 48RXF Fork Bottoms
16)
Above this is the WP fork found on the KTM offroad bikes that are PDS no link bikes, it is the traditional WP open chamber design front the past.
You can Revalve and Respring both Front and Rear WP to better suit them for your needs.
17)
Ohlins has a full Cartridge TTx and Spring Kits to replace everything inside your Wp Fork shells, it is similar to things found in the whole Ohlins 48 RXF fork but you don't get the cool Ohlin's Shells and DLC tubes or machined axle lugs.

The whole Ohlin's fork does improve function even over the TTx guts Kit because of the stantion shape and bushing design and a few other things that even make the whole fork option some what better.
18)
Unlike traditional fork Cartridges this Ohlins TTx Twin Wall design is very unique similar to TTx Ohlins Shocks with twin Piston and twin tube design with more directional fluid flow, less cavitation, and more equal pressure balance through shims and pistons.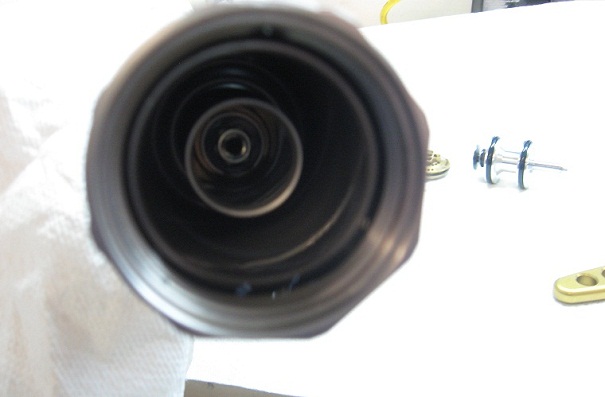 19)
These Struts have a tunable internal pressurized floating Twin piston (Shown in background) and True Twin wall TTx Design features within each strut for ultimate improvement not found with a basic single tube cartridges found on all OEM forks.
20)
Ohlins Ktm 48 RXF Fork Complete Fork Set upgrade

( Easy Owner install these fit in standard triple clamps, uses all standard  axle, plastic guards, calipers,etc.)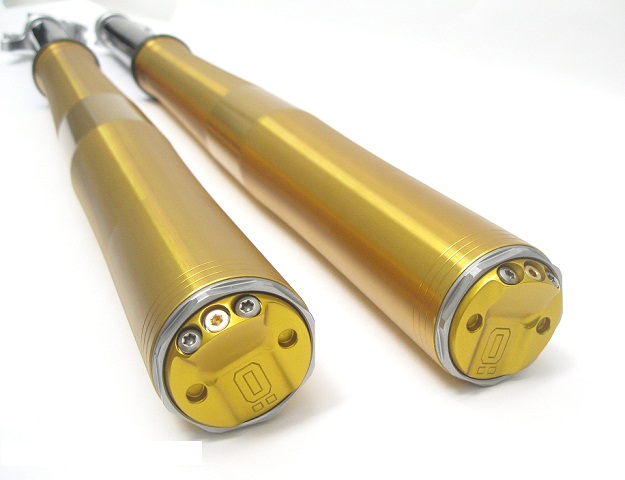 21)
Above these are the 2016 Ohlins 48 RXF Fork, they slip right into stock triple clamps and use the same front axle, wheel , brakes , plastic as KTM.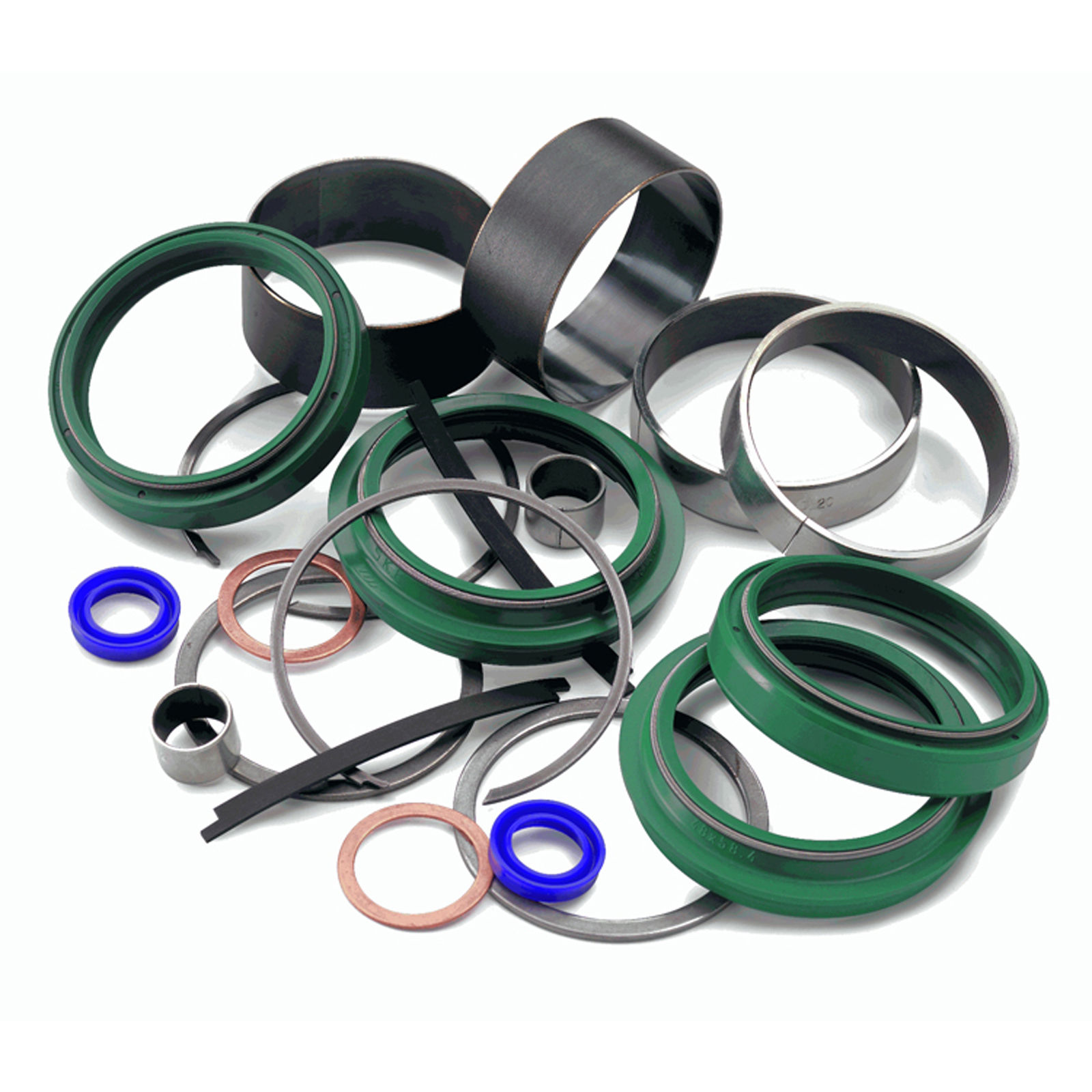 22)
Popular SKF Newest Seals, Wiper Seals and bushings offer less stiction and new design features to improve on the stock stuff, they should be replace often.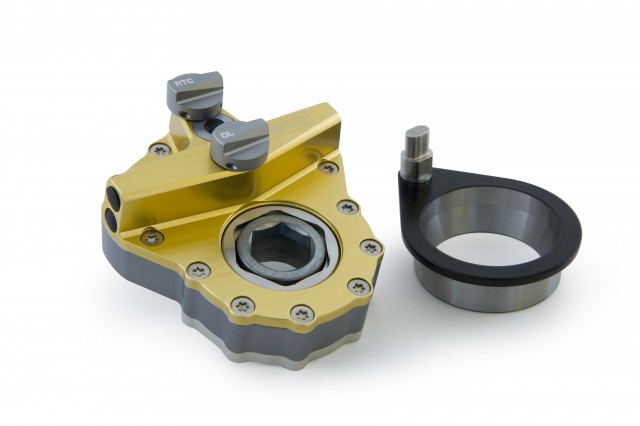 23)
Ohlins Steering Damper 2.1 the Best KTM Damper Available!
Once you use one you may never ride without one again, they are that nice.

You can keep the damper and purchase other bike mounts for future.
They dampen out from center, then zero back, very cool!
 24)
This is by far the best damper in the industry for these applications!
No Need to change Expensive Handlebar  Risers, Bars, or Triple Clamps!
Which is really nice when you have that stuff where you like.

The Hex Nut shown (above) has Black Round Dust cap and that goes where the stem nut would be.
25)
2016 KTM 500EXC
26)
2016 KTM 250XCW
27)
2016 KTM 250XCF-W
28)
2016 KTM 350EXC-F
29)
2016 KTM 300 XCW