KTM 1190 Adventure R
To clarify an always asked question,
Ohlin's the real brand and great company does not make a whole shock or fork sitting on the shelf  for the KTM 1190 Adventure R at this time even though you may find a "Frankenstien Mess" somewhere with the "O" logo and chop shop backyard-ass parts that are non-reverseable machining to try to say so, and priced well over $5000.00!(ouch!).

The best other options are found below that maintain the integrity of all brands, without any cutting, machining, chopping, or hacking, removing  catalytic, or reducing fork overlap, so to date these are the best options to consider:
.
ALL SOLD-OUT! (Snooze-u-loose!)
(Summary of below on the  KTM 1190 R to date)
A Touratech Extreme two piston (PDS Design Style) shock with correct spring and Hi/Lo Compression and rebound adjustment is still the best production shock made right now (see why below…)

Touratech is made by Tractive in the Netherlands for the USA ,which for many that don't know is a WP on steroids, when WP moved with KTM to Austria in 2010, most all of the best and brightest top ten WP engineers with the most experience over 100 years combined, stayed in the home country and started Tractive group which private labels shocks and products to various countries worldwide.

The stock Wp Forks you can Respring and Revalve, with the stamped steel cartridge that's outdated, and still do a mild update Revalve to Stock Wp Shock at an affordable price, that's just a start for around ~?
(See Below…. For Details On Each)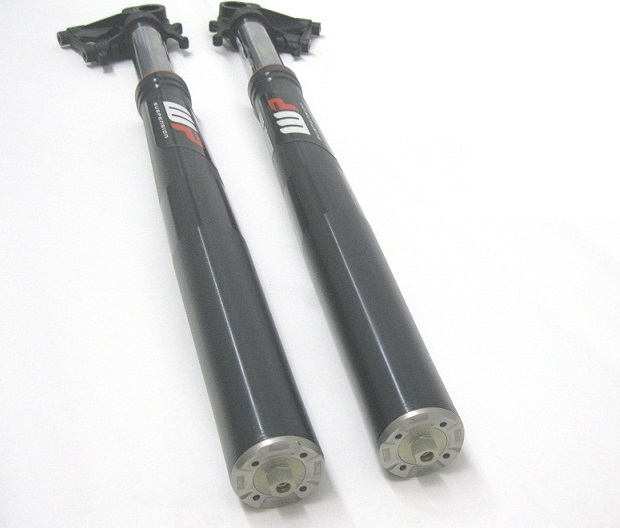 1)
(see below …)
(No Machining required and 100% reverseable, easily installed by others)

2)
Install springs, add fluid, set adjusters and enjoy , and follow KTM  manual regarding forks (See below details pics and specs….)
When forks are off bike, most customers can install in less than 30 minutes!
Left stuff in left leg, right stuff in right leg, Add fluid (about 675cc per leg but use overfill and draw out method, not this amount always) but will need more to work with (so say 2 liters to be on hand),  go up and down with inner rod like any fork, bottom rod and shell, set fluid height as desired like any other WP style, install spring and guide, connect rebound rod and cap per manual, put back on bike as  Ktm Manual instructions in fork height flush to 5mm (see below pic #26…) best.

(See below for complete Tech and details Pics…skip down to pic# 12 + for fork stuff..)

3)
The KTM 1190 Adventure R is designed to be slightly more "off road" then it's luxury competition but lacks tremendously in the suspension department.
Even while stripped down any slightly aggressive off road adventure rider will bottom and blow through the marsh mellow 220mm standard travel very easily, the forks even more than the shock but both regularly.

It seems as if their target rider weight was only 160lbs! or an adventurer that has very mellow skills, but it's a very cool bike.

4)
Add 58+lbs empty racks with side bags and the kitchen sink to the already porky 526+lb beast and the handling becomes an eye opening experience (ABS version even heavier!) so "G"-Outs serious off roading is a bender!

Our state is the home of  KTM's 8-Time AMA National Enduro Champion, 3-Time ISDE Gold Medalist, and the XC-1 Atlantic grand Prix Champion among many others including many AMA multi time National Number Motocross racers, and many Adventure Rides including the Pine Barrons 500.
We have every condition with in a three hour radius North and South from slippery five gallon gas can size  rocks on mountains to neck deep sand in strip mining pits with handle bar deep whoops, top soil chop in the middle of the state, from tight and twisty to wide open sand and gravel pit mines with hills, and traditional old school fat bump, hacked out, rooty, square edged over ridden top secret riding spots.

We know Dirt!
5)
(Touratech Extreme Shock)
We sell the Touratech "EXTREME" shock with your choice of spring rate, the key feature is the dual piston design "PDS" style anti bottoming engineering  along with both Hi and Lo Compression adjust with rebound and a 15mm spring preloader.

It has a very heavy duty 46mm body and 16mm shaft with a much better overall design for improvements of every other function, heavier riders or loading may also go up on spring rate only as needed.

You can't add the design features of a the "Extreme Touratech" shock to the stock WP shock that comes on the bike, so only a revalve, traditional service, or spring update is available for that one and hope for the best if that's the budget.

6)
This shock has a duel piston design (PDS) so it has excellent bottom out control while improved quality and function over the stock WP Shocks basic design from the past.
The "position" sensitive first piston knows when shock is near bottoming and works to control it, while the "speed" sensitive main piston provides superior function for the rest.
7)
It has both Hi and Lo Speed compression adjustment circuits with 24 clicks of each and rebound  26 clicks of adjustment range.

Great features the stock WP shock does not have to further your usable range.
8)
The hydraulic remote preloader has a tremendous range with a 15 mm hydraulic spring preloader.
So when using the preloader it would add 15 mm to what spring preload you already would have on the spring for ease of tuning when loading.

However, most Touratech shocks we see, the solo base line settings eat up 5mm to start so you really only get 10mm more (just say'en…), you may find setting the preloader mostly all of the way in except 5 turns with cases loaded when in use and a heavy spring still pretty close to almost perfect or at least greatly improved.

9)
(above is the KTM 1190R Shock shown)
10)
11)
__________________________________________________________________
(Below)
The Ohlins CARTRIDGE PARTS Kit is LARGER at 30mm over the Touratech
It has more preload adjustment at 20mm, and both Compression and rebound adjustable as well.
(plus SKF Seals or wear parts as needed)
below you can see other options on what people are buying on their own, with WP Springs that offer heavier ranges than Ohlins series currently
(subject to change we suppose?)
12)

So above shows Left leg stuff (Blue arrow at cartridge and Cap is marked Compression leg).
The right leg stuff (Red arrow at Cartridge very end is marked and Cap Rebound leg) so its that simple to ship.
Most common is to start with 10wt both at 130mm, faster or larger riders that are "whoop-monsters" may go with 120mm to start. (120mm-160mm is a range that most are in, the preload adjustable caps have twice the range than stock WP , so common to add 6 full turn (about 20 turns possible or 20mm range of added effect.
Most common to set the top left compression at 10/11 clicks out and the rebound at 8/9 clicks outs, people use different weight fluids for personal preference from 5wt to 15wt and either in any leg, so heavier compression try 12.5wt over 10wt, etc.
Once installed back on bike as per owners manuals, set fork height in triple clamps flush, is very common, (see pic #26 below …) up to 5mm only, or anywhere between those is best.
Technically the travel can increase slightly, by nature of internal top out spring and primary spring preload relationship, most run their forks "flush or 5mm max at stantion and triple clamps (See Below..)
13)
KTM 1190R
14)
What can you do with a bunch of stock OHLINS and WP parts with NO MACHINING REQUIRED and 100% Reversable?…………Hmmmm….
What if someone provided what goes in the Left Leg and what goes in the Right Leg and a better set of WP /Ohlins Springs……….Hmmmmmm… 
The stock forks are very soft and could use a revalve and optional firmer fork springs and fluid to say the least!, but see below for what else you may do.

The Standard  KTM 1190R WP Forks (below)
They can be ReValved and sprung for some improvements, but see below for  other stuff…

15)
The standard 2015 WP is very basic with stamped steel cartridges and almost no anti bottoming control.
This design is circa 1987~2007 EXC ktm Enduro/ mx design before the many updated 4CS Wp 48 stuff hit the market in mx 2015-on ,
These forks still have a stamped steel small scale cartridge  from the pre-historic days! .

WP left leg compression, right leg rebound with smallish style main pistons are 22.83mm diameter, the claimed stock fork springs are a 5.5n/m and have almost no anti bottom out cones.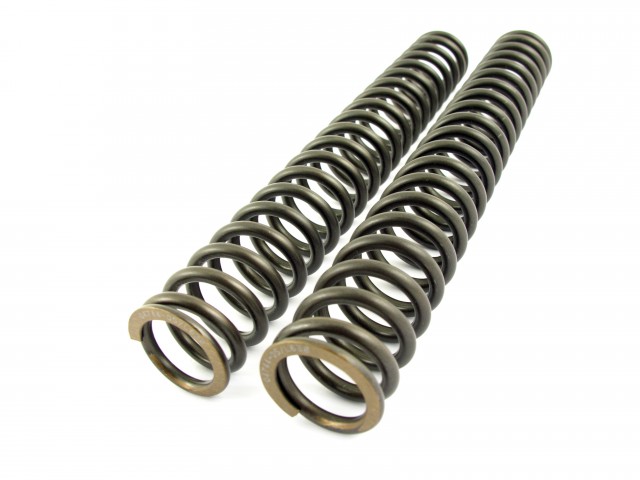 16)
Popular springs can be form the stock 5.5n to 5.8n/6.0n/6.4n/6.9n.
We prefer a true to length high quality spring that is a straight rate for best results.
(plus SKF Seals or wear parts as needed) see more below at BLUE ARROWS…

Reminder these are all Ohlins and WP parts with NO MACHINING REQUIRED and 100% REVERSABLE  so nothing to chop, paste, or waste!.
17)
You could order a bunch of parts with No machining and put together a kit for yourself if you were to know what you were doing.

Shown above, the massive Ohlin's style on he left (blue arrows) 30mm kit with giant 4 port piston kit verses the stock WP (red Arrows) 22.43mm  three  port piston and stamped steel cartridge is on right, pretty wimpy!.
You could perhaps put in the left leg and the other stuff in the right leg?

18)

hmmm….
19)
The WP wimpy steel cartridge (red arrows) with small cone that is not really a tapered cone much at all for
"whimpy at best" anti bottoming control.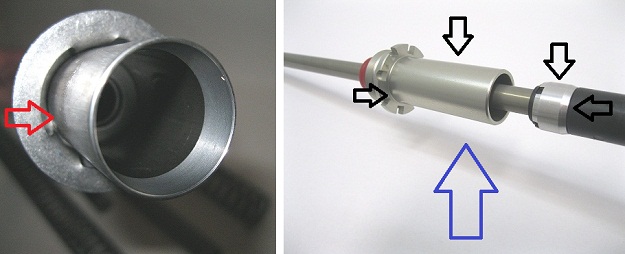 20)
The red arrow (Left) shows the stock steel WP, right (blue arrow) Ohlins 55mm tapered anti bottoming cone with really nice piston.  So when the one thing goes into other thing, some of the magic happens.
Blue arrows show Ohlins style tapered 55 mm deep anti bottoming cones, that would be much better resistance to the clunk outs and a fatty mombo 34.48 Aluminum Cartridge O.D.!

The Ohlins 30mm 4 port monster piston, valving and total Displacement Rod Charge generates much more increased damping control by design.
21)
Ohlins style 30mm giant four piston kits verses WP stamped 3 port piston.
22)
WP (red arrows) left and Ohlin's style right (blue arrows).
23)
WP cap has about 10 turns for 10mm preload adjustment (red arrows)
The Ohlins style (blue arrows) has about 20 turns and 20mm preload adjustable range (so that's  TWICE as much preloader range at about 20mm).

(Note:)
True fork spring preload is harder to measure because of the stock WP 57mm inner top out spring as shown above but basically when all together the main spring is smushed 25mm of preload at caps "all Off " preload position, and  10 turns range adds 10mm more at max "all iN " position.
So like many applications with an inner top out spring of some kind or length, the tighter the preloader the more or less the fork length can ever so slightly "grow" because of the top out spring and the choice of what ever main spring you are using, when your preloader caps are all in or all out.

So also the fork spring rate choice (firmer or softer) of what rate best suits your needs also allows the front fork rider on sag to be more or less, so all that stuff said, a firmer rate with a certain preload and inner top out spring reflects the finished result, got it? ~good.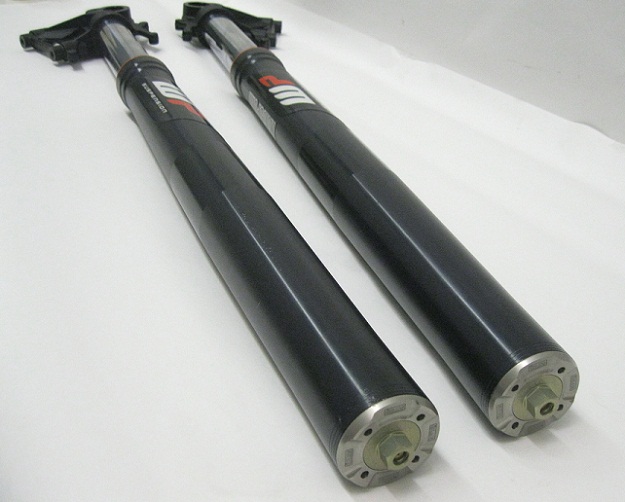 24)
About 670cc per leg starts fluid height at 135mm in this example, but you would need more to work with, and then draw some back out to set your desired fluid volume and air space when fully compressed between 120mm to 160mm seems common.

You do have to always measure the air space and not guess.
You can also tune the left leg compression and right leg rebound side with slightly different fluid viscosities if needed to experiment.
25)
The Dual disc brakes and axle design make an optional Ohlins whole slip on forks  not an available option at this time.
26)
Shown at far right, the white arrow shows standard KTM WP fork height line, people slide the forks up or down in the triple clamps to be between here or flush with silver color caps.
So above shown like this with about 5mm of black fork stantion showing over top triple clamp is referred to to your forks being at 5mm up.
If you push them down in the clamps so only the silver cap is exposed and no black fork stantion in view it's referred to being flush with the clamps.
The red arrow shows the fork spring preloader that turns more or less spring preload on the forks, reminder that it works with the internal top out spring that WP has at 57mm long and is very smushable related to spring choice and preload setting.
So maxed in or out will make forks "grow" or "reduce"  a few millimeters at axle for different turning feel and some riders set a preload setting and fork height in the clamps that works best for them.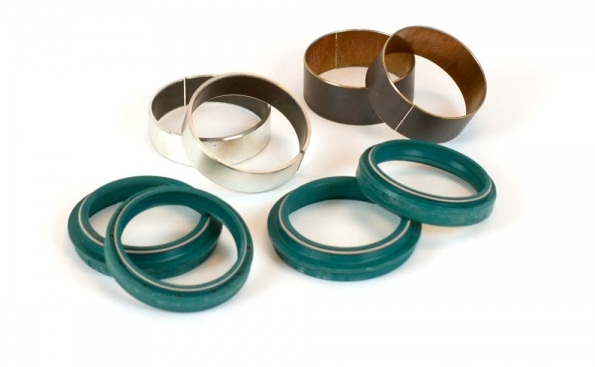 27)
Above SKF Upgraded seal and bushing kits are a world of improvement.
28)
29)
30)
The standard WP shock is not a dual piston "PDS" design and the rear is also a "no linkage design", you can service, revalve and respring this shock but it can't be made into what it is not.

The standard spring is a 180n/m
31) The Touratech steering damper is a popular choice.
32)
Ktm 1190 Adventure R can carry  a lot of junk-in-the-trunk and leans more towards the unpaved then the competition with a 21″/18″ tire combo and optional lean angle ABS.
33)
(2016) Many Thanks! Paul N.~New South Whales, Australia KTM1190R /  Kit~Ohlins PArts
"TOP SECRET" Below this Line, don't look~
________________________________________________________________
We said DO NOT LOOK!….
LOOK AWAY!!!!
To bad it's Not gonna happen….(Told ya don't look…)
AKA~ "The Touratech Beater"   BAM!  In-Ya-FAce!