BMW R1200GS/ADV Water Cooled 2013-On SUSPENSION
1)
BMW R1200GS/GSA
The "water cooled" bikes front and rear shocks are totally different than the "oil cooled" previous generation shocks so they wont fit.
If your bike has EC (electronic controlled) shock package you have some options including :
   1) Go big with the Touratech full monte EC swap that has Expedition Series shocks and plug and play, A very nice all inclusive kit made well and good function, top of the mark price wise
(shown below…). 
  2) "Unplug" those stock BMW shocks and use the Ohlins TTx Twin wall piggyback shocks (shown below…) that you can adjust from A-Z instead of just having a few Bmw selectable settings on the dash that may fall short of your needs. The twin wall design and feel is much better than most when done correctly and has the new jumbo preloader with great quality compression and rebound adjustments, about half $ price to the Touratech

  3)  Do a "Donor swap" with your standard components only if they are young and not crusty you can send them in for "transfer package" that includes using New dampers and springs for your needs but RE-USING the Ec preload motor and rebound motors, works better with improved dampers and springs but depends on standard shocks condition.
Above kit is top of the mark price wise.
These are the Touratech "Plug and Travel" for the New BMW R1200 GSA  Water cooled. They Plug into existing wire harness and use same bmw control features but have all the design improvements from the overbuilt Touratech Expedition Hi/Lo Compression and Rebound adjustable shocks.
The standard shocks are claimed to be grossly under sprung and super skinny light duty designed for a 175 lb rider in mind so many folks are upgrading right away to these.
4)
5)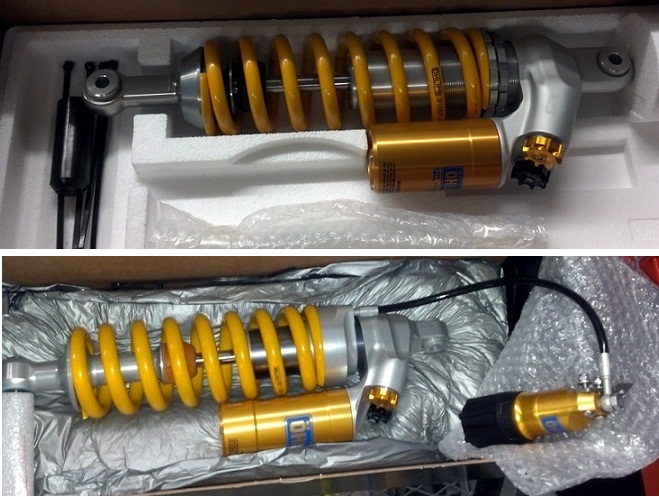 6)
Above the Ohlins Ttx twin wall piggyback design shocks as a  "Unplug and go" option.
Ohlins TTX , even if you have a ESA bike, you can simply "Unplug" and have all the benefits of fully adjustable twin wall piggybacks with the Newest Ohlins technology and updated New rear preloader.
This allows you to easily adjust anything the way you want, individually, instead of being stuck with only a few BMW OEM ESA presets that may fall short of your needs.
See mounting instructions below, simple "unplug" couplers under seat and use Ohlins provided weatherproof heat shrink covers to protect ends, no need to make any computer or code changes, as shown in install guides below.
PDF Mounting Install Guides Below BM146 BM146 BMW R1200GS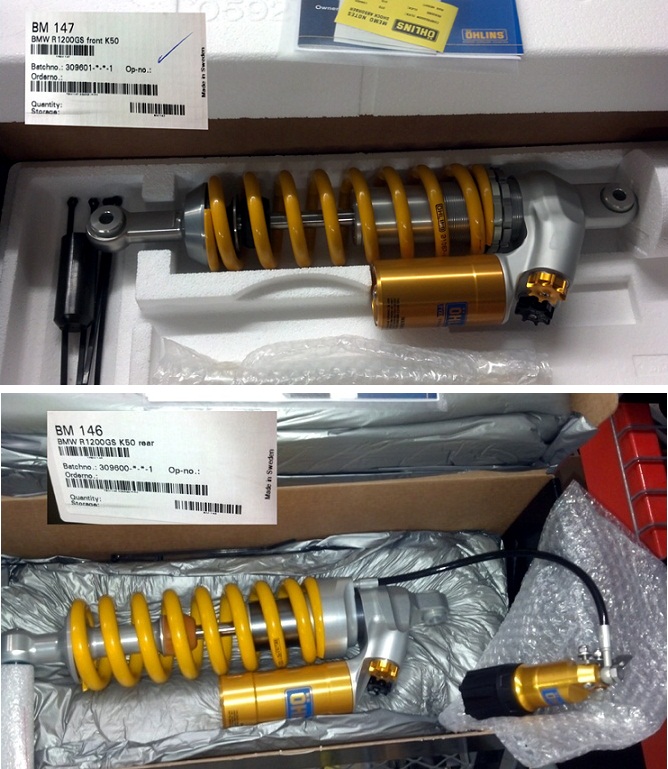 7)
2013- On  Bmw R1200 GS (Water Cooled)   Ohlins TTx, ( Bm146 And BM 147 )
2013-On R1200 GS/ADV  (Water Cooled) Ohlins TTX, (Bm148 Bm149)  not Shown but very similar design.
8)
2013-0n R 1200GS (water cooled) Steering Damper
9)
2013-0n R 1200 GS/ADV (water cooled) Steering Damper

10)
 BMW R 1200GS/ADV (Oil Cooled) 2004-2013 BMW R1200GS/ADV (water cooled 2013-On)