Honda Grom / MSX125
1)
Honda Grom / MSX 125
Some of the early Ohlins shocks are now NLA (No Longer Available)
Replaced by these NEWER Generation Ohlins Ones Below…
With mostly more popular features and adjustments with really affordable pricing for the quality and technology.
Switch out the ultra soft super basic suspension for larger and quicker riders seeking ultimate performance gains.

AVAILABLE Now (below…)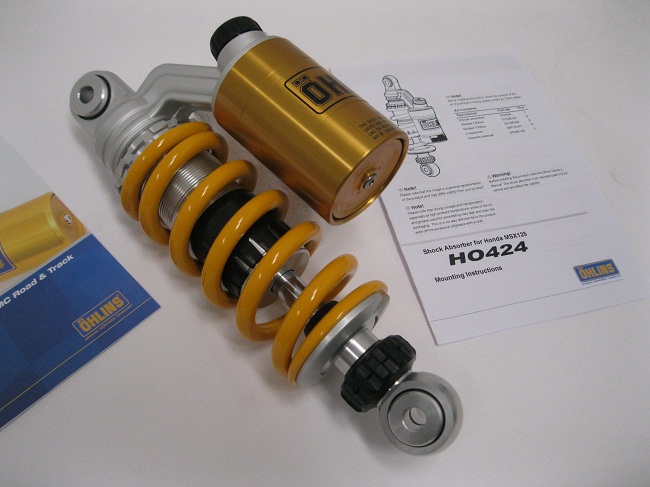 Currently Best Super shock for the money HO424 aka S36PR1C which means

-You have a piggyback reservoir with divided fluid and nitrogen for fade free performance.

-Adjustable compression damping
-Adjustable rebound damping
(Ohlins has a super affordable S36PC, S36PR1C * Most Popular,  and hose reservoir version S36HR1C1)
2)
Surprisingly affordable USA Ohlins Grom Shock!

The Newest Ohlins Shock is the HO424 with adjustable Rebound, Compression, Spring preload, piggyback reservoir design not hose style.

Your choice of any spring you need is FREE for your weight included on shock when purchased.

Ohlins has excellent spring knowledge from being the most popular shock.

It is very heavy duty with a 36mm body and 14mm shock shaft and Ohlins quality.
3)
Order the Newer Ohlins kit FDK111 (not shown) best value! (the Older kits FDK101 are replaced now)

You get included two sets of fork springs (2x of 5.5 n/m and 2x of the 6.0 n/m) for the same price as the older FDK101 kit that only had the 5.5 n/m supplied.
Ohlins popular fork full Cartridge Kit and Springs transforms your standard forks into something great! 
4)
Update August 1, 2017 – Ohlins sells a Fork Tool Kit instead of the items separate.
Fork Kit Tools, it's a 14mm Hex and a holding block, maybe some other stuff~

5)
Ohlins 1309-01 Fluid, Only 1 Liter needed for Ohlins Fork Kit.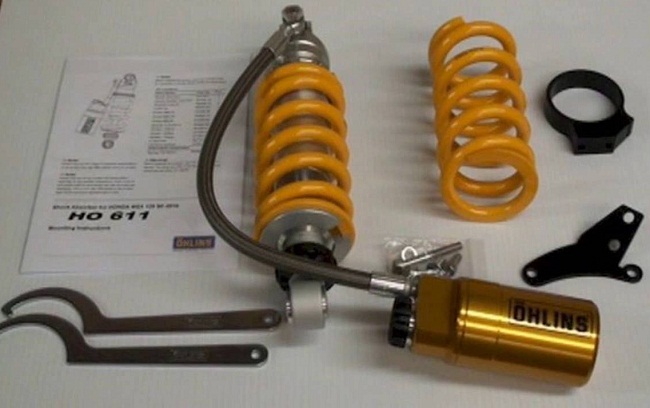 6)
Above the Ohlins HO611
It has a remote reservoir with hose and comes with a spare Ohlins spring in addition to the one on the shock.
It is a little heavier than the piggy back shock and you would have to mount the reservoir with a bracket included.