Triumph Bonneville 2007-On
1)
Triumph Bonneville 2007- On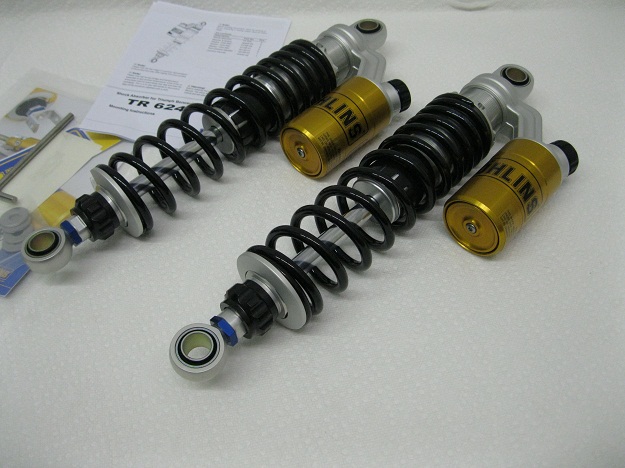 2)
Above Ohlins (listed 2016-2017 ) TR624 S36PR1C1L Shocks !
Fully Adjustable Compression (26 clicks) Rebound (45 clicks) Preload and Length Adjustable
2)
Above is a Super nice Bonneville  IDS kit (Independent Damping System), made by Ktech in the UK.
3)
We like these for a full cap to bottom transforms your 1970's damper rod fork into super sweet fully adjustable cartridge, sold with matching springs for your weight and conditions.
You can externally adjust your spring preload, compression damping, rebound damping all from the top caps!, no machining required , owner can install.
(more On FORK KITs See Below at bottom page…)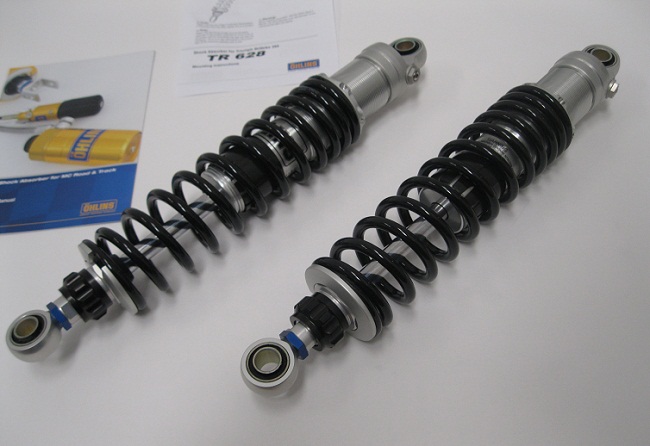 4)
Ohlins TR628, eye-to-eye length 360mm long, has about 45 clicks rebound and length adjustable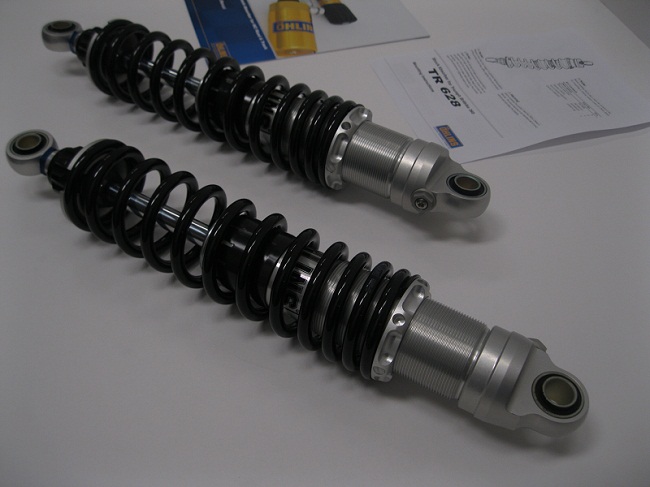 5)
Ohlins TR628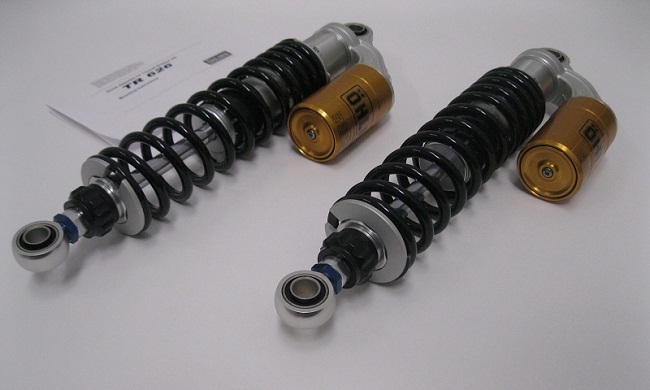 6)
Ohlins TR626 S36PR1L, eye-to-eye 360mm long, has piggyback design. about 45 clicks rebound adjust and length.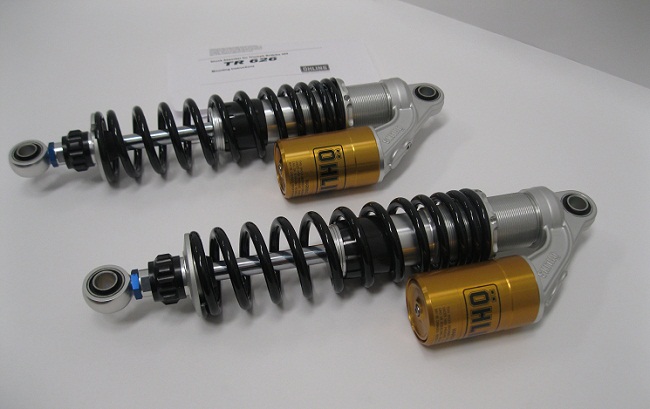 7)
Ohlins TR626 Shocks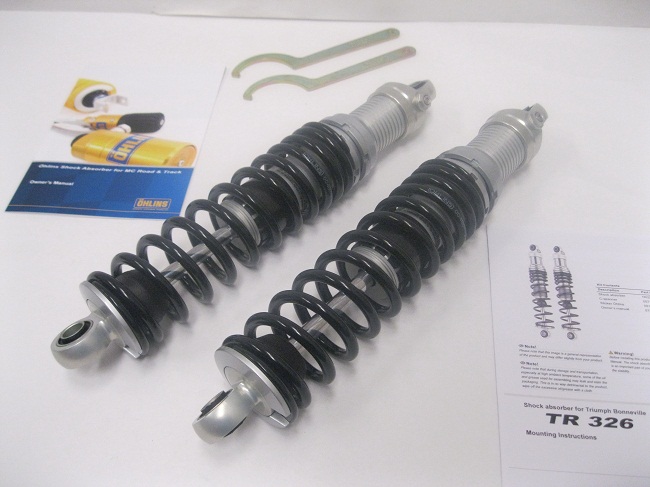 8)
Ohlins TR326, S36E, eye-to-eye 341mm , no rebound or length adjust.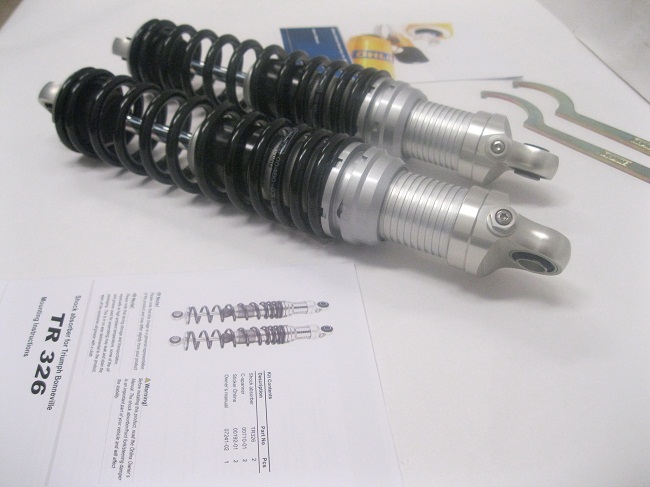 9)
Ohlins TR326 shocks
10)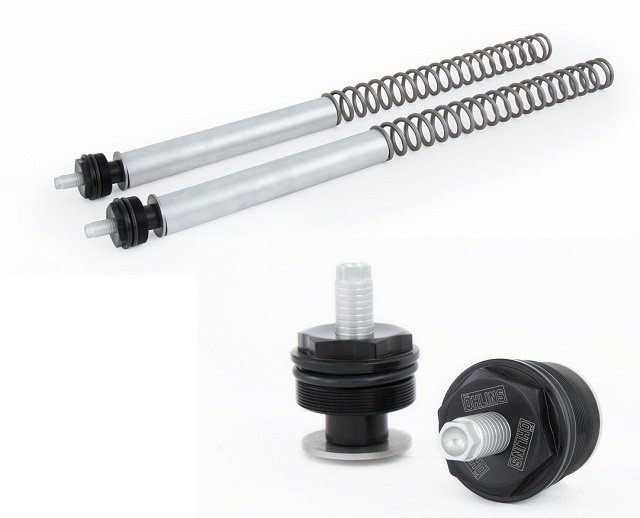 11)
Ohlins Adjustable Preload cap and Spring Kit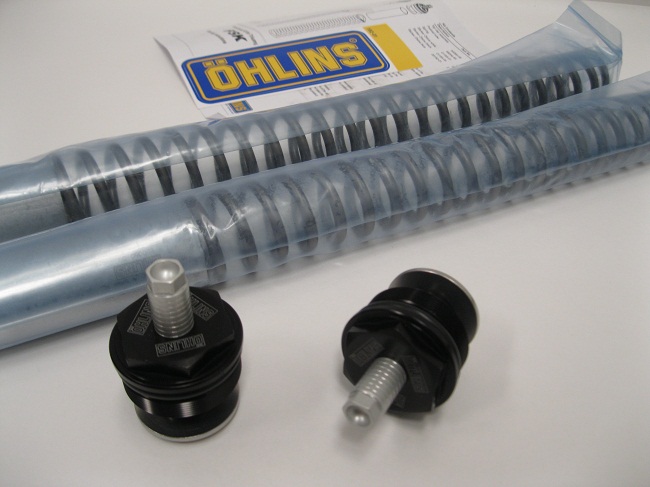 12)
Above the Ohlins Preload adjustable cap and spring kit is about $298.95
The FSK111 kit comes with popular 8.5n/m springs.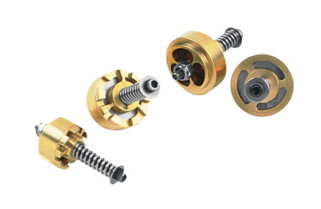 13)
Above about $159.95 plus springs 129.95 as needed.
Fork Emulator kit, sits in fork on top of damper rod, sometimes requires an adapter kit as well.
Sorta makes a cartridge feel out of your super dated 70's style damper rod, owner can install, instructions often times require you to drill open much bigger holes towards bottom of damper rod for install so can not be reversed.
Some tuning can be done if removed and alter the pressure spring and then reinstall within fork and oil.
14)
Above kit with springs is $895.95
The IDS fully adjustable Cartridge Kit and Springs (not set shown).
Replaces everything inside the fork shells, no machining required, 100% reversable, adjustable fork spring preload at both top caps, adjustable compression and rebound damping at top caps.
This kit IDS (Independent Damping System) made be Ktech in the UK, Super well done and sold with matching spring for your rider weight
Many nice spring options from 7.0 n/m, 7.5n/m, 8.0n/m, 8.5n/m, 9.0n/m, 9.5n/m
Note: Stock fork springs claimed .75kg/m , std 15mm preload, std 125mm oil height, basic 41mm Kyb Fork.