BMW RnineT SCRAMBLER / Urban Enduro GS 2016-on
.
1)
Above, BMW later released Urban Enduro GS (aka Same suspension as BMW  R nine T  Scrambler…see below)
(Great super cool bike but with 1976 Soviet Union damper rod forks and shock…)

You Need this kit, shock also available without that fancy integrated preloader so regular spring spanners that are hard to get to when shock is mounted in bike.

Bmw Standard Travel  claimed 4.9″ front (125mm), rear 5.5″ (140mm), 487lbs curb weight
Math Quiz rear: the Ohlins shock is 374mm eye-to-eye with 52mm stroke that does that std height /travel or about 9.45mm per inch of movement, plus you can adjust the end eye out +12mm while shock is on the bike longer, so your height is more depending on how long you run the shock up to +12mm shaft so that would get the rear up to 6.77, that's height not actual travel you bone head,
Math Quiz front: the Ohlins Cart kit has 125mm travel, uses the std Oem top out spring plus improved primary spring rate, with external adjustable preload, rebound and compression, answer is the travel at adjusted rate and preload is…Travel changes depending on primary spring rate and preload that crushes top out spring depending on setting you bone head,
The Ohlins fork kit offers 5 available spring rate options in Newton meter from
-80n,-85n,-90n,-95n,-10n  per each rider weight with ride cloths suited
2)
BMW RnineT Scrambler 2016-0n
(Great super cool bike but with 1976 Soviet Union damper rod forks and shock…)
See below on the best juicy fix~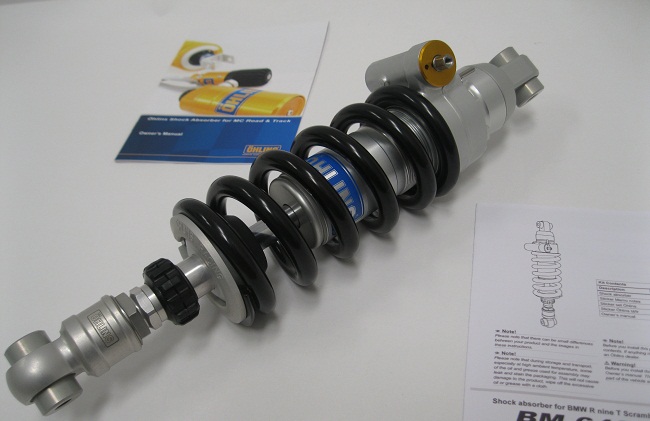 3)
(Bam!…) Ohlins Shock available as shown with intergraded spring preloader.
The Ohlins shock has a large 46mm body and 16mm shaft design, an internal dividing floating piston that separates the nitrogen from the fluid for consistent fade free performance during extreme conditions, adjustable damping and spring preload.

It is fully rebuildable for many years to come, revalvable and will out live the bike.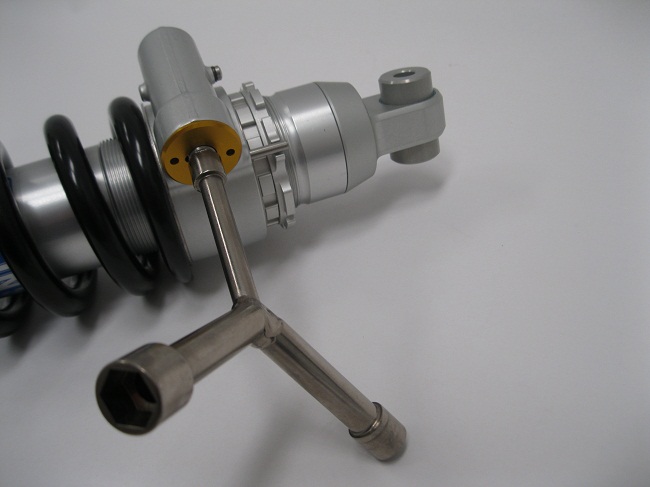 4)
The 8mm wrench preload drive allows over 8mm range of additional spring adjustment plus the 10mm preload the spring already has on it so about 18mm total preload at this setting on the spring.

(Use any 8mm T-Tool ,socket or drive not supplied)
5)
.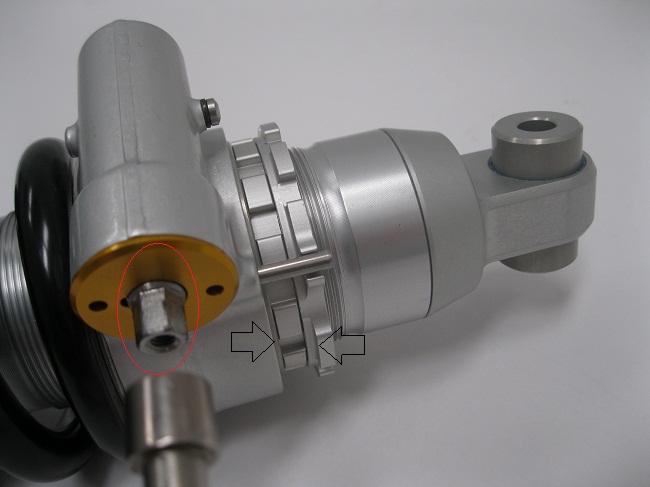 6)
Detail of the spring preload magic happening, very easy to adjust for different loading and conditions.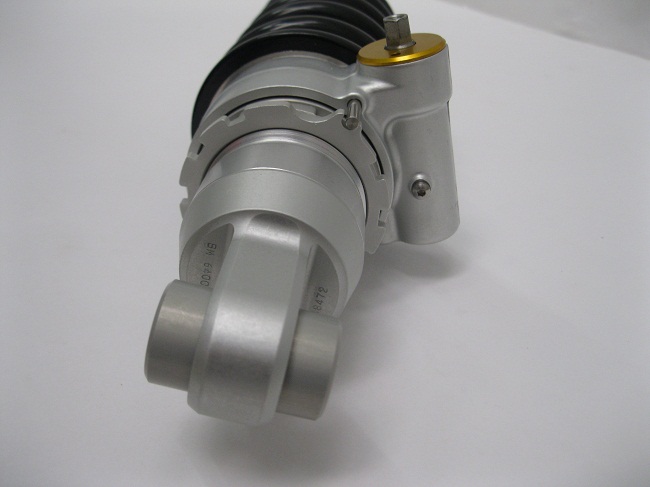 7)
Top View.
8)
Above the black arrow shows adjustable rebound damping about 45 clicks or so, the red arrows show length adjustable eye that can be adjusted all while on bike.
It adds about 11mm /-1 mm to the overage shock eye-to-eye length of 374mm.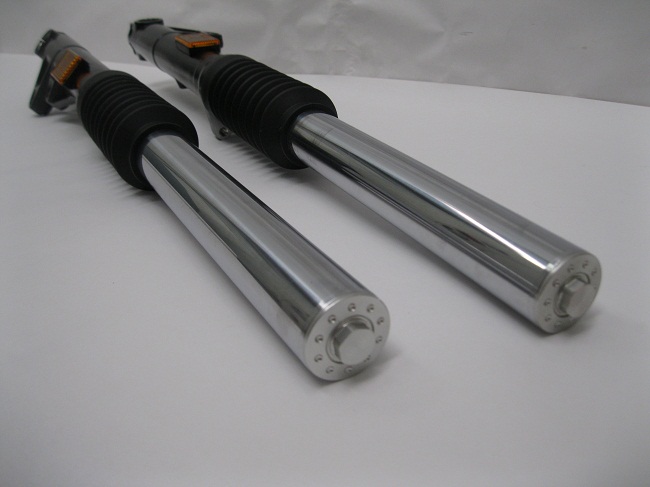 9)
Above the standard BMW RnineT Scrambler forks.
They are non adjustable and are damper rods design like the 1970's.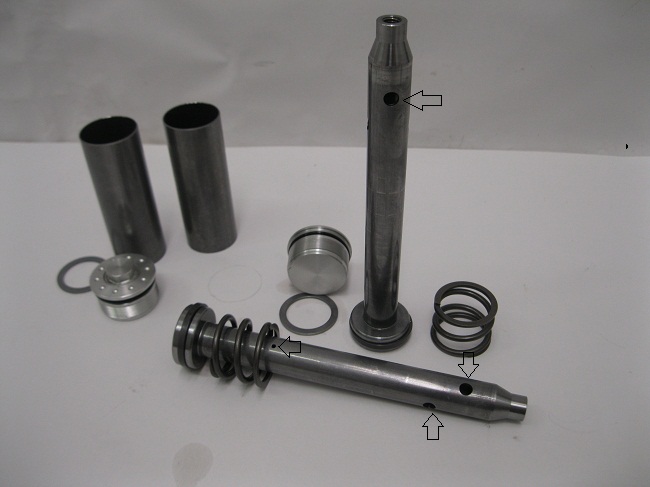 10)
Yep,… So above these 1970's style damper rods with a couple oil flow holes are all that you get with the 2016-on Bmw Scrambler fork (springs not shown but this is the ride quality damper rod).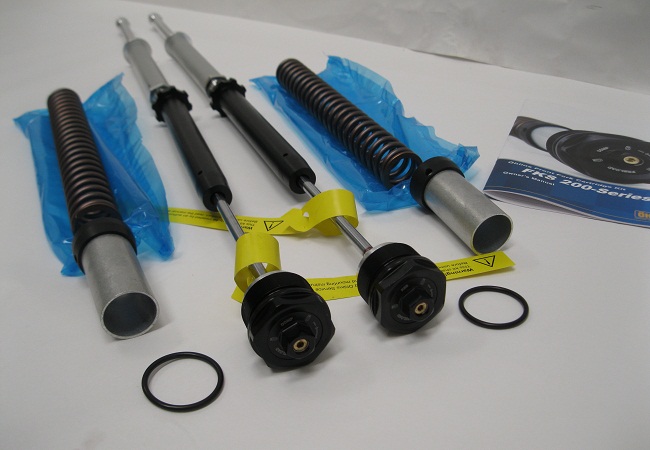 11)
The Ohlins FKS Cartridge kit with 4 port pistons and real valving (springs determined by rider weight/etc).
They have adjustable spring preload caps about 18 turns, adjustable compression, and adjustable rebound that can all be done from the top caps while on the bike.
12)
Above the 14mm hex on both does spring preload about 18 turns each, the 3mm allen does either compression or rebound adjustment, all can be done independently from the other.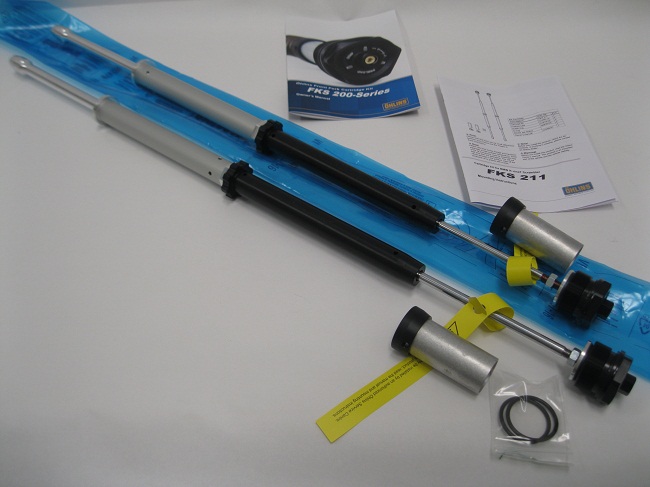 13)
Above Ohlins Cartridge kit updates forks from Cap to bottom bolt (Ohlins fork springs not shown).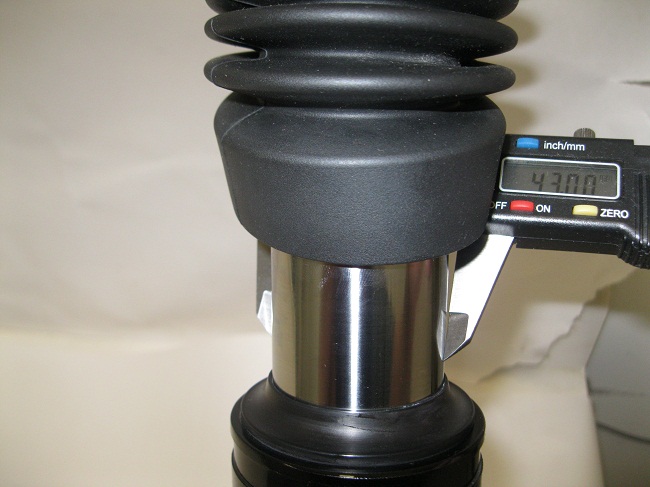 14)
The standard inner fork tube are 43mm which are beefy enough.

15)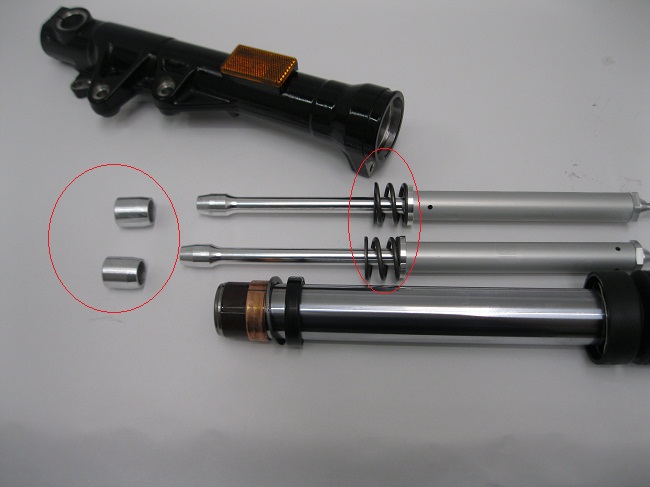 16)
Above you do need to transfer over the top out spring and cone that looks like above, follow the manufacturers install instructions.
The inner and outer tube do not have to be separated but this shows the parts more clearly and is easier to work on to prep or replace seals and cleaning etc.
You would then need a 43mm seal driver to best set the seals wipers and bushings back in correctly.
17)
Much improved ride quality over a vast majority of conditions and rider weight groups.
18)
The Ohlins steering damper has about 20 clicks of adjustment and works extremely well.
19)
20)