Wp-Ktm
Our state is the home of KTM's 8-Time AMA National Enduro Champion, 3-Time ISDE Gold Medalist, and the XC-1 Atlantic grand Prix Champion among many others including many AMA multi time National Number Motocross racers, West Coast Supercross Champion, and many Adventure Rides including the Pine Barrons 500.
We know Dirt!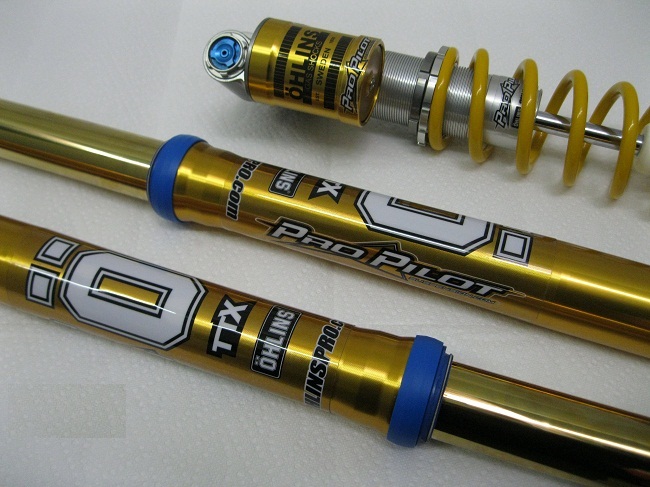 BAM!-
buy a complete Ohlins Pro Pilot A1 Kit! (two 48S RXF forks and one TTx Flow Shock  sprung and done!)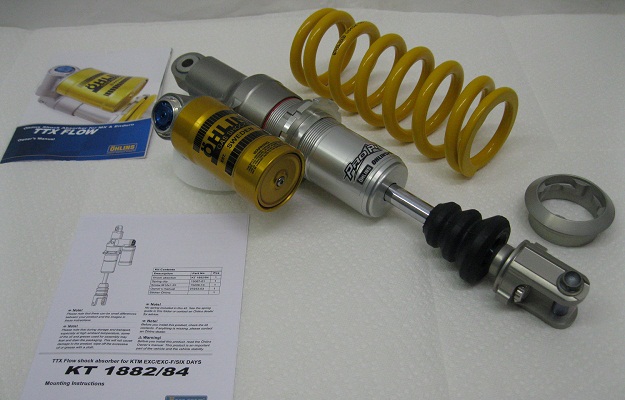 BAM! Ohlins TTx Flow Pds Ktm Shock
KT2082, KT2084, KT1982, KT1882, KT1884
(2016) Aaron G.~ 2016 Ktm 300XC-W Six Days BAKERSFIELD, CALIFORNIA
For The 2017 KTM 450SXF, 350SXF, 250SXF and (Xc-F) Click Here for the NEW PAGE
For The 2017 Husky FC, FE, TC, TE  Click Here for the New Page
For The 2016 KTM 450SXF, 350SXF, 250SXf and (Xc-F) Click Here for the NEW PAGE.
For The 2016 KTM 200-500EXC, W,F   (PDS /Open Chamber WP bikes) Click Here NEW PAGE.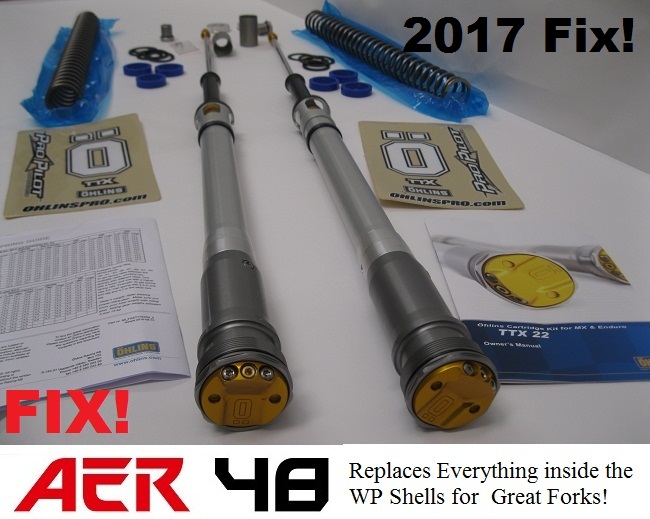 Yes, we began shipping the Firsts 2017 USA Ohlins WP 48 AER Fork Fix !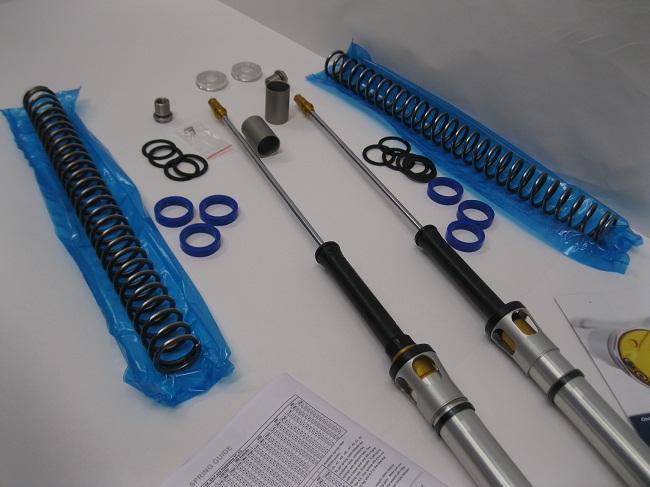 Click Here for WP 4CS page
Above the Wp Enduro Fork with Preload 2017
Above 2017 Husky TE300
If You have one of these…
Then you need to ONLY Service them on  One of these below … (see videos condensed below)….
The ONLY way to professionally get 100% of the air from Shocks and Forks is to use these Machines below.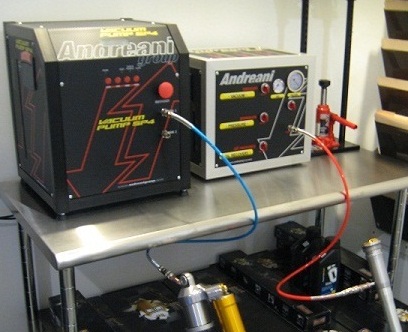 For more Information Visit Our "Tech-Tool-Pics" page.
WP-Revalving – Service- Wear parts- Updates Kits Click  Wp  logo  Here> 
1)  We supplied the First Ohlins Ttx Shock in the USA #KT302 (See  full info below  Ktm 1290 Superduke 2015-On )

 2) Wp 4CS Fork (2015+… SX and XC models)
The Wp 4cs replaced the Wp  Bladder forks  (  many need help in getting these right…See below more info …)
 Note: Ohlins makes a Full Cartridge and Spring Replacement and also Complete Ohlins 48RXf Forks (see below)
3) Ohlins Ktm 48 RXf Fork Complete Fork Set upgrade

( Easy Owner install these fit in standard triple clamps, uses all standard  axle, plastic guards, calipers,etc.)
They have Ohlins TTx Twin Wall sealed and pressurized Cartridges /  inner struts with Dual piston technology
Visit our Ohlins Fork page for more info on complete  Ohlins forks


4) 2016  ktm 450Sx-f  Production Bike  ( based on the 2015-1/2 Factory Edition released march '15)
5) Ktm 2015-1/2 Factory Edition 450Sx-f  (Released USA MArch 2015)
6) Wp Ktm Factory Edition 2015-1/2 + Shock and 2016-Sx, Xc 
( these are different Length from previous so Ohlins TTx Shocks will be different from past versions )
They now use traditional 12mm valving shims like KYB /Showa designs.
7) Wp Forks
8) Ohlins Wp CArtridge TTx and Spring Kits  (To Replace everything inside your Wp Forks!)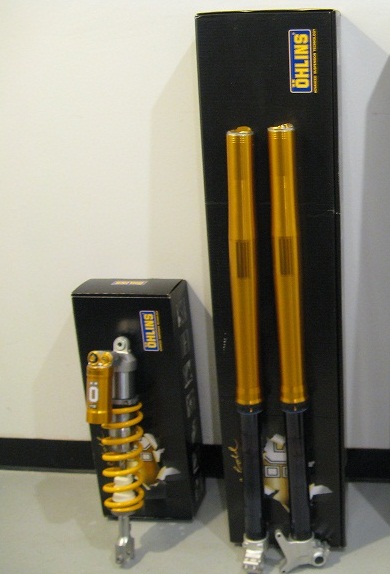 9) Ohlins  Ktm Wp  Combo-  Ohlins  TTx  Shock and  48 RXF Fork Sets (available for many late model popular Ktm's)

10) 2015 Ktm 350 XC-F with Link and Wp 4cs Forks

For 2015, Russell Bobbitt surprised a lot of his faithful followers by switching from a two-stroke to a four-stroke for national enduro competition being the four-time national enduro champ.
GNCC  2015 Kailub Russell, Mike Lafferty (8x National  Enduro Champion), Charlie Mullins also prefer the Ktm 350Xc-F
Note : Like the SX line, the XCs use rear linkage. KTM believes their PDS linkless system targets tight off-road and enduro, whereas the XC's link system is at home with speed hits, whoops, motocross hits and jumps. With the fork, they offer three different systems: open cartridge for the EXC/XC-W, closed cartridge for the earlier than '15 SX, and now the 4CS closed cartridge for 2015 + XC and SX machines.
 11) Wp Plastic Spring Adjuster
12) X-Trig Spring Preload Adjuster (Replace at Shock Apart time best, some don't fit over shock end)
13) Wp Fork with popular Ohlins TTx Cartridges (see  Ttx Cartridge page for more info)
14)
Unlike traditional fork Cartridges this Ohlins TTx Twin Wall design is very unique similar to TTx Ohlins Shocks with twin Piston and twin tube design with more directional fluid flow, less cavitation, and more equal pressure balance through shims and pistons.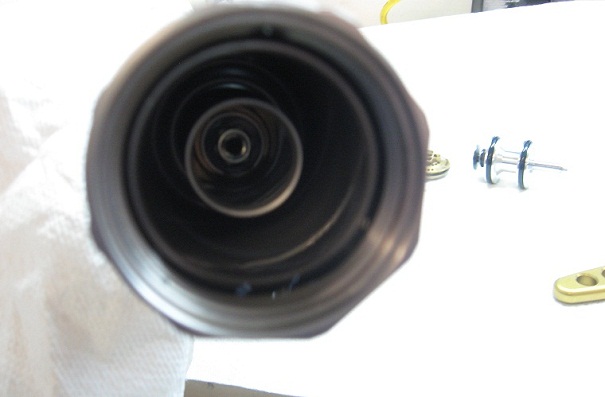 15)
These Struts have a tunable internal Nitrogen pressurized floating Twin piston (Shown in background) and True Twin wall TTx Design features within each strut for ultimate improvement not found with a basic single tube cartridges found on all OEM forks.
This Unique design through completely different engineering than standard forks offers a much improved and more consistent feel with less fluid cavitation.
16)
17) 2014 Ktm 350 EXC-F (still a PDS Wp but can be Updated many ways See below…)

 18) Ohlins TTX Twin wall PDS shock about 1.5 lbs lighter than Stock Wp PDS
( That's a big difference where weight matters most !  )

19) Wp PDS shock about 9.5 lbs  (about 1.5 lbs more than Ohlins TTX PDS in this example)

20) Wp / PDS  Rebound Adjuster Cap with improved sealing  (helps eliminate seized rebound adjusters)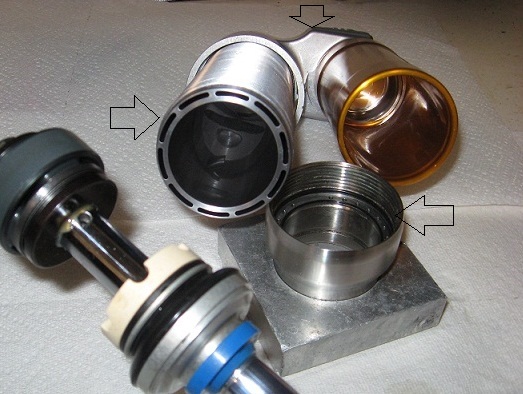 21) Ohlins Twin wall TTX , Directional fluid Flow (See our TTx Shock page for more info)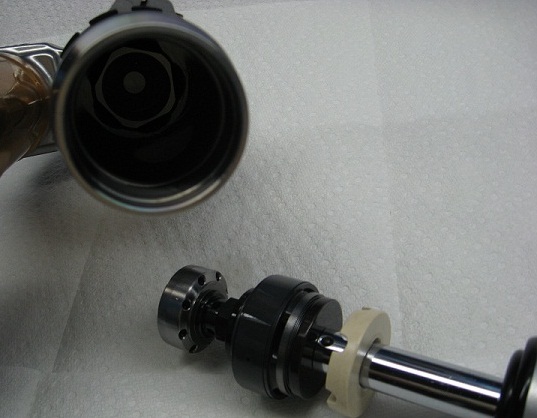 22) Ohlins TTX PDS "Top Secret Spy photo's"
Many Ohlins Designs have Dual Piston (Position and speed sensitive) Look closely into cylinder tube to show tapered end cup that position sensitive piston tapers into, the Twin wall TTx Design with tapered body end cone and matching cylinder head holes is very unique so the feel of Ohlins TTx PDS shocks is incredible over other brands.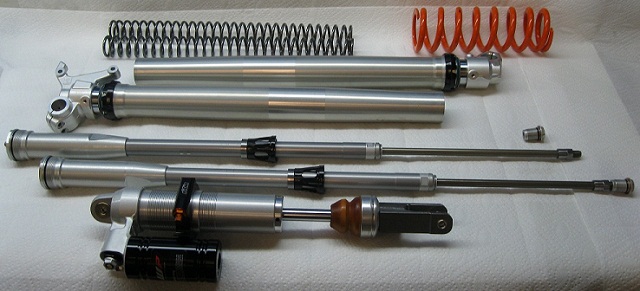 23) 2014 Ktm 350Sx-F with Wp  Nitrogen Bladder Forks and Wp link Shock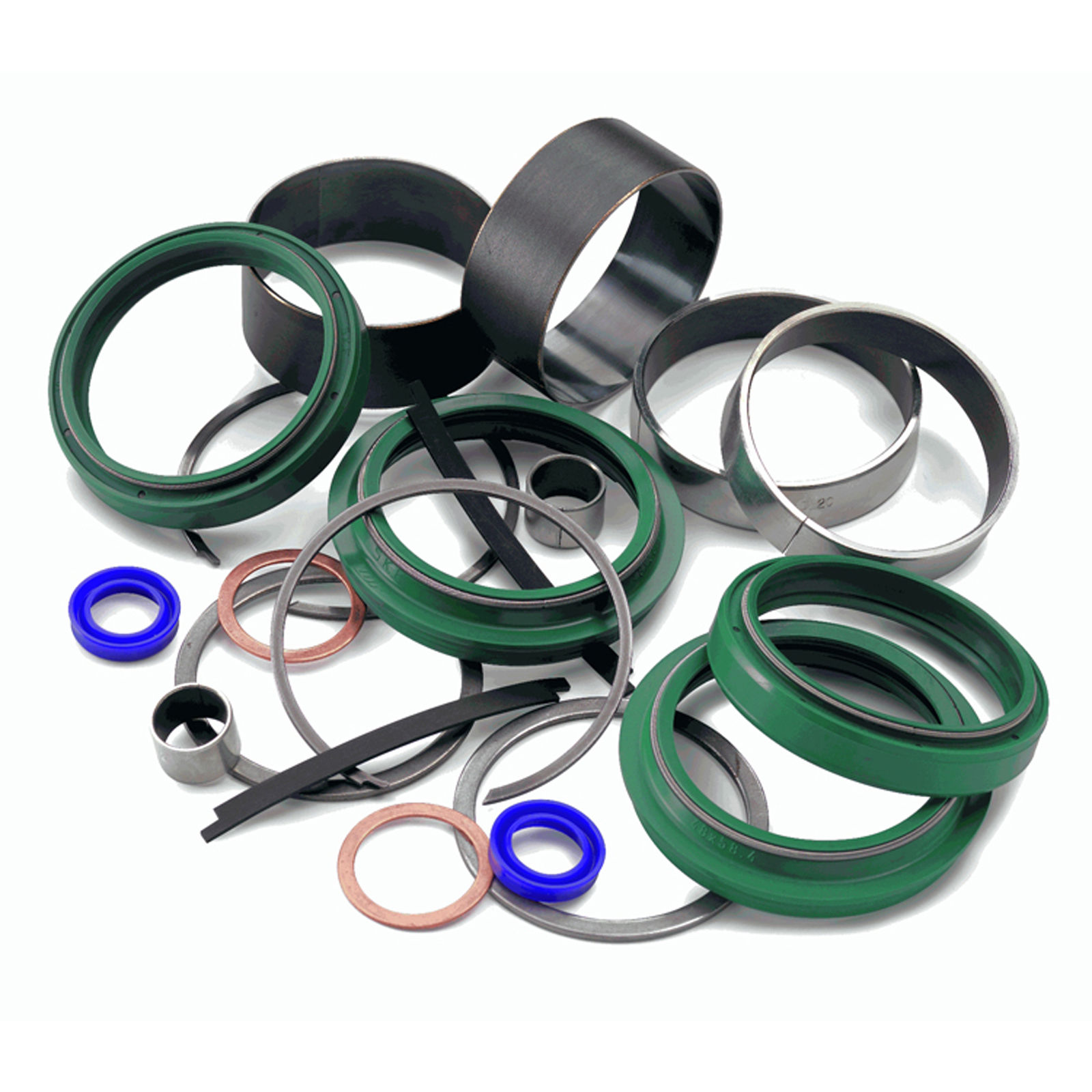 24) SKF Low friction, Seal , Wiper, Bushing, Service Kits- We have the Newset SKF HD PSF- Series
25) 2015 Ktm 500 EXC-F
26) Wp- 4CS Forks-  (Many Tuning Options with many moving parts that all effect one another)
27) Wp- 4CS  ( Fork Concept )

28) Wp- 4CS   (  Tapered  Cones , which basically go into  hydraulic cups in very lower fork
  that has 4 very large holes  near bottom, so they don't actually do anything in the design
   for anti-bottoming.

29) Wp-  4CS   (  Forks Parts Diagram  )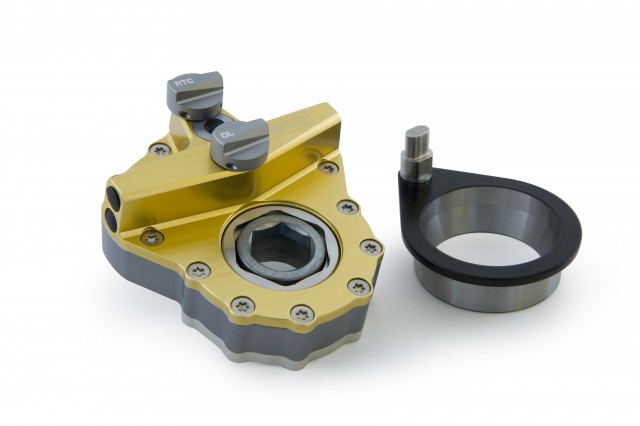 30) Ohlins Steering Damper 2.1 the Best KTM Damper Available!
Once you use one you may never ride without one again, they are that nice.

 31)
This is by far the best damper in the industry for these applications!
No Need to change Expensive Handlebar  Risers, Bars, or Triple Clamps!
Additional Mounts Kits Only can be purchased  separately to use on different brands.
The Hex Nut shown (above) has Black Round Dust cap and that goes where the stem nut would be.
32) Wp AIR FORKS (USA KTM got the 4cs , Euro Spec KTM AIR Sx
33) Hey Don't TELL  Anyone we have this TOP SECRET PICTURE
This is the Wp KTM TOP SECRET AIR SHOCK in development
being tested on Ryan Dungey , Andrew Short and Tony Cairoli's Bike.
 34)  KTM Newest 1290 Superduke Ohlins TTX KT302  Twin Wall Shock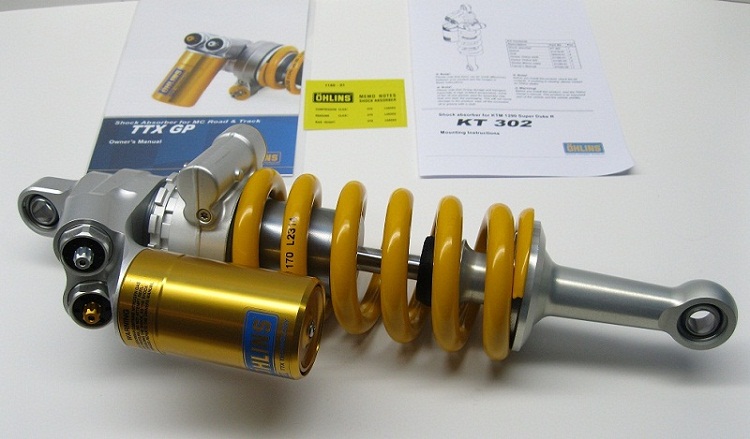 35) Ohlins Twin Wall Ttx piggyback Shock Kt302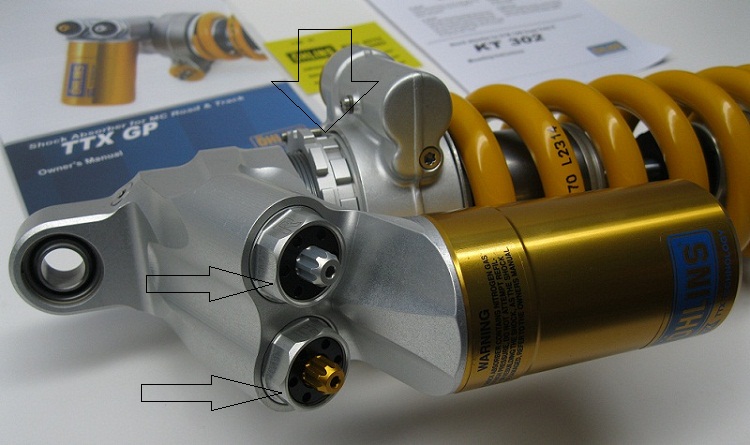 36) CLICKERS look Cool and CAN BE EASILY TURNED by HAND**
(silver) Rebound 61 clicks  (Gold)  Compression 41 Clicks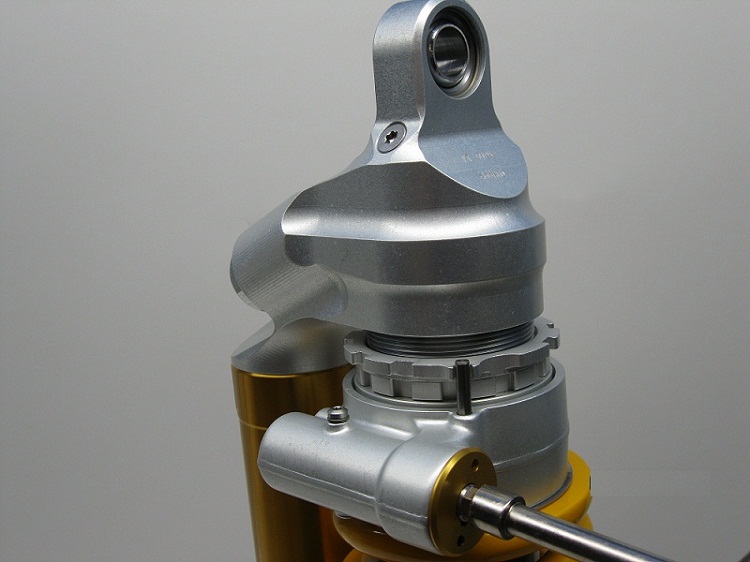 37) Integrated Preloader with Over 10mm Function
38)  KTM 1290 Superduke
39)
Ktm SMT 990
40)
Ktm SMT 990 
To Order Email : sales@propilotsuspension.com