Honda CRF250L 2013-On
1)
The Honda CRF250L is a super sweet offering with bare bones super economy super soft suspension that is mostly non adjustable and hope-less, but the bike is super nice looking with Honda quality motor and voted most likely to get you home from the woods?

We sell more Adventure Shocks, Forks, Cartridge kits than most any other dealer in the USA , consider us for your next purchase,
We have more than 25+ years experience and we-love-you-long time!
Ohlins has a fully adjustable shock with a better spring than stock that suits a very wide range of uses and weight ranges  for even more loading and chubbyness,  an Ohlins air bleedable fork cap(s) and (2) fork spring kit, a better rate than stock and spare heavier than that.
The fork springs that actually fits! the way it should true to length without goofy spacers or tubes like previous cheezy brands and others offered!


2)
BAM!~ best stuff out there!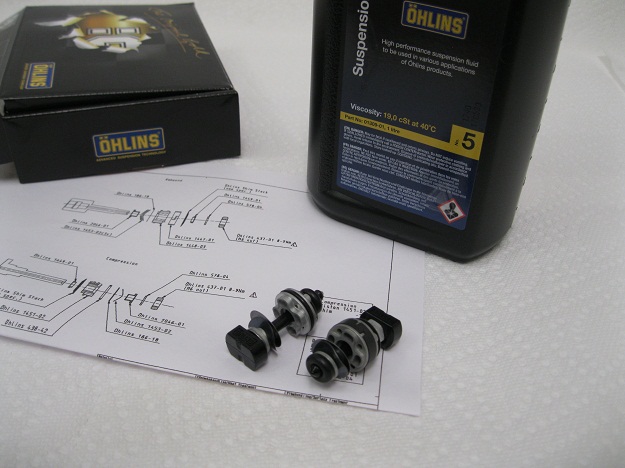 3)
Note: this product can not be ordered out of the general catalog by a part number off the shelf subject to change.
(We can help see below page for details to do…)

Optional in house supplied valving  for rider weight and conditions, a Universal  design 4 port 20m piston with rider weight specific updated valving shims stack with optional valving / Piston(s) kit for fork works very well and is a in house supplied product only.
Ohlins high quality fluid used with the Ohlins fork cap(s) and spring(s) kit works very well in the front forks.
With real valving and pistons you can try for best results, start with a 3wt fluid in damping leg maybe up to a 5wt if your fat by body mass index, and can go higher if your a scale breaker.
(See page bottom for pricing and options…)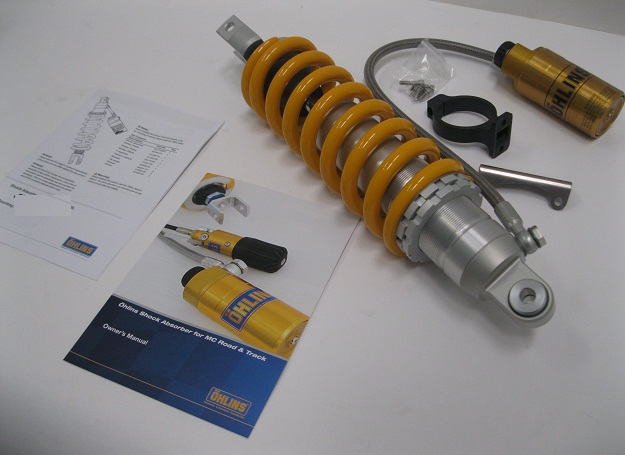 4)
BAM!~ the best Quality shock for the least money, The Ohlins Super fat 46mm body with heavy duty 16mm shaft .
Fully adjustable compression, rebound, with divided fluid and nitrogen with full floating piston in reservoir, built with superior quality on all the functional adjusters.

5)
"The Fat-Pak-Mule" big tank , bags loaded with chubby rider 230lbs+ (before lunch…)
We went from full skinny stock to fully overloaded jumbo gas Tank , Bags, Racks, Guards, kitchen sink, Etc. to test a fully loaded "Porker" to developed suspension settings for most.
(From commuter skinny dude to fat belly beafy adventure warrior- it works!)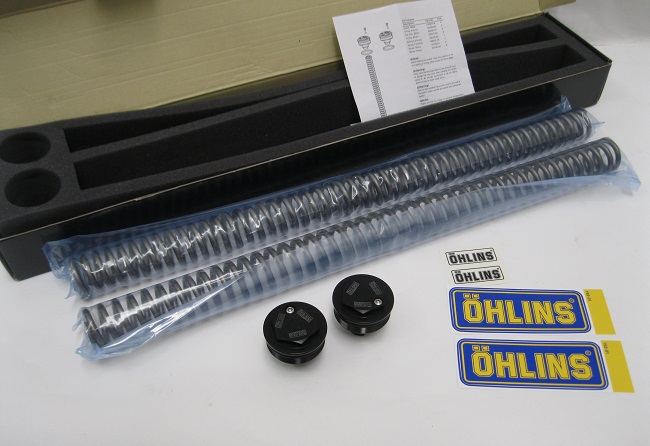 6)
Done right, the Ohlins fork spring(s) and Caps(s) kit, comes with a spring rate much better than stock plus a rate even more heavy duty for aggressive and more off roading and "porky-loading" as an option.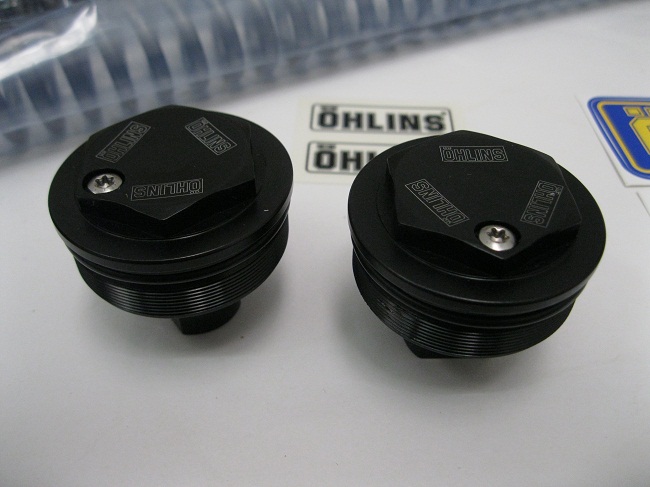 7)
Tip: Use a padded 6 point socket or soft cloth under the wrench to keep your caps looking nice and don't forget to apply thin grease on oring.
The Ohlins caps have a removable quick "air bleed" torx screw you should equalize any built up air pressure before each ride like a modern Mx /GNcc fork for best performance and seal life.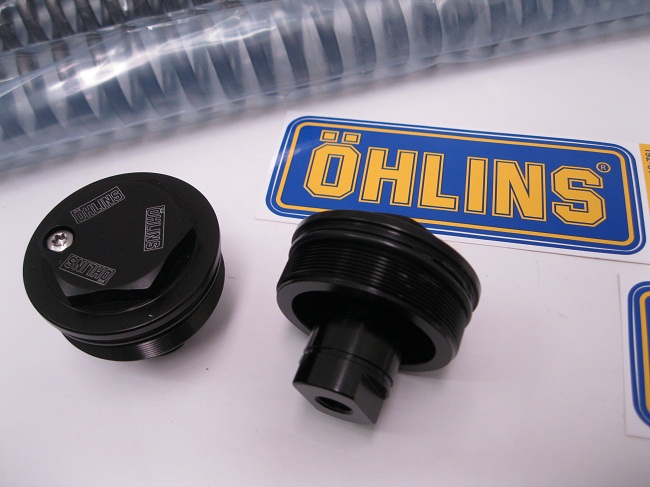 8)
Not your grand-ma's fork caps!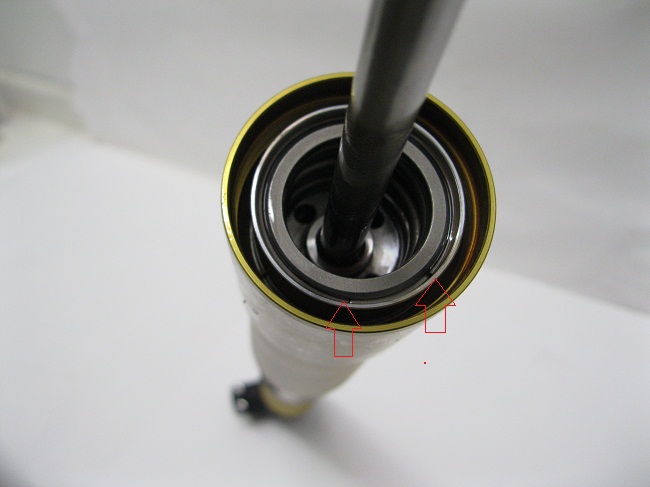 9)
Above red arrows show clip.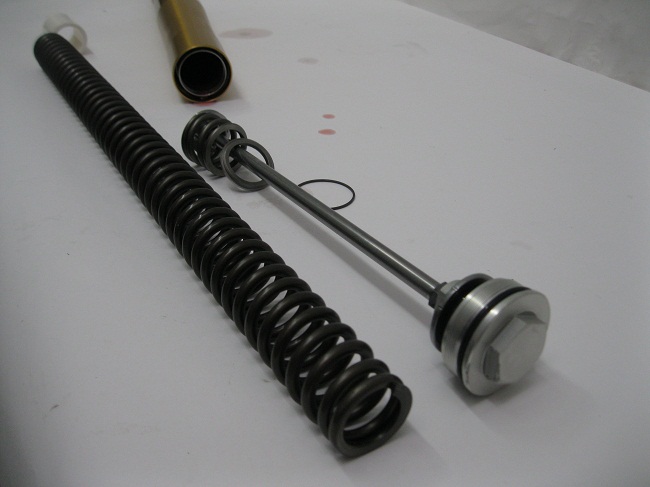 10)
Shown above is the top out spring on the end of the ding dong.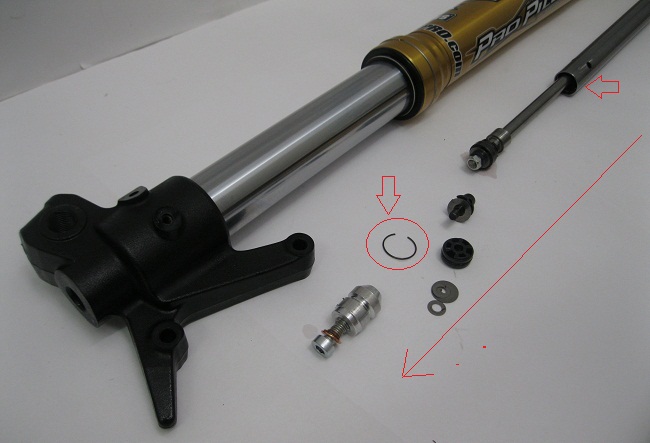 11)
Note the clip to get to the stuff.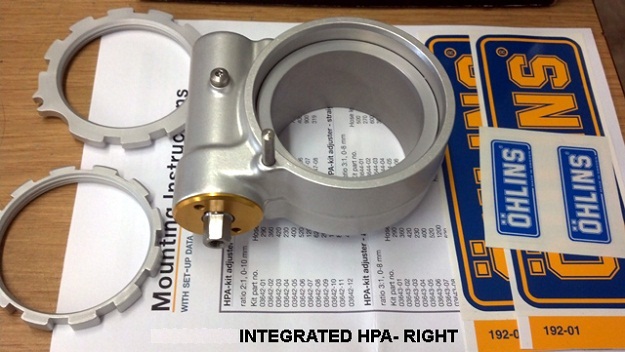 12)
As an option for some folks, above Ohlins integrated spring preloader option, easy to get to with 8mm drive with "T-tool" (not included common stuff) changes spring preload about 10mm more or less from original set position range.
May require optional Ohlins spring so best to do at time of ordering shock because it takes up about 40mm of body space.
13)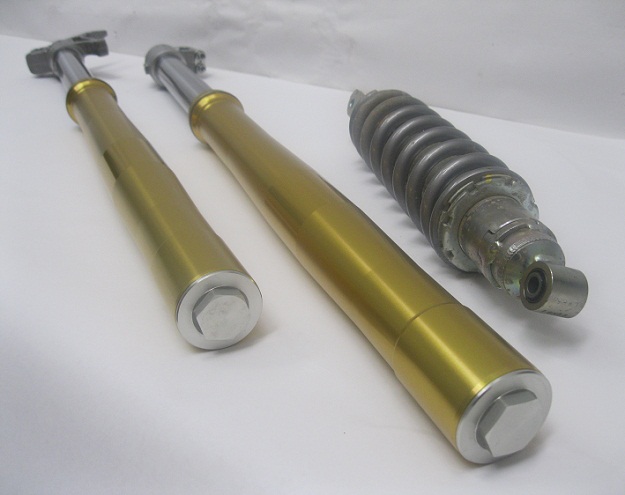 14)
The forks are 43mm Showa non adjustable and non adjustable shock other than a few millimeters of preload out back.

You can vastly improve this bike with some suspension upgrades, the stock stuff is a marsh mellow.

15)
Ride a little more frisky and you'll see how super soft the bike is.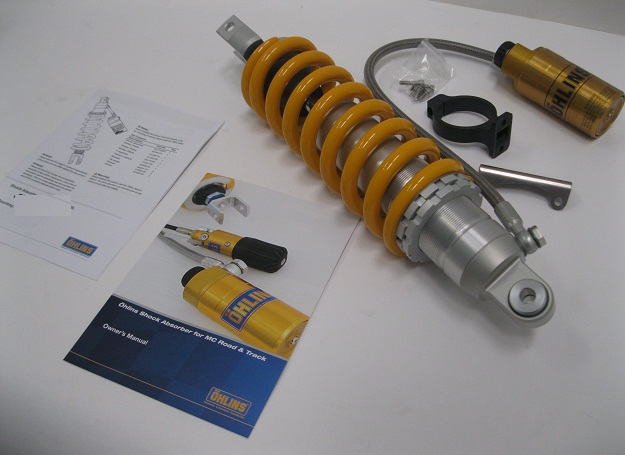 16)
You'll get to one of these,
Ohlins Fully adjustable S46 Series shock. It has fully adjustable compression, rebound and spring options with a much larger than stock and more heavy duty build with divided fluid and nitrogen with an internal floating piston for fade free performance.

The body is a 46mm and 16mm shaft (stock Honda is only a 40mm, that's like an acre in the suspension world!)
We sell this shock with all the features and Ohlins quality, and super nice machining for less than most other more basic shock options out there that are not made nearly as well or finished this nice.

see pics below…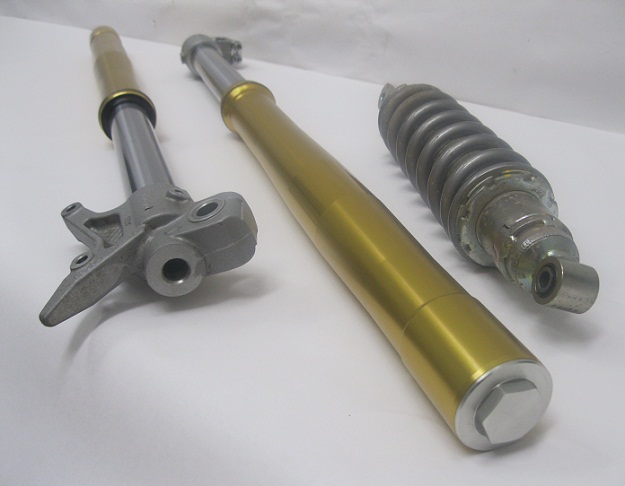 17)
For reference the fork dimensions are below:
About 880mm long from center axle to top edge stantion
54mm top triple clamp/57mm bottom triple clamp
Front Caliper about 95mm holes/ Left Lug 15mm Threaded/ Right Lug 20mm /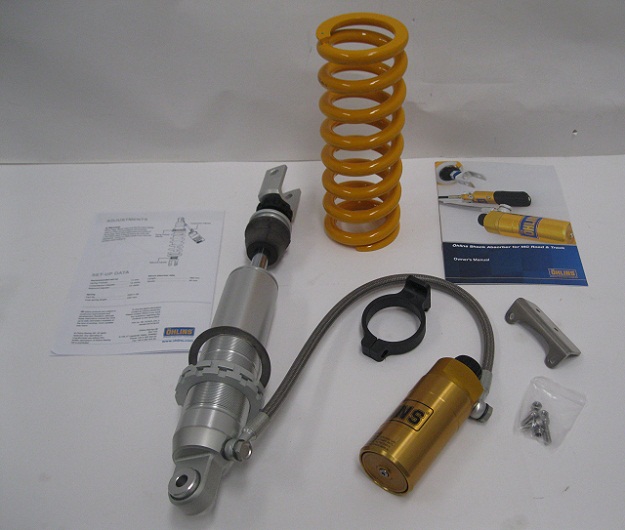 18)
Order a Fork Spring kit and Ohlins Shock Combo!
Revalving is also important for best results.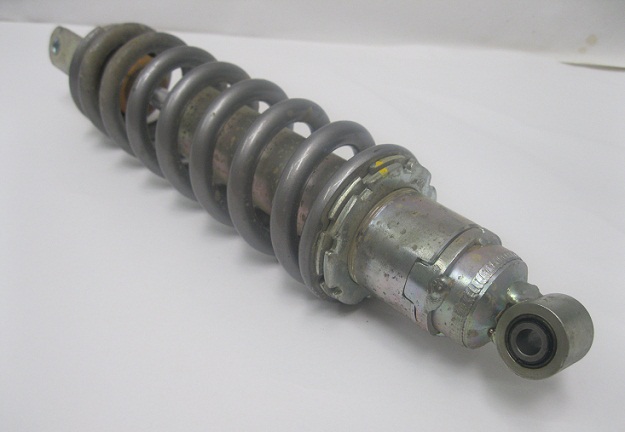 19)
The stock shock really is a piece…(if Meineke muffler made shocks for bikes this would be it).

20)
Above a screen door damper, is only thing worse than your Honda Crf250 or rally shock.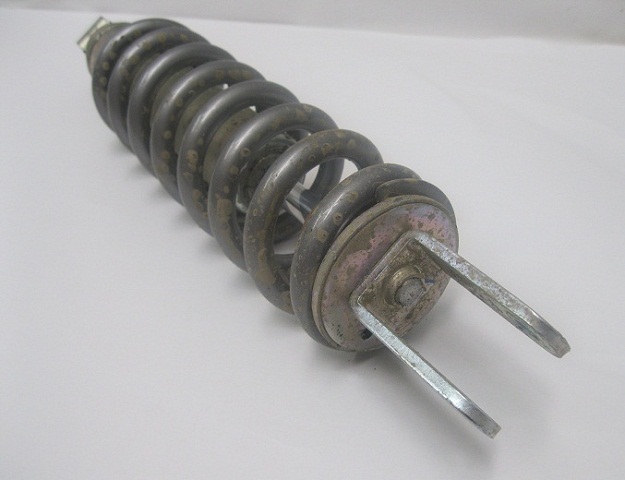 21)
The cheesy bottom stamped bracket must be removed to get to spring.
22)
The spring spanners stop there so taking spring off is from the other end only.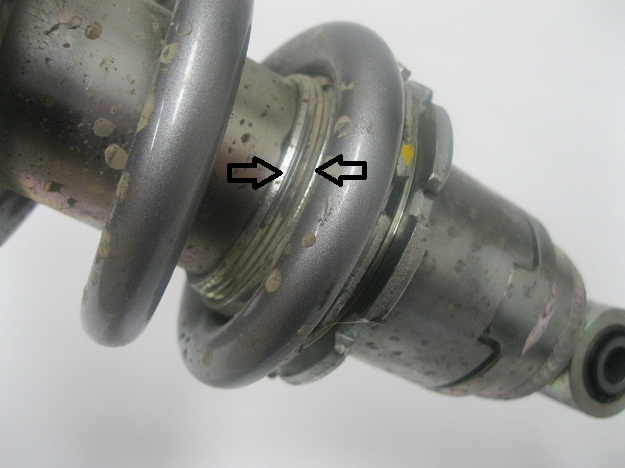 23)
The stock setting is about 8mm preload and this maybe 5mm more to add, not much to write home about.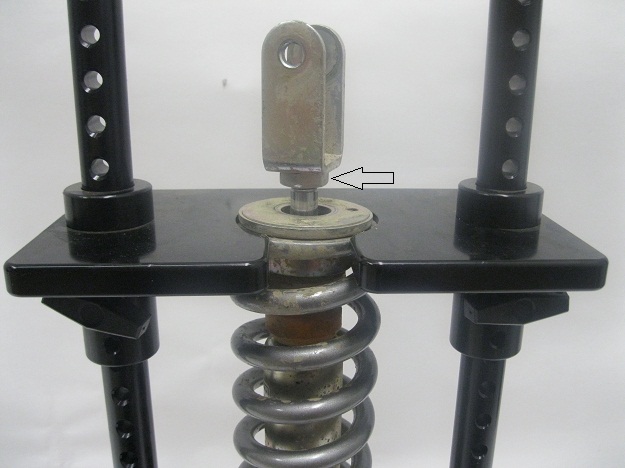 24)
Bust a Nut, you would need a spring press to get to the nut on shaft end to remove bottom bracket to get to spring.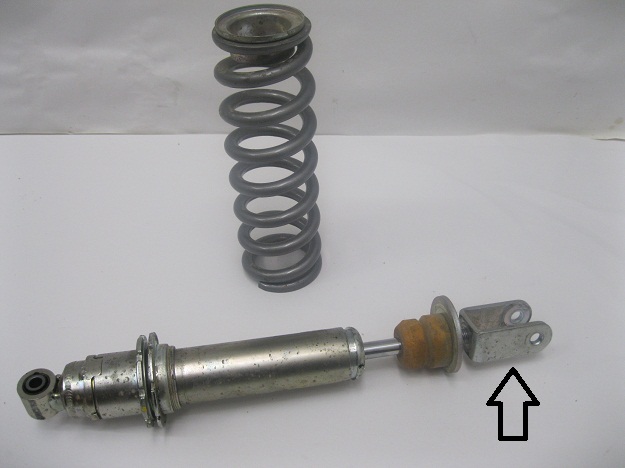 25)
A wise man once said "you can't polish a turd".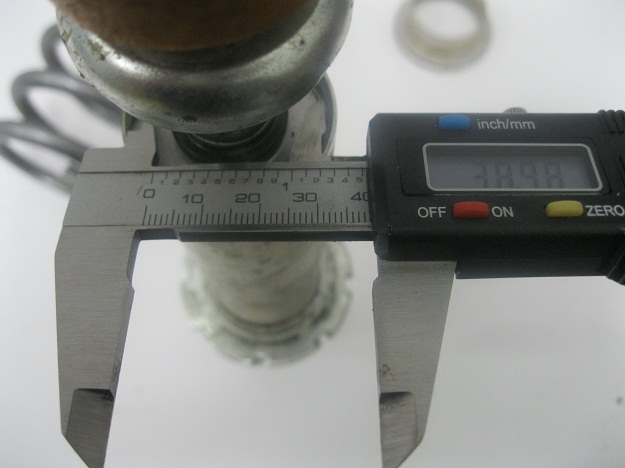 26)
We can rebuild, respring and revalve this but why….?
That few hundred just takes away from the new shock you need.
27)
Above this is the Racetech G3 shock, the list price well above an Ohlins quality shock, it only has rebound adjust and uses an Eibach spring.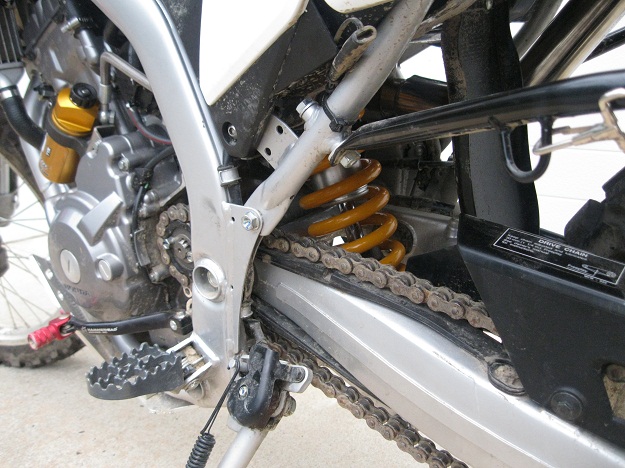 28)
The Ohlins with a full compression adjustable remote reservoir feature and Ohlins quality and machining comes in for less money!
29)
Ohlins shock mounting pic.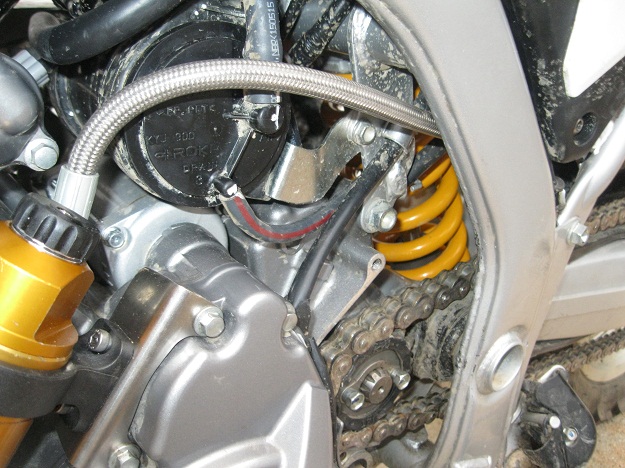 30)
Ohlins shock mounting pic.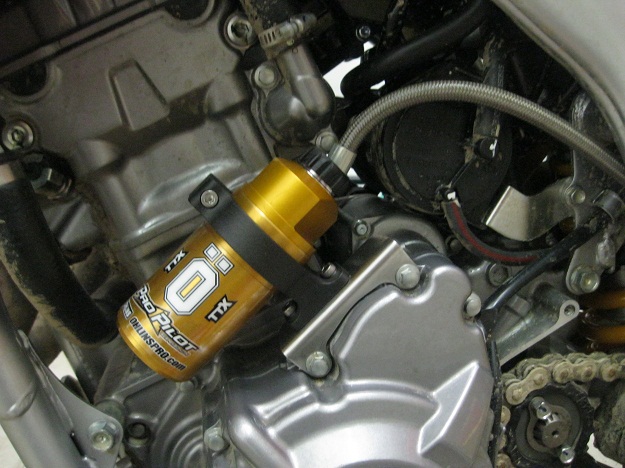 31)
Ohlins Shock mounting pic.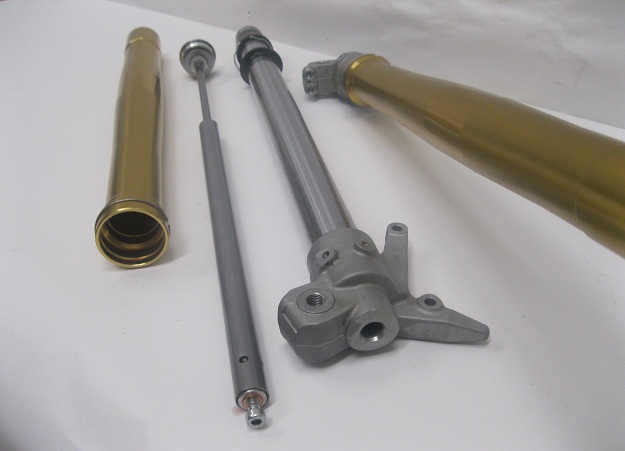 32)
The forks are lefty / righty.
Damping only in left leg spring only in right leg.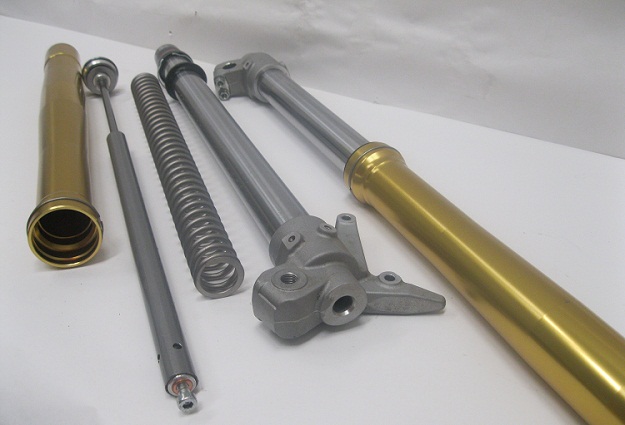 33)
(reminder bike is about 327lbs claimed)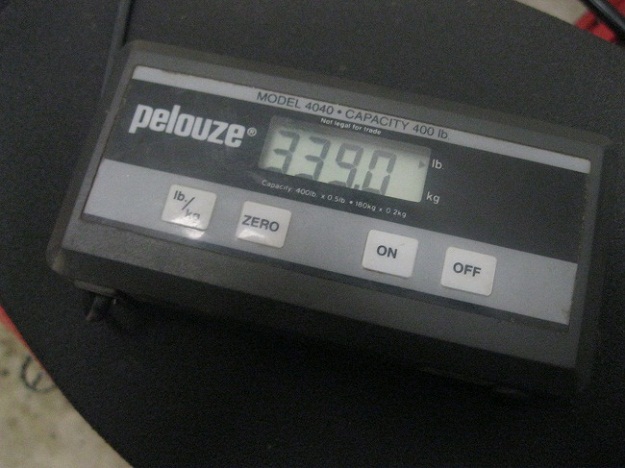 34)
Our test bike with Acerbis tank, skidplates, Cycra handguards, empty nylon bags  came in at 339.0lbs.
This weight was with above stuff added without potato chips.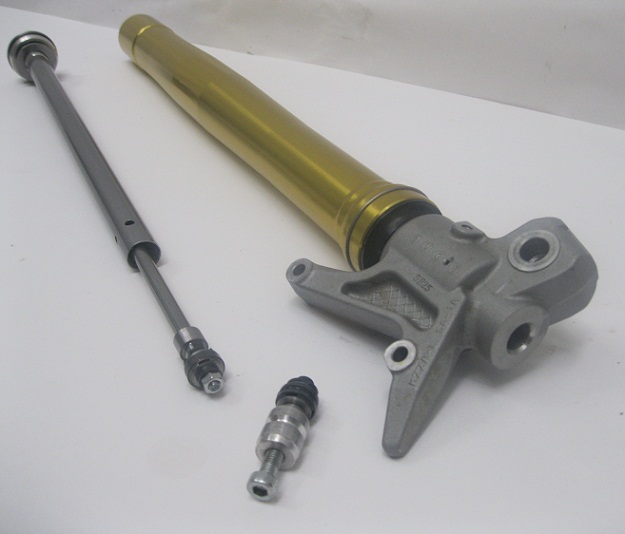 35)
We can revalve the damper leg for better performance, they have "three port" pistons.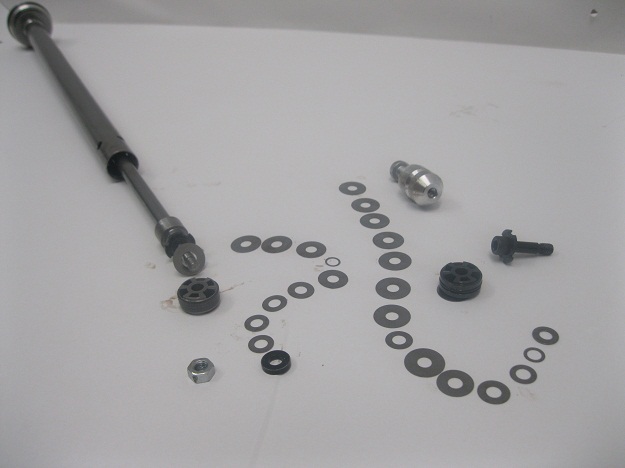 36)
The left leg is where all the magic happens,
Just so you know these Showa pistons are circa 1987 and still around like a mullet in the South.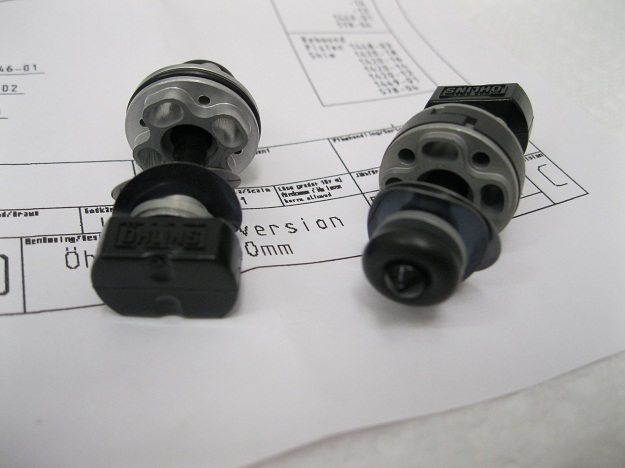 37)
Note: this is not a general catalog item at this time off the shelf subject to change.

Revalving this one is important when doing spring rate option because they use one legs damping to do both legs, find out about in house custom valving option by rider weight and conditions.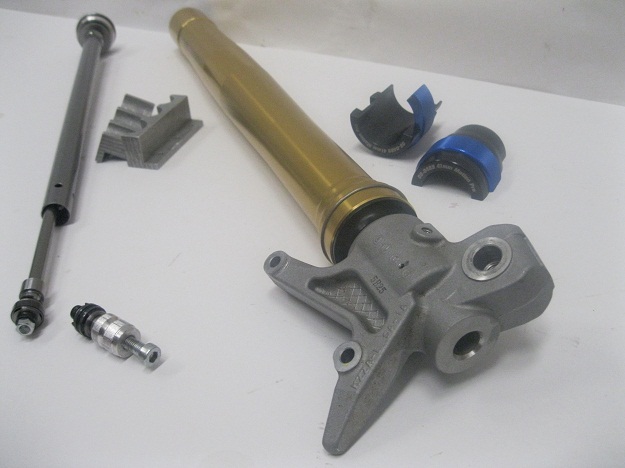 38)
A cartridge holding tool and 43mm split seal driver.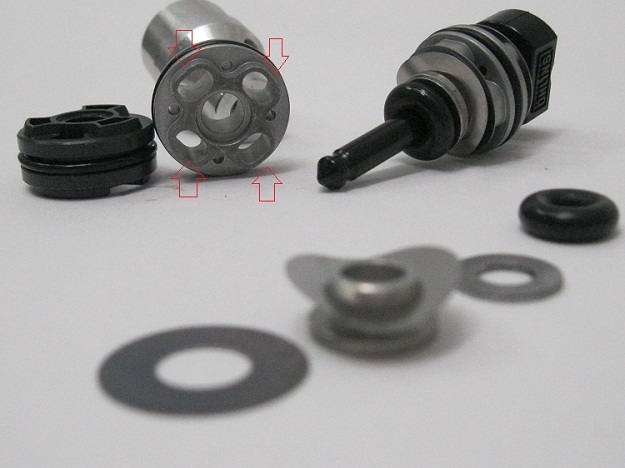 39)
Above although not yet in the catalog, there is fork piston and valving options that work sweet.
40)
41)
The Honda CRF250L has lots of stuff really finished nice for the bike price.
42)
The Honda should be rated "most likely to get you home" compared to many other brands.
The motor is smooth and sweet. probably will run forever, typical Honda.
43)
This example,
Shows a 135lb rider hitting the max size bump with the stock suspension at less than 5mph in Japan?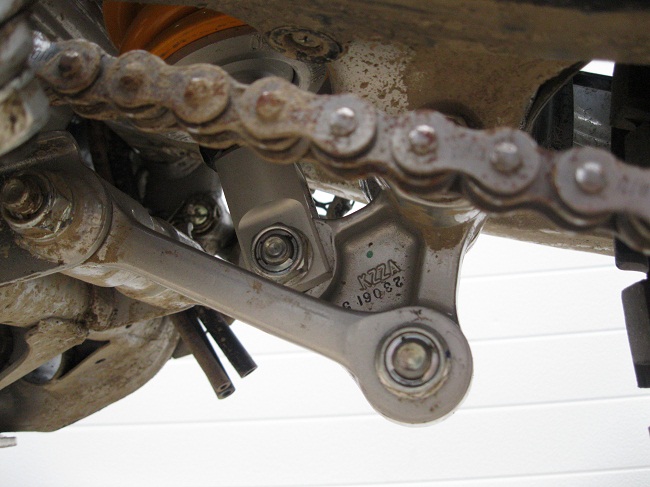 44)
45)
46)
Honda CRF250L
47)
Honda is a sweet looker~
_________________________________________________________________

OHLINS OPTION, Great shock and fork products for LESS than you may think!

Above buy the Ohlins S46 shock with Adjustable Compression (reservoir) and Rebound that has a divided internal piston for fade Free performance.
The Ohlins Fork Springs (that are true to length and fit correctly/made great) and Ohlins fork caps that let you Equalize Air build up like a Mx/GNCC /Enduro bike.
Add a 20mm 4 port piston and valving kits as needed.
____________________________________________________________

Above shown RACE TECH brand-

48)

Update
Shown above, there is a cheapo-foogesi stuff a spring in one leg option, was out very early on but not so much any more~
That adds to the already week other spring side leg spring (insert-hope, here…) maybe but too cheap to keep.
We sell more of the Ohlins Spring and cap(s) set to do it right and you get 2 spring rates plus air bleedable caps.