BMW R 1150 R Rockster UPDATE Ohlins
UPDATE Through Today~

To the SUPER COOL- BMW R1150 R "Rockster" Version Shocks.
Yep, they are a different length and build to a regular BMW R1150 R 2001-2006 shocks that can't be used on a "Rockster" version.
We revisited the latest and best correct length comparing and rating even the spring rates and preload and true shock lengths, however build and newest design can still evolve through today with the latest updates.

Ohlins may not list any longer in the catalogs but we know the what to do and have double checked all info directly against the standard shocks to confirm.
Some learned changes to things work even better today through updates then they did back then.
Below these were an evolution set they have newer and even better changes since through today.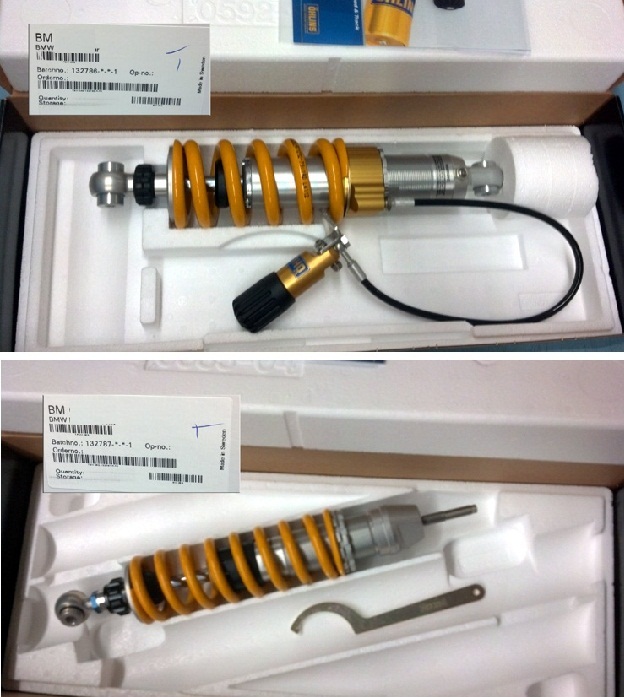 These Ohlins Shocks are both Divided Internal Floating Pistons (non Emulsion type) so they are a virtually fade free design , the front feature adjustable length (without removing from bike) and rear 23 turn preload with 45 click rebound adjustment. Both have heavy duty 16mm shaft (rear)  and 14mm Shaft (front).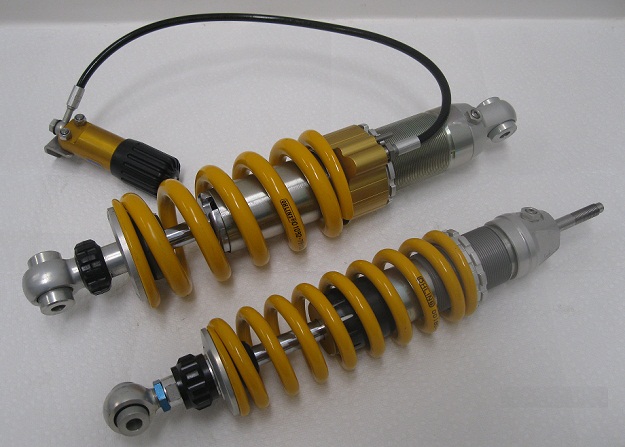 Above these were an evolution set they have changes since to today.

The correct Ohlins has lots of features over the stock shock.
Divided fluid and Nitrogen for fade free performance, much larger 14mm shaft with aprox. 45 clicks damping adjustment (black knob machined aluminum turns to adjust) Adjustable spring preload via spanners, and adjustable length while on bike using (19mm Blue Locker ) and turning 17mm stem up or down.
The Ohlins Shock in above picture shown in foreground is actually exact same eye-to-platform length when measured although they look distorted in picture because one is in front of other for picture.
Ohlins also can adjust slightly longer or shorter over standard.
Bmw claimed Travel front is 120mm (4.7″) and claimed rear Travel is 135mm (5.3″)