Vintage Mx
THE GLORY DAYS!~ Perhaps the best twenty years in motocross, the bikes, the shocks, an some interesting scoop.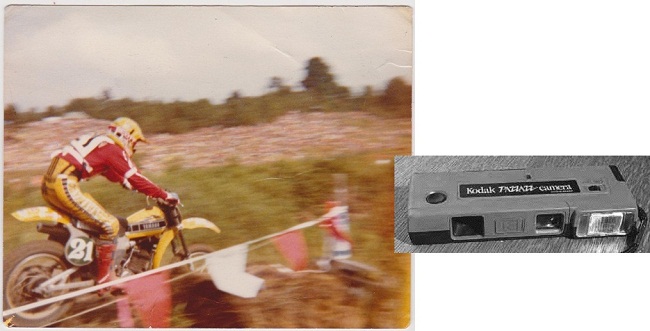 My father took my brother and i to see an amazing event at about 13 years Old, The Unadilla 250 USGP glory days circa 1979!.
"The Woodstock of Motocross" with over thirty thousand Crazy Spectators like no other time in Motocross.
See  below as to how this  .50 cent disposable camera changed the World!
Which led to a more than a forty year carrier, 
          More than a decade of professional racing, traveling the world,
                            Suspension building for so many wonderful people over 40 plus years.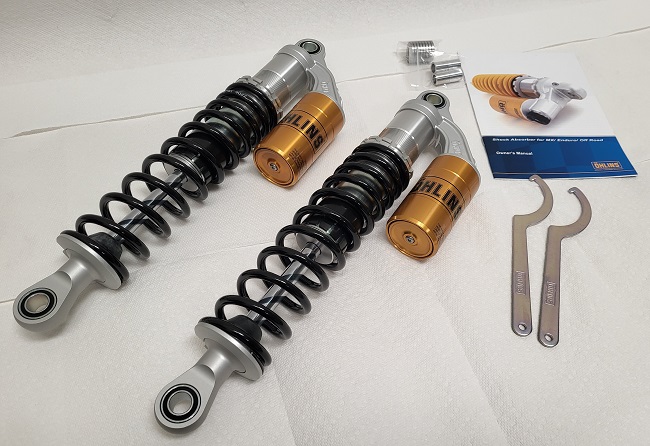 1)
Above 2023 Version  Ohlins S36P Piggyback shocks divided fluid and nitrogen design with internal floating piston in reservoir.
Black or Yellow springs,Optional spring rates available,  10mm or 8 mm Mount Sleeves bushings available for mount bolts sizes, Eye-to-eye 380.5mm long.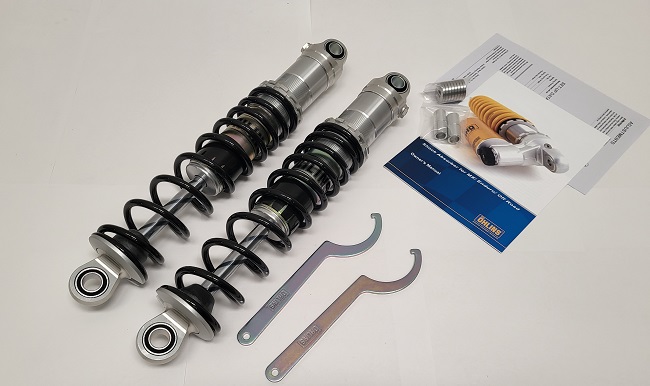 2)
Ohlins 2023 Version Vintage MX  S36D aprox, 360m Long preferred divided internal piston design , not emulsion.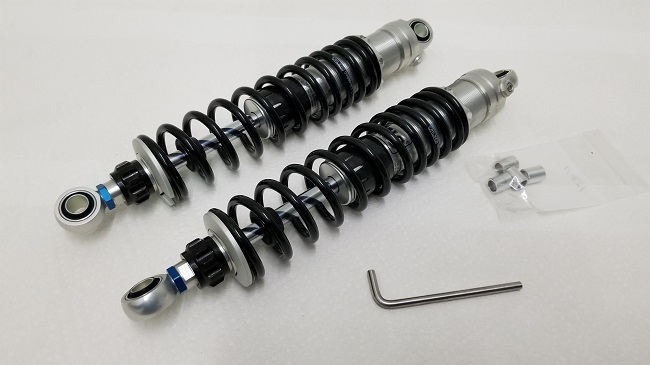 3)
Above shown Ohlins S36ER1L 360+10mm with rebound, 10mm sleeves all 4x corners for your mount bolts.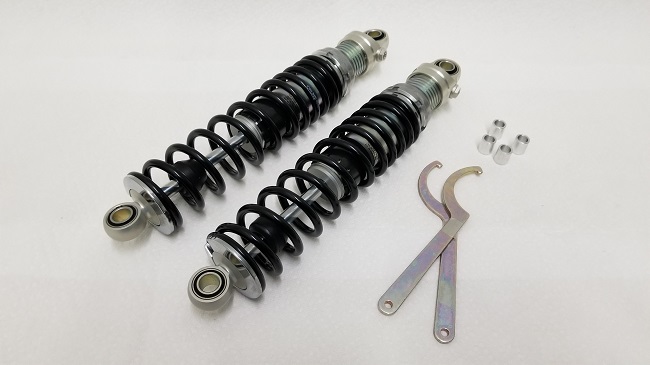 4)
Above popular divided fluid and  nitrogen black or yellow springs 340mm or 360mm eye-to eye.
*Note the bolts all corners will normally have 10mm sleeves and/or some flat washers, if your bolts are 8mm shoulders or other size you would change the sleeves.
5)
Above New ! Remade  NEW in the USA Air Shocks for Vintage Mx  popular  Lengths available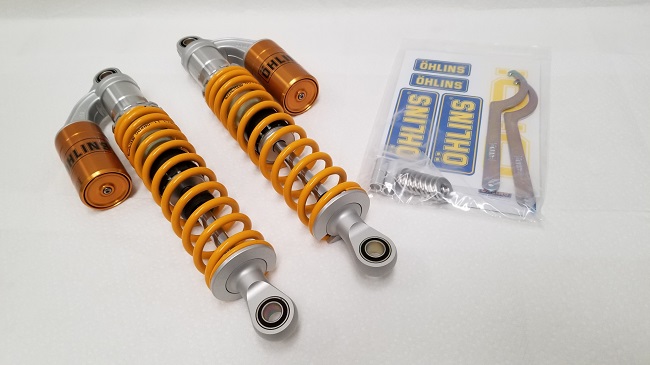 6)

Above Popular divided fluid and nitrogen 380.5 mm with 10mm mount sleeves all four corners common eye-to-eye with either black or yellow springs (see full page below details…).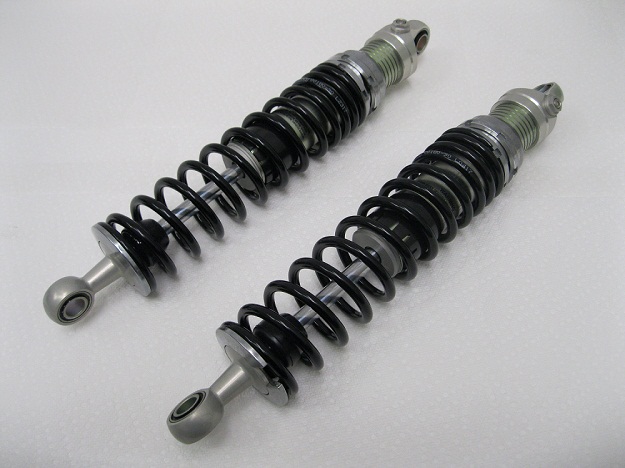 7 )
Above this set of S36D divided fluid and nitrogen was 360mm finished with a longer bottom Ends call end eyes, sometimes that's helpful getting around the swing arm gussets and the way some things mount need a little more room.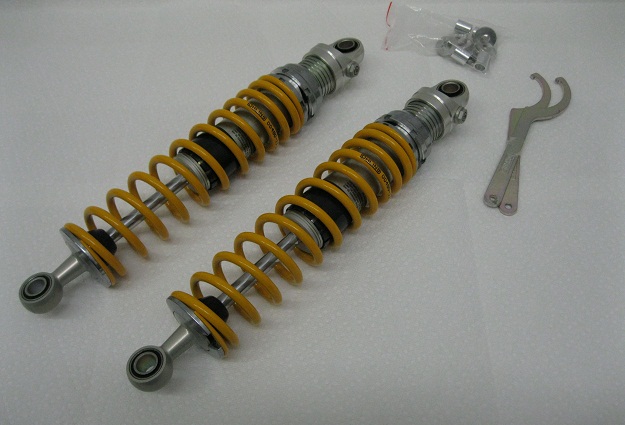 8 )
Above same but Yellow  springs S36D series divided fluid and Nitrogen.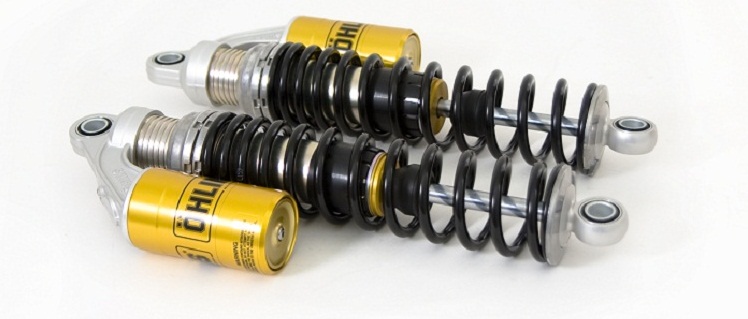 9)
Above these are S36P with Short end eyes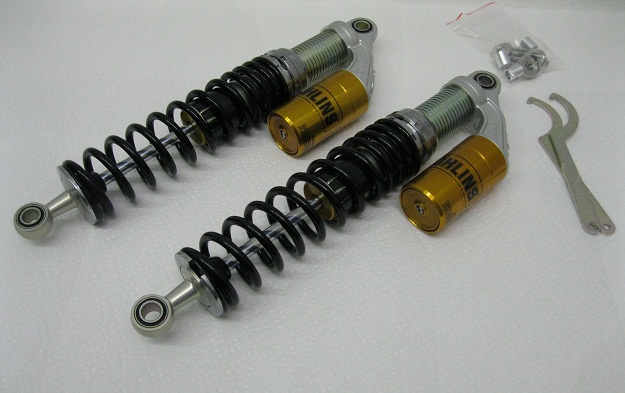 10 )
Above this one is a S36P divided fluid and nitrogen "piggyback" has longer shafts so 393.50mm (about 15.5″) eye-to-eye, also shown 10mm mounting sleeves and random flat washers if needed , included  spring spanner wrenches plus you can move the body clips every  4mm up and down body, and has the Longest End eyes on bottom.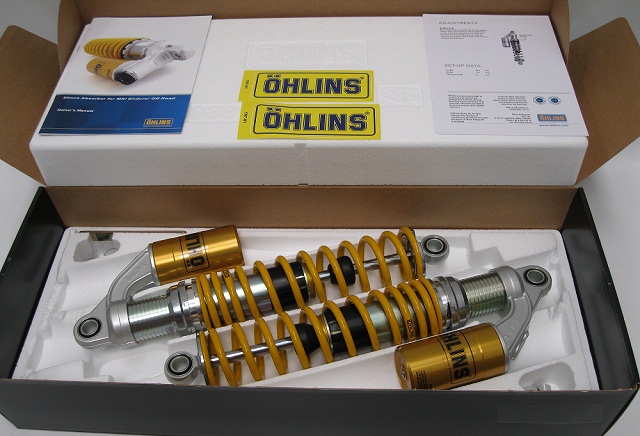 11 )
S36 p with yellow springs and short end eyes.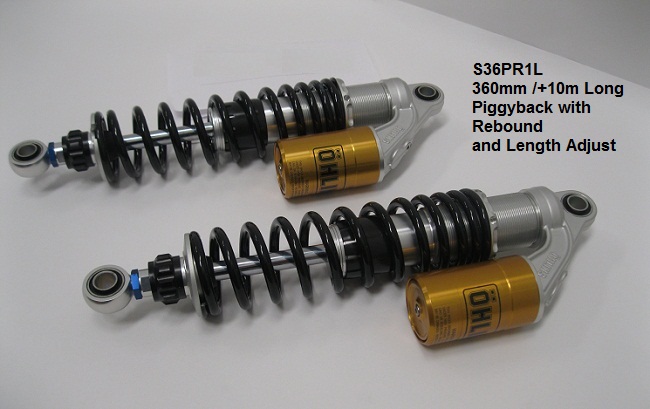 12)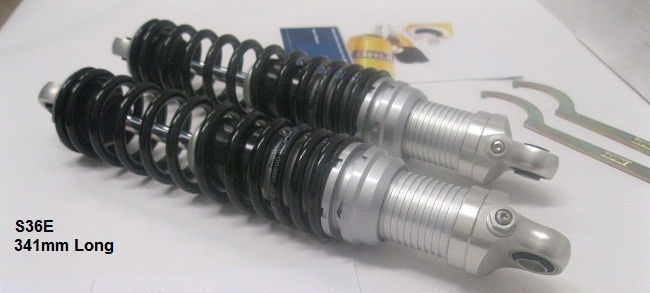 13)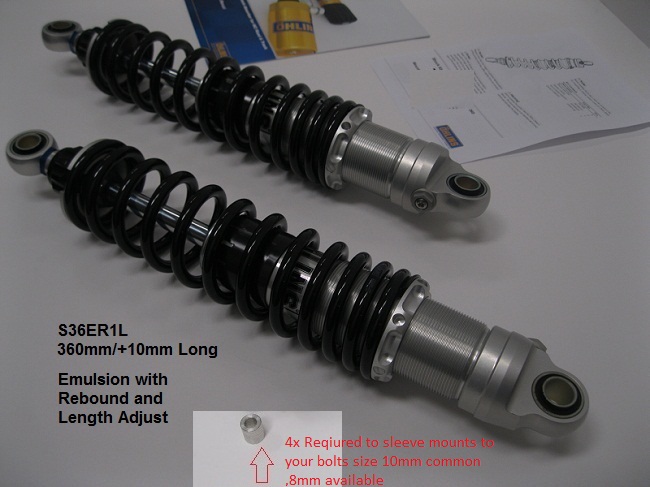 14 )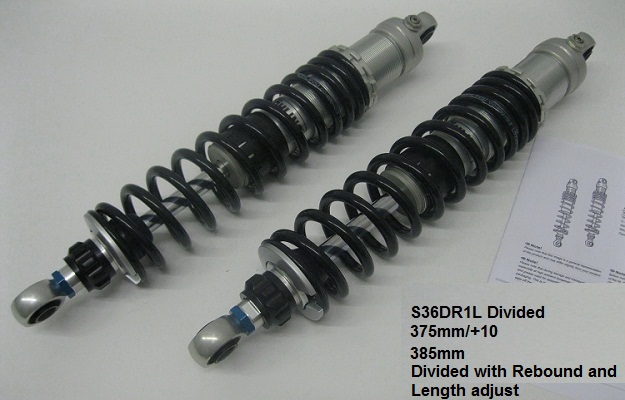 15)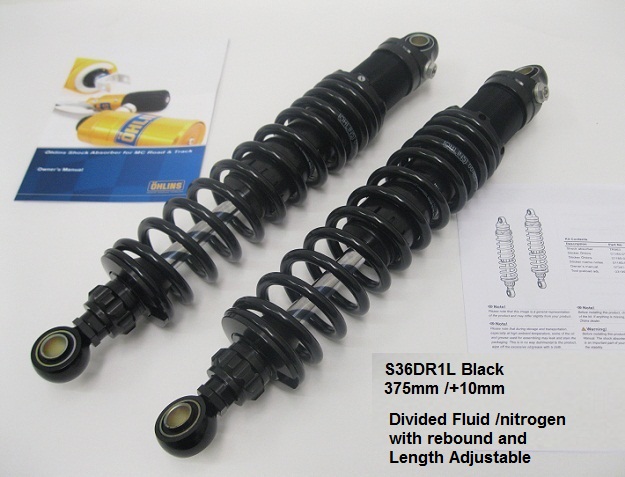 16 )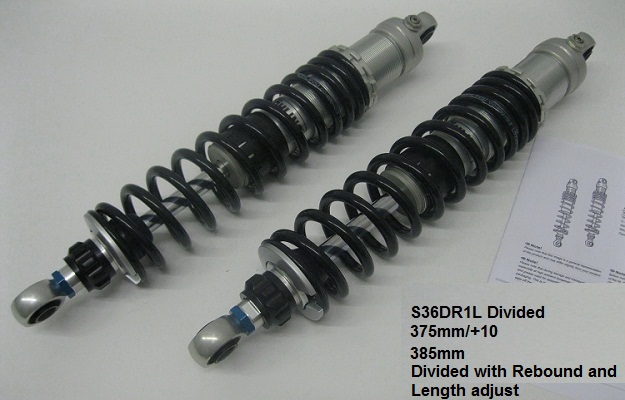 17 )
________________________________________________________________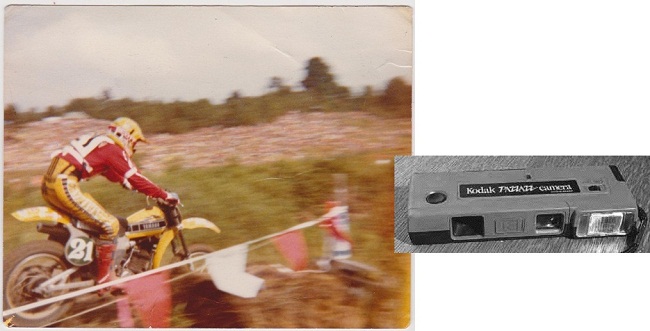 18)
My father took my brother and i to see an amazing event, Unadilla 250 USGP glory days circa 1979!
This pic was accidentally taken by my disposable Kodak fifty cent camera, as i whipped around, accidentally  CLICK!, Bob Hannah in focus with "No-Speed" vintage 110 film as he blitzed by a super fast nasty straightaway five feet away.  Notice the wall of spectators on the far valley hill that was always last to fill up, they claimed almost 30k at that event like the"Woodstock of Moto", i think i was 14 years old or going to be that fall.
By seventeen i turned pro and raced professional motocross throughout the United States including many USGP's at Unadilla, and doing races in Canada, Denmark, Sweden and Newfoundland.
The Ohlins trackside factory support guy was Thomas Peterson out of a box van, one of Kent Ohlins best friend's from Sweden, surprisingly we met again many years later training with Thomas as the first factory Authorized Service centers in the USA during the late 90's, he still works at Ohlins Sweden as one of the top engineers and product division managers.
Ohlins over 40 years ago now was the very first company to design the DIVIDED twin shock with separate fluid from the nitrogen via an internal floating piston for almost fade free performance, instead of the emulsion mixed foamy designs of the past and the legendary championship winning performance was born.
Fortunately i was able to earn eleven consecutive AMA National numbers as well as many regional and local series championships during a fourteen year Professional racing carrier, but still riding three days a week for more than thirty years now mainly for fitness, fun and exercise, but an occasional event.
I also have built shocks five days a week since the early eighties threw today, for many of the best, along with following the professional racing circuit and traveling nine months of the years for a couple decades back then.
19)
Hurricane's wild and out of control jump out of Gravity Cavity at the 1979 250 USGP at Unadilla, NY.
One of the most famous photo's in motocross.
(Google 250~USGP)
Bob Hannah – Changing My Mind
1979 250 USGP at Unadilla, NY
Changing my line or changing my mind? that's what was going on in the picture. Here's what I remember about that moment back in 1979, at the 250 USGP at Unadilla, NY. We were on into the race, and I couldn't catch Marty Tripes. He was probably 3-4 seconds ahead of me ? and I couldn't catch him. I was getting frustrated because in some sections I was faster, in others, he was faster. I could see that he was faster than me going through Gravity Cavity, so I slowed up enough to watch him. I saw that he was using the far left side ? when I'd been taking the far right side. So on the next lap, I moved over to the far left side. The only problem was, there was a hole at the top of Gravity Cavity on the left side that Tripes was pre-jumping ? and I didn't see it! I whacked that hole with my rear wheel and started to endo over the front. Actually, I was going to jump off the bike because it was going to throw my ass off anyway. I had at least 6 seconds in the air for it to come back ? and it did ? it started coming back. I turned the throttle wide open to bring the nose back up and it started coming back, and I thought, "Hey? I can save this if I just hang the heck on!" Then, my foot caught on the seat and I just pulled myself back on.
THAT'S when the photo was taken? as I was pulling myself back onto the bike. I had changed my mind. As the saying goes, I'd rather be lucky than good.
20)
Many suspension designs would never have been invented if not for the Motocross demands and suspension technology changes around the world.
21)
Above shown is all New parts (except for the origional era NLA top aluminum web heads) makes a set of S36 Vintage piggybacks  99% new, with sherical mounts and bushings all 4 corners.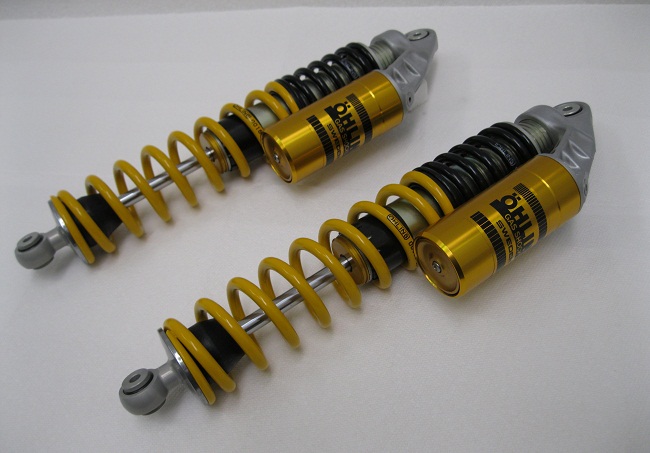 22)
 1981 Maico 490
Above everything new except Vintage look aluminum web heads from the past.
Above shown Ohlins Twin shock bottom bracket example with sherical ball, press in bushings (that makes 8mmx 24mm finished for 8mm mounting bolt), and seals per each side to help keep dirt out from the new sherical bearing.
Its no surprise that the founders of many better known brands including Ohlins got there start and continue the connection with motocross!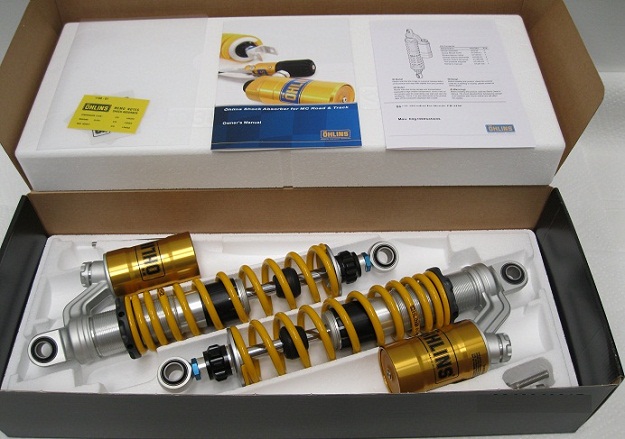 24)
1976- Meets 2017! ~

You crazy !~ Imagine if some sicko made you a set of vintage Mx Shocks with fully adjustable Compression, Rebound and 10mm external length adjustable! (See Below for traditional Ohlins pairs…)

Optional 8mm, 10mm, and 12mm mounting sleeves are available to purchase.

25)
I was there this day in Colorado!
So this is Rick Johnson Factory Yamaha at the 1982 Colorado Mx National, the final round were his front wheel blew out costing him the National Championship, well i was there that day to see it first hand. In 1982 i had a simple Yamaha Support ride as a first year Pro at 17 years old, i drove by myself to Atlanta Mx national, then on to Colorado 29 hours from my home at 17 years old by about a month, i would sleep under my bike in a short Dodge van and make friends when i got there to pit board for me!
My bike was a stocker 30lbs over weight! Rick Johnson Works Yamaha was pretty slim but no Factory Honda! The Colorado altitude made my almost stock bike run even worse up the hills! What a blubber!
(See Story ….) The 1982 250 National final-round showdown at Castle Rock, Colorado.
Colorado hosted the eighth and final round of the series, with Team Honda's Donnie Hansen looking to back up his AMA Supercross Championship with the motocross crown. But young Yamaha men Ricky Johnson and Broc Glover were right there with him, and RJ appeared to have the title on lock. Although he was riding a modified production Yamaha against Hansen's works Honda, Johnson, a second-year pro, was establishing himself as a force. He held the points lead heading into the race and needed to just cruise through the day to lock the crown.
Instead, he went after Hansen and tried to win the race, and ended up blowing up his front wheel and DNFing the first moto.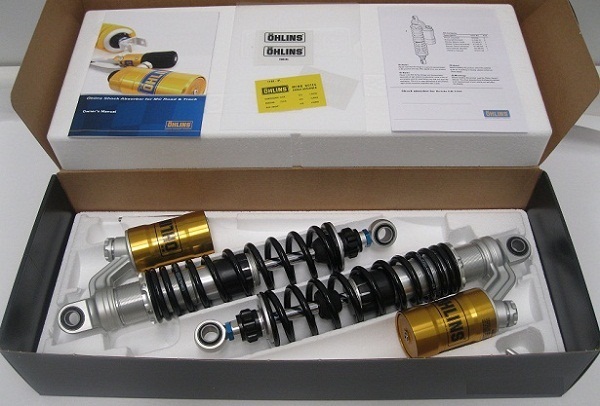 26)
Above Ohlins shock set same shown with black springs but otherwise same.

27)
1983 saw Ron Lechien, Factory Yamaha enter the picture, with Rick Johnson from the El Cajon zone!
28)
I had one of these 1983 Yamaha YZ 250's, moving the shock to a up and down and a bunch of other things made this bike feel to me about 60% better and more nibble than the '82 overweight tank threw the fat sand bumps !
I think i raced the Waco Texas National about 30 hours from home that year, i remember sitting in the pits with my dad before practice, Ouch! something bit by angle, what the … Ohh, that's a red "fire ant"!
29)
Discover motocross and you may have discovered the "fountain of youth!".
30)
Fox Air Shocks Style Remade Vintage MX Air Shocks for available
31)
1976 Tony D wins Daytona Supercross.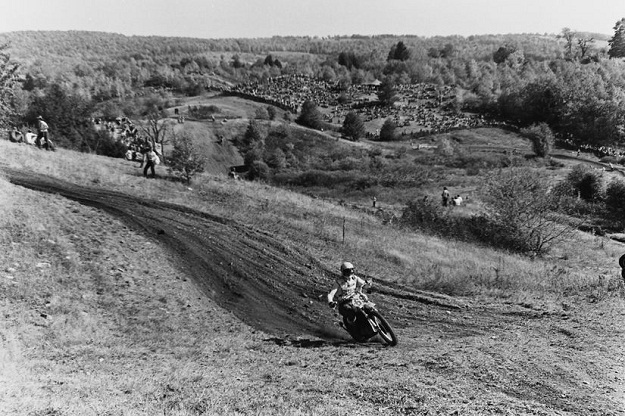 32)
Roger Decoster Unadilla circa 1974.
33)
I'll always remember the Saturday afternoon that Danny "Magoo" Chandler, Factory Honda spent talking and with me at Saddleback California Sign up hotel before the race on my Ford bumper! (maybe 1984 or '85).
So my first year i drove to California from the East coast was in the early eighties 3000 miles to race Saddleback and Hangtown with a small shorty Ford van and two Honda Cr250's. Pro sign up in those days was usually at a hotel all day Saturday before the race event.
Danny "Magoo" Chandler being form Northern California i guess sat on my bumper while i finished my bike prep having the most enjoyable conversations i can remember, he went on to win ALL Four of the Motocross des Nations Moto's later that year first ever, still stands today!
He rode for Factory Honda with teammates David Bailey and Johnny O'mara.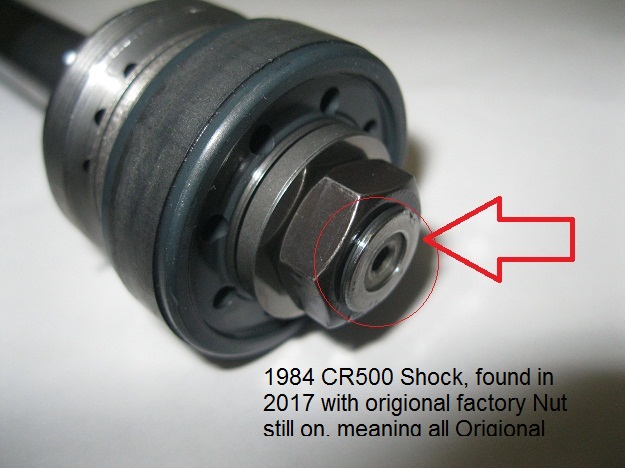 34)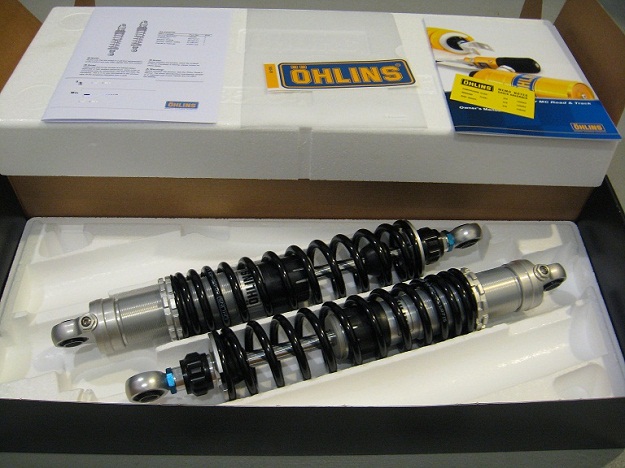 35)
Above, shown eye to eye length from 375mm (14.76″) to 385mm (15.15″). These are starting about $994.95 plus fit-out changes as needed, they are just because we can, may not be "Vintage Legal for Local Events" but wow are they sweet for riding!
These are divided fluid and nitrogen shocks, (meaning an internal piston in the main tube about 2″ from top) they have adjustable rebound (about 45 clicks) and external length 10mm with 14mm grommets all four corners, sleeves to make mounts 8mm,10mm,12,mm can be purchased as needed.
Traditional "emulsion style" shocks means when the fluid and nitrogen are MIXED within the shock like "foamy Root Beer" which is why that design fades.
36)
Known as "The most physically demanding sport" in the world, that still stands today!
37)
Hannah at Southwick early days!, 1976 maybe.
38)
Bob "hurricane" Hannah Factory Yamaha
Unless you've ridden, you would never know! just how much of a full body and mind workout riding every other day can be, hammering your 30+ minute moto's.
39)
So at Saddleback, California Bob Hannah circa 1981 maybe ? (100)  returned to after a year off from a badly broken leg from a water skiing incident, racing in some epic battles this one with factory Suzuki Kent Howerton (1) from Texas.
By this time the Suzuki was good with the new full floater rear suspension and was an advantage, Hannah road his heart out every inch, having to try so much harder everywhere, including a few "slams" that became famous folk lore.
I was able to ride Kent Howerton's Goodtimes Mx AMA National in San Antonio Texas a couple years, going tubing down the Guadalupe River with epic blistering sun burn like a lobster on my chest under my grinding chest protector in 107′ degree heat for a  two 30+ minute moto's is still one of the memories!  A six foot Texas "water moccasin" slicing past us a few feet away was the other thing i remember within the first minute of our river adventure in those tubes.
You would have to combine several other of the most demanding sports to get close to what motocross is as just one, Think of Swimming, Soccer, Mountain climbing, Mountain biking, and running all at the same time (That's a  30 minute moto in  Motocross!).
40)
The Back-Yard Weapon of Choice for us early Motocrosser's, mine included a 1976 Honda XR75.

Above a young Jeff Ward Factory Kawasaki Racing, a 7x AMA Motocross Champion
He also led  52 laps of the Indianapolis 500 and finished second in 1999.
This one bike has had more impact on mini bikes (and my life in general) than any other bike ever made. Honda introduced the XR75 in 1973 and found worldwide success. In the 70's, motocross was becoming huge in the United States. There were motocross tracks everywhere and you could ride almost anywhere you wanted. In grade school, I remember half of the kids rode or raced motocross, and the majority of them had XR75s.
41)
The AMA "legends and Hero's" display at 2016 Atlanta Supercross with Pro Pilot Supplied Ohlins shocks spanning from 1975-2016, a 40+ year history of the sport.
42)
1976 Kent Ohlins a young motocross racer for many years founded the company and was the first to separate the mixed fluid from nitrogen with a dividing piston design
BAM! instant success and performance~ From then forward he provided a product so well worth buying even the best GP teams purchased their product and still do today.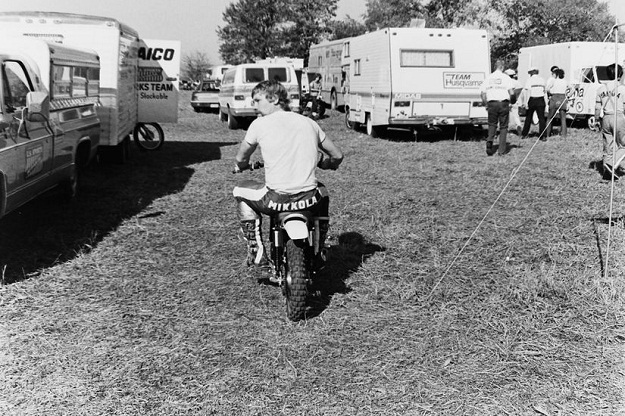 43)
Unadilla Pits USGP circa 1974 Hieki Mikkola
Winning world championships ever since with 40+ years of innovative designs in everything from automotive to motorcycle industries and more.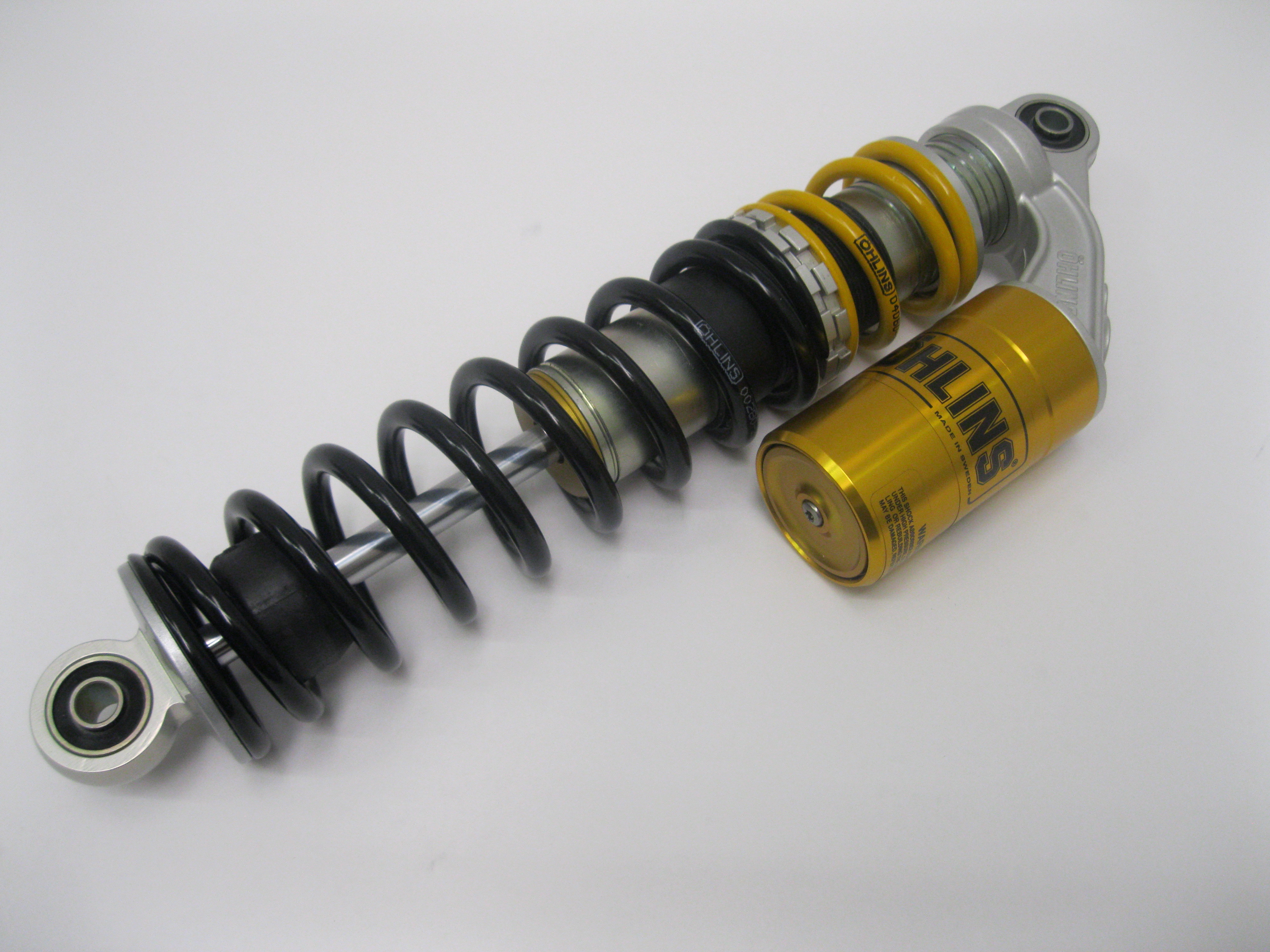 44)
Above, these are 13.5″ x 4-7/16″ (almost 4.5″ stroke) that started as a base Vintage set (from $758.95- $878.95) and added the smaller helper spring and threaded aluminum cross outs  (which was about $89.95-$119.95 more per shock or so…) they have 10mm ID bolt holes at all four corners.

The color of the longer springs can be reversed so the longer spring can be yellow or black in many rates, most of the helper springs are still yellow.
45)
So this is a 1981 Yamaha Yz 250, i remember this bike because i was young when i turned a local expert in motocross at 15 and a half years old after one season and a couple races. My second expert race and somehow finished second to the great Mickey Kessler an excellent racer eleven years my elder and well established Pro Mx'r.
When i graduated Rutgers Prep High School in 1982 at seventeen, instead of going to the ceremonies i drove myself to Atlanta National 14 hours from home to try to qualify and then from there to Colorado 29 hours from home by myself.
The Atlanta Mx National that year was at a new track at Six Flags over Georgia under the roller coaster! in a wooded shade of hill of some trees so fans could see.
I remember getting lapped by Bob Hannah's Honda as he doubled up a hill landing an inch to the inside of me in 100′ degree heat, i was out of the top twenty but rolling around best i could wishing the moto was over!
46)
The Factory Honda dream Team!
Danny Magoo Chandler, David Bailey, Bob Hannah, Johnny O'Mara, Ron Lechien.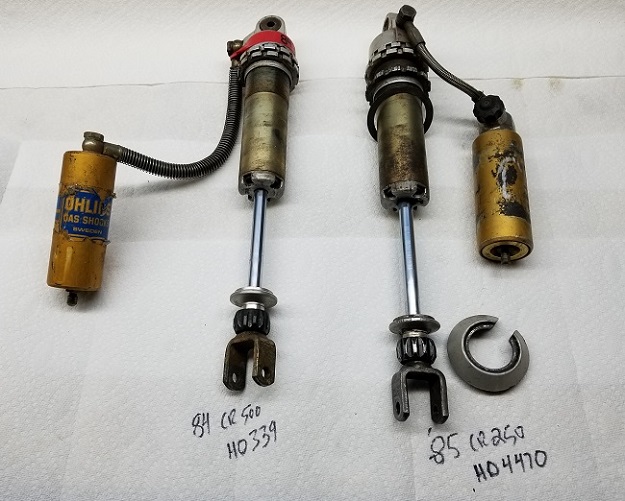 47)
Above a OHLINS 1984 CR500 shock HO339 and a 1985 CR250 shock HO4470. different length and stroke and Compression adjustable reservoir.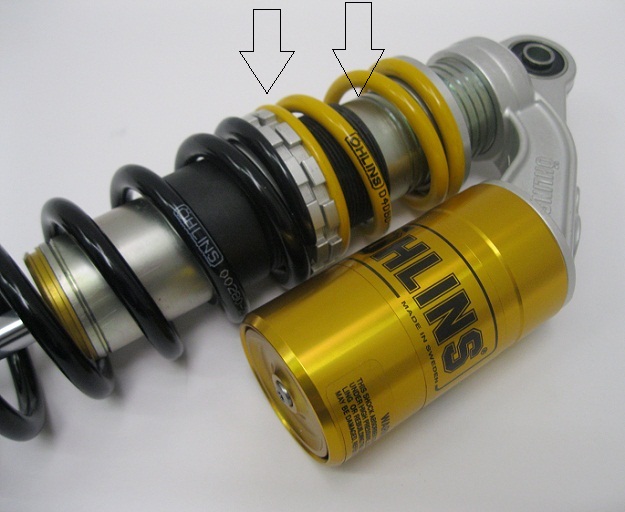 48)
Above, the arrows point to a threaded sleeve under the helper spring instead of just using a plastic "Go-Between" that would jut line up the tow spring and do nothing else, this way you can easily adjust how the helper spring "Crosses-Out" and makes the primary spring work sooner or later for tuning.

(see below more info on "Cross-Outs"… for helper springs…)
49)
The above "Ribi" fork design and Ohlins piggyback shocks.
50)
Bob Hannah at Daytona, certainly something to behold!
It's popular to replace your Vintage Mx restoration project shocks with these popular options below, Ohlins, Works Performance , Progressive. Each brand has their design features verses price point.
Two of the three below are meant to be rebuilt instead of one brand that's throw away's.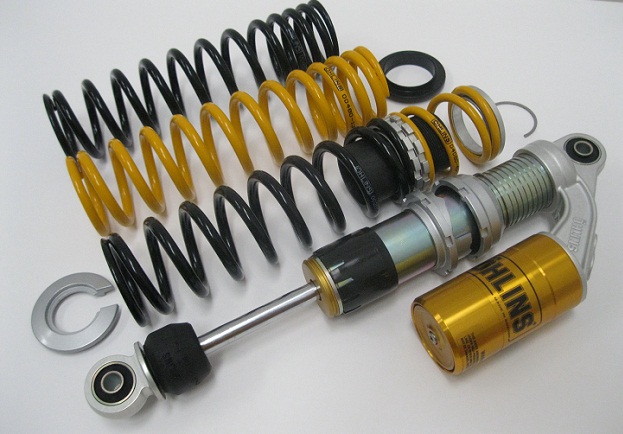 51)
Above, popular Ohlins piggybacks with divided fluid and nitrogen for fade free performance.
Other brands are just "root-beer" foamy~ Yes when they are not divided they are called "emulsion style" when the fluid mixes with nitrogen.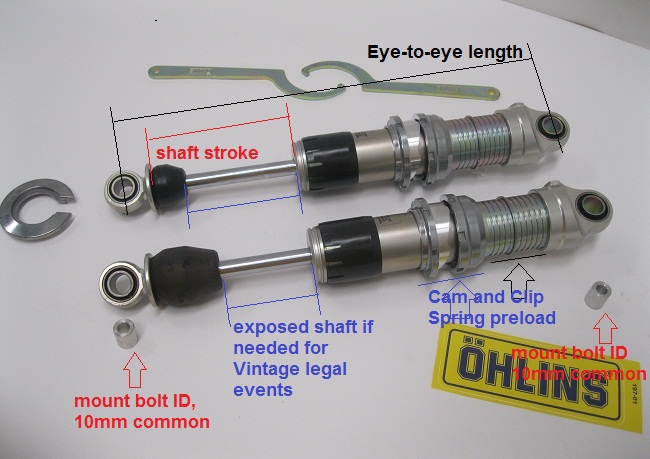 52)
Above, Ohlins S36D series is also divided fluid and nitrogen for fade free performance, they just put the dividing piston in the main shock tube about 2″ from top of cylinder.
At time of ordering verify eye-to-eye shock length, shaft stroke, mounting bolts ID at all 4 corners.
The red arrows on this one point to the 10mm ID sleeves, 8mm, 12mm are available,  or the 14mm grommet ID.
53)
Vintage Mx mid 70's saw lot of fork designs.
54)
Above Vintage Mx  13-5″ x 4-7/16″ stroke  with two different spring and preload options, the shock on left is the base, adding just a helper spring and "Go-Between" is shown on right.

Reminder that a spring plastic "Go-between" only aligns the two springs. The rates then merge together without the ability to  adjust the cross out unless using the threaded sleeve option.
55)
The twin Shock Husqvarna's
56)
So here's a pic of Andy Stacy, quite a character from upstate New York we became good friends! he was instrumental in my first trip abroad to race in Denmark Supercross in 1989.
Meaning i was sitting on my butt at home after Florida series when the phone rang and Andy lined up the event as a fill in that i went to!
I didn't have a passport and needed it in just a few weeks so off to New York City to wait in line that wrapped around a building for a few hours to get one!
Andy was a Factory Husqvarna USA rider on the twin shock Husky, the 1981 "Rookie -Of-the-Year"  his brother Frank Stacy was the Dunlop Guy.
We would spend lots of time in Florida from the day after Christmas to Daytona getting ready for the new season racing and riding.
Later we had Tuf Racing Support rides, the first major mail order  and volume distributor in the USA well before Chaparel and Honda of Troy.
Back then Husky would send him to Florida with a mechanic Ron Nye from Buffalo, a big bonus was like Seven Grand if he could get that thing in "any" supercross main event.
One year Daytona took 30 riders to the main not just 20, he made the main and Husky wanted to not pay him!, "It's a Husky, and it's in the Main!" became a popular joke we had, eventually i think they paid him!.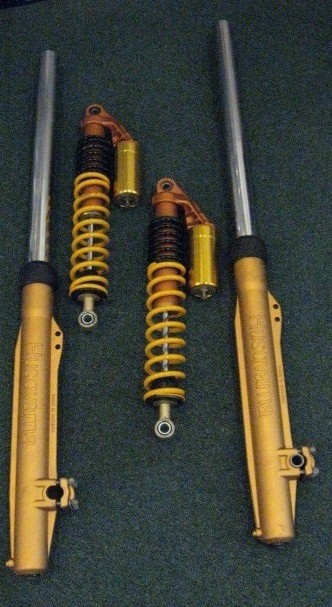 57)
This was like a 1982 Husky set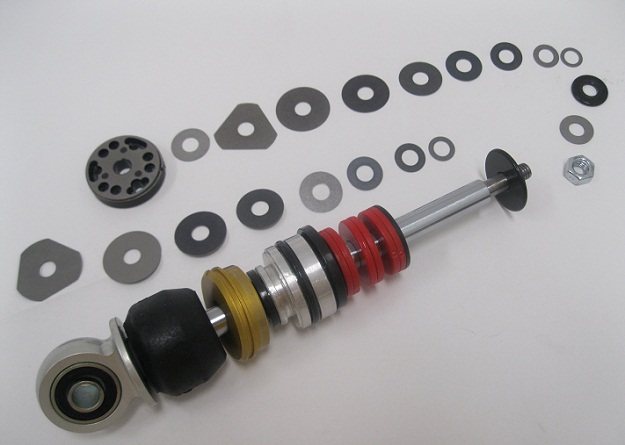 58)
Ohlins has adjustable valving and ways of changing length to suit when done.
Those red things and one black thing is a spacer that Ohlins makes.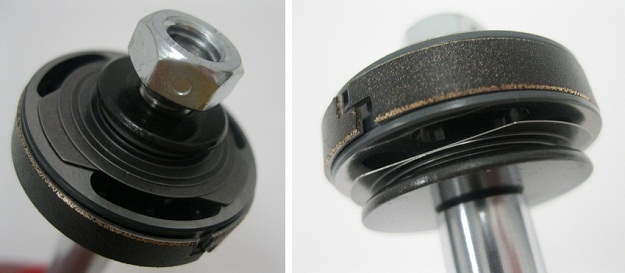 59)
Above Ohlins uses real Valving and Piston port design, this example shows a modern new shock but with the traditional Triangle shim flavor,  authentic to the original stuff.


60)
Above Ohlins shown in this example with a 10mm ID Mount, it's 20mm wide on this one, other styles available.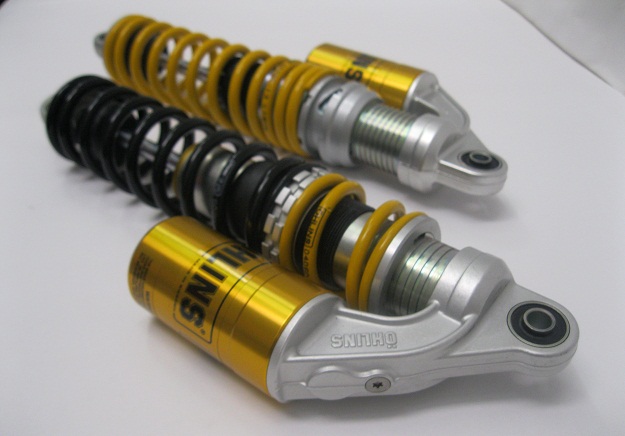 61)
Above, Ohlins can be a base model with one spring that is a dual progressive rate, or an option to use a helper spring and cross out system if eye-to-eye shock length allows.
The top one has a simple cam style spring preload adjuster, plus all the clips up and down body.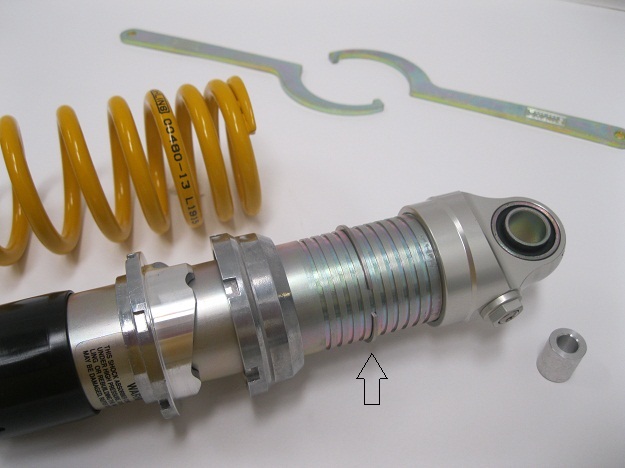 62)
Above shows some preload options, the "three lobe" cam and body clips.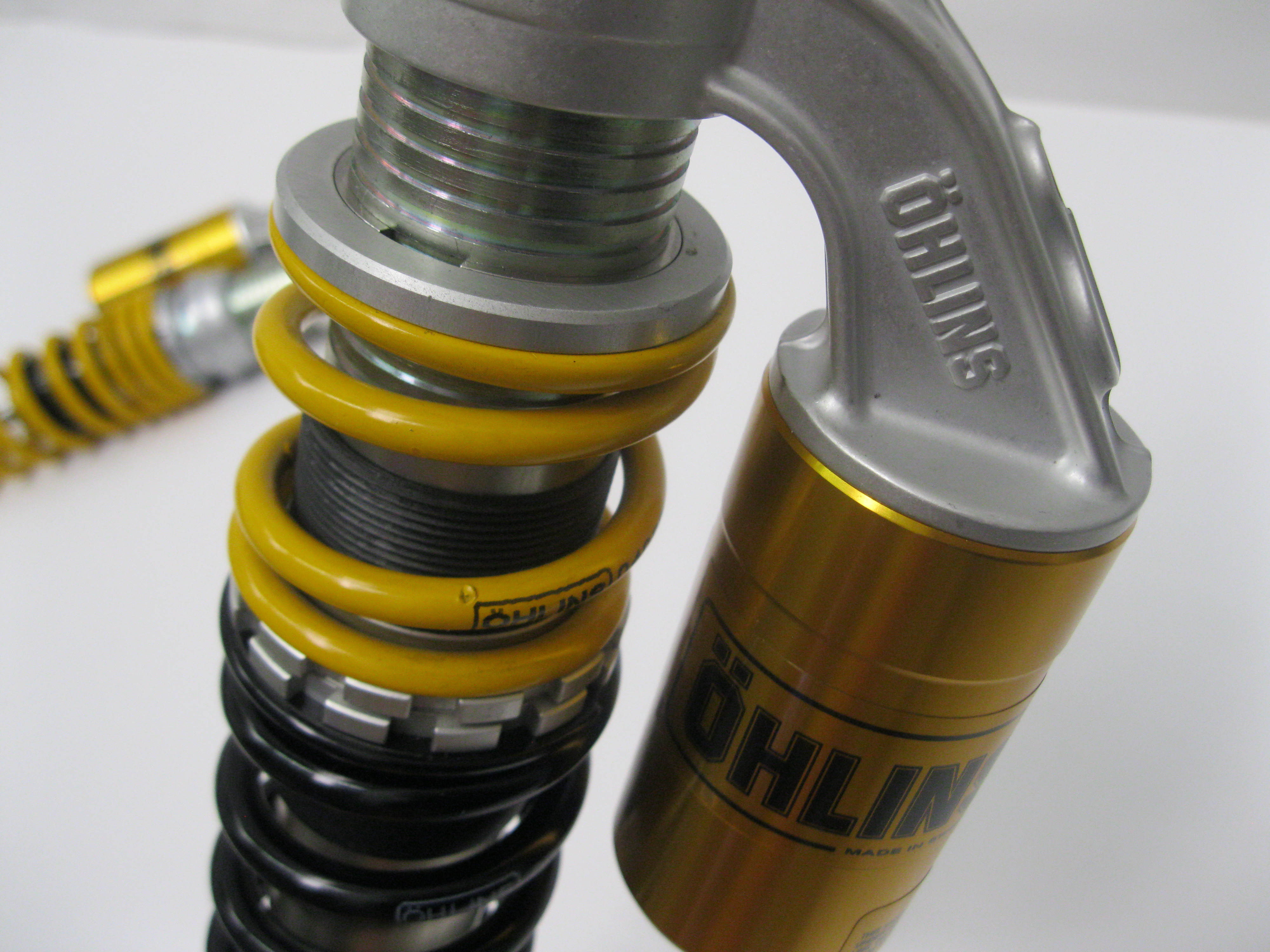 63)
Above shows the "square clip" you can move up and down body.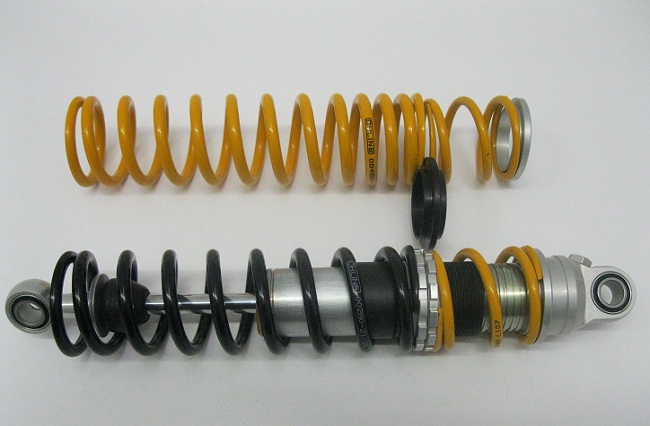 64)
Above shows the different of a helper spring "plastic go-between" or the adjustable threaded style cross out option.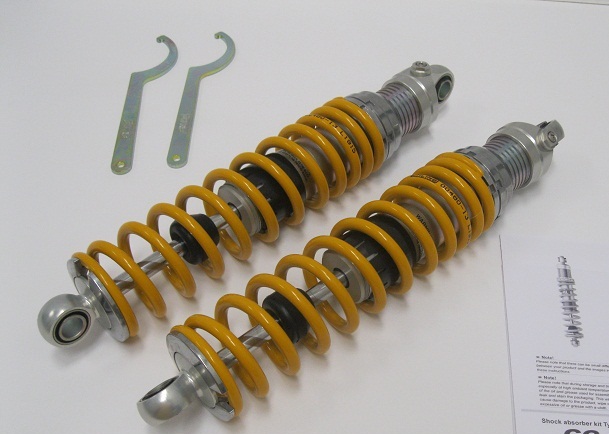 65)
These are 340mm eye-to-eye which is 13.385″

Shown with 14mm grommets all four corners, so using sleeve you can make the mounts 8mm, 10mm or 12mm depending on your bolts.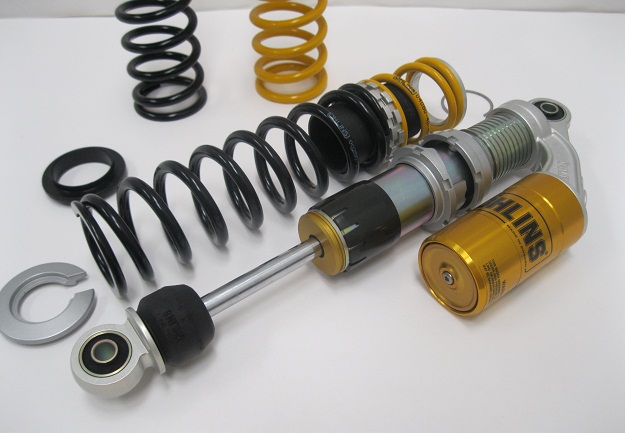 66)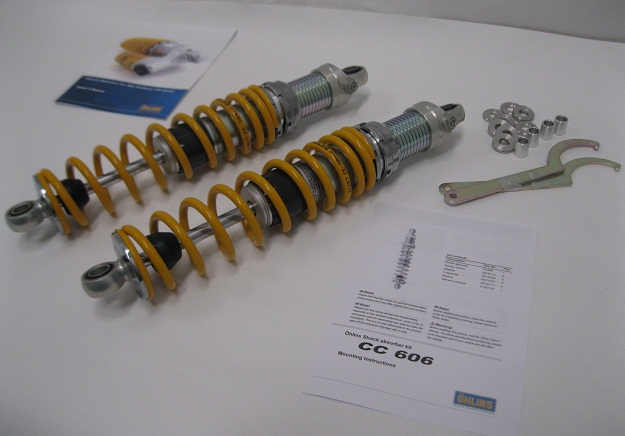 67)
Above these are S36D , divided fluid and nitrogen with internal floating piston within cylinder about and inch or so from top. They are 360mm eye-to-eye with mounts that are 10mm ID all four corners and yellow spring instead of standard black.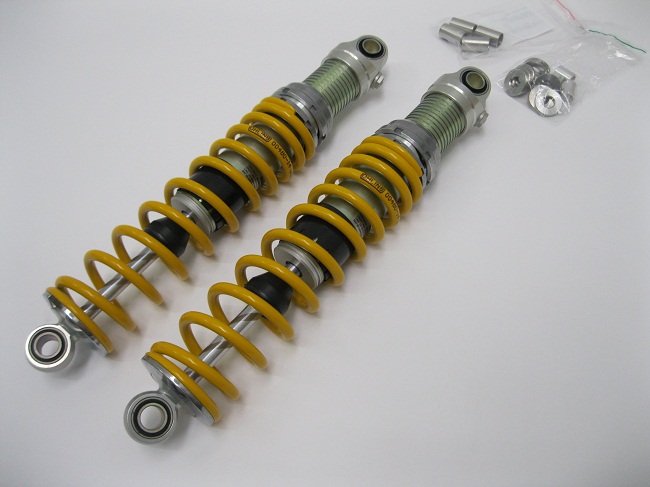 68)
Above 360mm , yellow optional heavy duty springs for 220lbs rider , 12mm stainless sleeves all 4 corners for 12mm mounting bolts.
They are S36D so divided fluid and nitrogen "not emulsion" type were it would be mixed like root-beer and foamy after a few minutes of use.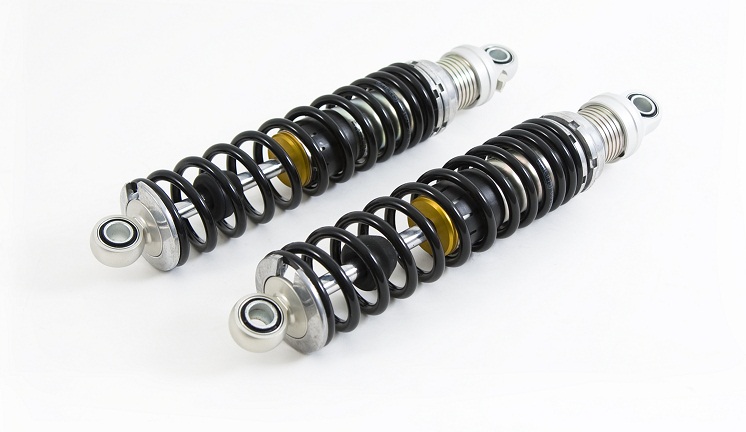 69)

OHLINS has DIVIDED FLUID and NITROGEN EVEN within these MONOTUBES with a internal floating piston INSIDE the main TUBE about 2″ from the Top, adding more or less Nitrogen to this separate area from the fluid is another TUNING element not found in Emulsion Mixed Fluid and Nitrogen Designs.
Ohlins shocks can be rebuildable almost forever and have excellent quality and a real valving and piston design inside.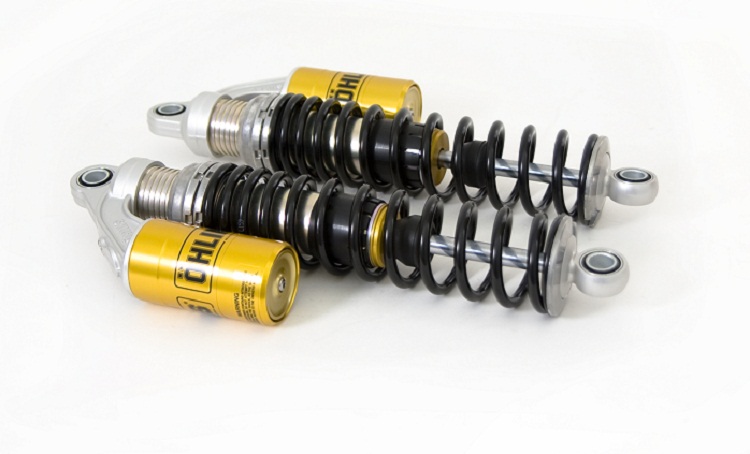 70)
Ohlins "Piggyback Style" reservoir Vintage MX Twins S36P , this design offers more fluid and has the dividing floating piston in the gold colored reservoir with allows both more fluid and nitrogen common to longer shock applications.

Above these have a Dual Rate spring! It is a very well made dual rate "progressive" spring so only one spring that starts at a plusher rate and transitions to a firmer rate at a exact movement on their own.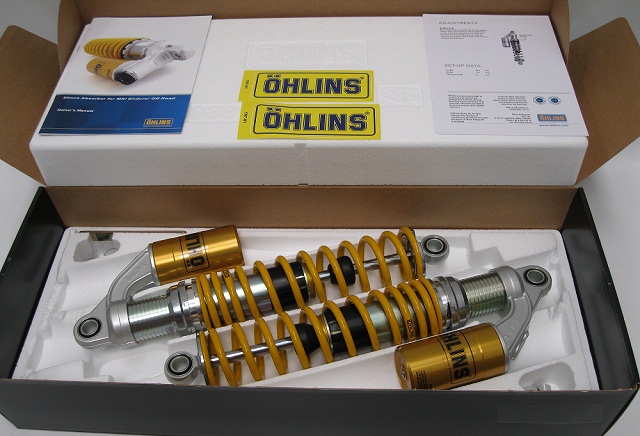 71)
Popular S36P/380.5 mm long (that's 14.98″) with 480-12 yellow springs / 10 ID mm mounts all around, because you use the sleeves on all four reducing them to 10mm ID mount bolts.

These have a Dual Rate springs!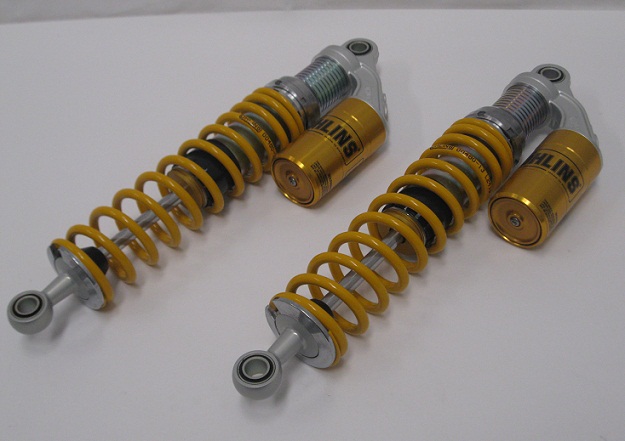 72)
Above base S36P CC718 with yellow springs 380.5mm to start eye-to-eye.
It is a very well made dual rate "progressive" single spring so only one spring starts at a plusher rate and transitions to a firmer rate at a exact movement on their own.

You can buy different bodies and shafts to make them almost anything you may need and spring them accordingly.
73)
Above shows a original 1983 Husky set with old "web-heads" , in front a newer Ohlins S36P series.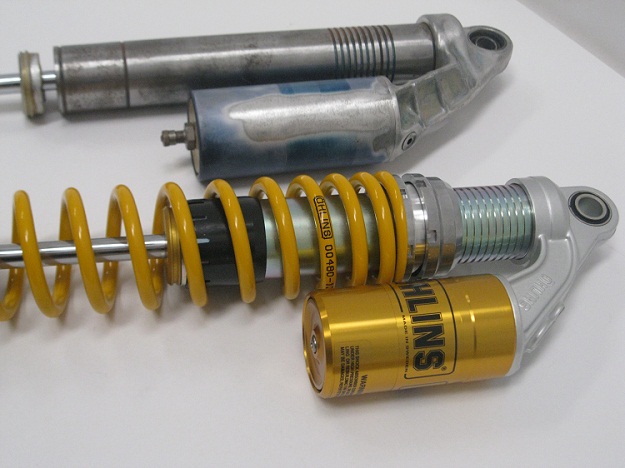 74)
Above the old 1983 Husky Ohlins, some people used to just glass bead the old shocks and repaint the bodies and old web heads to make them look fresher or replace the bodies and gold reservoir tubes.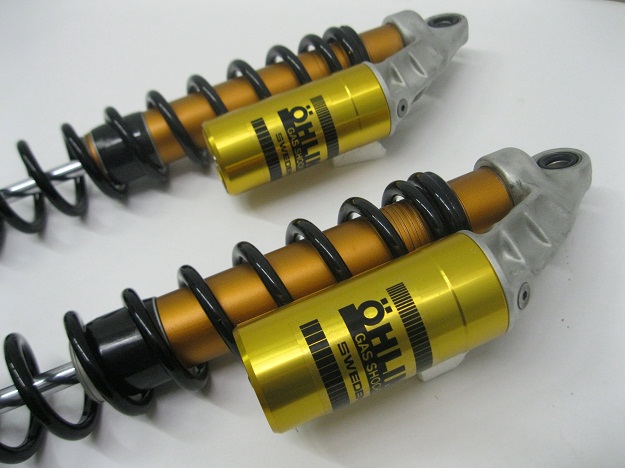 75)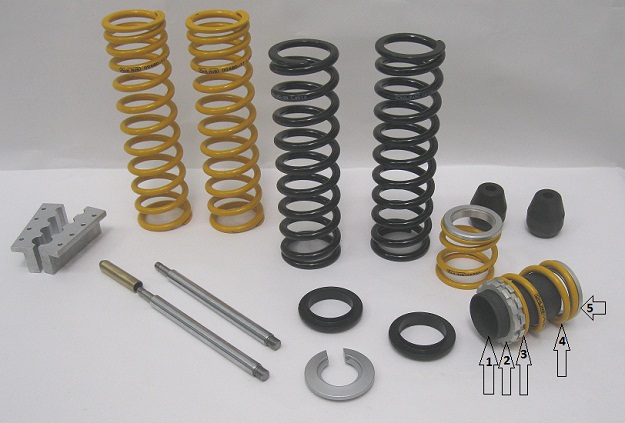 76)
On longer shocks to go Dual Spring conversion or add a second helper spring to your Ohlins twin Pair series shocks your need the five parts shown above plus the space to do it, about 85mm of available body in addition to your primary spring length in this example shown with 4060-40 spring.
Some have to also buy a different length main spring to get it to work properly.

threaded tube 70mm long
lock Spanner
Spring platform spanner (or use 2 for best results)
Helper spring
top spring collar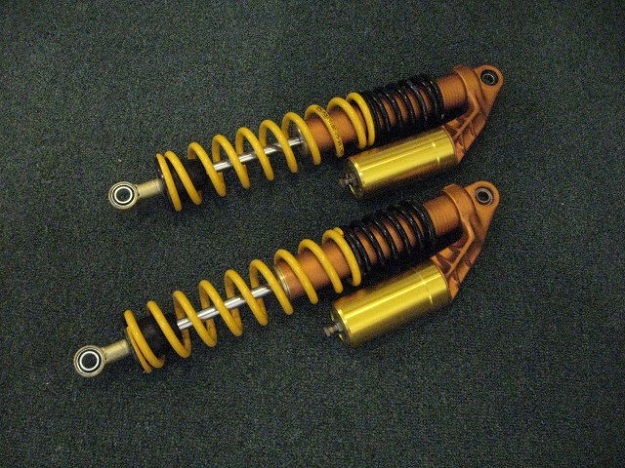 77)
A blast from the past!
Origionally Ohlins used just a "go-between" aligning both springs, this cancelled out the benefits of each spring rate because they ran together "Loosy-Goosy!" matter how stiff your primary spring was. They still worked so well compared to anything else out their they were very popular and the shocks to have.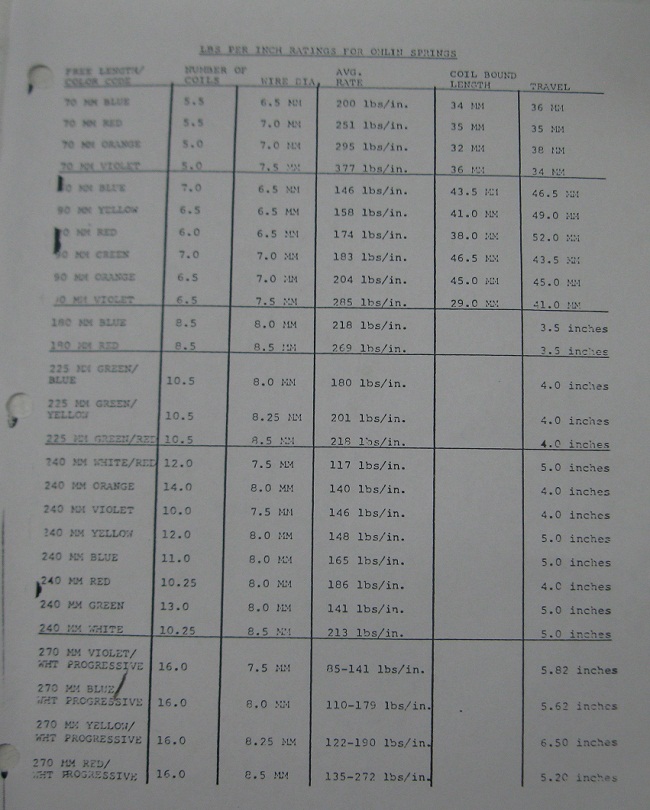 78)
( Above, the Vintage Ohlins spring chart from way back in the 80's may not mean much now.)
Ohlins was a leader in twin shock Mx designs that put the company the map with the founder in Motocross!

Above shoes these gold "web"heads shown above off a husky are NLA but you may see some from time to time.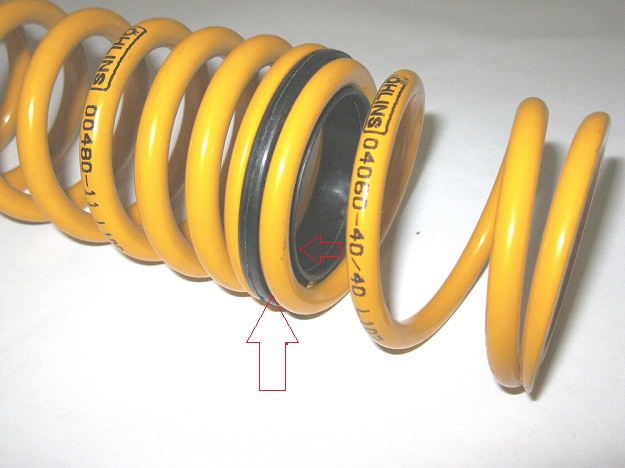 79)
Shown arrow is a plastic spring "go-between", it just "aligns" the two springs on the shock body.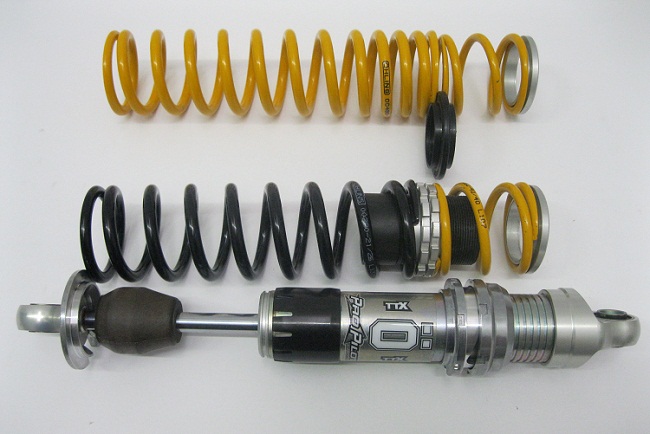 80)
Above shows Cam Style spring preloader, used with body clips every 4mm, you then have a three lob cam to make easy adjustments.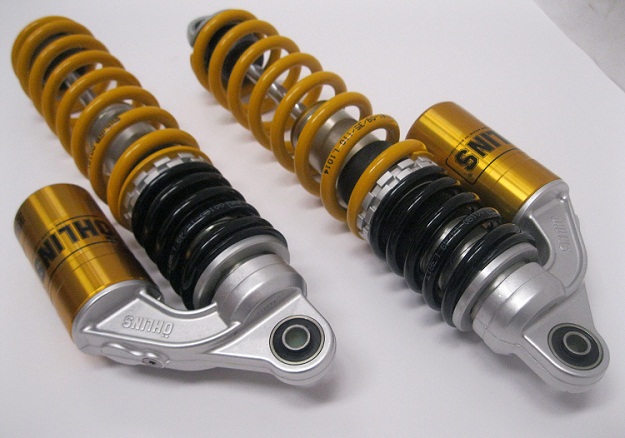 81)

Ohlins Vintage Twin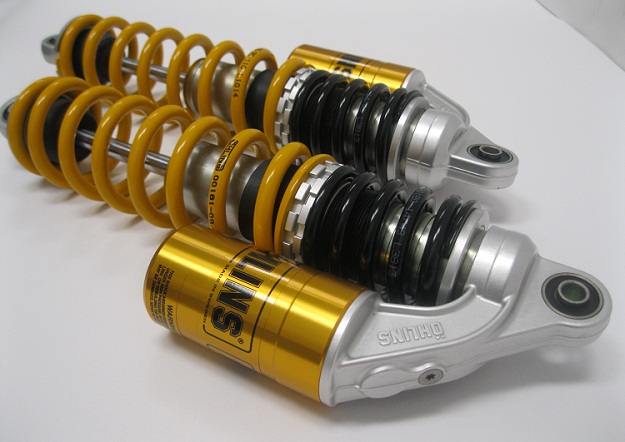 82)
Ohlins Vintage Twin 13-1/2″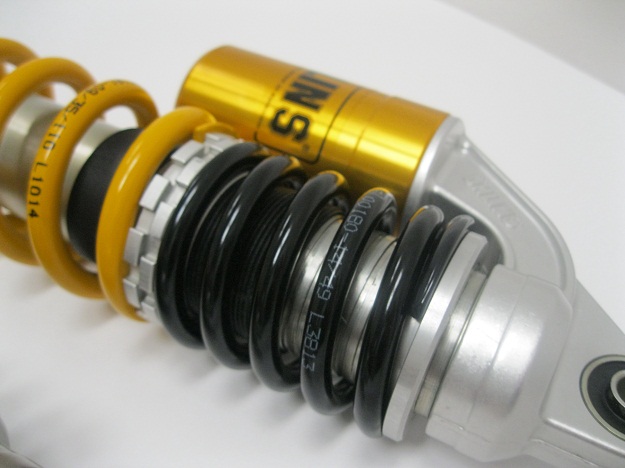 83)
Ohlins with black helper spring
84)
Above Popular Ohlins Vintage S36 Twin Rebuild Seals Update kit with bumpers
Does the wear parts, bushings,scraper, Orings in body and reservoir floating piston
85)
1981 Maico 490
86)
When Maico went single shock they upset the masses!
The 1982 was Maico's first attempt at it, so after a very popular twin shock run this was a terrible turd!

87)
The 1983, '84 Maico was a better rear link and revised shock until the brand got "financially challenged" and "restructured".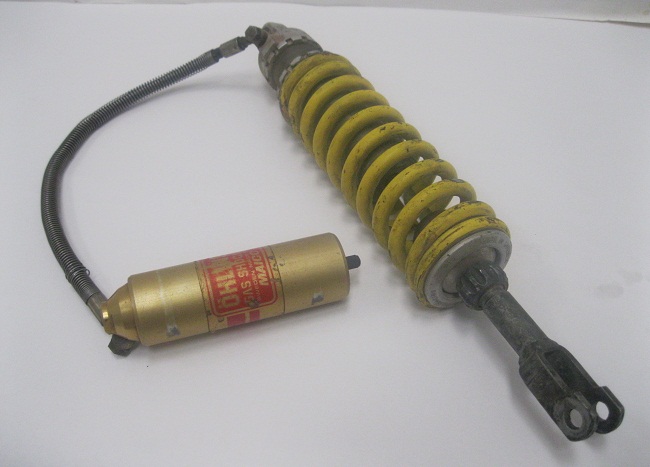 88)
Above, this is a standard 1983 Maico 490 Spider Ohlins shock.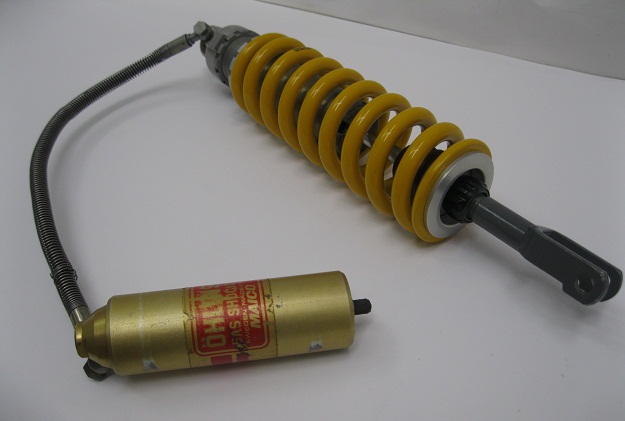 89)
Above shown with new spring and clip so new spanner miss frame better.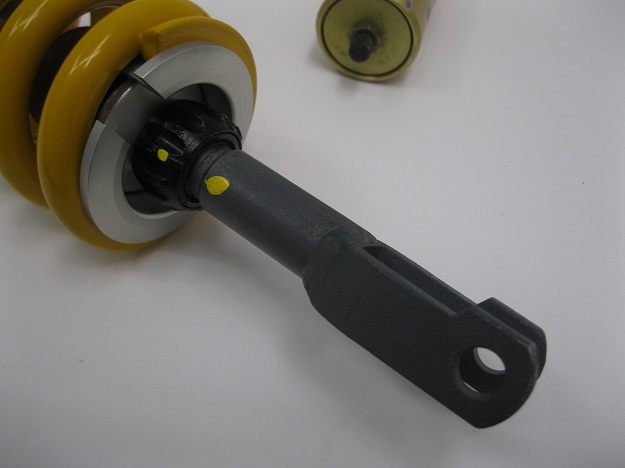 90)
The older rebound wheel still work but best to not try to brake them, mark and use carefully for best results.
By 1984 a bit, but certainly by 1985 production Honda's were considered an advantage to many racers.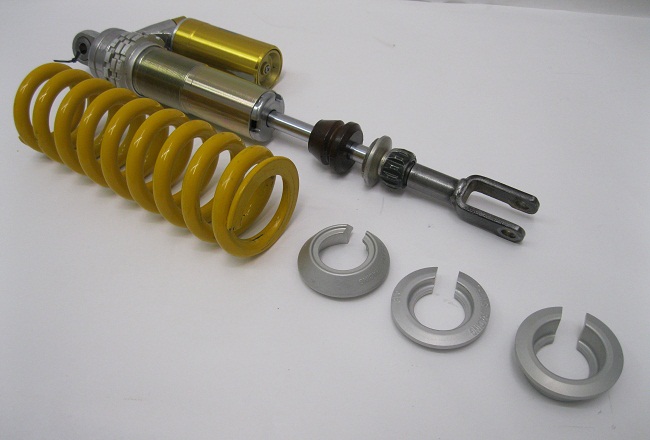 91)
Top Secret Ohlins Piggyback Shock for 83-84 Maico 490, the spring clips come in three flavors to better fit the spring on bike and frame tubes.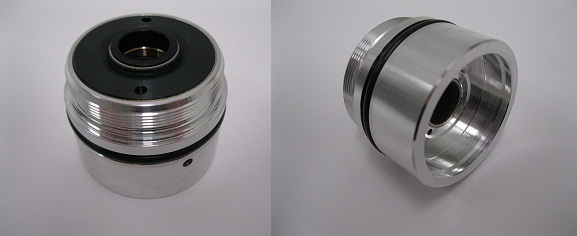 92)
The origional Ohlins single shocks may have the older 14mm shaft and Spin in seal head assembly, since this one above is brand new and your old one is most likely siezed garbage, loosy goosy,  and all the knuckle busting in the world ain't gonna be nice as new.

We offer a kit with the piston band (soft or stiff copper coated telfon) new bottom out bumper ( a chipmunk probably had for lunch or just fell off), reservoir piston (keeps the fluid from entering the nitrogen chamber) and cap seals and bushings (so the nitrogen stays in the shock most likely).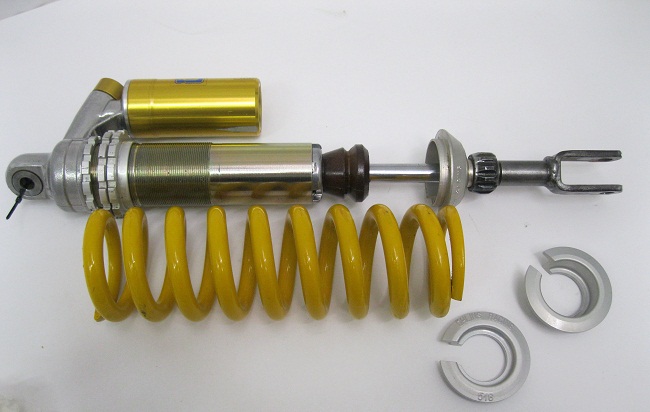 93)
Showing how to move spring around with different clips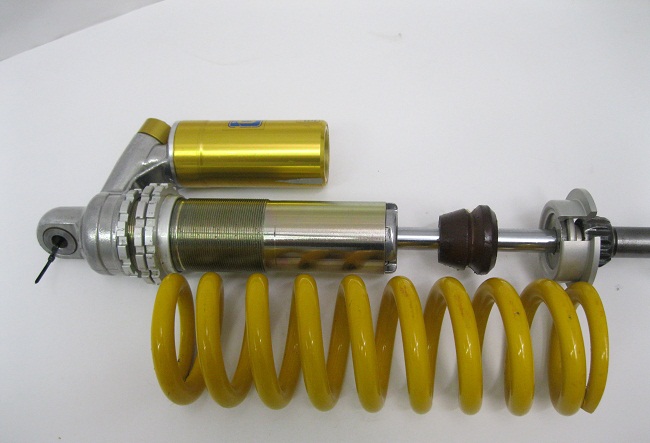 94)
The above deep dish clip saves about 23mm from the posi clip
95)
Which was the way to go to keep about 15mm preload and not let the spring collars hit the frame tubes.
96)
We still see shocks like this! 1983 KX500 "Brad Lackey" special.

97)
Works Performance Twin Shocks are still very popular for Vintage Mx!
This "Top Secret" test rider is on a "Magoo" bike! very popular ! The 1980 Maico is considered one of the best all around bikes of the time.
98)
We wanted to load this piece of paper Chart so we wouldn't be too high tech….
99)

They can be rebuilt as needed from time to time.

The monotube shocks are "emulsion" type mixing the Fluid and Nitrogen in the main chamber tube. they need to be mounted "Shaft Side down".

The added Reservoir Types
(Shown below on Right…)"Divide" the fluid and nitrogen with a rubber bladder within those silver smooth reservoirs so they are a more fade free design than the Works mono tube emulsion series shocks.
Single rate springs common when shocks are below 12″, dual rate springs common on shocks 13.5″- 15-3/4″, then triple rate if shocks longer than that.
Dual Rate Springs are common but use a "cross out" which is a tunable and changeable sleeve or series of sleeves under the smaller helper spring (shown above the white color spring) to reduce or enlarge helper spring movement.
Called a "cross out" referring to how they effect the cross out of the helper spring then allowing the shock to work on the main spring sooner or later.
Shown above for various other applications with up to three springs per shock total (one or two helper springs and one main spring).

Works performance DAMPING is a  simple design, using a piston blank with simple 4 holes with a "check-ball and pressure spring" design on the inside function instead of valving  shims and piston port design. (SEE BELOW Details Pics…)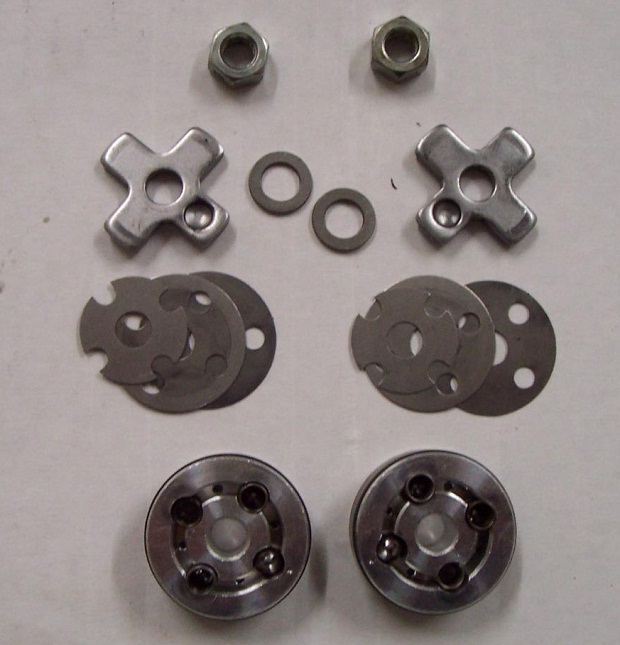 100)
Works Performance DAMPING uses a pretty simply design, a "Check Ball and Pressure Spring" design instead of whats considered true valving and port style valving and main piston.
The rebound "Holy shims" line up top side to allow for oil to flow though to these four main compression holes.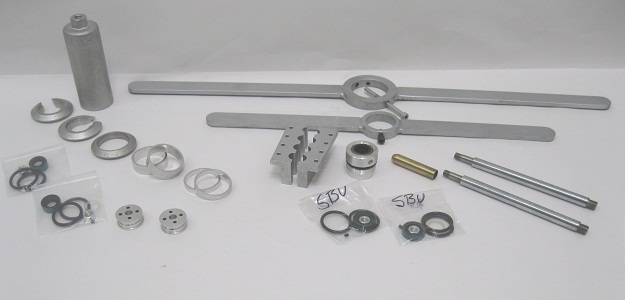 69)
Works Performance Seals, Cross outs, Parts, Special Tools.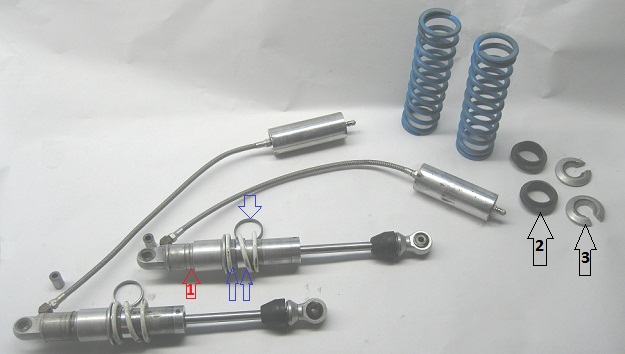 70)
The  Works Performance Twin Shocks with Dual Rate springs, many are still out in the field today and are popular.
RED arrow #1 shows body preload clips about every 1/4″ you can add or remove Total Spring Stack Preload by moving these up or down the body.

BLUE arrow shows helper spring "crossout" spacers, they determine how early or late the hepler spring cancels out before working on main spring and can be changed as you see fit.
BLACK arrow #2 shows black spring retainer that goes between the helper and main spring, arrow #3 is the Aluminum Clip that holds the spring stack on the shock is to the right of that.
PROGRESSIVE SUSPENSION  VINTAGE Mx Series Twin Shocks (Below)
71)
PROGRESSIVE SUSPENSION  VINTAGE Mx  Series 12 Vintage Shocks
(sold in pairs / springs sold separately)
Available lengths 12.0″/13.0″/13.5″
72)
PROGRESSIVE SUSPENSION  VINTAGE Mx Series 13 Vintage Shocks
(sold in pairs / springs sold separately)
Example : A 1978-1980 Cr250 17″ Shocks and Black Dual rate Springs = (not that expensive!)
Available lengths 15.0″/15.75″/16.5″/17.5″
73)
(not sure what lengths these Screen Door Dampers come in, but it's the only thing Less Expensive than the Progressive)
74)
Super rare 1975 Kawasaki "Black" version with Pro Pilot Supplied Ohlins shocks at the 2016 Atlanta Supercross pit party.
75)
2016 Pro Pilot Ohlins supplied shocks at the Altlanta Supercross Legends and Hero's event spanning 40+ years from 1975-2016.
76)
From: Erik Ebersole, Pro Pilot / Ohlins Customer
I attended the Atlanta Supercross this past weekend. I have been displaying my vintage bikes with the Legends and Heroes display for several years now.
A week before the show, I put the finishing touches on my 1975 KX400 "black Kaw". Is one of a kind, with some special custom features.
We were also invited to roll the bike up on the podium as a part of an award show for Ricky Carmichael. Being on the jumbo tron is very cool.
I race both vintage and modern. I race every bike I own.
At the event I had:
2016 Husqvarna 450
1975 Husqvarna 250 Mag
1975 KX400, green
1975 KX400, black KAW
Thanks to Pro Pilot / Ohlins for your support with your great products,
Erik Ebersole
77)
The AMA "legends and Hero's" display at 2016 Atlanta Supercross with Pro Pilot Supplied Ohlins shocks spanning from 1975-2016, a 40+ year history of the sport.
78)
1975 Harley-Davidson 250MX.
Forks for rear shocks!
It was supposed to be a production bike, but only 65 were ever made.
79)
'77 Maico 440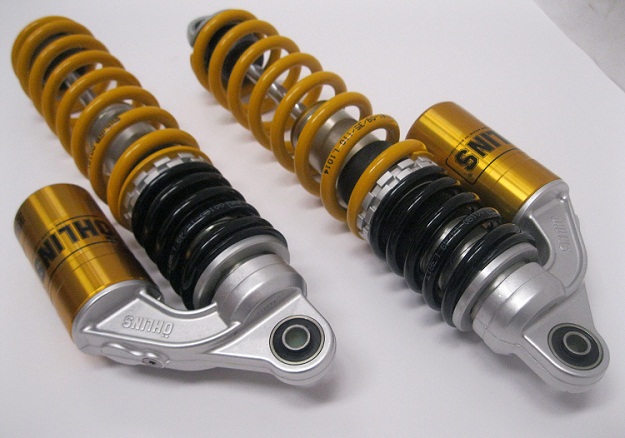 80)
These are the Ohlins 13-1/2 " Twin Dual rate pair
81)
'77 Maico 440,
These shocks might be a little stiff!…

82)
Honda Factory Leading Link Bike
83)
The 1981 Honda Cr450,
(based on the 250 engine case and a 431cc four speed)
What a nightmare.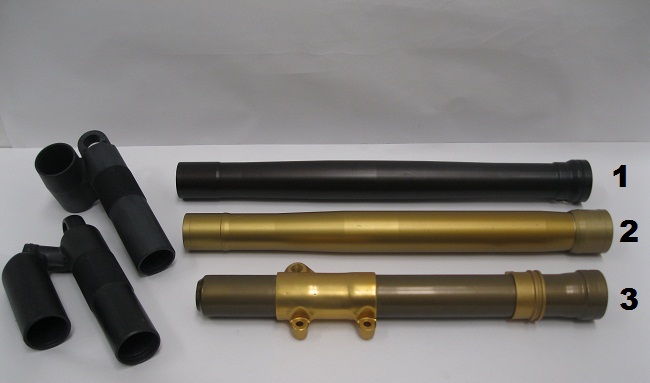 84)
Above, shock bodies used to wear their coatings off back in the day on the inside of the cylinder, a number of body functional hard coats were common.
The fork stantion and leg coatings shown #1 was a light black anodizing type.
Both gold ones #2 and #3 were a functional hard coat actually done in the same tank but see how different the color varies depending on the minerals like copper in the aluminum casting.
85)
Jeff Ward's Factory Kawasaki 1984 – 85
A young Ward won the 125 Championship in '84 after Mark Barnett (Suzuki) and Johnny O'mara (Honda and moved up to the 250's) had a lock on the series for many years.
In 1985 i was in Valencia California staying with a friend that rode the Nationals on a KX125 before Hangtown, i got to ride Indian Dunes with the famous women racer Mercedes Gonzales, she could really ride fast!
It took me a while just to be able too keep her in sight! let alone see where she was going!
86)
87)
Jeff Wards Kx 250,
(reminder they had no lights class in Supercross!)
88)
David Bailey's RC500 1984, he said he thought the 1985 bike went by itself!

The 1985 was the last of the true Works bikes in the USA, the production rule took effect in 1986.
89)
I first really met Bob Hannah in 1986 riding in Florida together where we usually would do the Florida Winter AM to get ready for the season and do testing. We had a track we rode with Tony Destefano sort of just a secret track off in the woods with hills, Guy Cooper also, Fred Andrews, and some others.
I had a Suzuki Rm 250 for the Florida contingency back then, the stock Suzuki was quite a piece!
It was the first full year of the "production" rule in professional Mx, limiting full Factory bikes.
90)
So a funny story, Bob Hannah went to Suzuki for a crazy amount of money back then but really was at odds with the bike only a month or so in was the first Gainesville National in Florida, i remember our box vans were parked at the far end of the pit area pretty close together, Mike McAndrews was his mechanic at the time.
Hannah wanted to test different things. but the only problem, Suzuki had not supplied them with much to change or test so he was hating the bike, they only had like two or three shocks in the truck and they both sucked.
Some how they rigged up a last minute thing, Hannah only had a few minutes before the second moto, so he rode a little circle around our box vans hitting this dump truck pile load of miss placed dirt several times slamming into it, then making more adjustments, then some more.
He went to the line in the second moto and won it!
Simply amazing! he beat every other more well prepared Factory Teams on what would be considered a far more basic and lower budget bike and team at the time. Sukuki probably sold a few bikes that Monday morning but all the hype was just that.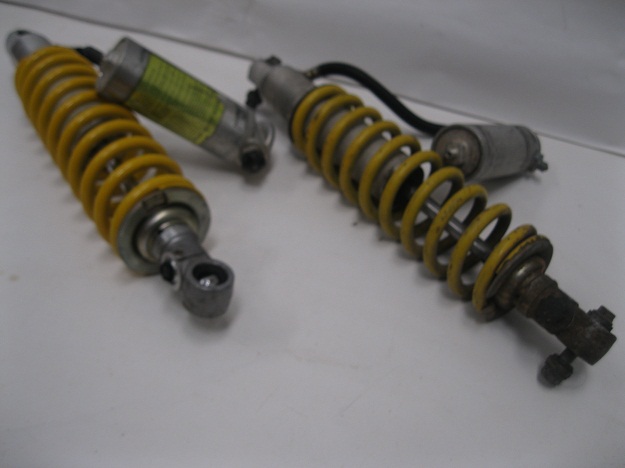 91)
We recently did a 1986 RM125 shock update for a guy in the Air Force / Navy, the RM250 had a bigger stock body and shaft, he made one shock out of two keeping most of the younger one for a vintage bike.
They had that crazy Cam Link-
92)
So above is Bob Hannah earlier on a Factory Honda, this may be Saddleback in SoCAl.
93)
Bob Hannah was like  a "Cat" on the bike!
You could throw him up at the sky and more times than not a foot or a hand would land back onto something and save it!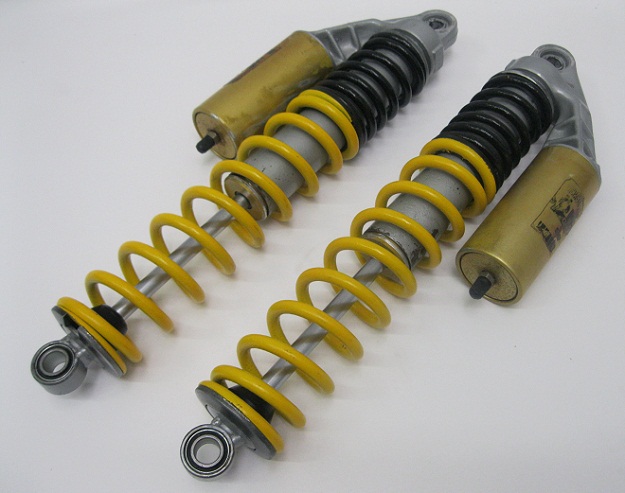 94)
Above, these are a customers from Washington state that found a set of original Ohlins Twins shocks for a 1980 RM 400, the are about 395mm x 142mm. The Bodies, shafts and seal heads are replaceable so no matter how ratty, you can make like new while parts last!.
95)
Above a 1980 Suzuki Rm400 nicknamed  "The poor man's Maico"  his words not mine.
My brother had a 1980 or 81 Rm125 when we raced as young green horns.
I remember my dad would take us to the races, we had a 1972 Buick Skylark Two door car with a 3 rail open trailer, my brother being older but smaller got to get usually crambed into what little spot was left in the fold rear seat 24″ space on the far side after all our gear and stuff was piled in.
We ran a tarp off the side rigged with a rope and two tent poles for rain cover or shade. It rained heavy almost every race the first six we did that year.
When one race actually was not raining, we saw a tanker water truck come out to flood the track, i still remember my day looking at me and saying, is this sport supposed to be that muddy if it isn't muddy enough?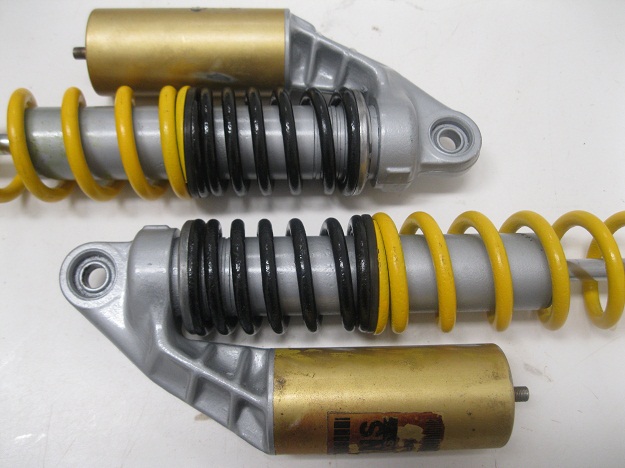 96)
These are the original 1980 Ohlins a customer found, the "web heads" are no longer available but everything else around that can usually be replaced if needed.
They were probably made in the mid eighties.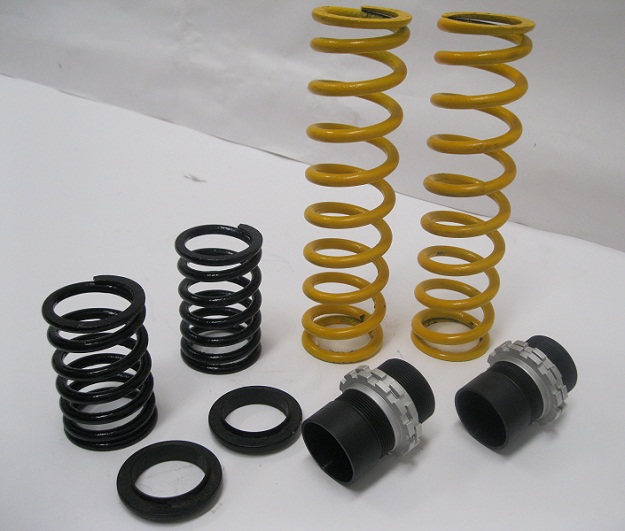 97)
So if the origional spring "go-between" alignment collars are allowing the two spring rates to run together "loosy-goosy",  you can switch to the "threaded-adjustable" sleeves to allow  you to cancel out the helper spring at a determined place, like letting it move only 1″ then the primary spring can do the rest.
98)
When water cooling first hit the seen in early eighties Yamaha stuck the radiator on the front number plate a couple years, this is 1981 YZ125 first most likely, then '82 was the 250 water.
Disc brakes anyone? My "double-leading" front brake "shoes" required weekly pre-race "soot" pile on the garage floor each week.
Brands were torn between where the radiator(s) should go ?
1) for cooling = horsepower, 2) crash damage= a DNF, 3) or mud clog= same
99)
Above left the 1984 CR250, i had a couple of these, you needed more than one if you liked having your piston go out the giant square huge exhaust port, it was the bike for you!
The fix was to actually make the port even bigger left to right like an egg so the piston wouldn't catch the corners.
Above right the 1985 Honda CR250 was much better, i remember having the CR125 and the CR250 back then.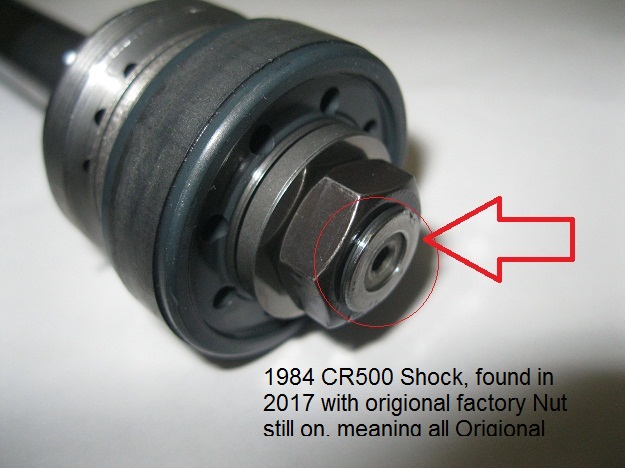 100)
101)
Above the '86 factory Honda Cr125 of Mickey Dymond, yes the bike is that good!
The first "production" rule year with the end of "Works" bikes for 1986, saw Honda snatch up Mickey Dymond that was about 15th overall the year before to win '86 and '87 125cc Championships. The Factory spill over knowledge from Team Honda was still unstoppable even with a production rule in effect.
That Year the Overall 125cc was Mickey Dymond, Eric Kehoe, George Holland, Keith Bowen, Guy Cooper.
The 1987 outdoor 125cc Mx Championship was  Mickey Dymond, Goerge Holland, Guy cooper.
I new Guy Cooper and George Holland and they would tell me how hard it was on the Suzuki's even though they were pretty good, even at the starts, hills, etc. fighting that wicked red motor.
They lost a few close one's to the red machine that most likely may have gone different if the bikes were swapped.
102)
Factory Yamaha Kieth Bowen (from Michigan)  in the mid 80's rode 125cc , then 250cc and Supercross for Yamaha till end of 1987 then going to Tuf Racing for about four years.
Kieth told me one year Yamaha sent him to Gary Bailey's training Camp for a few months before the first National in Florida to get in shape and change his riding style to "Elbows up" and "roll-Twist-Out" the throttle, he was a top five guy so they wanted to start the season strong and in perfect prime condition.
The first moto he was up in the top ten but eventually pulled in and didn't finish, he had wicked arm pump and was physically spent. On the bumper of the box van Gary Bailey came over with the Yamaha guys around and said what's the matter? Kieth was disappointed also said something to the effect of "You want me to ride like that in perfect style or finish the race?
The next moto Kieth rode any way he wanted and finished on the podium! ~classic!
103)
The '86 Honda were pretty good back then, i remember having a Cr125, Two CR250 and One CR500's that year.
The production CR250 had that new exhaust valve Honda update was to buzz some off and the corners so the bike wouldn't ping when they closed.
I think it was '86 or 87′ when i also would go up to Canada for the Toronto Supercross and a couple outdoor nationals.
In Canada you could do 4 thirty minute National moto's all in the same day at an outdoor, you rode two thirties on a Cr125 and two thirties on a CR500 with Ross Pederson and Carl Vallincort, Jeff Surwall and many others!
104)
So Guy Cooper, known as "Air Time" could really launch the jumps like no other Mad Man at the time!
Guy would tell me the first thing he would do is stick a CR250 set of forks and shock on his Cr125 just so he could ride it! and then work on it from there.
As a privateer, the first i remember him getting a Honda Support Ride in like 1987, when we would be in Florida the week after Christmas training, testing and getting ready for the new season racing the Florida Winter Series you would get two races at Gainesville so you may be better prepared for the first AMA National there in March before Daytona.
Honda's were so good to start with in 1987 as a base i remember buying One Cr125, Two Cr250's and Two CR500's that year.
105)
Every weekend i drove 17 hours to Florida to race for 6 weekends!.
In January and February drove from the Northeast to Florida every Friday at morning at 5am (17 hours) with my (girlfriend / future wife / better half) to race the winter series and back all night for Monday 9am to go to college classes Tuesday, Wednesday, Thursday and even ride once before driving back each Friday morning.
Rather than staying down there spending money for three months almost like i had done for like ten years, i actually made a few thousand dollars by driving back and forth and getting second in the Series!
106)
Above is  Jo Jo Keller!,
In 1987 i raced the Florida Winter Am National Series and finished second overall to Jo Jo~ a sand and giant whoop specialist!
I raced the CR500 1987 and JoJo had the same bike, i remember being like National #67  at the time, my second two digit number of the eleven consecutive two digit numbers i earned over the years.
We were one and two at Cocoa Beach Diamondback track the whole 30+ minute moto's in neck deep sand whoops about a hundred feet apart!
We would glance at each other in one spot checking across the track each lap for the whole time fighting for each foot, he won i got second but he still reminds me how i drove him crazy the whole moto!
We became good friends! if you know Jo Jo, he would come up to you and "bear-hug" you with one of his arms.
In the mid eighties he got Factory Yamaha ride, he would ride practice hard moto's at Bithlo and would run on the side of the road back to the hotel a few miles! That year he worked really hard and was as skinny as he got, but he could at any size ride even a 125cc around Southwick like a mad man and finish on the podium! it was unreal!
107)
All the 1987 Honda's Cr125, Cr250, CR500's came with this "mosquito-fogger shock reservoir".
The 1984, 85, 86 had the remote reservoir on the frame.
108)
I was there this day!
Daytona 1987 250 main in the rain first ever a true privateer Rick Ryan won the event.
I made the main and remember the draw cord on my left O'neal boot came unraveled in the mud and about a few laps in was wrapped around my front sprocket! i rode like a dork for more than a few laps with my left foot firmly sucked into against the motor tight!.
Finally the thing broke the para-cord and i could ride the last couple laps putting my foot out in the deep mud ruts to survive till the finish!
109)
So here's a 1989 Honda with the 45mm first attempt at Upside down forks! (the 86-88 had conventionals).
Honda actually recalled a piece of these, the cones. The fluid would turn black in no time on these forks.
I owned a Cr125, Cr250, Cr500 that year.
110)
Above this is Larry Brooks National #12 back then, i did his fork seal before Southwick Mx338 National at my house!
His mechanic at the time was "Big Haus" (like from Bonanza), he was Jimmy Holley's old Factory Yamaha mechanic the year before now working for the solo Pro Circuit Rider Larry Brooks,  came over our house the week before Southwick because he had a puddle on the floor of his Pro Circuit box van from Larry's fork seal so i did the forks for him.
Larry got 9th the second moto but not much in the first for 15th overall, i actually got 14th overall that day on a Suzuki!
I think Larry may have hated sand riding with a passion! but most would never know it because he rode great!
111)
Kieth Bowen National #21 Tuf Racing Suzuki.
1989 Rm250 Tuf Racing Suzuki of Keith Bowen!, we were in Florida and got the opportunity to build some forks for him in the back of a box van because he hated the almost stock 41mm Kyb USD forks, the first year they were upside down (they went to 43mm for 1990).
As a previous Factory Yamaha rider he got the opportunity to ride some $15,000.00 works forks he missed! They were imported and used on Alan Kings Kawasaki.
We were on the same bikes he had National #21 and i had National #50 that year. Dave Antolak was the founder and the UFO importer so eventually we all had wild color bikes that year and Apico cloths from Italy.
112)
Kieth Bowen 1990 on a KX500 Tuf Racing Kawasaki, he got 5th overall in the AMA National championship is was
1) Jeff Ward 2) Jeff Stanton 3) Johnny O'Mara 4) Rick Johnson 5) Kieth Bowen.
I remember last minute before leaving from the Northeast to Florida direct, Dave Anotak called and asked if i could come out to Chicago (14 hours "West" to Tuf Racing Dekalb) then go to Florida with as many bikes we could stuff in the box van (18 hours "South" from Chicago to Gainesville).
Mission accomplished with bikes for everyone! totally last minute, last day before the series began.
113)
The early 1990's saw the invention of collectable "baseball" cards and many other forms of marketing for the riders and Teams in the top 100. It was also the transition from Box Vans per rider to custom Hauler's and 18-Wheeler's by the end of the decade for corporate image.

These days almost every "two-digit" National racer is in a Team 18-Wheeler, and extra ones for the Factory catered food tents, with custom a motorcoach for the rider.
In the day the top 100 earned a number for the following year based on accumulated points from 2-99, only the #1 plate was run for the Champion in that class from the prior year but every Pro rider had a number that changed each year as to previous years points totals.
If you had a "three-digit" local Pro Number they were called an "Area-Code"! Hah!, so you needed to find a way to run in the top twenty each moto to get any points to earn "two-digits", you got one point for a twenty in one moto, you usually needed around 25 points for number 99 most years.
114)
So above this is #45 Damen Bradshaw Factory Yamaha, i remember maybe 1989 or 1990, the first turn at Unadilla National, he was a fabulous up and coming super quick rider that never actually won a National Championship but rode like he could of any day.
My national number was #45 the Year after Damen Bradshaw had it, so that's how i remember it.
The 125's did the whole year outdoors where we did like six races on 250's and six on 500's, i remember having a 1989 and 1990 Suzuki Rm 250 and a 1990 KX 500 back then.
The Ohlins rear shock for a KX500 was really good, Mike Fisher was on Kawasaki's and the origional 46mm body 14mm shaft Ohlins was and easy fit, when they went 16mm shaft it was a whole different shock feel.
The 1989-93 KYB shocks you could cook the shock bodies coating pretty easy and the aluminum spring spanners on the '89's would seiz to the body!
115)
The 1990 KX500, one year me and five friends from the East took this bike apart into small pieces and brought it on the plane to fly 3000 miles and race Washougal MX national!
We each could have a carry on bag and two others so it was FREE! only thing was nothing could weigh more than so many pounds, when we got their, we had the bike assembled and running in the hotel room in less than 45 minutes and went out for dinner!
I remember doing the 500 Nationals after the 250 ones each year so we would often race either a Honda or a Kawasaki and each would be done up to the hilt.
At Washougal MX National, top of the tallest biggest uphill on the track going up the last climb, if you had Kawasaki that year you would get past by a Honda right there! (Thanks Ray Sommo).
The next year he would have a Kawasaki and i would have a done Honda, and i could pass him there in the same spot up the last part of the tallest hill!
One year Jeff Ward won the Broome-Tiogo, N.Y 500cc National, the Dunlop guy gave me the rear tire off his bike he used for 30 minutes plus two, a month or so later i got to try it their on at a NY Championship race on the National track, even though the edge was off it, what an amazing difference!
Back then the tires the Factory guys got were really something special!
116)
Above, Guy Cooper was a very popular rider with the fans that eventually went on to win the  AMA National Championship in 1990.
Guy's first year Pro he stuffed his bike in the trunk of a car and traveled to all or most of the Nationals!
We became friends and stayed in Florida training together in the mid to late eighties.
117)
Above Guy Cooper and his then girlfriend/wife Jayne, both hard working and dedicated to the cause at the time, was able to ride a Honda Cr80 with my better half, when we would spend some months in Florida, super enjoyable glory days of moto!
After he got a Factory ride Suzuki didn't let Jayne do the Pit Board as she had done for years as a great team.
118)
Guy Cooper earned the National number #1 plate after many years!
119)
So above is Factory Kawasaki Billy Liles, when the AMA went to production based bikes in 1986.
I remember staying at Billy's house in Georgia with Guy Cooper, riding on his 60 acres. We would go from there to Florida each weekend to race the winter series.
He was a great rider, for many years and i here he still rides some vintage Mx . He even made the USA MX Des Nations Team and rode successfully in MXGP 's for many years.
I remember building my own shocks there at his house before Atlanta Supercross week, even Billy as a multi year Factory rider really never saw much of the inside of a shock at that time.
A couple of local "Hill-Billies"  they looked like one day showed up out of the blue, the actually had a "Air-Shock" somehow designed for a Kawasaki KX250 like in 1986!,
They looked like a couple "hay-seeds"? i guess they would say, Billy tested this thing and told me it worked really great!, the had been back and forth before but nothing i know of ever came of it.
Fast forward to 2015 (29 years later) and see the first WP air Shock the GP guys like but expensive to produce!
120)
Oh hey, don't tell anyone we have this~! Ok! (you never saw this..)
121)
Billy Liles went to Europe and did MXGP's for many years.
One year when i went over for a race weekend, he saved my trip by helping rebuild a Honda Cr500 that was wasted before i got there!
I remember ever breaking out the welder on that one!.
It's was in Sweden the 50th anniversary of Husqvarna so we got to see all the original Husky's from every Championship lined up under a giant tent.
122)
Billy Liles GP
123)
Above Trampas Parker World MX Champion! he won the 125cc and 250cc with a 500cc win also.
I still remember traveling to the Washougal national, swimming in the creek on the way back from the track press day, Trampas  caught a "Craw-dad" and let it bite his ear like a ear-ring. (wish i had a picture!)
I still remember Trampas blowing past me up or down the steepest nastiest hill at Hollister California AMA National like in 1986 in the dust! He was never afraid to twist it to the stop!
We had to replace our brakes each moto back then from the heat after 30 minutes plus 2 laps on the hills they would be down to the metal!
Chad "Trampas" Parker was a Team Green rider from Louisiana who had moved to Texas, won a class at Loretta Lynn's, and then kind of fallen through the cracks. He moved to Italy in '87 and took a job with Liles, who was living in Italy and going after the 500cc World Championship. Parker was riding local Italian races and doing all right, and then he got Farioli KTM to give him a shot at the first GP of 1989.
124)
Above Eyvind Boyesen, over 25 patents with Honda, Suzuki, Yamaha and others!
Too many things to list but one of the forefathers of moto!
I remember he sat in an office chair at my shop, that i still have that chair, building Ohlins forks for him and working on things.
This above pic is from the early '93-94 maybe when he had a Yamaha-Penske-Boyesen factory Support team with John Dowd before he went full Factory Yamaha the next year.
125)
The 91′-94 Yamaha YZ 125 / YZ 250's shared many of the suspension Link, Fork, Shock Stuff
"We came, We saw, we Won !" 
Was on our full page ads every week when they had local Track News papers!
As a suspension brand, "Pro Pilot" for many years we had the #1 Pro Expert plates in many local track Championships in the 90's and beyond through 2015.
Many local Pro's with two digit national numbers would go to local races every week to stay sharp for the pro races:
(Kurt McMillin #28, Bruce Stratten #55, Brian Carrol #48 , Mike Spear #1 D34 Rider and many others!
These guys and many others would "Switch" brand bikes from Yamaha, Suzuki, Kawasaki, and Honda to whichever year or model they thought had an advantage on!
They had no "Training Facilities" like they do now so you had to race to ride and get good!
126)
The Yamaha's were getting popular.
127)
Yamaha turned some heads in the 90's
128)
The Honda CR500, 92-94
Many Pro's back then learned they could use "ALL-of -IT", and ride 500cc bike like they were 125's! in most places around the track.
I remember getting a the 10th Overall at the Millville, Minnesota National the last year they raced the 500cc, that track was a favorite of mine and i knew after the 18 hour drive you could get a very "race-able" track. We took the Jeff Stanton "make-a-right-out-of-the-track" over the hill to the Mississippi river and down, short cut each year on the way home!
The AMA went from three individual classes all season (up to 1985) to a split 250/500 outdoors (1986-On) and 125 all year.
The 500cc class was a privateer equalizer for many national riders, the extra power made the factory bike advantage be a lot less. Political suicide forced the extinction. The Factory top five got the same money and bonuses wrestling a 500cc as a 250cc the second half of the hottest part of the summer. Yamaha and Suzuki had no interest in making a 500 for budget reasons, they were having a hard enough time just making a competitive 125 & 250. Honda was the newest sleekest design.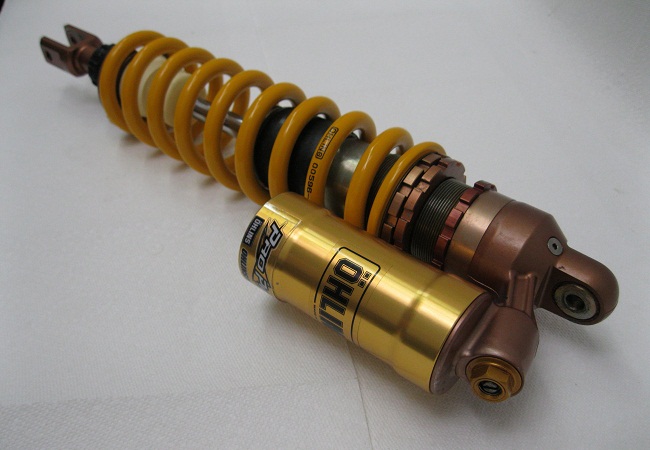 129 )
Above Ohlins Ho850 Shock S46PR1C1 series, we saw this one in May 2018 from a customer in Washington state near Washougal Mx, he was very happy to have such a nice shock!
So we went to  a 125/250 Series from 1994 on, 1998 was the Works Yamaha Doug Henry 4 stroke and 1999 was the first production Yamaha YZF400, 4 strokes steadily grew but by 2003 thru 2004 was the dramatic change where everyone had to be on one for the horsepower.
"Now we get to listen to bikes that sound like an old man snoring" (Jeremy Martin AMA Champion 2016)
Nothing compares to the crazy sound of a deep throaty Braaap! of a done Factory 2 Stroke.
130)
This 1995 CR250 was a favorite of mine!
After riding Suzuki's 250cc mostly for five years '89-94 many for the contingency money everyone was dreaming about, and either brand 500cc bikes to fill in at the end of the summer nationals, i ended up with a dealer ride on one of these.
Wow! Major Motor and twisting it would get you a place or so per lap at a National like Southwick that year.
Even if you had a toe on the rear brake pedal in third gear it had more torque than my done Suzuki's. Some friends that had the '95 KX250 (so much slower!) were besides themselves at the local races i did that year by "just put the blinker on" and go by down any straight away!
Honda did have a recall on the 43mm KYB forks, like "don't ride your bike!" was a notice on the wall of the AMA Pro trailer at the first National in March 1995 at Gainesville Florida.
The next year they had KYB 46mm and mellowed the engine boost porting a little.
131)   
Above John Dowd and longtime friend and mechanic Brian Berry (headphones)

Factory Yamaha hired John Dowd in 1995, the original start of the "blue crew"  Emig and Mcgrath were at the top of the game in those years.
At Southwick that year only into a few months as a full Factory rider, was John's first full year aboard Factory equipment. Emig won the first moto with Dowd second, McGrath third. Moto two saw Dowd get to the lead and fully check out and disappear only to have a rear shock let go towards the end becoming unrideable and leading to a DNF. Dowd would have to wait until 1997 to get the overall at Southwick.
Brian was a big guy! He sometimes rode a little on John's spare bike(s) for fun. In the early years John and Brian would winter in Florida to train and test, we had a long time joke between us because one time at a practice track my girlfriend /wife/ better half, kinda passed him on a KX100 while he was on a KX500!. (we're not allowed to bring it up, i think it may still be painful…ha!)
132)
The Bike that made Jeremy McGrath go to Suzuki! It was no secret McGrath was on a '93 frame though 1996.
Honda's first Aluminum frame was on the 1997 Cr250. People hated it and said it rattled you fillings loose while numbing your hands. Dubbed one of the worst bikes Honda made!
Same time Cannondale fed into the hype with the development of their new aluminum frame bike because of the bicycle success they claimed they had aluminum fully figured out!
I actually had a pretty well set up one, at 180lbs i still was able to go from the stock 5.3 kg to a 5.1 kg shock spring, redo the valving, and people said it was the best one they rode! I also used a version of a CR500 upper  top triple tree bar mounts and clamp.
The 1998 Honda Cr250 got a revised link and some frame tweaks so is was much easier to get right, i had one of those also.
133)
Greg Albertyn's Factory Suzuki 1996
134)
Jeremy McGrath took his #1 plate to Suzuki in 1997.
Shown here in the early weeks testing the conventional forks with a "anti twist stay".
He ran Upside Down stuff pretty quick, but some liked conventionals, just not him!
135)
The 1996 , 1997 (shown above) and a couple more years after that had Conventional 49mm forks.
These production forks in real life had lots of "twisty" "loosy-goosy" flex if you were used to Upside down forks for the last five years, these moved around much more in race conditions.
I rode both production RM250's while and Honda's for several weeks to get them set up. I had an opportunity to race test a bike we worked on prior on a quick, nasty, rutty mx track in the Northeast.
136)
Above this is Greg Albertyn (8) and Jeremy Mcgrath (2) at Southwick when they ran the track to the right, not sure if Mcgrath loved deep sand but he transformed himself outdoors with dedication and hard work.
137)
Back on Factory Mazda -Yamaha- Chaparrel, 1998-
Jeremy McGrath capped off the late 90's ~
With more total carrier wins than anyone else to date.
138)
I was back from Florida one year in March, like 1999 when Mike Watt from Ohlins called me on his drive back from Daytona bike week to North Carolina and asked if i would fly down for some stuff, he was Road Racer John Kocinski's chief technical engineer (a three-time AMA and two-time World Champion) as well as Factory Kawasaki' Hayden's Factory tech and was getting a Cannondale / Ohlins USA thing going.
I knew and raced with their number one test rider Kieth Johnson from New England, he rode hours and hours on those things, so much so that he was able to get some holeshots or very up front start on that thing only to pull off before halfway.
When it got crazy hot he was told to pull it in so you wouldn't see it getting pushed back blown up every week, they would do a transfusion in the pits and sometimes be able to go back out for the second moto, sometimes not!
Kieth Johnson made that bike turn some heads and look pretty good sometimes! a credit to his super hard work.
I flew out to Ohlins and spent some time with Mike Watt, Thomas Peterson and the original guys back then, which was shortly after Carl Burgren moved the Ohlins race car stuff from the upper mid west to North Carolina and merged the USA motorcycle import distribution under the same roof.
139)
At the time Mike Watt was heavily involved in the Cannondale projects suspension, he told me they could have put the Gold Ti-nitride coatings on inner lower forks for next to nothing but Cannondale folks thought silver for the look they wanted.
140)
The shock was a PDS dual piston design like KTM no link stuff.
When i was their they told me Ohlin's had the patent on the dual piston PDS design, Ohlins originally was close to having their shocks come on the KTM's but at the last minute they went with WP with that "PIN" design that was tough to mass produce and had early problems for years.
They still had to pay Ohlin's every time they made a shock for many years and when the original WP engineers with over 100 years combined experience didn't follow to Austria with the move, that also was more to overcome.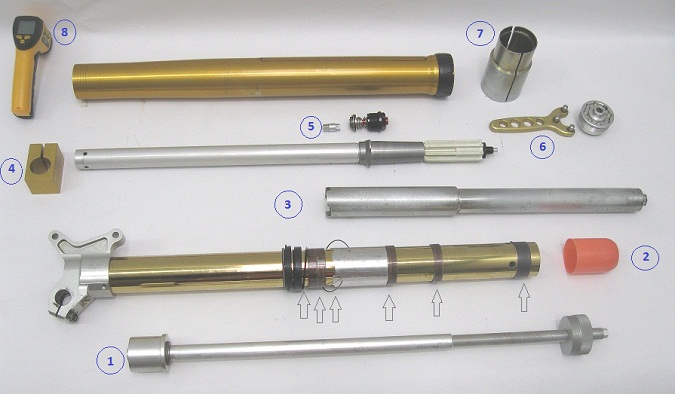 141)
We were testing up to eleven bushings per leg in design, above shows only a five bushing per leg gold nitrite fork sample, origional Ohlins from 1999 to 2000 + went from a 46mm inner tube to a 48mm inner.

Only a simple bushing set up went to Cannondale production stuff and an old school 46mm version and silver inner legs.
Even though every motocross rider at the time would have preferred the gold inner color for the "Gold- Candy- Bling" and marketing of a fully deluxe fork, the Cannondale guys went with silver inner bottoms in production.
The Shock was a brick, but that's what Cannondale asked for so that's what they got!
We still see these crazy things from time to time even now!
When Cannondale went belly up, Ohlins had well before that stopped supplying them on credit hold.
They auctioned off pallets of Ohlins forks and shocks in various condition.
People still sell the "Ohlins" forks and shocks on Ebay, i think the same sets were sold too many times to count because they really don't fit anything so well!
142)
You can park your Cannondale next to your Delorean!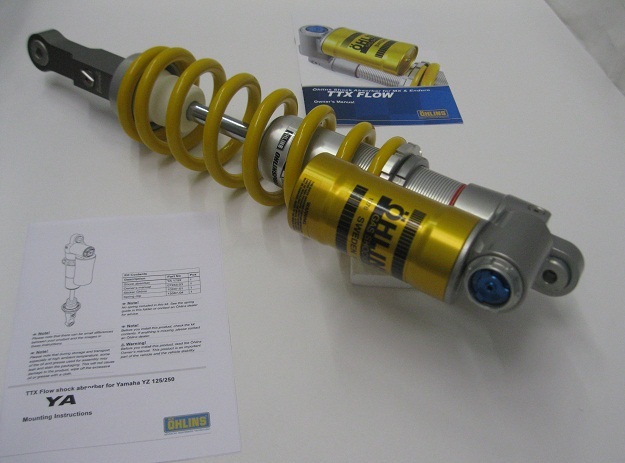 143)
NEW RELEASE! (2005-meets 2017)  for YZ125 / YZ250  the Ohlins TTX Flow shock 491mm eye-to-eye. BAM!
Please contact us at (732) 928-7800 for more information about this product.