Common Wear Marks Wall Of Shame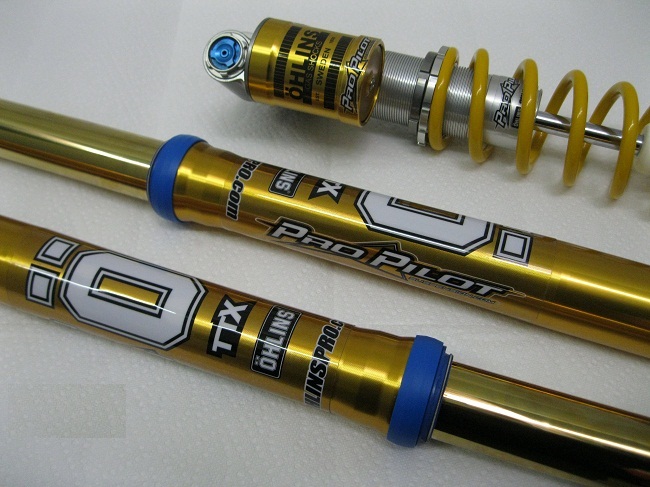 They we're brand new when they left…..(New at one time!-Yes)- (Packaged correctly -Yes) (Delivered correctly-Yes).

Very Often we Take Pics of the The New stuff minutes before it ships and post on web when we need product pics.
Now the rest is on you!…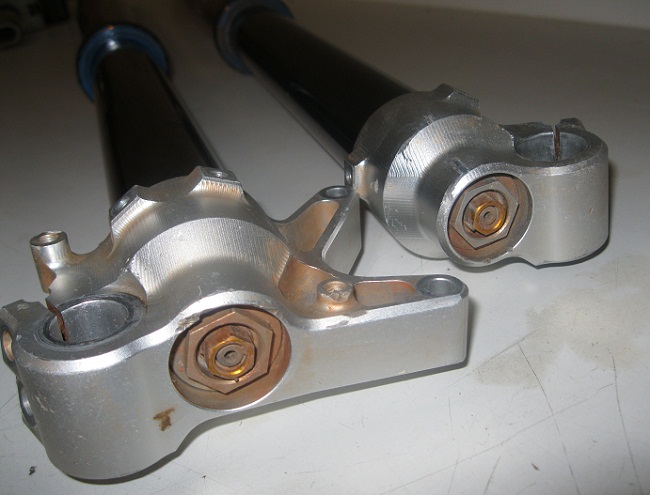 Received like this You Dirty Dog! -Just unwrapped-
(so you ride in Rocks and "My Cousin Vinnie" Red  Mud all day…)
Many Common Wear Marks are Found On Forks and Shocks!  (See More Pics Below…)
We take as many pics as Possible and Add Them To "The-Wall-Of Shame" when we see a good one!

Usually a customer tears the forks off and quickly, tosses them in a pick-up truck rolling around with other junk or in a flimsy box to ship without proper packing!
Pretty much just using any forks or shocks makes common marks on them! (see more below…)
They only start looking at them more carefully when the get them back thinking any mark or scratch was not there before which is not correct!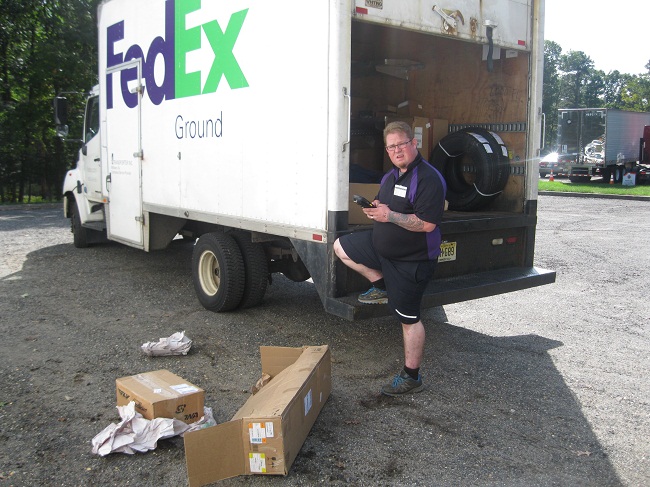 Does FED-EX "Ground" really mean "All-Over-the-Ground" for your route? 
Most shipping issues are when a dealer, parts kid or customer sends a box In-Bound without proper packaging and their carelessness.
Make boxes easy to handle and well packaged and you'll have much better results!

Just so you know Fed EX "subs-out" the end route delivery from warehouse to your door by privately operated route franchisee like a Snap-On Tools route. That's one reason we prefer UPS the Brown Trucks that are company owned only, however each territory most people know what carrier works best for them so that's what we go with per your instructions, but UPS has stepped it up and improved in the recent years like most everyone else.

We've even heard people shake the fork leg at the sky (which is usually easy to hear the spring rattling around in there with the guides and oil) and say somethings loose?, also not so~
You can take a brand new four thousand dollar fork leg and shake it at the sky and hear the spring and oil.
"Hey You Scratched My Anchor!"- (a classic, not my fault)
1)
What?~ dude i'm real careful when I work on my own bike or my friends after my real job and a couple beers, really?.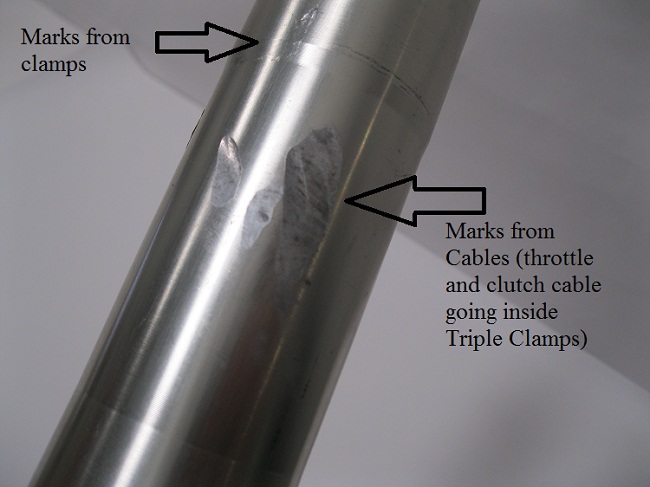 2)
"The Cable Wear"  (a classic) cables routing inside your triple clamps touch when bars turn back and forth.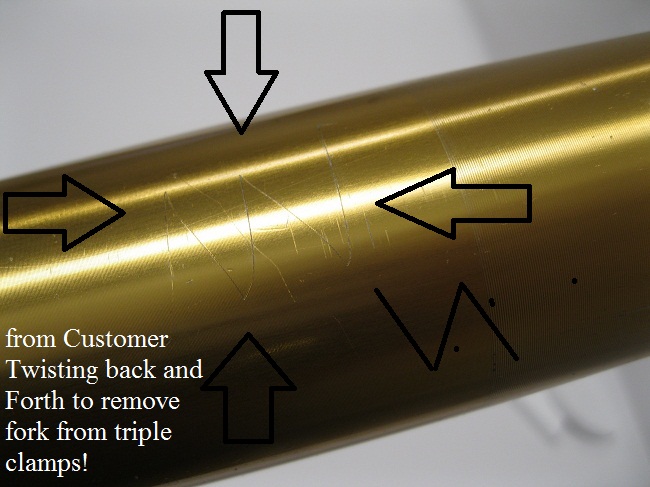 3)
The "Zig-Zag" (gotta twist these back and forth because they won't slide out easy).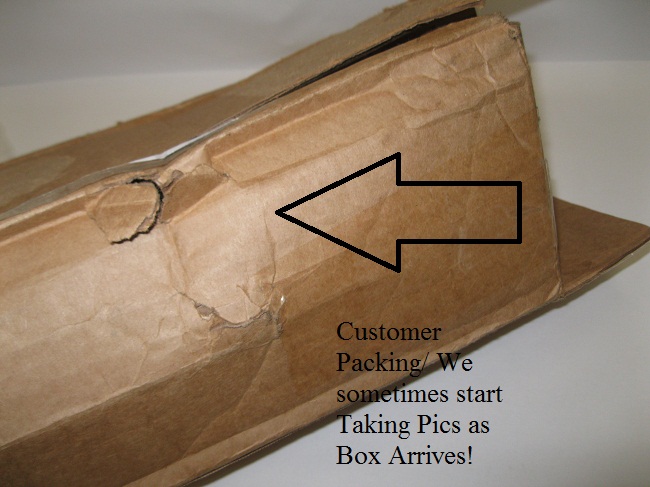 4)
The "Improper Package" (really…)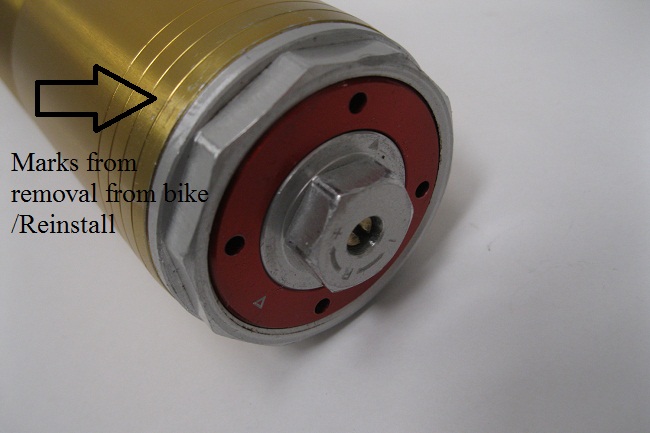 5)
"The Great Unkown" aka Area 51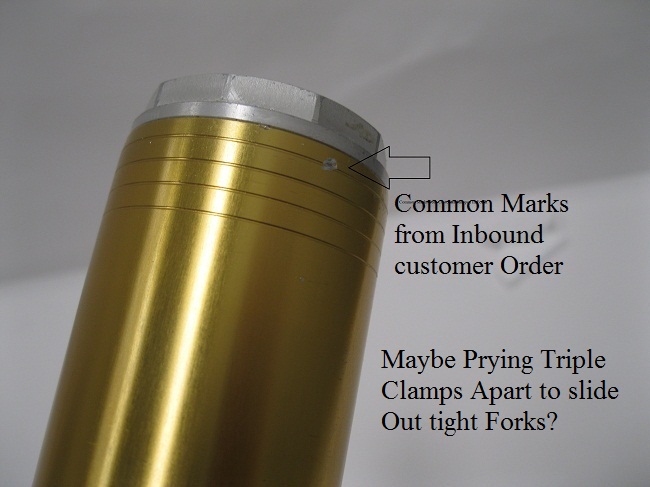 6)
The "Triple Clamp Wood Chisel Spread apart" while I slide out my forks from the clamp.

(I really needed three hands so i left a wood chisel or flat screwdriver pounded in the top triple clamp it to wedge apart so i just had to wedge the lower to slide the fork out )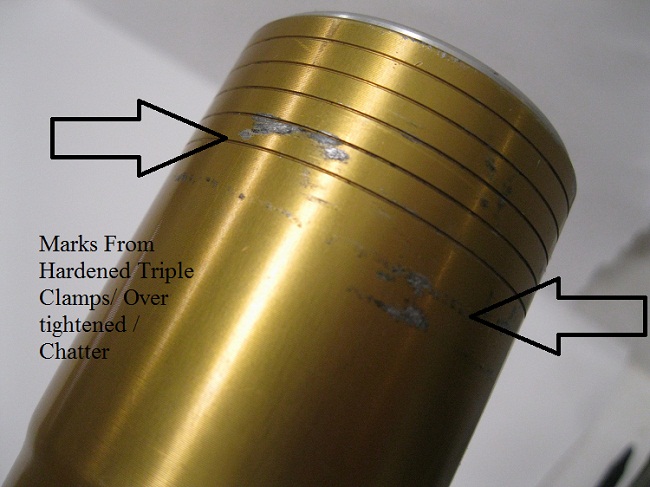 7)
The "Cool Factory Billet Clamps"  that are harder than the fork anodizing and chatter even when you torque correctly.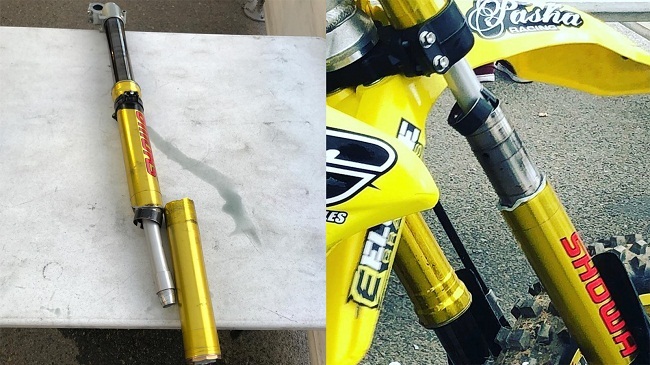 ABOVE  a 2018 Showa "A-Kit" -Whoooooops!
(of coarse not my falt…..) don't mention the massive bone head move that
"operator error " caused.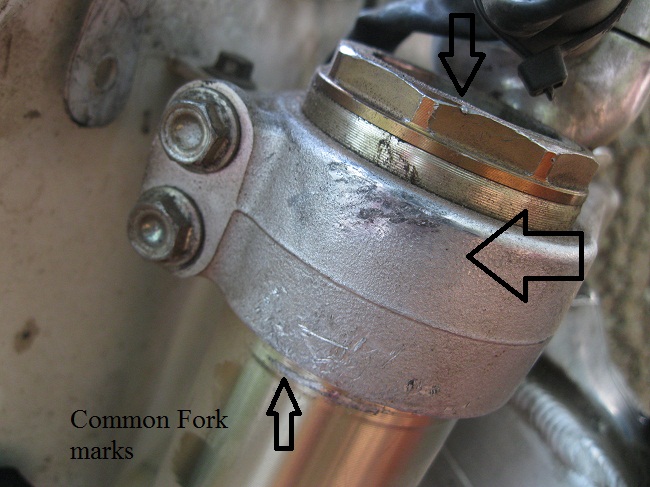 8)
The "Gravel Pit / Sand Pit rider"
(Oh yeah and my old metal tie-down Loop also hits the fork cap sometimes in my pick up truck!)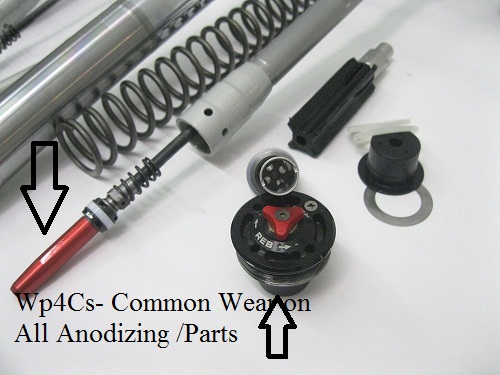 9)
"WP Anodizing" –  Flackey at Best, known to be not so good or durable ).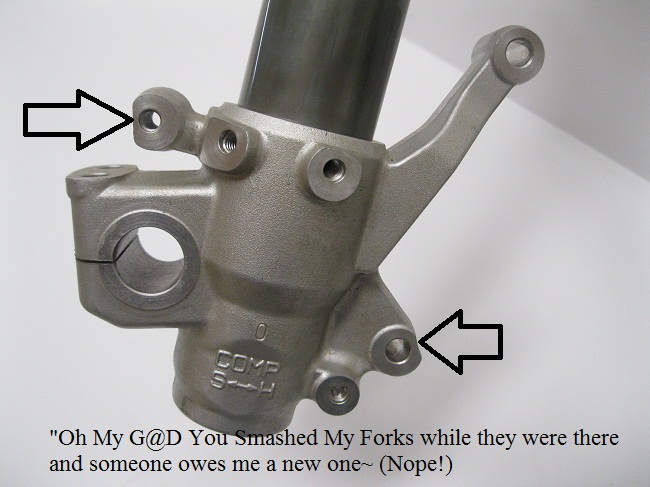 10)
"You Dent Me"~("really it was not like that before…").

All the Honda Oem Kayaba /Showa forks were made like this Over 10 years you Bone-Head.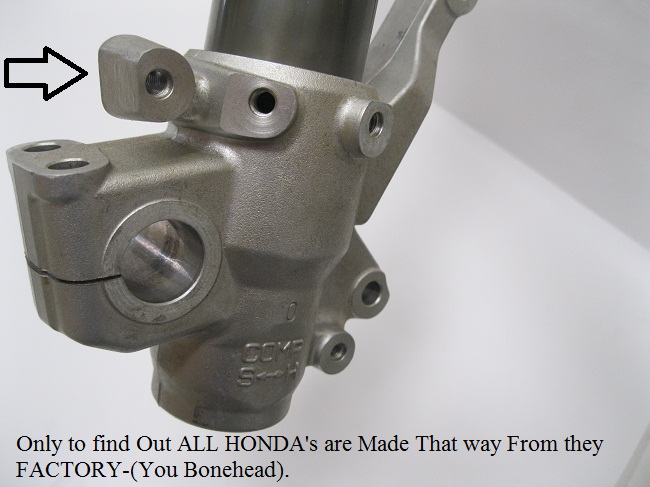 11)
"Oooooooh-" (never mind!).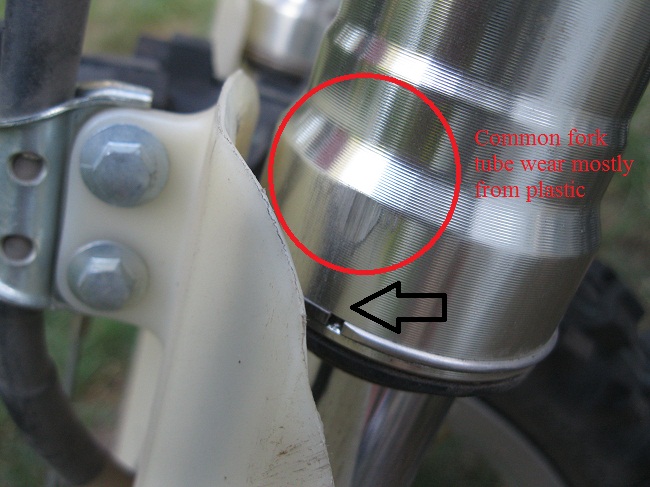 12)
Plastic is harder than metal, guess which wears first.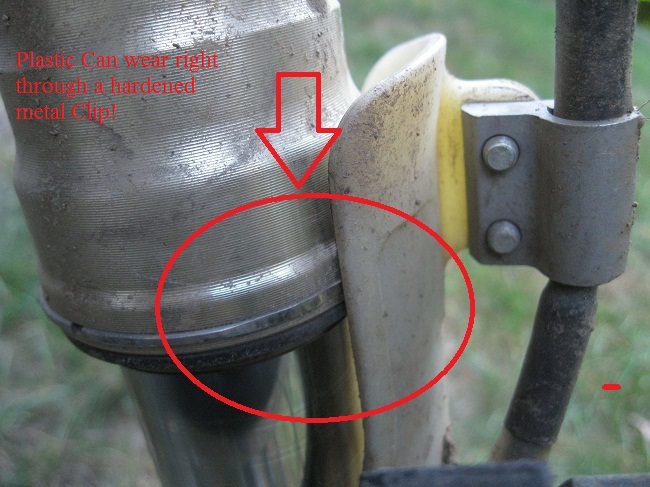 13)
Common worn clip and thru fork stantion.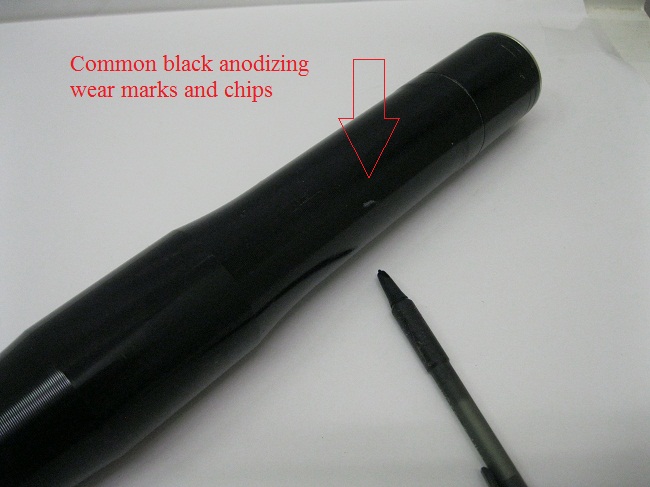 14)
Black anodizing chipped and scratched on stantion tube.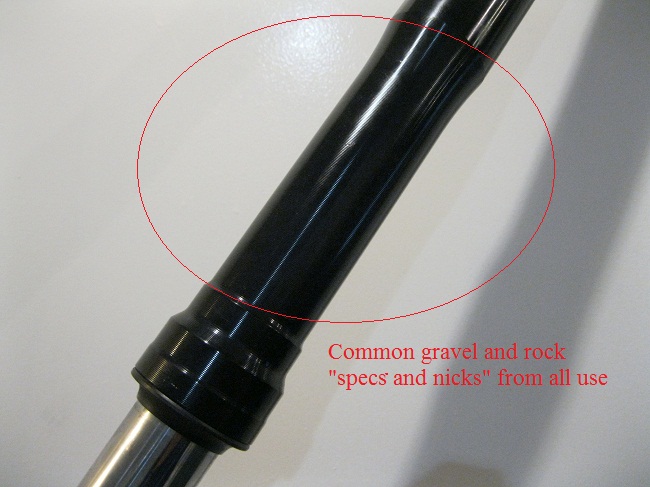 15)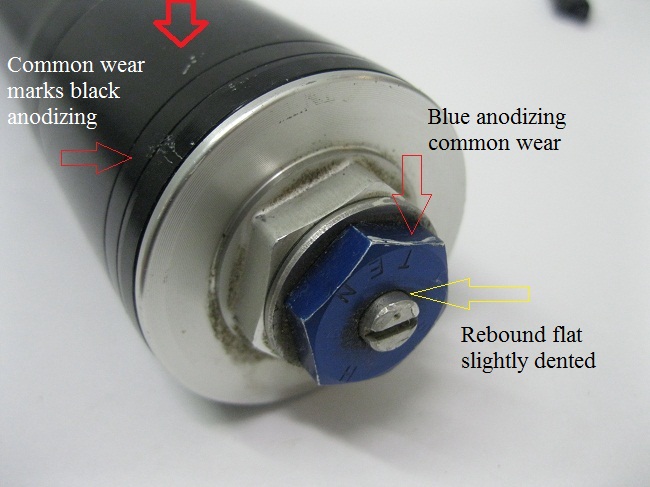 16)
"general Ka-ka"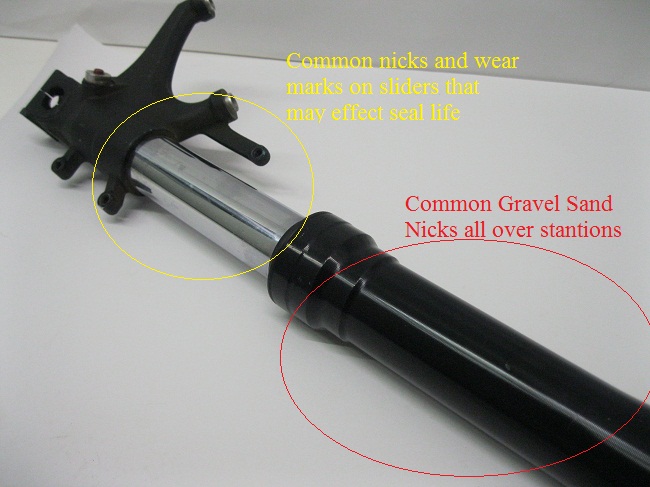 18)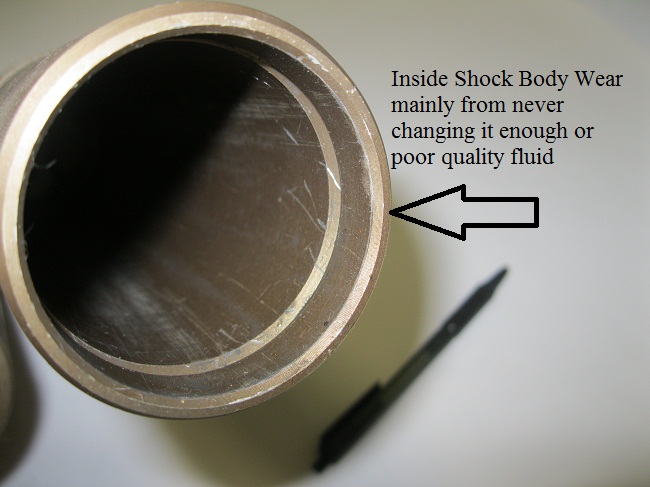 19)
20)
All carpenters should not try to be small part motorcycle mechanics?
21)
The First Motorcycle was made out of Wood?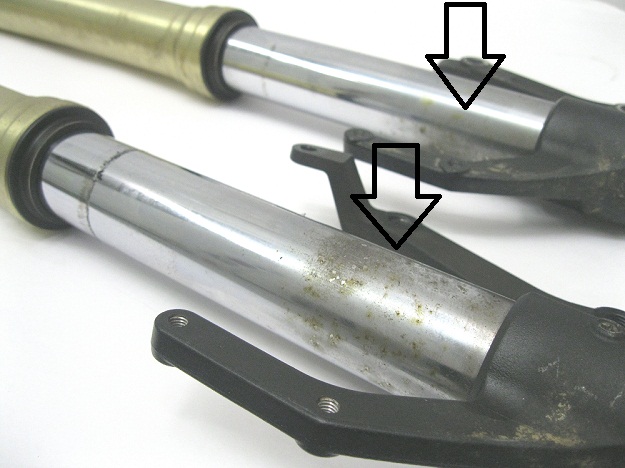 22)
Left Dirty in my shed
Above black arrows show the pitting on inner tubes, common if your bike left with road dust on the forks too long and exposure.

23)
Above shows cracked rubber  wipers seals after only two seasons and many "pits" on chrome tubes that will effect the seal life.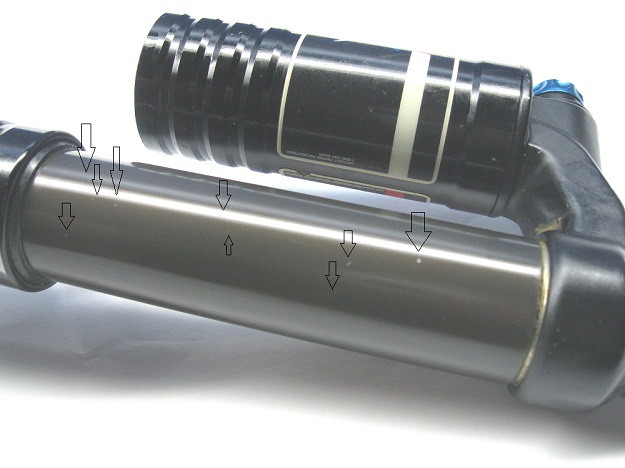 24)
Fox Air shock with pits on canisters that effect seals and air chambers.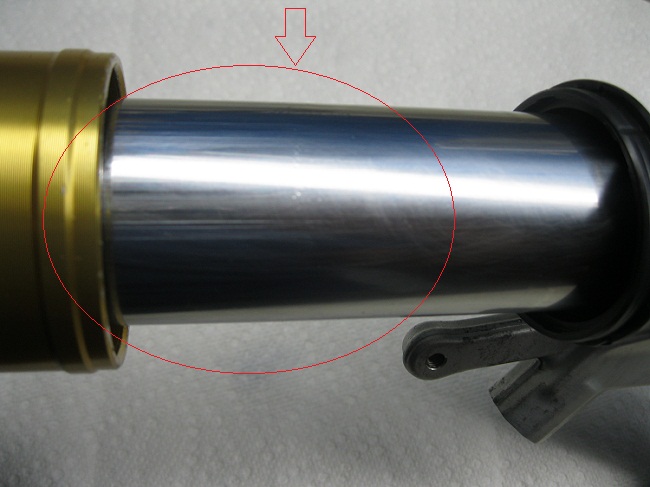 25)
Streeky wear marks on chrome tubes may effect seal life, some can be polished out and improved as best as possible without buying new tubes.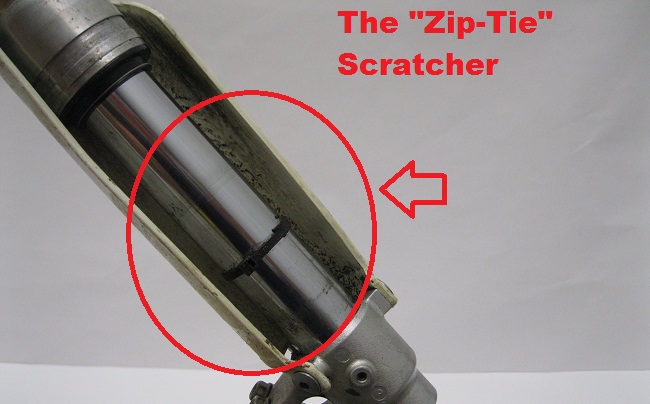 26)
The "Zip-Tie" fork tube killer.
A plastic zip-tie on any fork can cause your seal to leak and damage the chrome tube, many people use these for checking the amount of travel they use when riding.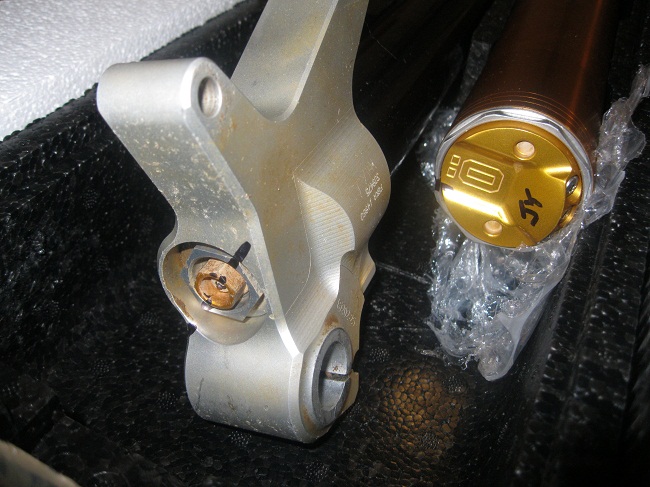 27)
I Ride in Shale Rocks.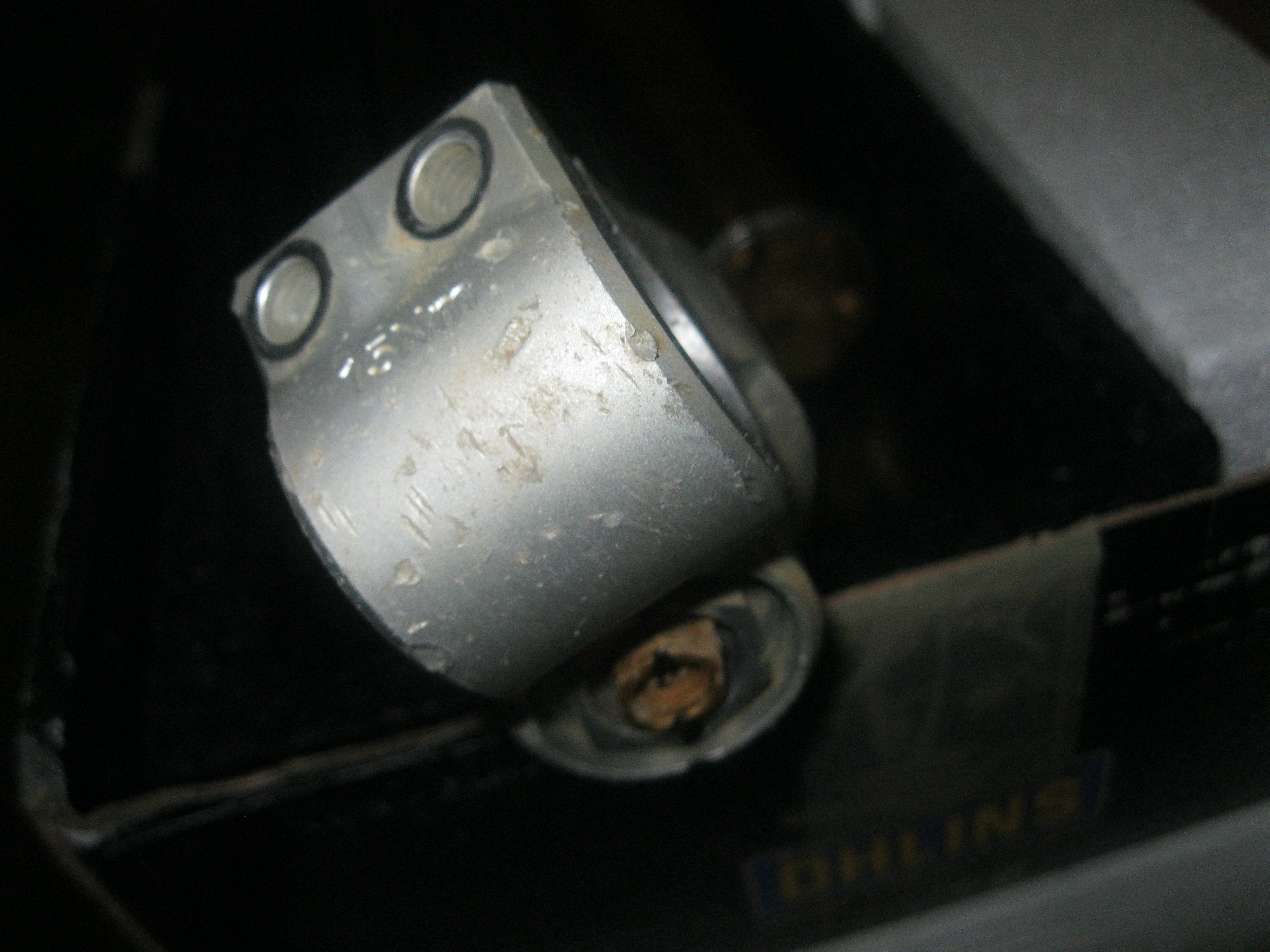 28)
Where i ride in upstate PA and NY is all shale ROCKS!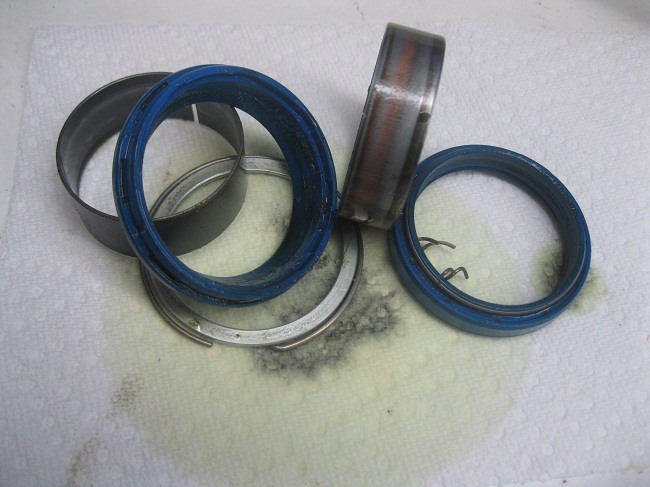 29)
Many Many many Hours.
Yes my bushings and Seals are ALL WORN OUT!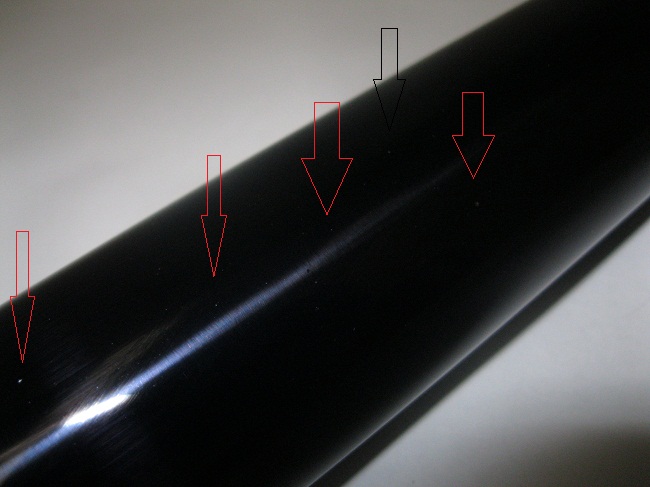 30)
You PIT-ME.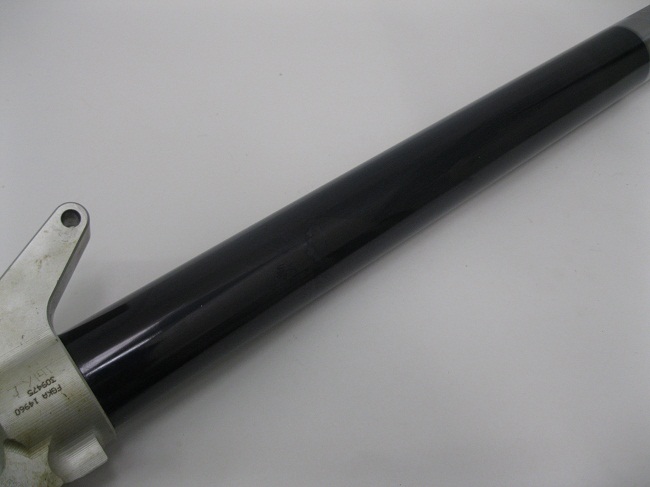 31)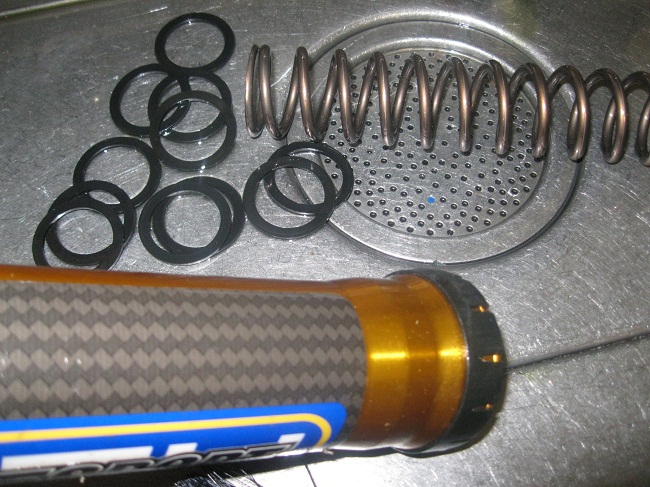 32)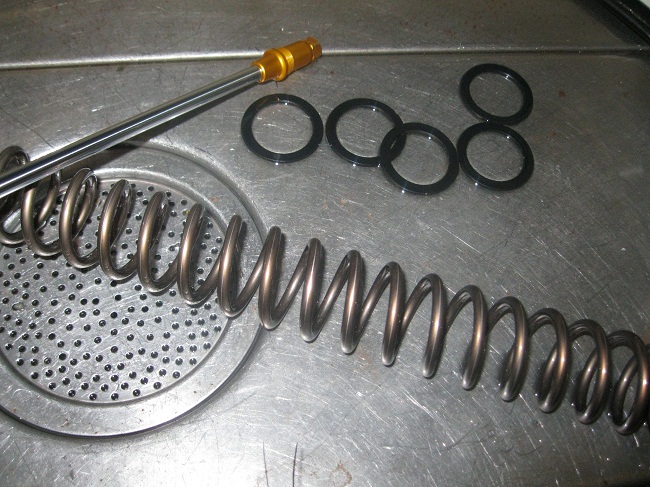 33)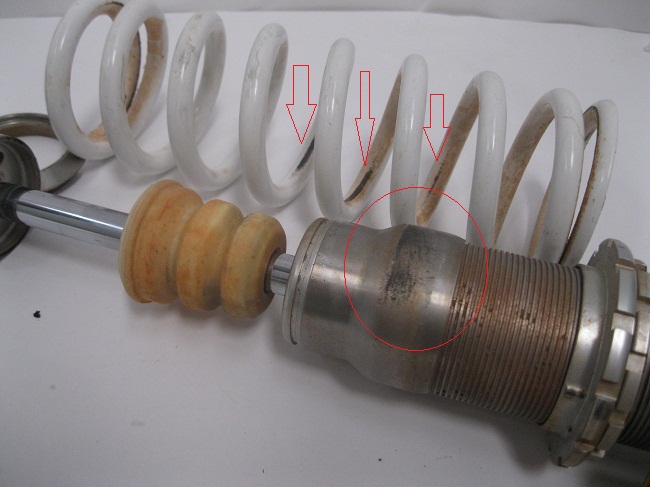 34)
NO Your WP Spring WILL NOT FIT CORRECTLY on an OHLINS SHOCK.
Above if you thought a WP KTM spring would fit on a Ohlins TTX shock it doesn't.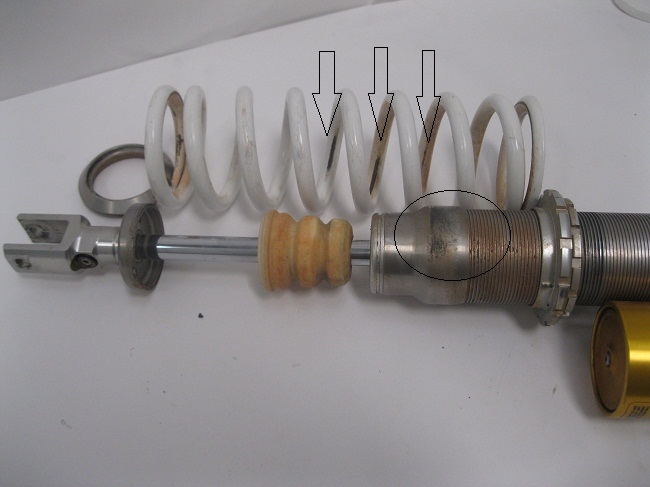 35)
Above wear marks from wrong fitting spring.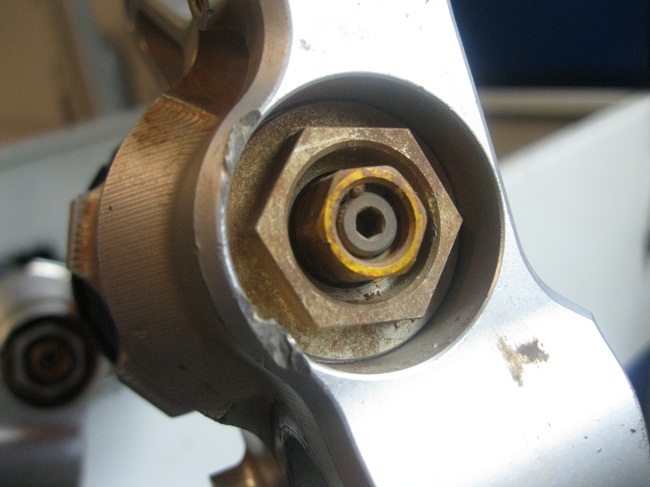 36)
Ouch!
FGHO1596 , from Oklahoma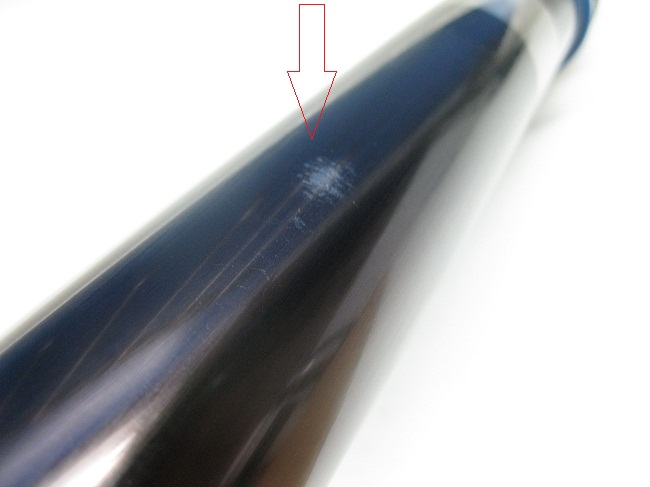 37)
Mark on DLC coating from wear and tear.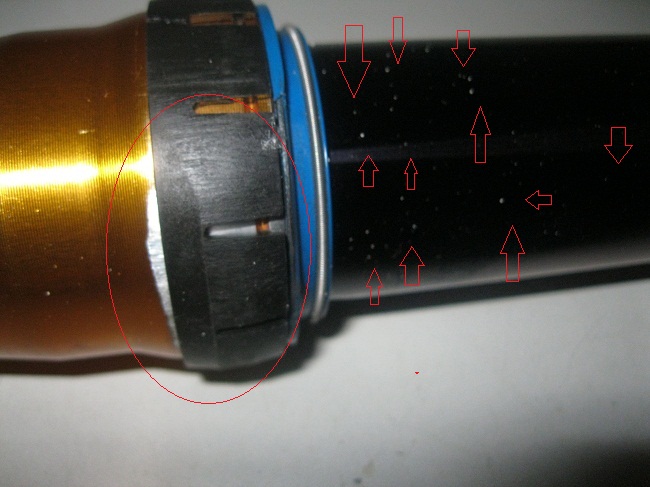 38)
Older 48 RXF fork with varies wear shown.
39)
Fork bottoms, reminder the gold nut is "left hand thread" so you can strip them if  you did not know this very easy, don't use crazy air wrenches on these!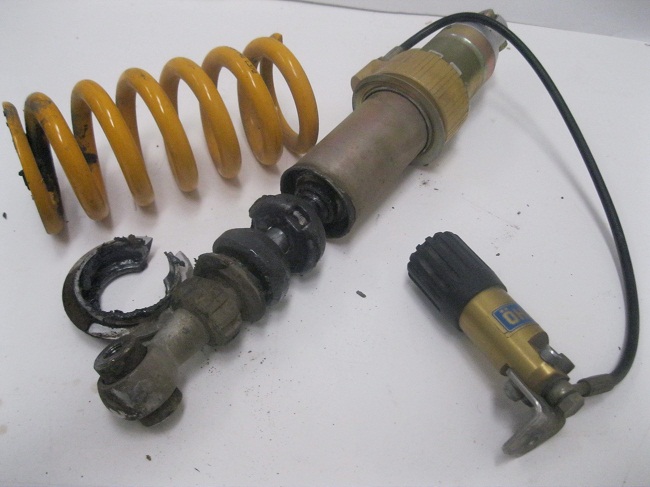 40)
Yikes!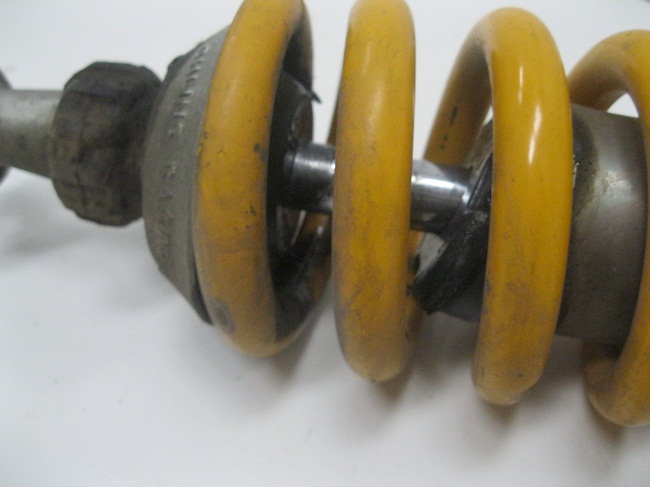 41)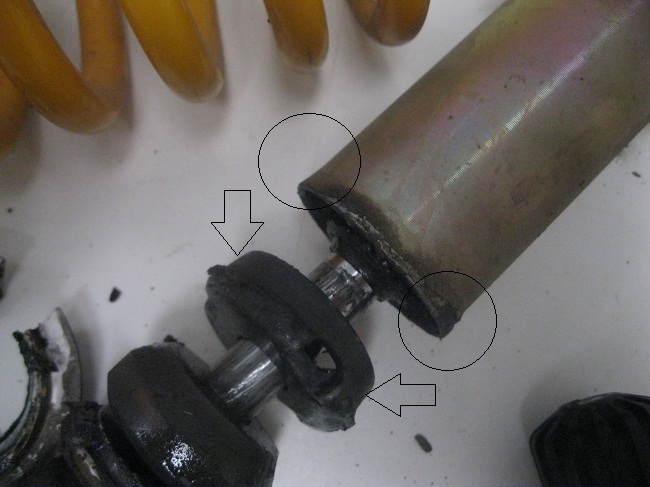 42)
Mushroom End.
Body end is Egged out!… end cap just falls off- ridden to death fully overloaded!

"exibit A" and matching end cap"exibit B"
43)
Eeek!
Above KXF250 , DLC mark and Others….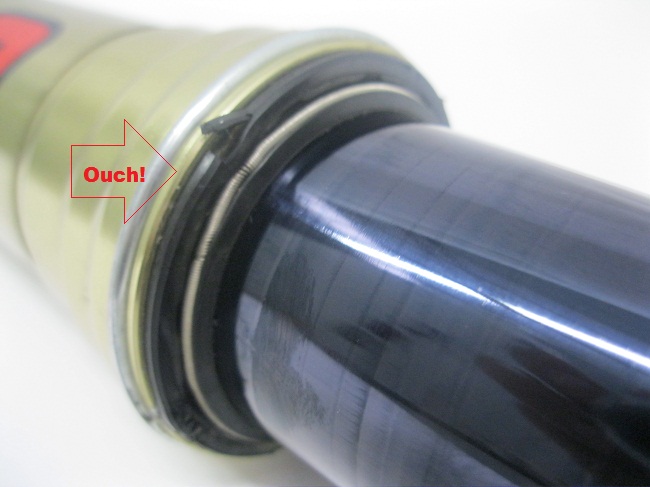 44)
Same fork but closer…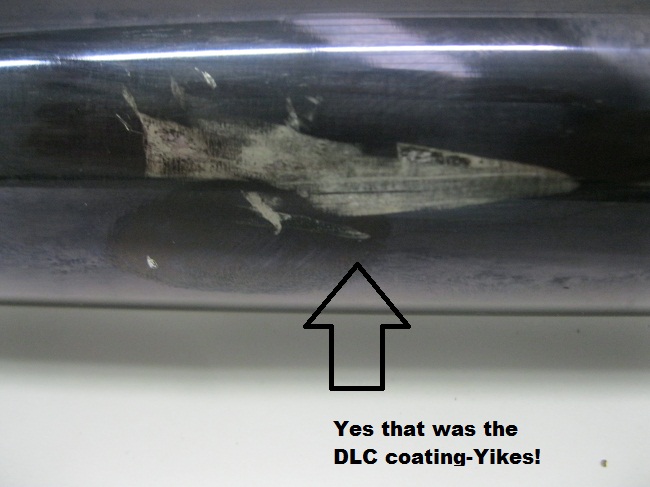 45)
Yikes!…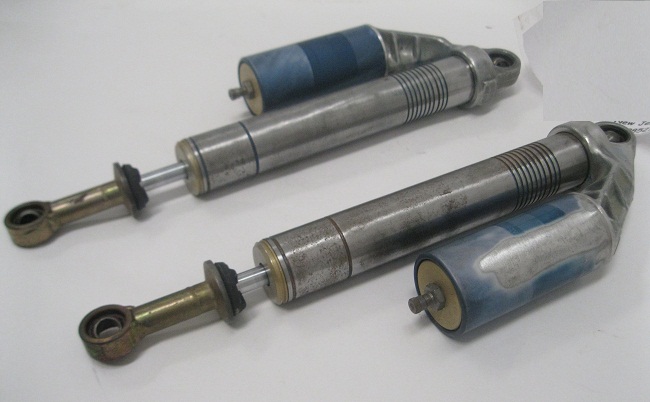 46)
1983 Husqvarna 250/500 HA5030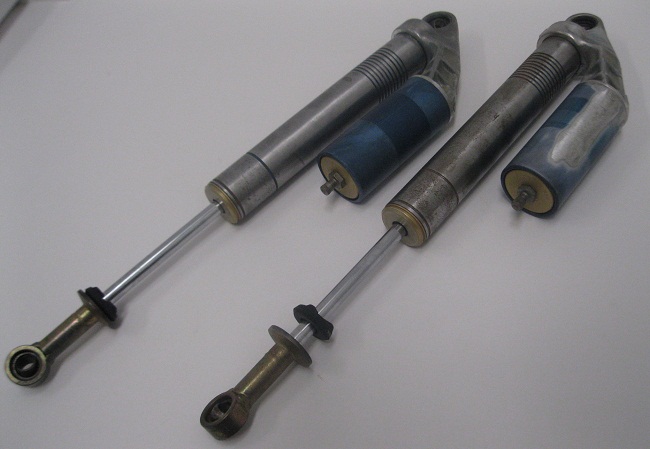 47)
"BEFORE"- 1983 Husky HA5030 S36p Vintage Ohlins Pr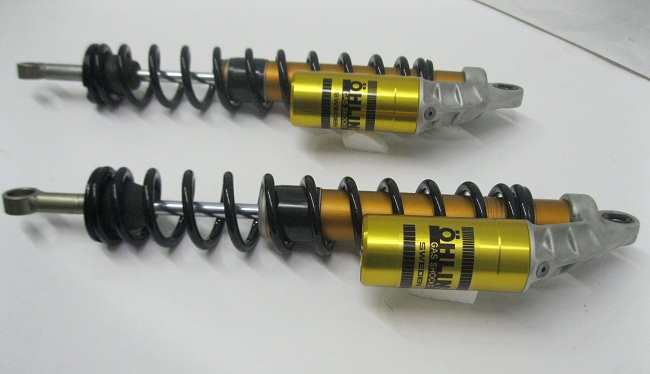 "AFTER"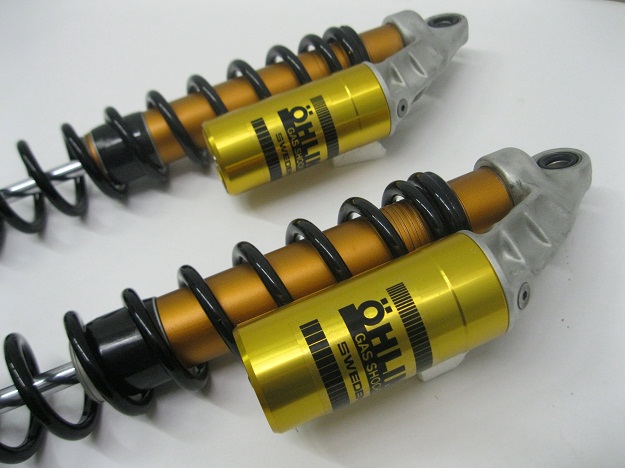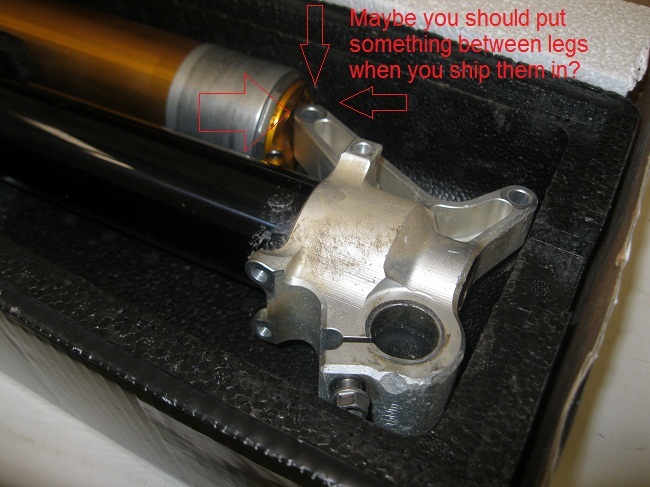 48)
BANG-O ,
maybe put padding or bubble wrap between legs before you ship them in!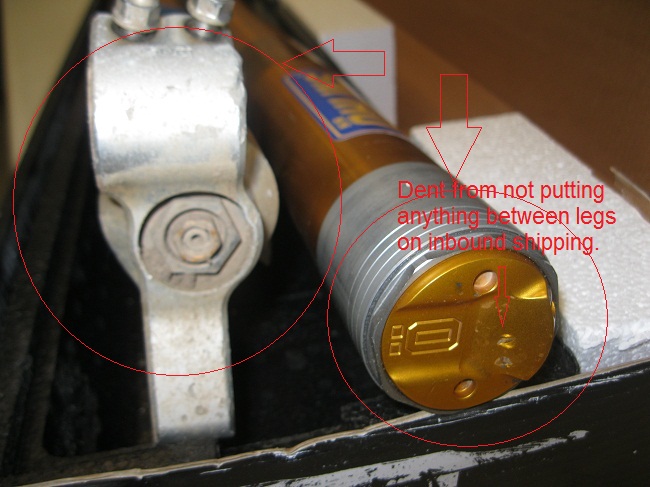 49)
Same forks, cap dent , ridden in rock region of USA.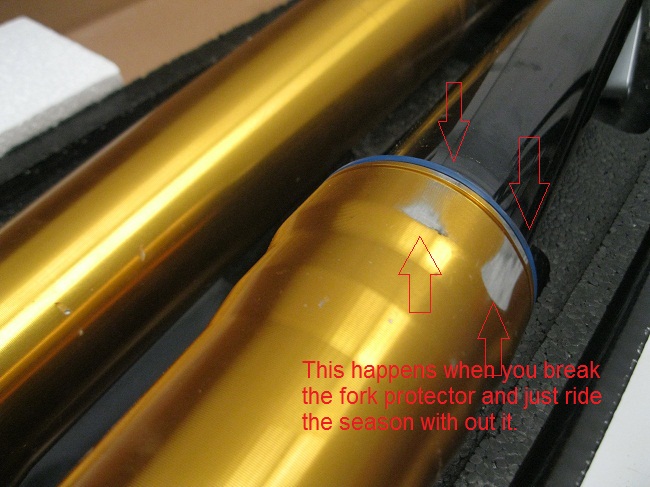 50)
Riding without the $7.50 fork protector guide saves weight?
but cost $560.00 upper gold leg.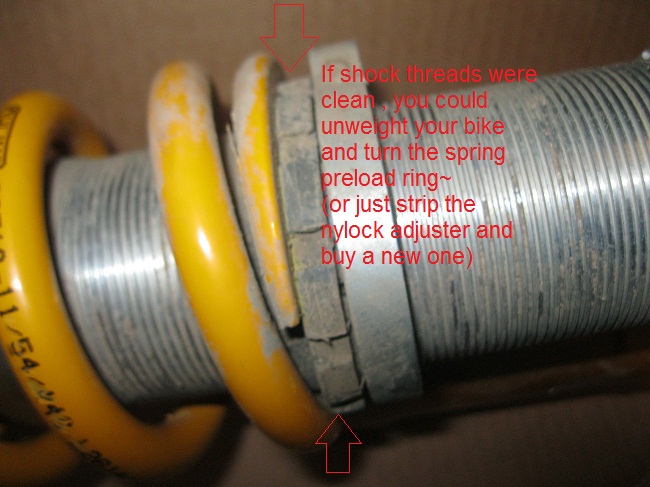 51)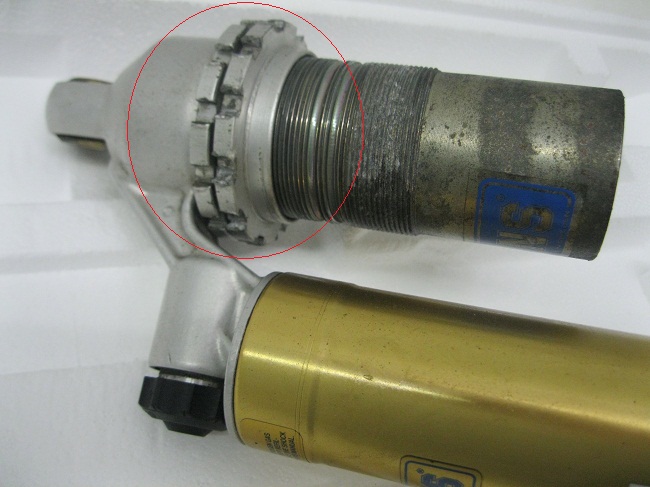 52)
Ducati 996S spanners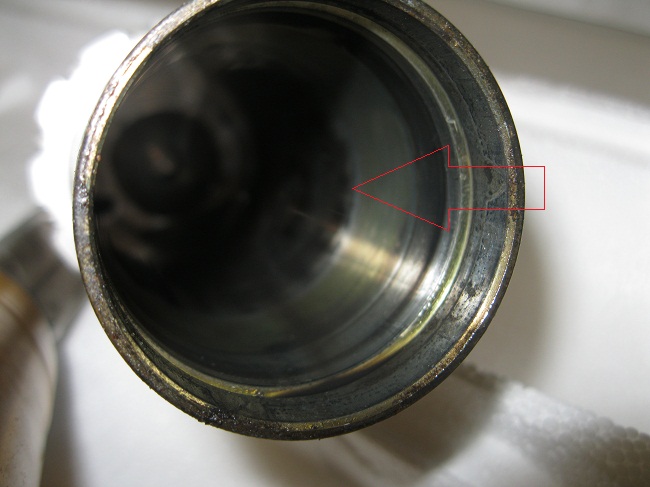 53)
Ducati 996S inner shock body wear.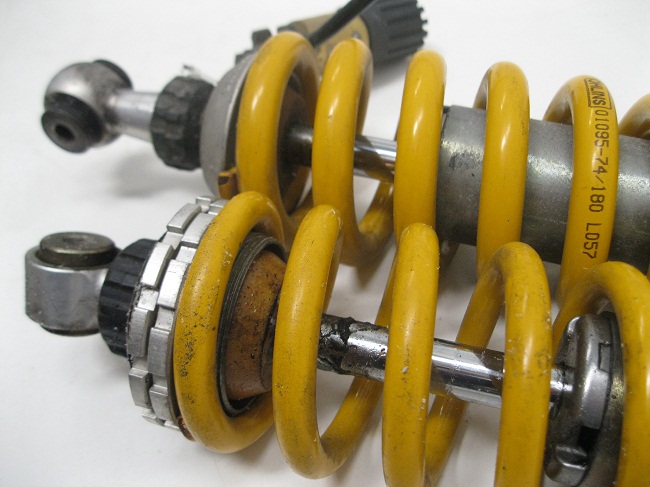 54)
Origional  2002 Bm215 Bm216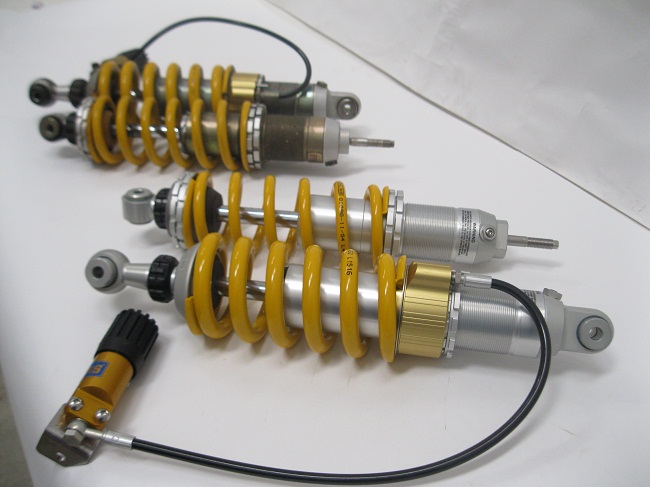 55)
Origional 2002 Bm 215/Bm216 vs  2017 Bm215 /Bm216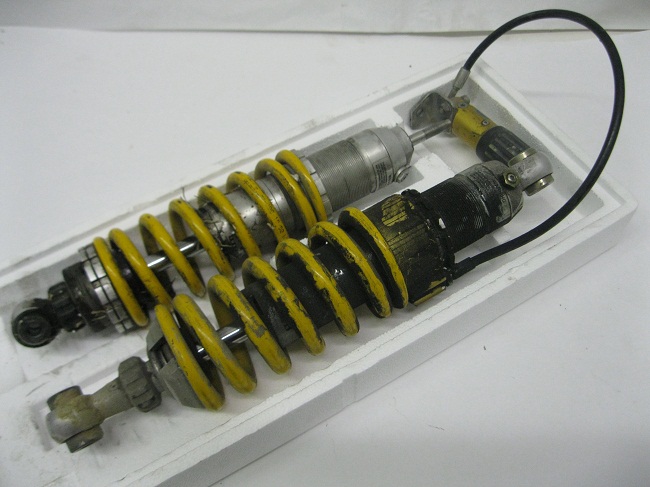 56)
You Dirty Bird.
Bmw R1150GSA/GS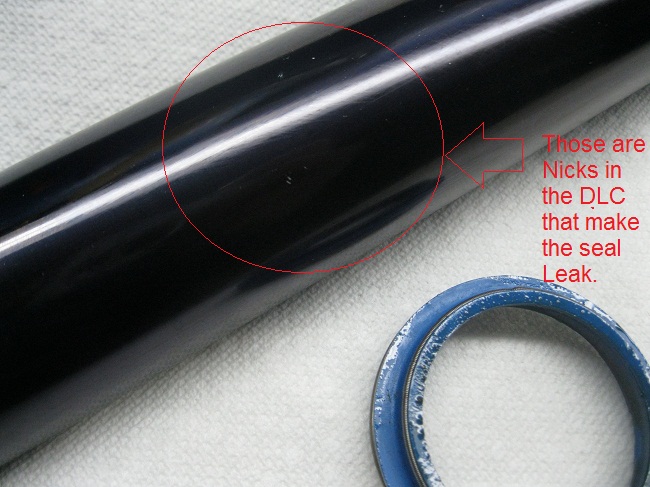 57)
Small rock and gravel nicks in DLC  black coating can make any seals leak, this customer is in the rock region of PA and New York state.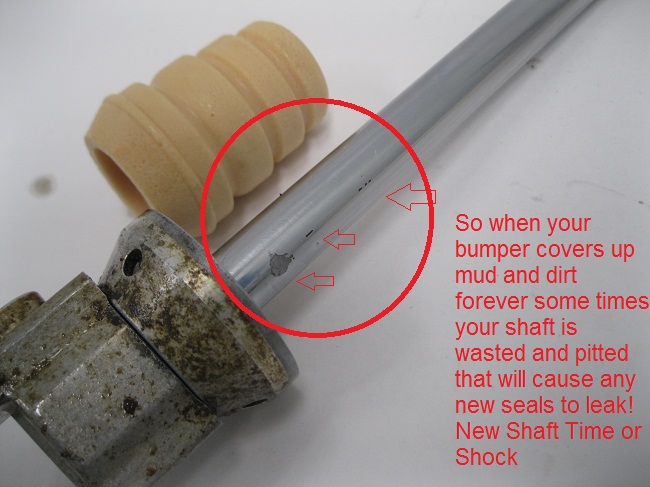 58)
You pit my shaft.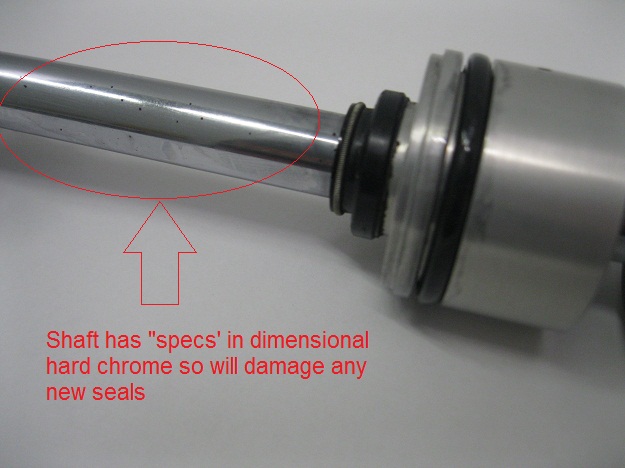 59)
You pit me more.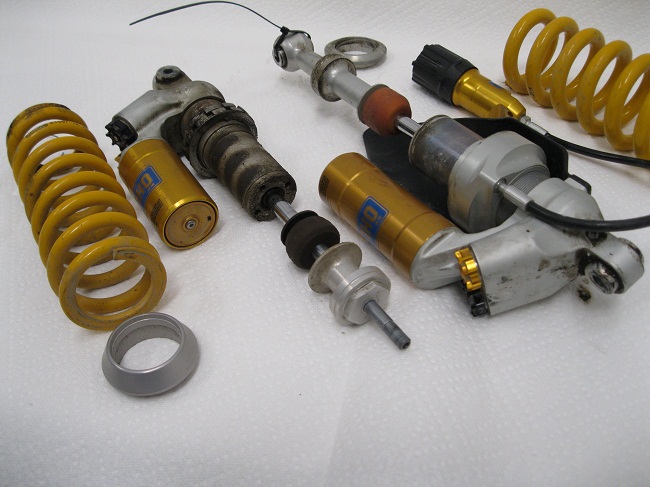 60)
Above a high end Ohlins TTx series Front and Rear Bm 679 and Bm 678,
The front is fully exposed like most  Bmw  Adventure series bikes to any coming mud, road dirt  and grim, when left on your bike, the next time the shock moves, it can drags through making things leak any time.
Some go many many years without issues , some go only one season or less depending on your cleanliness and riding habits and bike storage.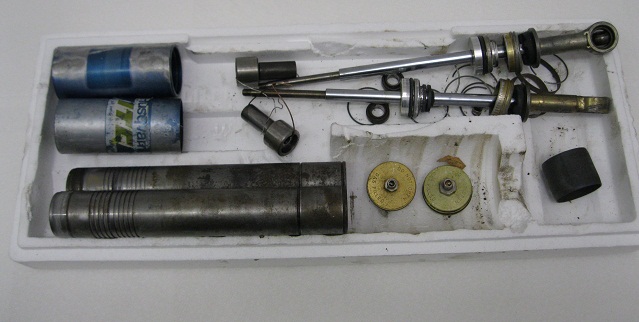 61)
Above Vintage Mx Bucket of junk from a Husky on ebay…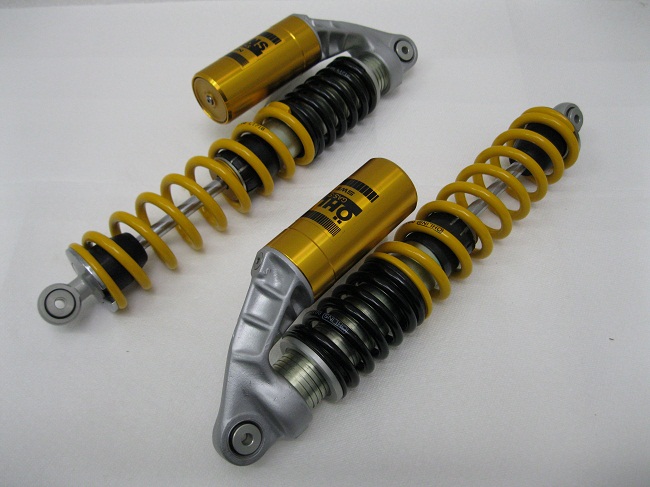 62)
Above full restoration Maico 1981 490c
Made like New shocks all new parts except rare Vintage web heads that are NLA.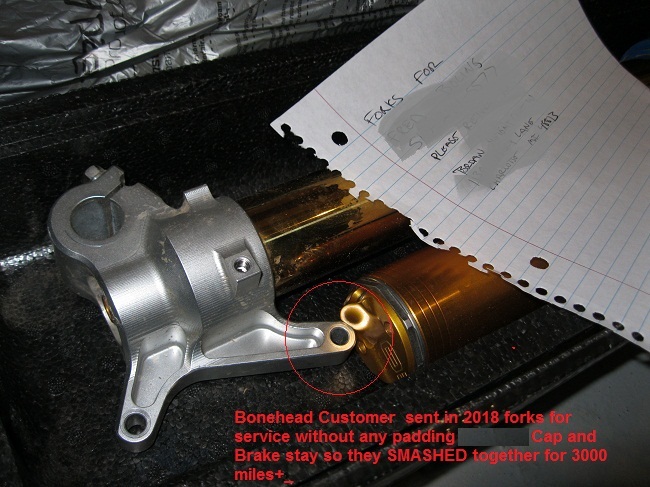 63)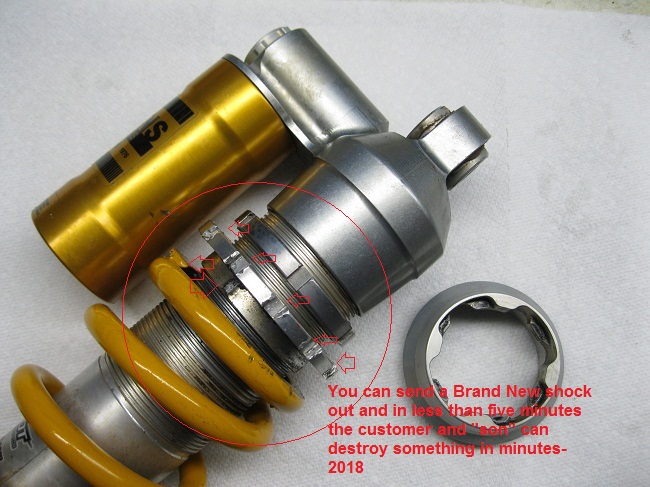 64)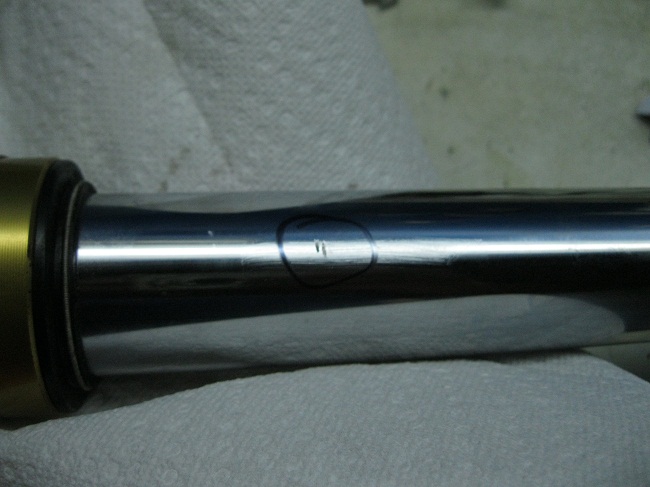 65)
Honda CRF250L Spring leg Colorado 2018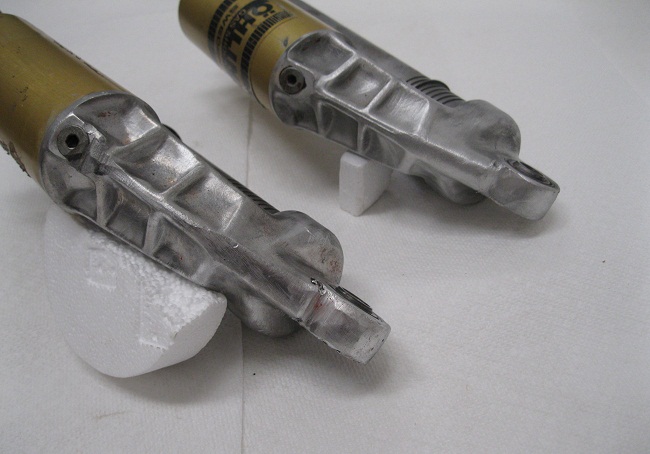 66)
Vintage Mx Husky on CR125 Honda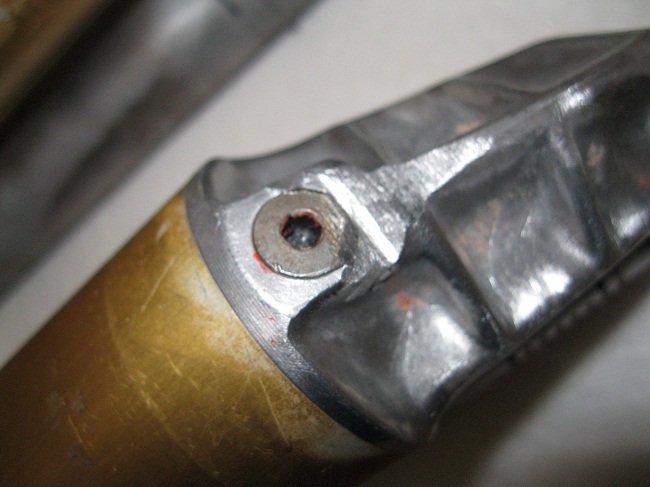 67)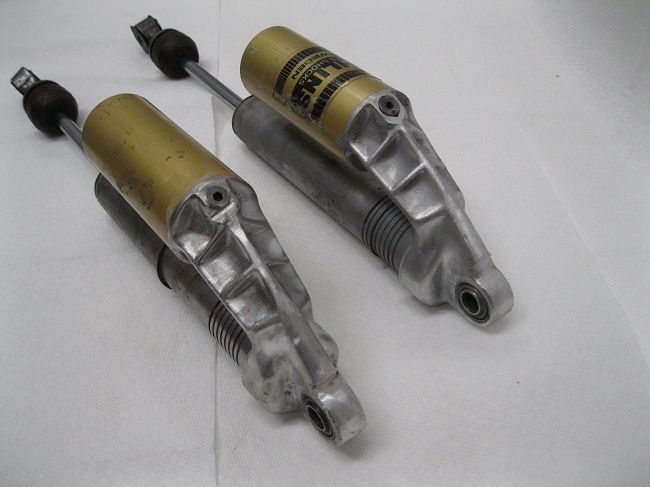 68)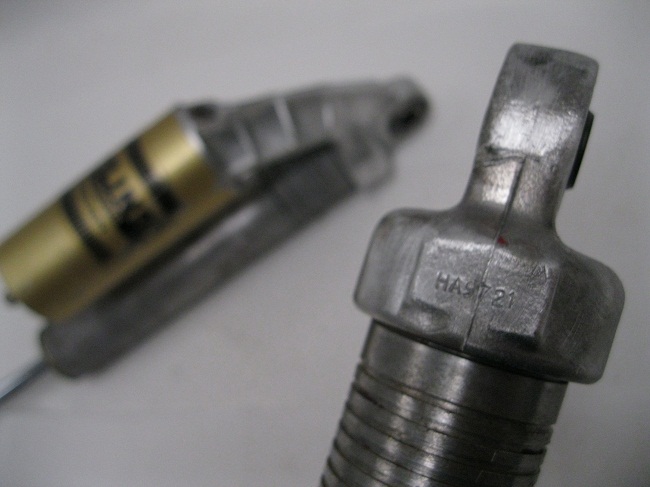 69)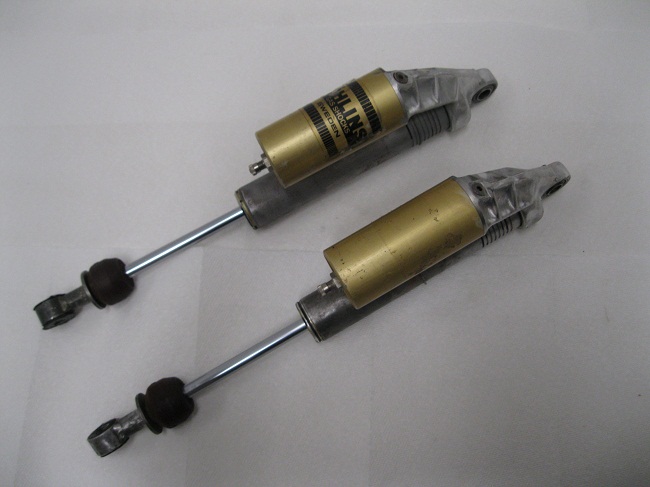 70)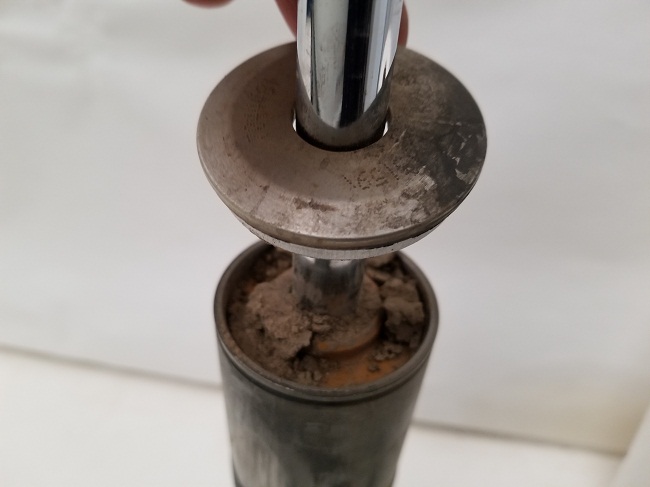 71)
Fox Mud-bird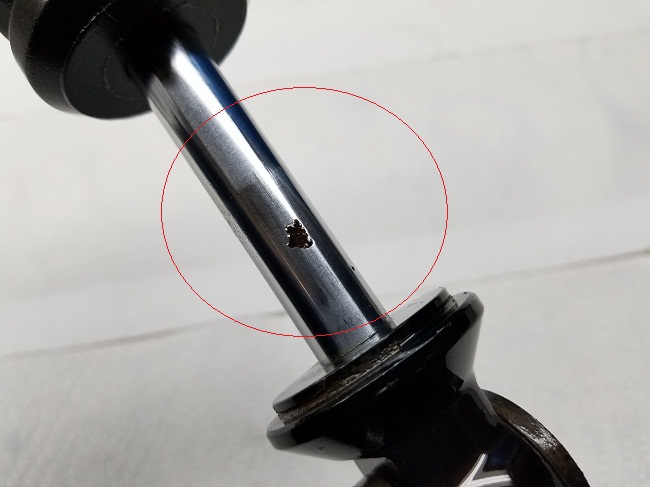 72)
Fox Shaft Rust under bumper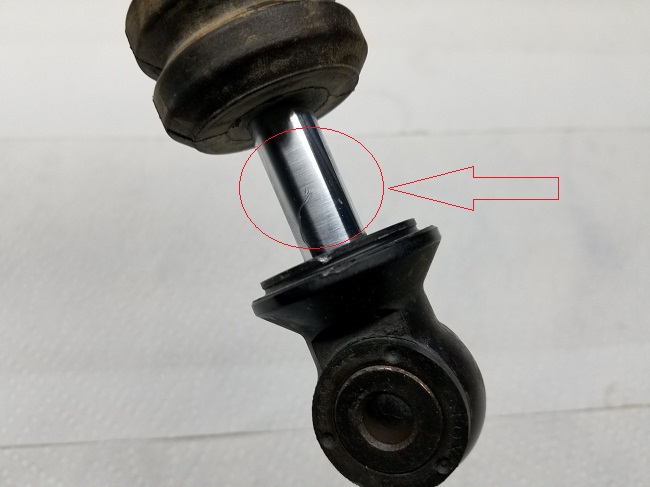 73)
Fox Shaft Mark and ding under bumper
74)
Fox Body wear from Dual Rate springs and plastic spacer rub.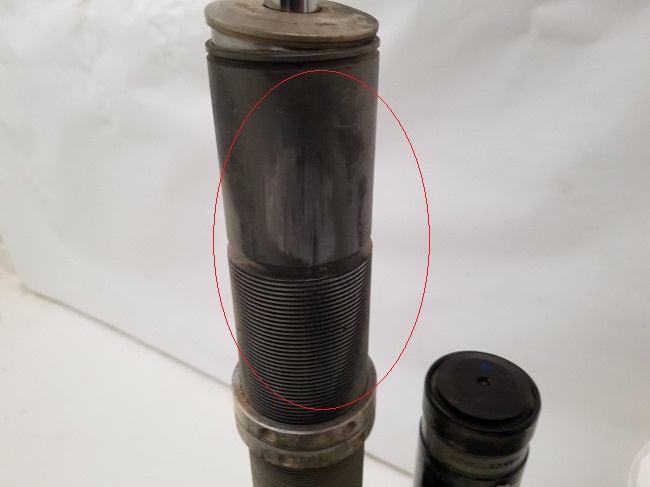 75)
Fox body wear from plastic spring guides.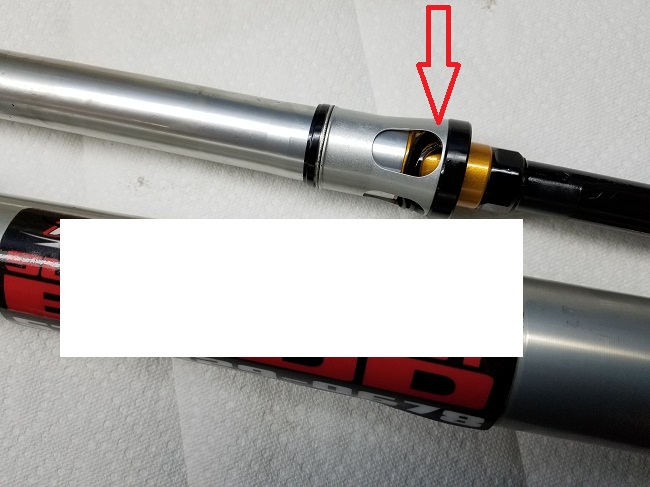 76)
From others Crushed Spring preload spacers put in wrong place, they go in bottom only folks.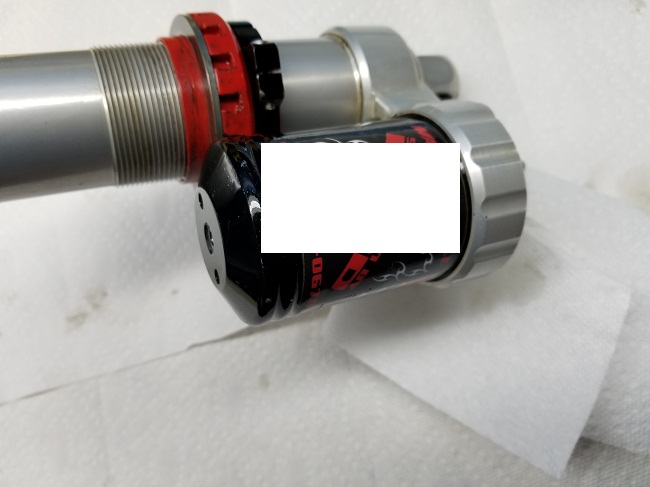 77)
From others received for check up.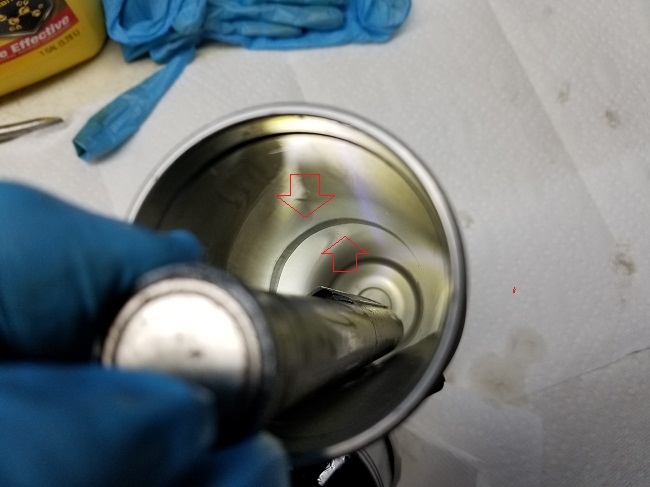 78)
WP Body worn thru massive wear mark and blacked oil extra fast.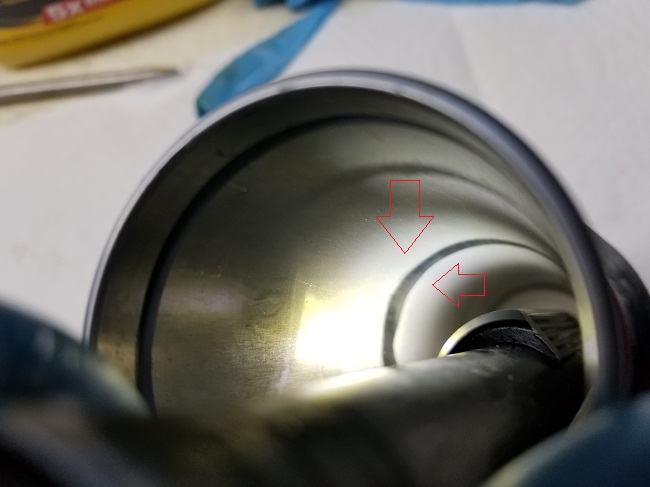 79)
WP Body wear 2018 KTM 250Xc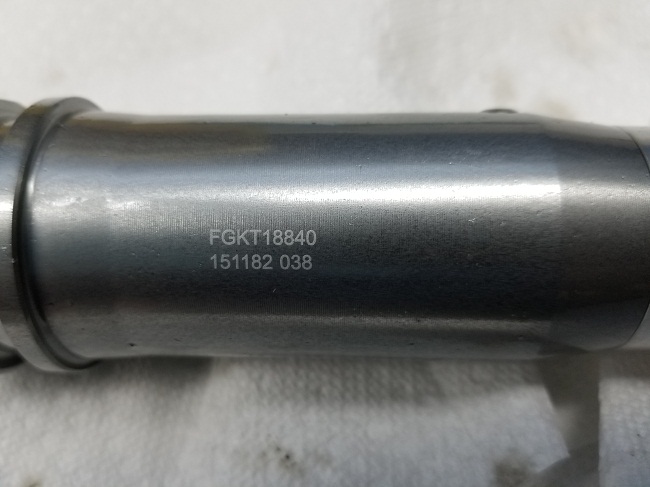 80)
ID Code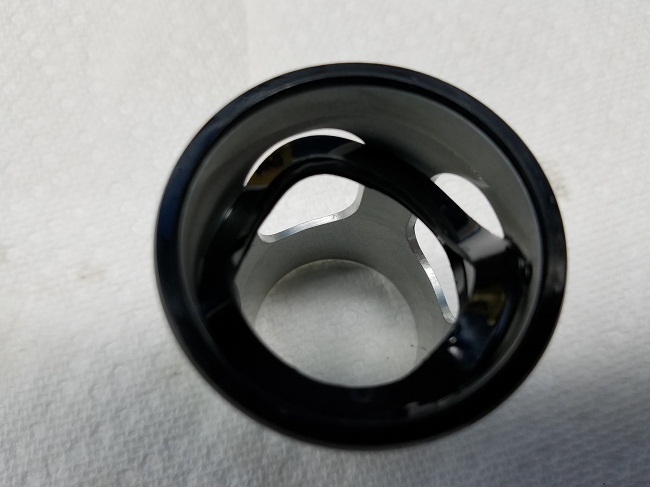 81)
From others Spring Preload spacers put in wrong place.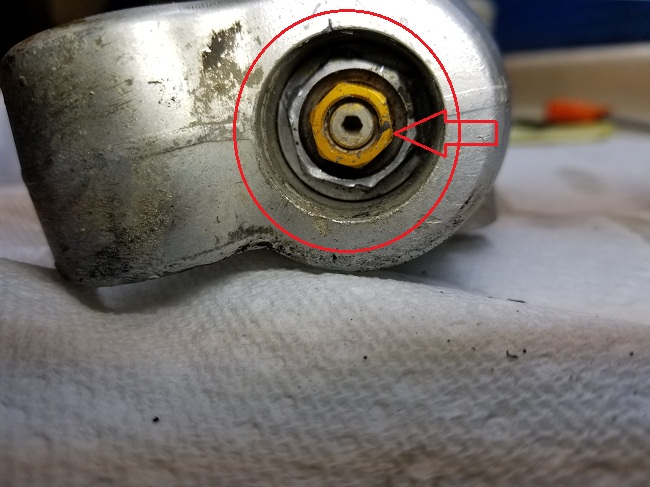 82)
From others No safety clips by others.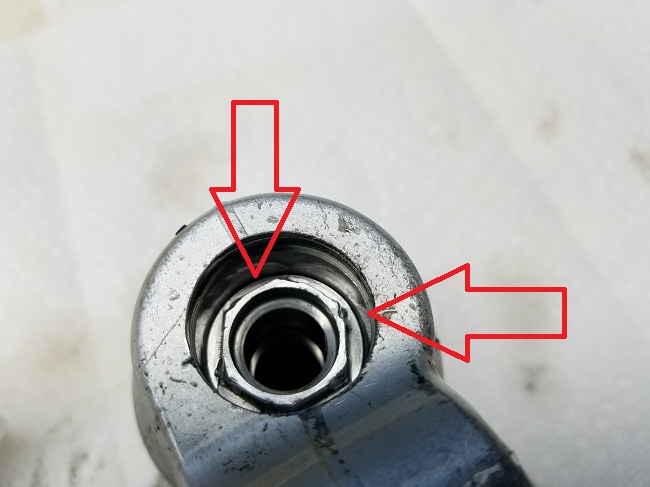 83)
From others adapters stripped from others.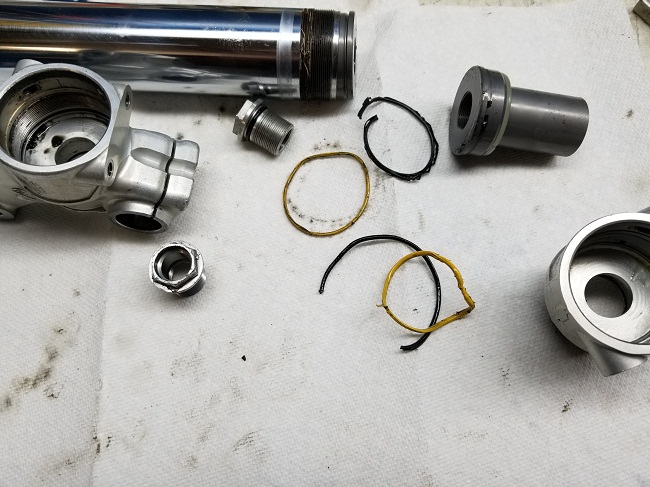 84)
From others, one thing or another loose left tube gets walloped, above is right side also seal needs rehab or replacement legs.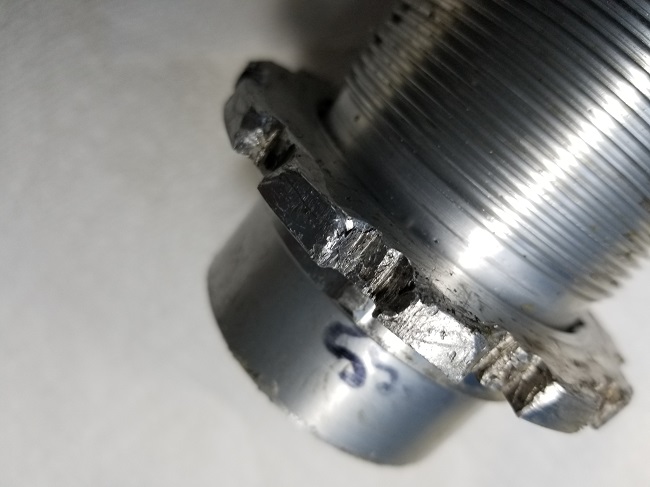 85)
NICE!- Less than 12 months! ECEA Enduro guy loves to use  a Brick and Chizel to change his shock spring preload (2019 Husqvarna or KTM found Feb 10 2020)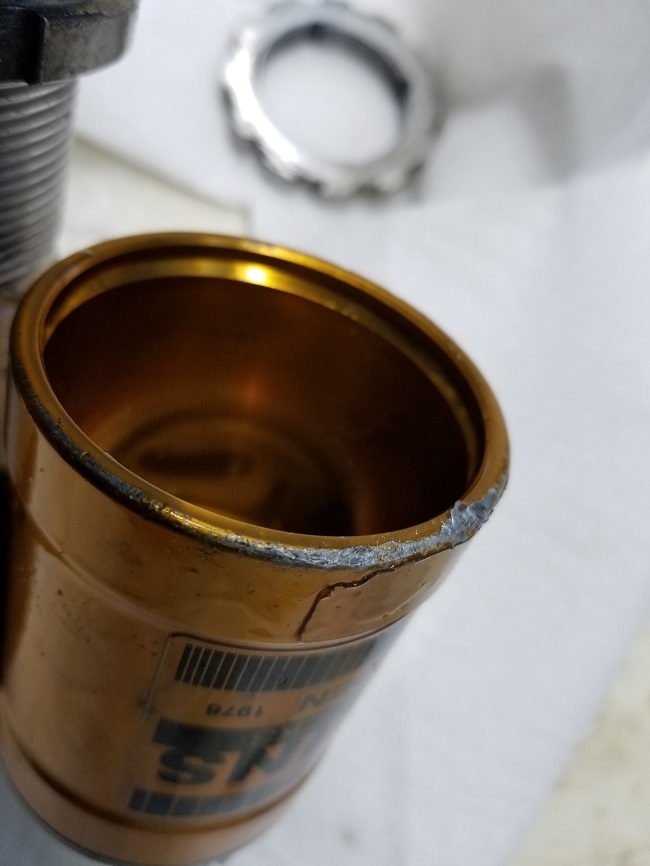 86)
Same ECEA Enduro guy loves PA  ROCKS and Mountains to Flop around on and slide down in the rain!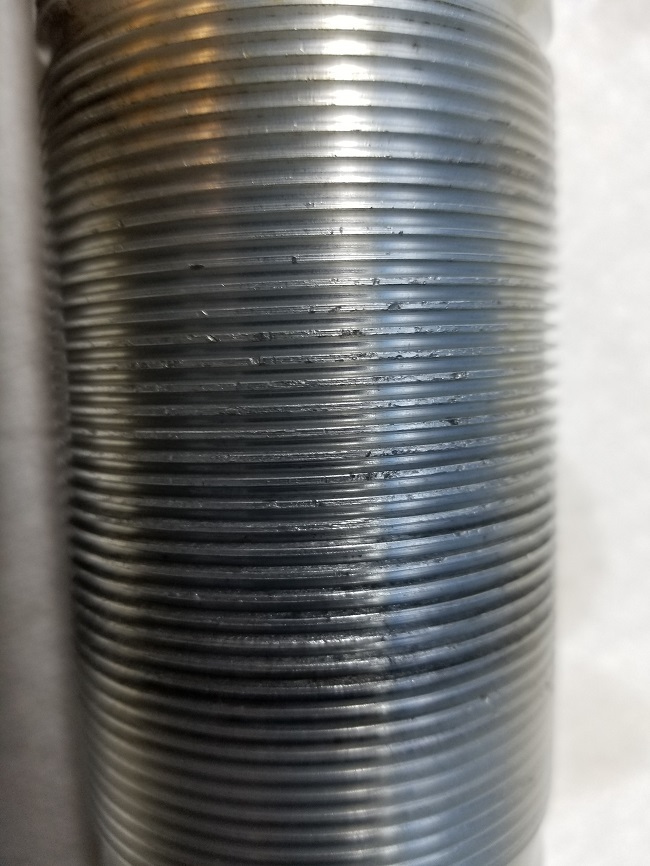 87)
Same ECEA Enduro shock body Threads Semi killed from above hammer/ chezel spring settting, he also was using an old Yellow CR/CRF Honda Showa spring on this Ohlins shock
Reminder: (all Yellow spings that don't say Ohlins, are not Ohlins springs)