21) Shock Updated Seal head Assemblies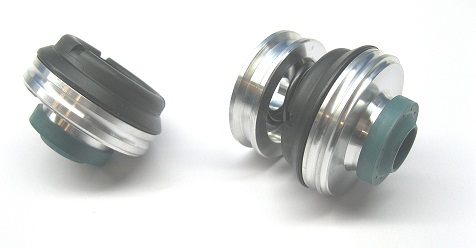 1) Pic
Special application seal heads with updated Seal Technology.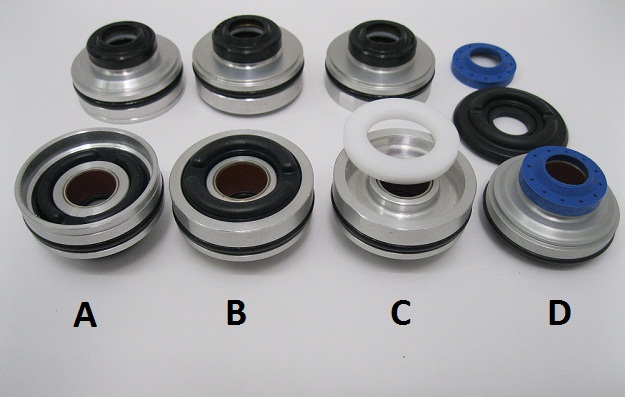 2)
(Above) Some common Ohlins Seal Head examples shown
3) Pic
Above Left (Inny) above Right (Outty) , Seal Bullets are a must to do install without possible damage to quad rings.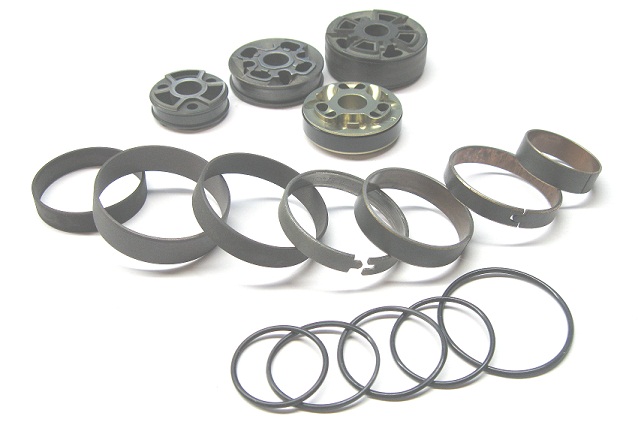 4) Pic
 Piston Bushings (Many Different materials and types available)  & O-ring / Quad ring  Sets

5) Pic
Piston Bushing & O-ring Sets
6) Pic
Above Popular Ohlins Vintage S36 Twin Rebuild Seals Update kit with bumpers
Does the wear parts, bushings,scraper, Orings in body and reservoir floating piston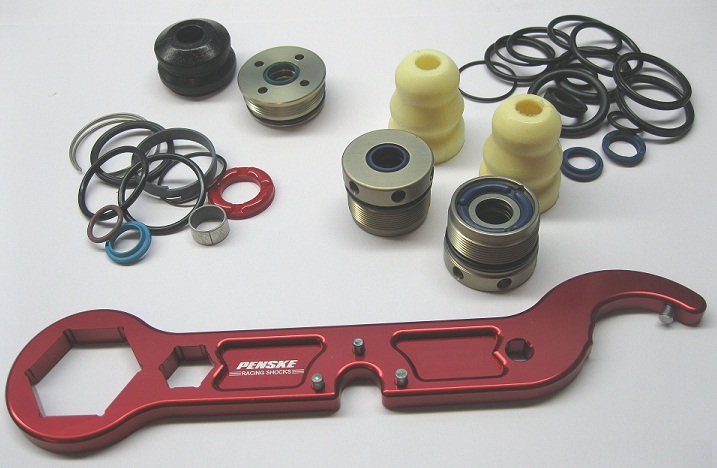 7) Pic
Penske Shocks and Custom Axis- Seals, Seal Heads,  Parts and Special Tools.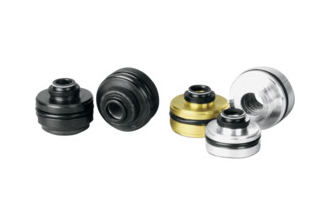 8) Pic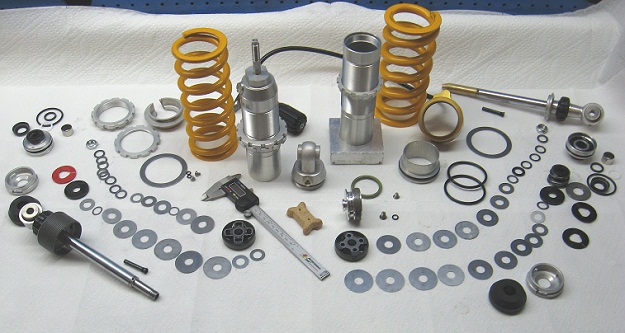 9)
Divided Internal floating piston shocks need the "cylinder head"(that's the top aluminum shock casting at body end top) that usually heated off the body while holding in an exact aluminum fixture in a 20 ton press.
Then setting the floating piston depth in (mm) after vacuum building the shock on a machine, then loctite and torque cylinder head to manufacturers specs.

10)
You need a spring press to remove most springs, especially the shocks with a preloader.
11)
Even hydraulic remote spring preloaders are Vacuum machined to 100% , then they should be load test for full range to manufacturers spec shown below with appropriate fixtures.
12)
Load tested and  Maintaining Factory Spec  movement then you know that's how they should be.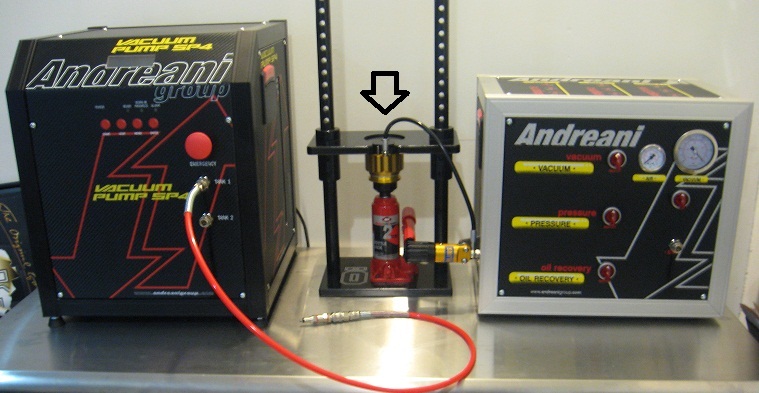 13)
14)
The Only way to get 100% of the air from a shock is to do them on these Factory Vacuum Machines, to do most shocks with the correct fittings allow around $10k US Dollars to purchase.
 15)
Nitrogen Filling Gauge Needle type 600psi, these needles are very fine pitch like micro dentist  needle to not damage the nitrogen pad, these are a good starter set we sell for $165.00.

16)
This Digital gauge we recommend using in conjunction with the above needle gauge so you can have
2 separate gauges attached at once to the shock to double check your preset nitrogen pressure.
(Digital Gauge Order item 3256-7550  $469.00)    (Order item 3256-8550 T Adapter set  CAll $)
To Order Email : sales@propilotsuspension.com
__________________________________________________________________________________________
All Shocks Should be done on the Newest Factory VAc Machines Like Below to be 100%  Optimal.
Many Fixture are available for all Wp, Showa, KYB Shocks that is the only way to do them correctly.
Check our TECH-TOOLS-PICs  top tab page for more info and tech pics