4) Shock Springs, Fork Springs, Pressure Springs
For your Weight and Conditions there are many Springs for many things.
Most brand new shocks we sell will have the best spring choice determined and preload given your information you provide.
There is years of great current spring data with many others that weigh the same as you  and or have loading or conditions the same as you,  so it's very easy on new shocks or forks when ordered to be very close from the start.

On some new year models or preowned suspension that you may have you may need to determine more below, and many personal preferences can still apply.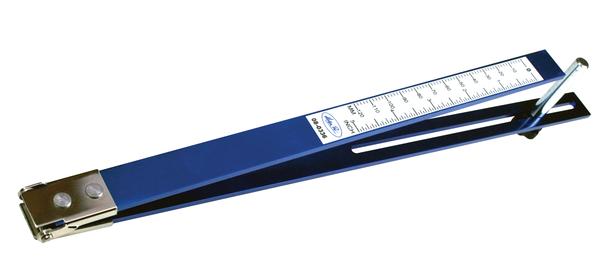 The easiest way to check your sag is with a "Sag" tool .
Keep  in mind that "Spring Preload" is as  or more important than JUST Rider SAG. (see Below Pic 7+)

Metric whole numbers is the way of the suspension world !
Use  "inches" if your bike is made out of  Wood (insert humor here) .

Our TECH page may help you with converting rates N/m to kg/mm or to lbs.,  they are not the same thing,
Even today we see people searching for springs and have not realized on many brands the listed rate appears  in N/m not Kg/mm so to avoid buying the same thing twice or wrong direction maybe you should know.
Also many standard OEM springs actually rate less that what manufacturer may claim or only peak value of close to that rate, not a consistent true value all the way through like a high quality spring so it is popular to go with a better quality spring.
When in doubt have your springs professionally rated on a digital machine for best results.
1)
For a Quick ballpark (D.I.Y.) info follow these-  Shock Spring A,B,C's…..
Simply put, to have the correct balance you need to have the:
A) correct spring rate*
B) correct range of preload on that spring choice*
C) to get you the correct rider sag* and bike only sag with no rider.

or a spring "RATE" change may be helpful.
Many things feel weird if your off on this, the rear effects the front and front can effect the rear, the travel may feel lifeless or too stout, the turn in or balance may be to lazy or too steep. 
Once within manufacturers range, tuner's often add or take away a little as ONLY a half turn at a time more or less slight turns  to further benefit their use.

A)
You can exactly measure the free length of the spring usually in (mm) while off shock.
B)
Installed on shock which is slightly compressed example maybe 10mm to 16mm of  "Preload" depending on what its going on.
C)
Then once all back together  field check with some pretty exact measurements of  "rider sag" meaning fully suited up with about 2/3 to 1/2 fuel load  which in general terms rider sag  is settle from fully extended total travel there is  to get started, while staying in the "preload range" listed in step "B" above, and after that is set, the "bike only" or "static" sag  should be about 5% -10%  of that total travel claimed, or buy some springs!.

They are only as accurate as your measuring skills, body placement and free play in shock mount bearings.
All of those above things are then considered,

Visit Our TECH-TOOLs-PICs page for more info on Accurate Spring  Rating and Testing and How to determine Preload.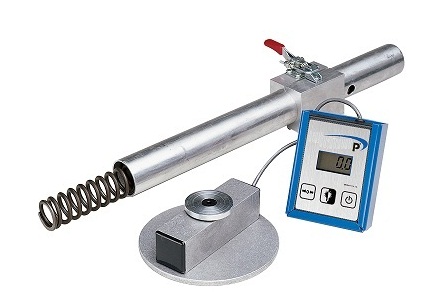 2)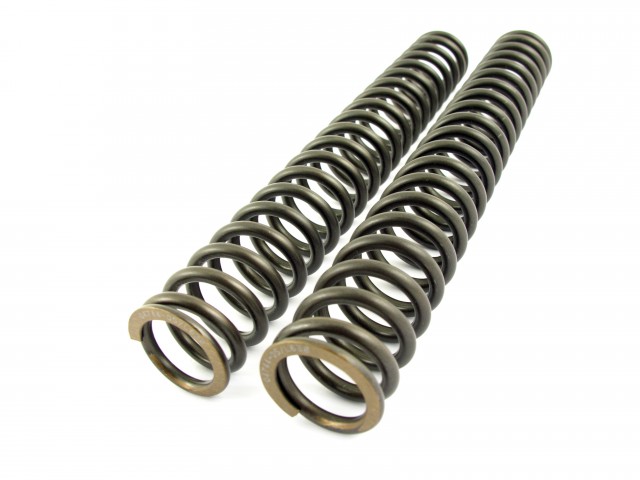 3)
Surprisingly we found even  major suspension companies and publications  not informing their customers about the difference between N/mm and Kg/mm.
They are Not the same thing!  so when talking about fork springs rates  it's best  to clarify that.

An Infinite amount of variables may determine a spring choice,bike geometry, engine placement, fork technology, etc.
Many modern forks with a .52N/m may feel plusher than a fork with a .48kg,
(don't be too stuck on just because you used a .43kg in the mid 1990's your current machine needs that number)
Its getting popular to also field check front rider sag also, it's a lot harder to do than the rear but possible to do the front spring preload and spring rate calculation.
To be most accurate you would need to minimize seal and  bushing stiction,  fork angle, and other possible alignment  issues.

There is a specific program for this but the basic idea is to also consider if an internal top out spring is used and what rate that top out spring is within the cartridge or strut and how it actually can effect the actual spring preload.
"Shazzame"! That's some of the reason why a spring number is only a number in overall feel.
(See below TECH for Sample Program Sheet)
4)
Above pic shows Primary Spring and Compressed Top out Spring Relationship
which effect initial feel and front true preload calculations.
5)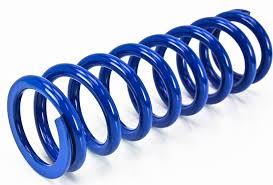 6)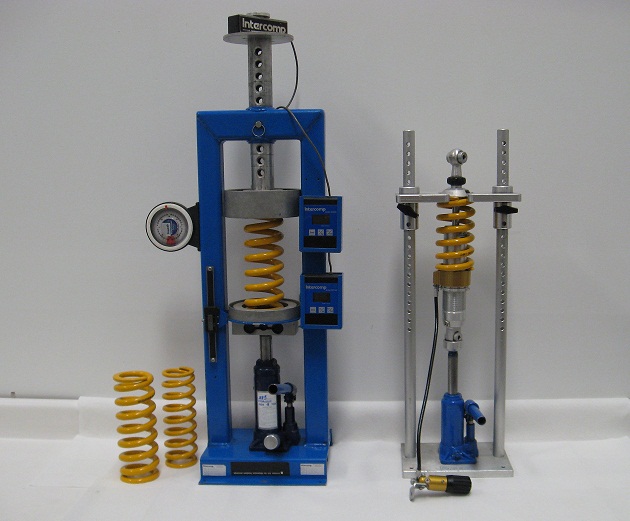 7)
Preload on the spring way of Testing and Tuning is far more accurate then trying to roll around field checking rider sag, most often done incorrectly and with worn shock and linkage joints making the measurement not as useful.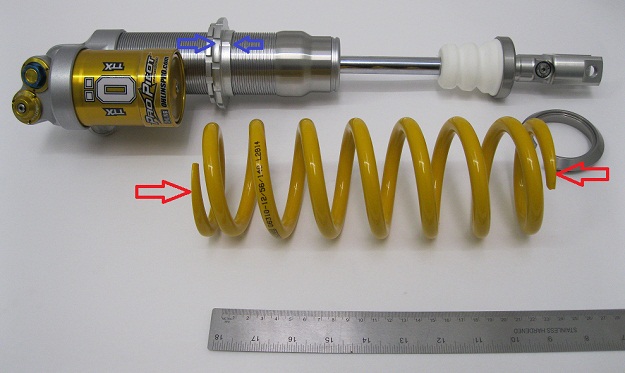 8)
Shown above blue arrow is New style 2016+ Ohlins TTX shock spanner with "notch" for spring end.
Many people measure the spring FREE length OFF the shock, edge to edge and record measurement , this example is 248mm.

9)
Shown Above spring installed on shock it is compressed to 235mm, So that's called PRELOAD which is about 12mm to start (Baseline setting), a good range may be 11-15mm for this application.
Most often, a lot of current offroad series application with a linkage work best between 11mm to 14.5 mm preload.
Another great idea is to MARK spanner on front and back and before you install shock, Tighten 1/2 turn at a time,
RECORDING EACH 1/2 turn Installed Length, then do the same thing 1/2 TURN at a time OFF from baseline setting for a few turns.
THIS way you have a basic idea if you adjust your spring more or less you will know exactly what preload you have between a range or 10-15mm, and a different spring may work best if out side this range.
Preload on the spring way of Testing and Tuning is far more accurate then trying to roll around field checking rider sag, most often done incorrectly and with worn shock and linkage joints making the measurement not as useful.
___________________________________________________________________________
There is far too much to mention when suspension and whole motorcycles must work in harmony for best results. See also the full Tech page on our website more info.
A component education seminar may do you great service at any price, call for details in season, a daily 4 hrs training and consultation.
Suggestions start here,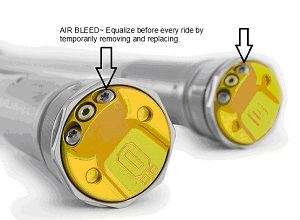 1) Do above to forks fully extended off ground, equalize air build up prior to each ride. See Website.
2) Do not change anything you do not fully understand, the clickers have been minimize on purpose because of customer error, see owners manual.
3) After you get your lazy unridden self in shape, such as riding at least one hour on tracks Tuesday, Thursday, Saturday for 5 consecutive weeks, then and Only then try adjusting as needed or leave alone.
4) "Rider Sag is so 20 years ago",  with the quality of springs these days, a much more important measurement is Free Length minus installed Length = Spring preload. Based on your rider info most are 10mm to 14.5mm of spring preload (some exceptions can vary).
For the first several weeks of use, Only experiment as needed by 1/8 spring turn more or less, No Crazy full turns ride by feel, don't chase Rider Sag numbers.
You can ball park a rider sag number to generally be 30-33% of claimed travel (ie 90-120mm ) but since most can't measure correctly, don't beat yourself up over it, when most try 98mm-112mm with 15mm-35m bike sag ("oh my @ what is that / i told you you didn't no how to read a ruler").
5) Your bike is much like this. A see-saw so an example is that a subtle nudge spring only 1/8 turn or less on rear can affect front.
You also should test with Brand New high quality new fresh tires with proper tire pressure set before each moto or ride per ½ lb increments test with expensive high quality pressure gauge or use nitrogen even better, not those old things that still show tread you had for a few months like above.
Much like rear tire wear, maintain your suspension fluid through a detailed professional factory authorized service with same materials and procedures only.
To Order Email : sales@propilotsuspension.com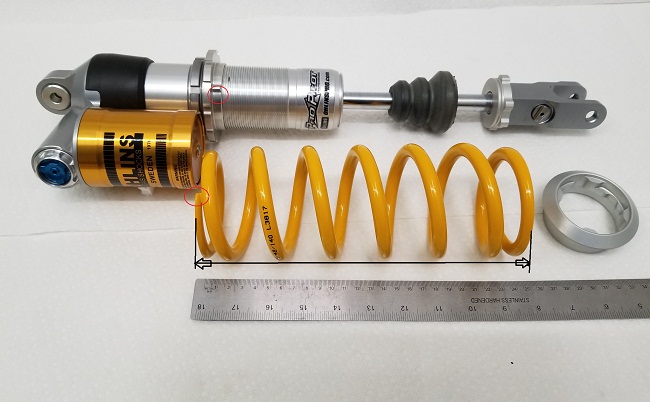 1)
Ohlins Ttx Flow , Measure and record your spring FREE Length (maybe 230mm?)
Align the Spring end and Spanner notch shown in red Circle , install Spring on shock and bike as shown in Manufacturers Owners Manual.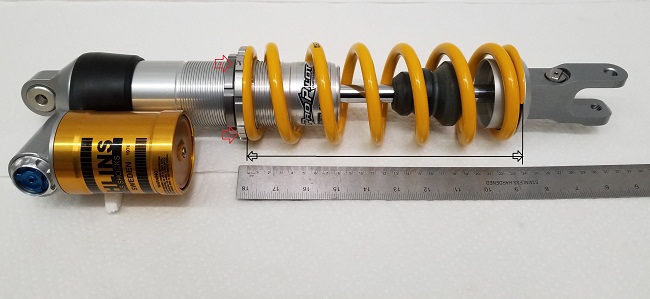 2)
Measure your Spring Installed Length? (maybe 10 mm-14.5 mm LESS than the FREE length, that's your Spring PRELOAD.
Tip: Mark your spring spanner with #1, #2,#3,#4
Then tighten and loosen the spring several turns from that starting point MEASURING The Preload Change at EACH Quarter TURN Movement , RECORD THESE measurements for later use, then when the shock is buried in the bike, you can turn the Spring and see the numbers, knowing your PRELOAD at these changes for later Turning at the track, on the pretty CHART you MADE and Saved.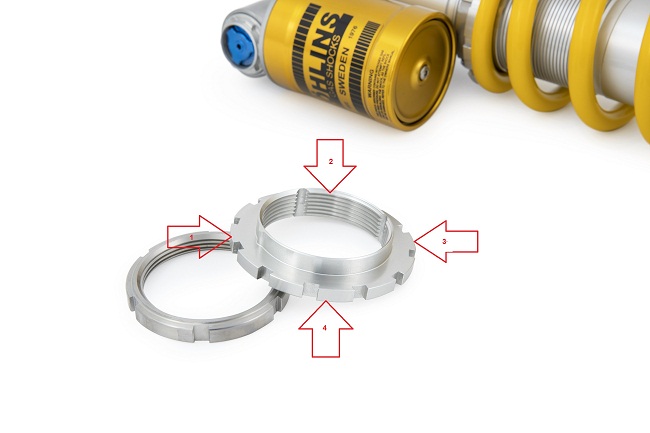 3)
Adding "Quarter Turn" marks for later use is  really smart while shock is off the bike.