35) ADVENTURE BIKE SHOCKS and FORK Kits!
If looking for A PARTICULAR BIKE PAGE, See either far RIGHT TABS>(over there…) that start below…
(2016) Mike Ervin~ NORTH POLE, ALASKA near FAIRBANKS, ALASKA BMW R1200GS Fun summer tour Ohlins package, Also works for Alaska Railroad and USA Veteran, preps and stages Discovery Channel show folks!
(2016) Africa Twin CRF1000L Honda, Dennis "Tour of Italy"
Click Here for Africa Twin page
Many applications people just replace their suspension with brand new ones that have superior design and engineering over stock.

(2016) Paul N.~New South Whales, Australia KTM1190R / Kit~Ohlins Parts

"BOLD RED NOTE" -(because you stopped reading):
YOU may ALSO FIND a LINK QUICKY PAGES on Right Side Bar >>>>>>>>(Yep Look Over there on right Too)>>>>>
to a more specific model page as we find time to load them.
(2016) Israel E. ~ Salisbury, Maryland BMW R1200GSA
(2016) Ronald P~ BMWF800GS Combo, Los ALMOS,
NEW MEXICO
New HOT Bike! ~Yamaha FJ09 /MT09 Tracer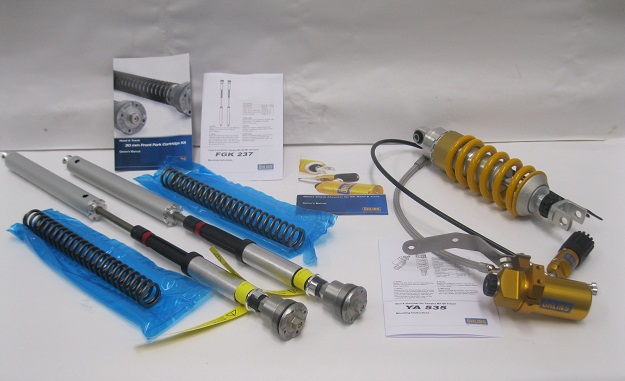 FJ-09 "The Full-Monte" Ohlins front and back Combo with all the bells and whistles!~ BAM!
Ohlins makes a front and rear matched set unlike other brands that may just offer a rear shock.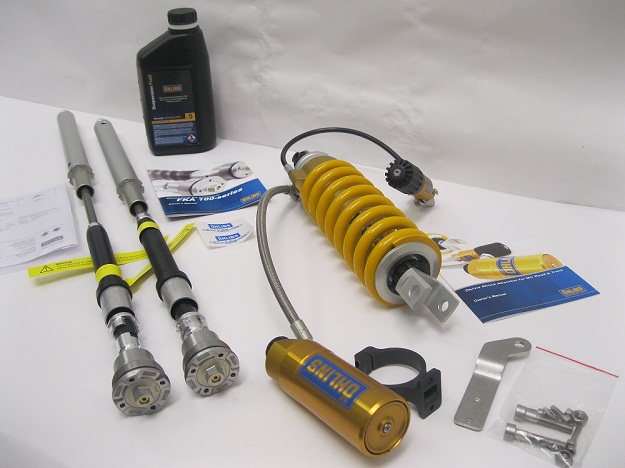 Tenere happy Kit!, Combo~ Simple way to get the best out of the front and rear.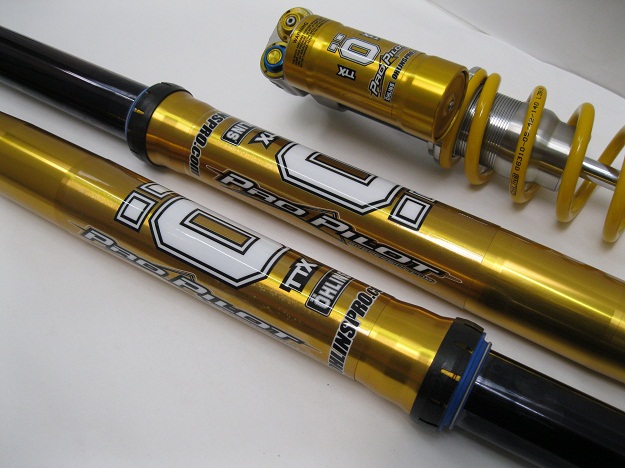 Exposure or outside storage in the elements and extending the riding season can play a major role in any shocks longevity, we see no huge issues with really any brand more than any other these days depending on those factors.

Bmw G650X-Challenge 2007-2009

Super popular Ohlins BM636 Shock! (Replace standard Air Bag Style Shock)
Ohlins does offer many very well done complete front and rear packages with cutting edge technologies that others don't have including 30mm fork cartridge kits, complete forks, and electronic "mechtronics", TTX Twin wall shocks for some models, and many other designs and steering dampers for some instead just a single rear shock option with a conventional tube design like some brands.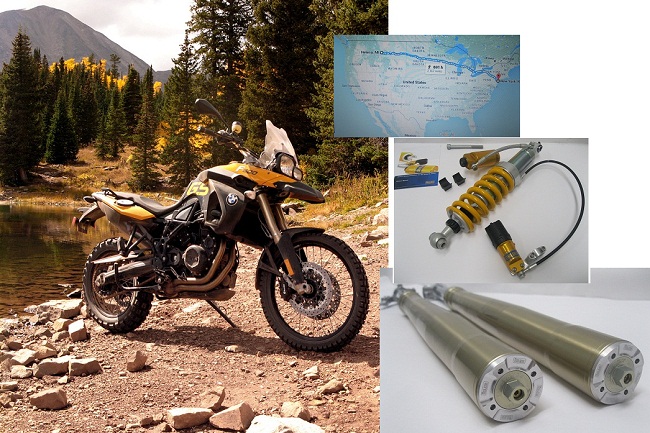 2016 Customer in Helena , Montana F800GS
We have seen every brand shock for more than 30+ years and have used them everyday as well and still ride today.

Some brands that only sell relatively a small amount of product in the USA may have to claim 25k-30k miles between services or about anything else to get you to buy them, that amount of miles is mostly unrealistic when less than 16k-20k is the norm on good shocks let alone the very basic often cheesy stock original ones that people toss after just 12k or less.

Other brands recommend short service intervals just to be safe because they should bring attention to proper maintenance verses repair. Suspension is no different than tires.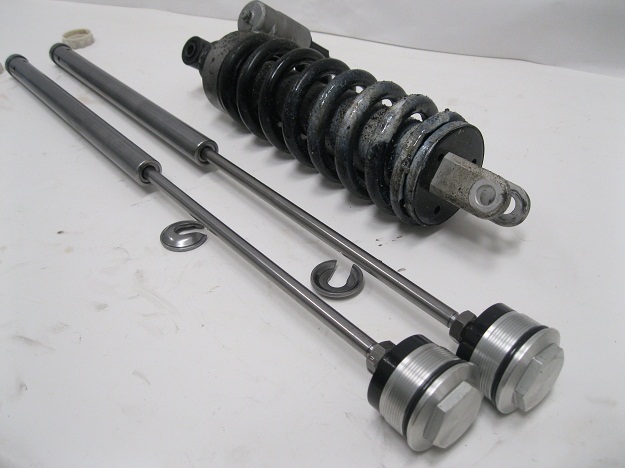 Why is your Tiger such a Suspension Lemon?
Above is the standard Tiger 800 garbage shock and stamped steel 1970's style fork cartridge non rebuildable or revalveable that looks like it came from the the "Old Soviet Union!".
See below on how sweet it can be!….
Triumph Tiger 800/XC (2011-2014)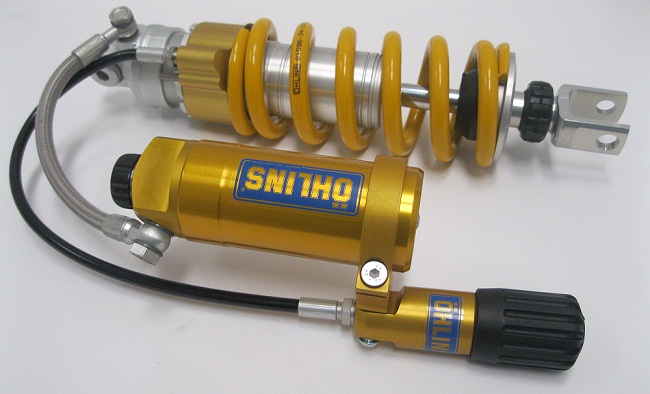 Above Sweetness! the Ohlins Triumph Tiger Shock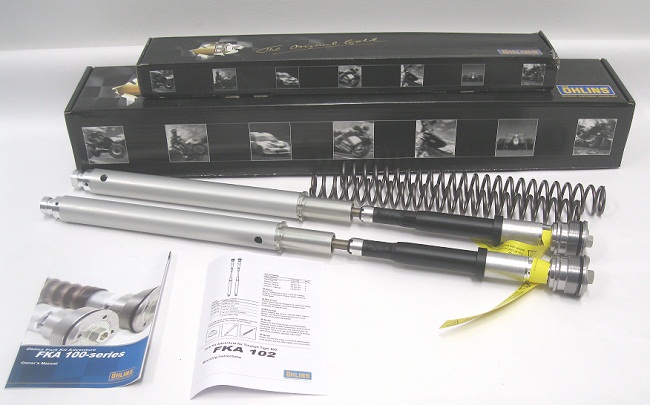 Ohlins 30mm Cartridge Kit ,Tiger Example~

The fact that your suspension is also best when sprung and set for the weight you actually are, not the weight you wish you could be!, so riding your friends bike set for 170lb solo rider no luggage may not be best for you at 260lbs and a heavy passenger with always loaded camping gear!.
(2016) Steve J.~ Edmonds, Oklahoma BMW R1200GSA (Guy Coopers Friend!)
We do sell many other brands for ADVENTURE / Dual Sport applications you'll find on above page TABS per brand.

(2016) Tracey S.~ Eagle River, Alaska BMW F800GS
We speak Adventure / Dual sport the owner and founder of the company has tremendous knowledge and professional racing accomplishments in the offroad world which makes an easy fit for more than 30+ Years.

(2016) Kevin Walker~ BMW R1200GS Elmira ,OREGON
Everything is customized around your specific needs.
(2016) James Kean~ FARGO, North Dakota Ohlins BMW R 1150GSA Set
(2016) Ronald Sawl, Fresno , CALIFORNIA ~ BMW HP2, Police Science Institute
(2016) Ryan Ducati Mutistrada 1200 Enduro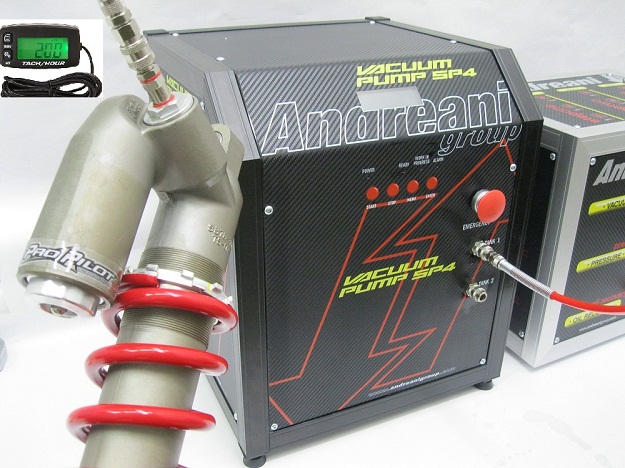 Feel the difference!
If you ever had your suspension Professionally REVALVED, SEALS & WEAR PARTS REPLACED, SPRINGS correct and FACTORY Vac 100% PERFECT you may be amazed at how well some bikes can be!
Click Here for New Style WP 4CS page
Below are 60+Shocks numbered 1-60+
As much as possible we use the actual pics of what we sell and what you would buy.
(Hey , now there's an idea….)
Ohlins TTX Shocks are the ONLY twin wall directional fluid flow shocks in the Industry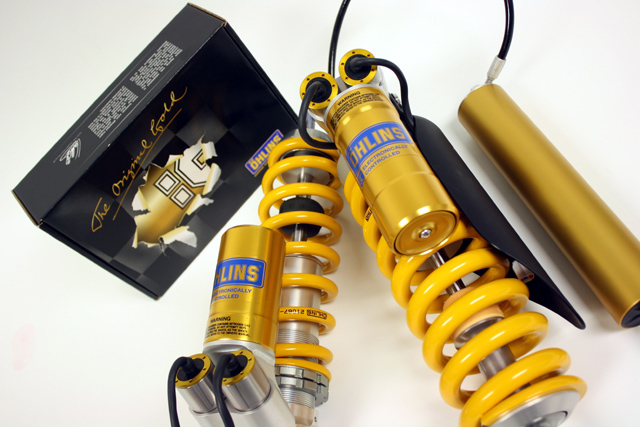 1 ) BMW R1200 GS and GSA Ohlins NEWEST Updated FULL replacement TTX- EC-Kit (Call for Best Price!)
2006-2013 Oil cooled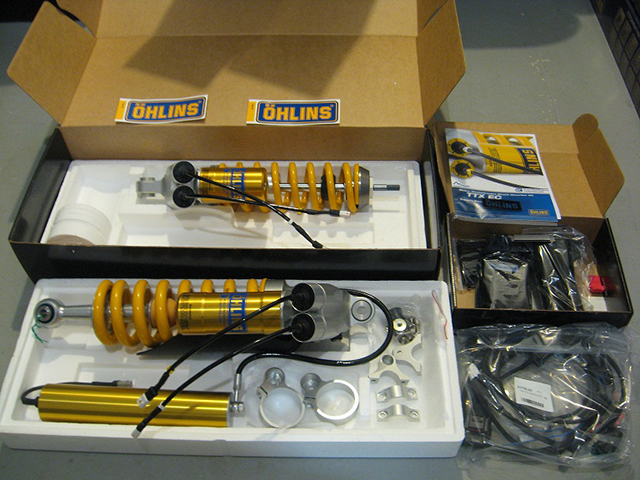 2 )
BMW R 1200GS and GSA Ohlins Full Mectronic EC-KITS (Non Water Cooled) 2006-2013

Unique interactive Comfort Mode Self Adjusts with Speed and conditions with electronic adjustable front and rear rebound, compression and rear preload in addition to selective modes for loading and conditions.
(The OEM Stuff Doesn't do that)
Ohlins Unique twin wall TTx design offers superior damping quality thru many design features with piggyback reservoirs allows for cleaner install while not reusing any dated parts from the standard Bmw shocks like other brands.
(So Kit contains all above without the need for using anything from your old crusty standard stuff)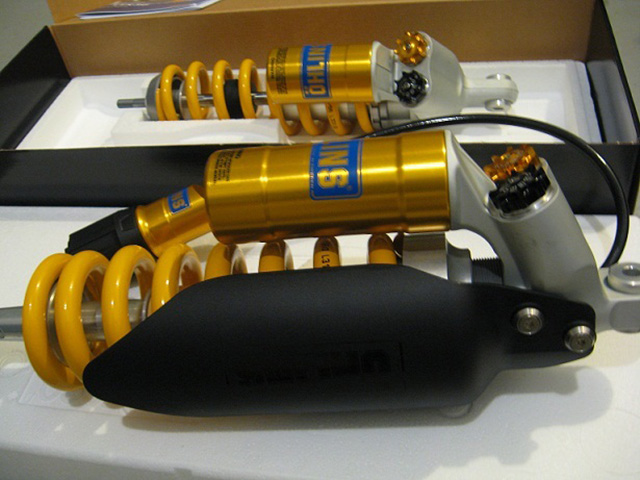 3)
OHLINS TTX (Regular Non Electronic version) BMW R 1200 GS and GSA 2006-2013 Oil cooled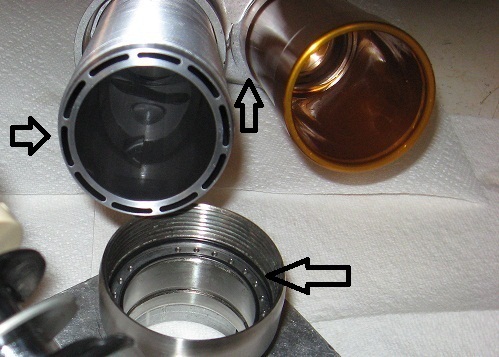 4)
Ohlins Unique TTx TWin Wall, piggyback, floating internal piston design.
The Only shock in the industry with more directional fluid flow design and more equal pressure balance with many advantages over traditional tube shock designs with Twin wall body, End Cones matching holes, Cylinder head casting matching holes, for true independent adjustment functions.
(More on these in Our Tech Section, many design features and benefits )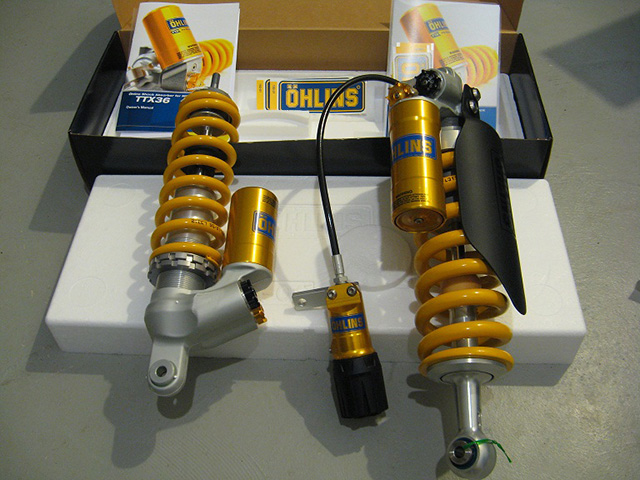 5)
Ohlins TTx Twin wall piggybacks (2006-2013 oil cooled)

BMW R 1200 GS and GSA shown with NEW Style larger PRELOADER with more Function range.

6)
OHLINS S46 SERIES (BOTH Big bodies Front and Rear 46mm / 16mm shafts) Shown with Rear preloader

(Other Brands give you a Skinny Front Shock sometimes)
2006-2013 Oil cooled , BMW R1200GS and GSA with Traditional PRELOADER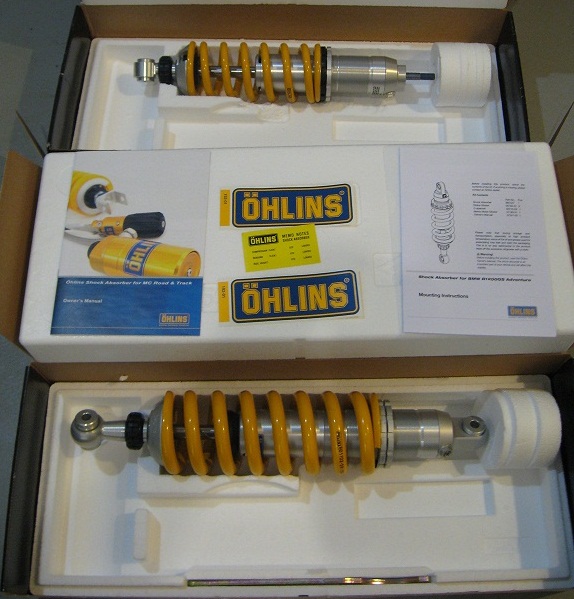 7)
2006-2013 Oil cooled BMW R 1200 GS / GSA Shown With NO rear preloader (Spanner style Preload Adjusters both)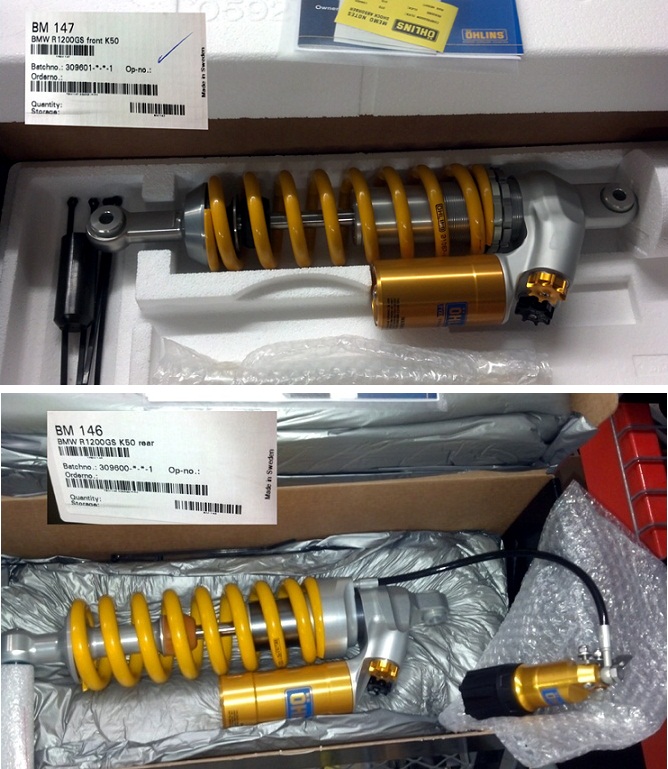 8)
( 2014- on ) Bmw (Water Cooled) R 1200 GS Ohlins TTx, ( Bm146 And BM 147 )
R1200 GSA (Bm148 Bm149) not Shown but very similar design.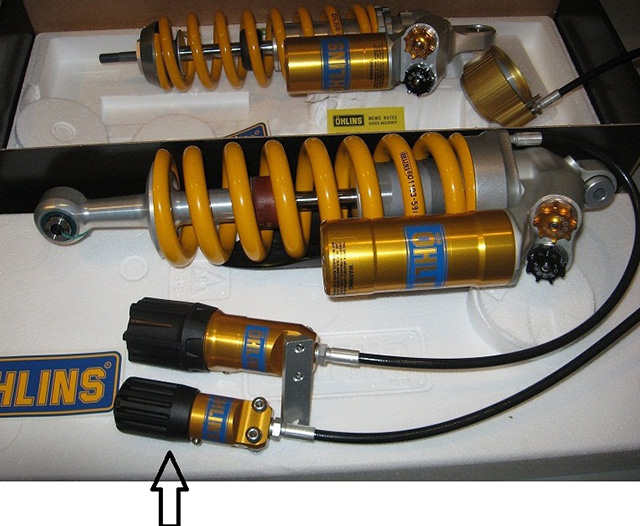 9)
PRELOADER COMPARISON (Arrow) Traditional , Newer one (bigger) shown at above only on Some Current Models.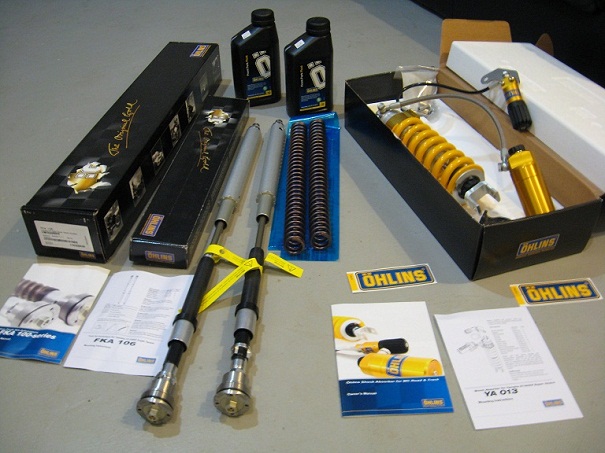 10)
TENERE (COMBO KIT Package) Includes Ohlins YA013 Shock with FKA106 Cartridge 30mm and Springs.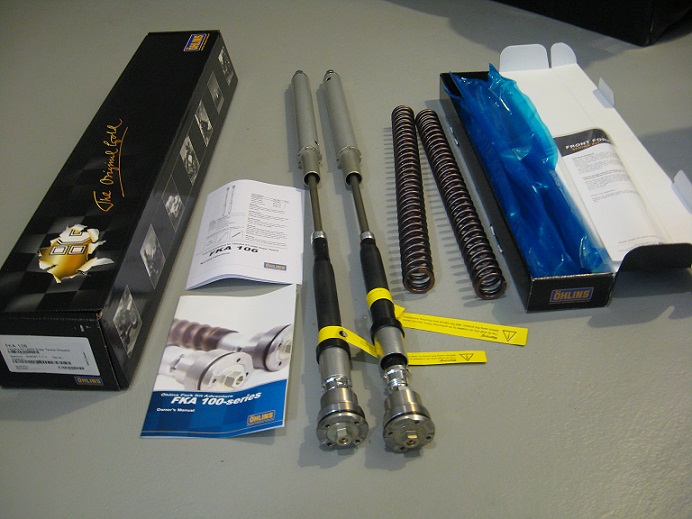 11)
TENERE OHLINS Fork 30mm CARTRIDGE Kit FKA106 and Spring Set Kits (replaces most everything inside fork)
Kit has many Unique Features the standard does not including Adjustable Compression , Rebound and Spring 18 turn Preload all at the Top caps and special anti bottoming tapered hydrualic cones.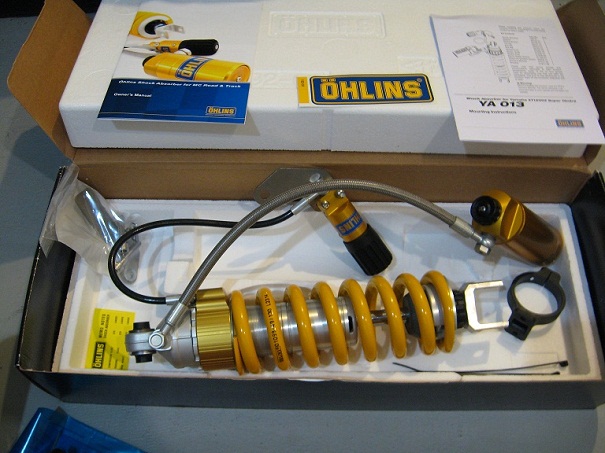 12)
popular TENERE OHLINS YA013 Shock With Adjustable Rebound (45 clicks apx.) , Compression (24 clicks apx.), Preloader (apx. 24 turns ) 46mm body /16mm Shaft , excellent value to quality.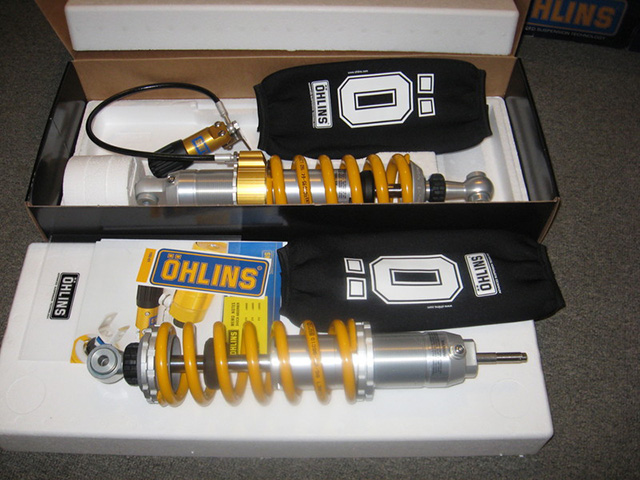 13)
Ohlins BMW R1150 GS and GSA S46 Series with Hydraulic Preloader and Optional Shock Covers Shown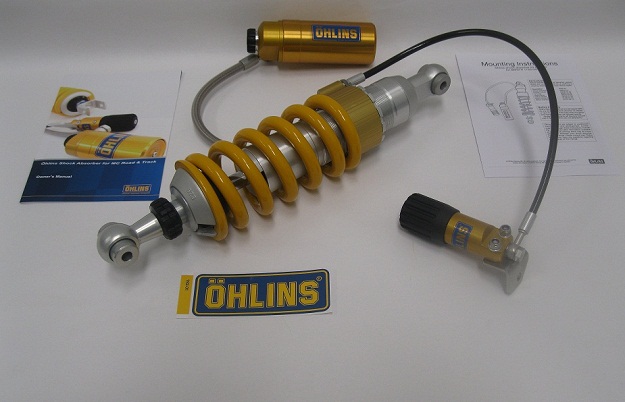 14)
Ohlins BM542 , BMW R1150 GS (ONLY )( Added Reservoir for Adjustable Compression )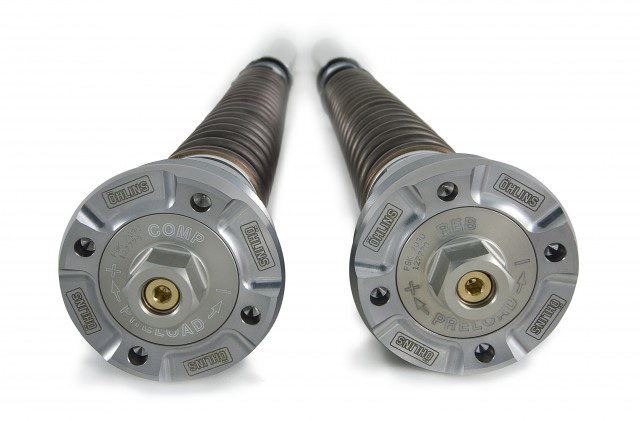 15)
Ohlins Fork 30mm Super sized Cartridge Kits
Adjustable External Spring Preload (18 turn ) , Compression (apx. 24 Turn) and Rebound (apx. 24 Turn)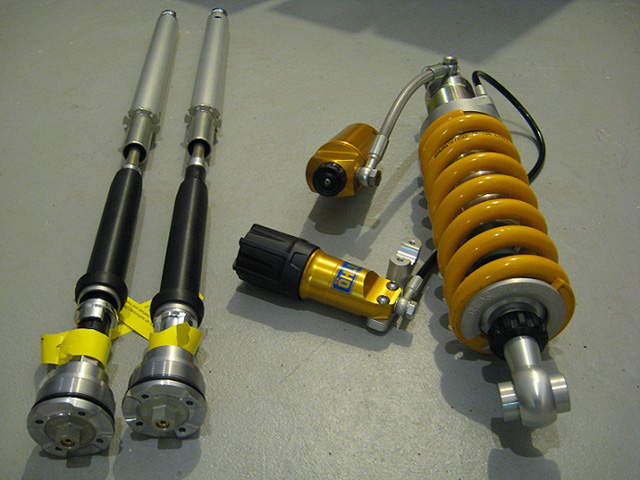 16)
Ohlins BMW F800GS Fork Cartridge Kits Adjustable External Spring Preload (18 Turn) , Compression and Rebound (apx. 24 Turn) with Hydraulic Anti Bottom out cones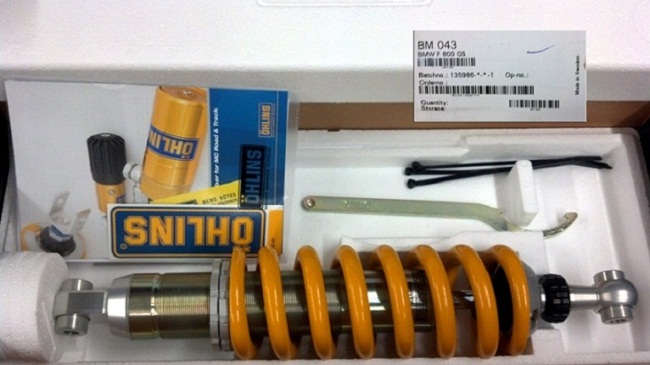 17)
Ohlins BMW F800GS base Model S46DR1 46mm Body/16mm Shaft, Divided Fluid /nit.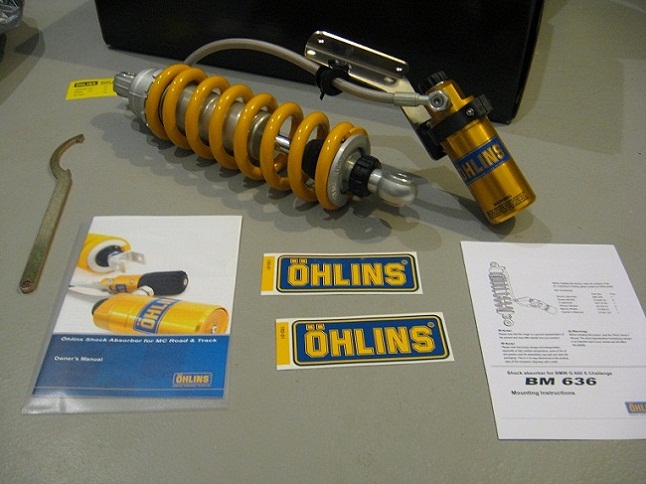 18)
Bmw G 650 X-CHALLENGE Shock Ohlins Bm 636 (very popular! and Heavy duty 46mm/16mm)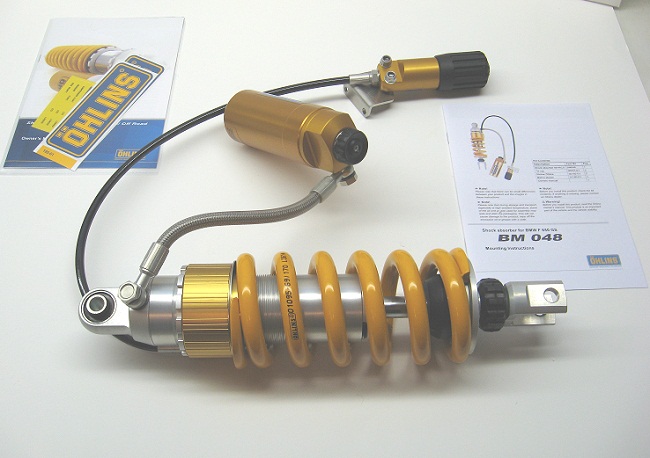 19)
Bmw F 650 GS DAKAR 2000-2007 BM 0483(version three shown) Non ABS has been used for NLA BM750
(email us for manufacturers Mounting instructions to compare )
20)
Triumph Tiger 800 and 800 XC COMBO KIT (or Separate )
Ohlins Shock (Tr119 or TR120) and Fork 30mm Cartridge Kits Adjustable External Spring Preload (18 Turns), Compression,Rebound (both apx.24 turns) All Adjust from top caps for convenience.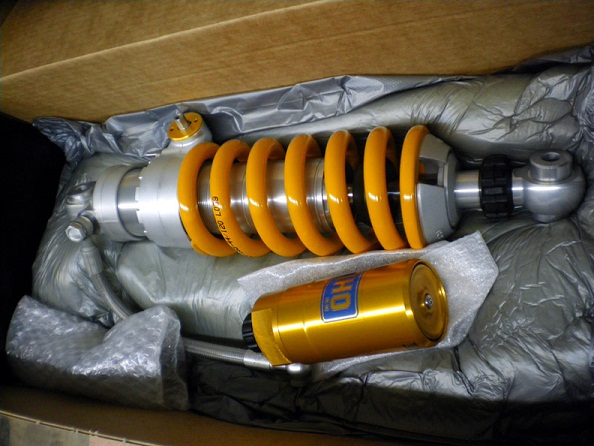 21)
Triumph Tiger 1050 Ohlins Shock 2007-2012 (Tr704) (Notice Ohlins INTEGRATED Spring Preloader for cleaner Mounting)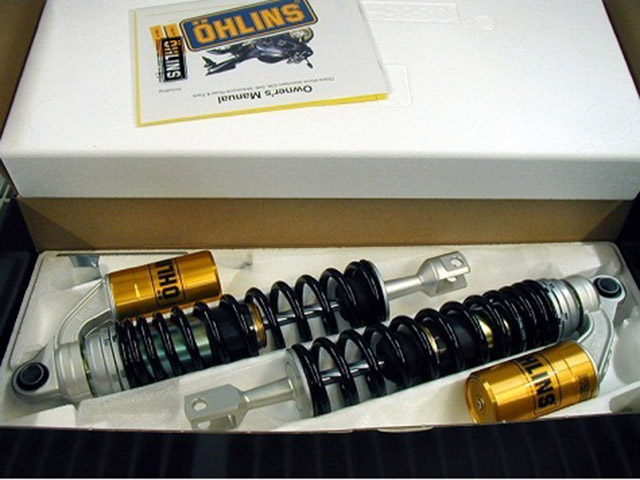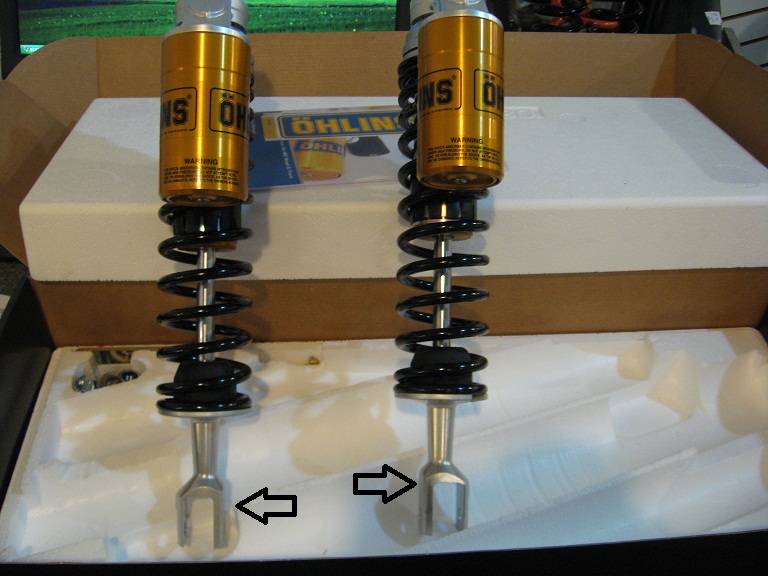 22)
Ohlins HO140 Twin pair (Notice Offset Bottom Bracket for more mounting clearance options)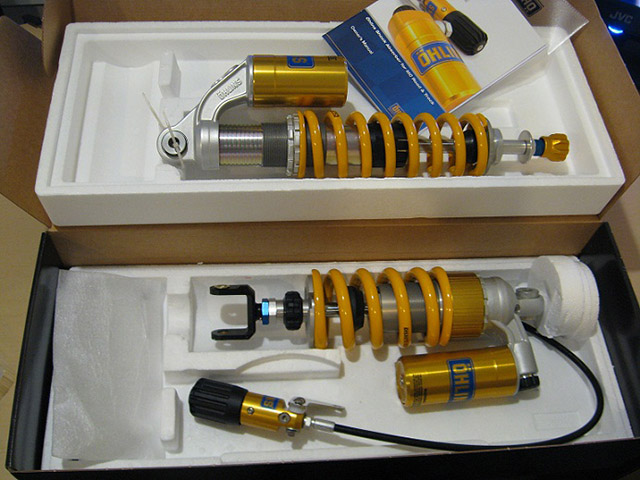 23)
Popular BMW R 1100S Ohlins Front and Rear BM842 and BM 205 (Latest Version apple 8.0!)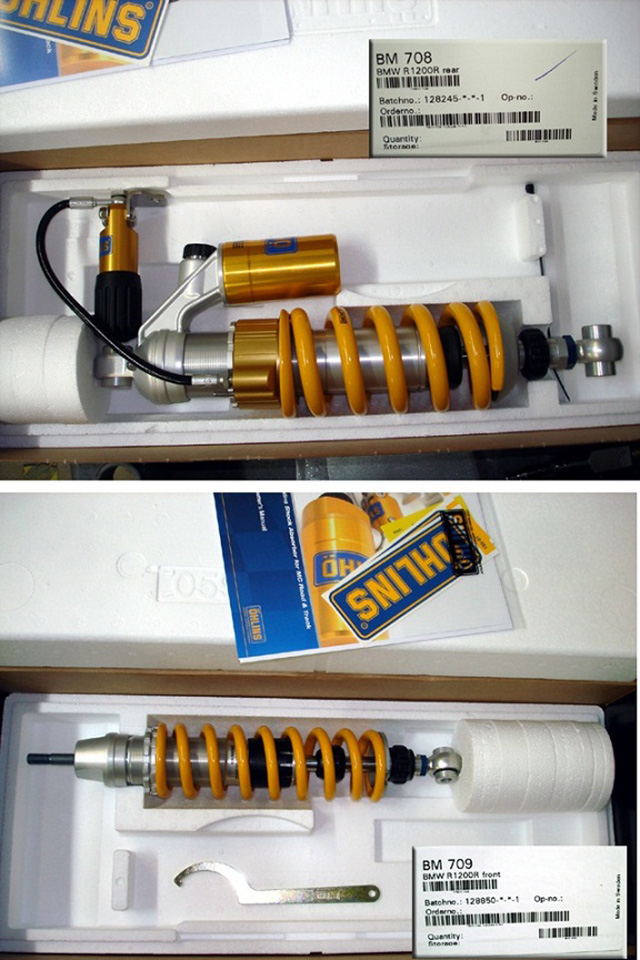 24)
BMW R 1200 R Bm 708 and Bm 709 (Both have Adjustable Length,divided and with many other features)
These like all Ohlins Shocks can be fitted at No Extra Charge with what ever Springs you want for plusher or firmer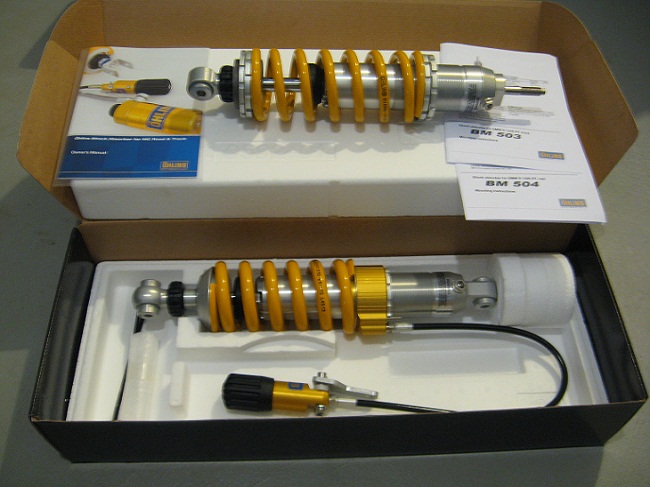 25)
BMW R 1200RT 2005-2009 BM503/ S46ER1 and BM504 /S46DR1S

(same OEM # as 2010-2013 ) but non ESA -Unplug Regular
2014 is different Part #BM438 / S46DRS

26)
BMW R9T New Ohlins Road and Track fork With 30mm Cartridge (Available in Black or Gold Top Stantions)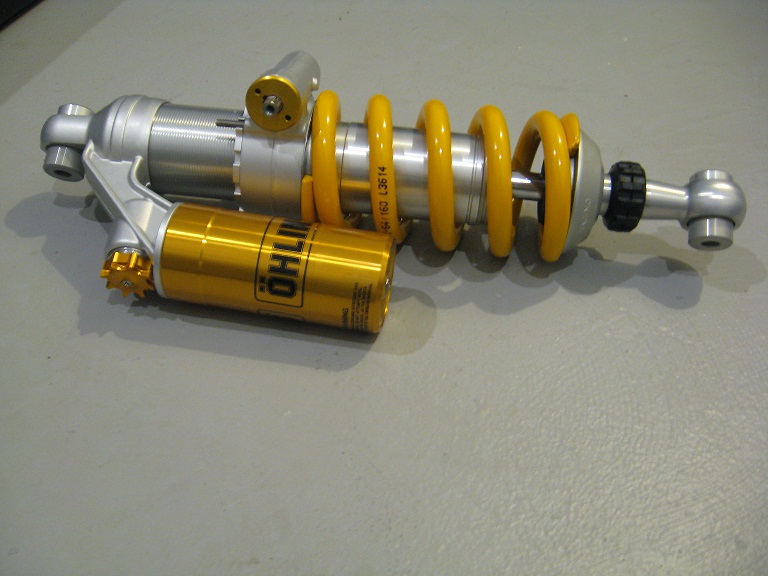 27)
BMW R9T New Ohlins Bm440 Shock S46PR1C1B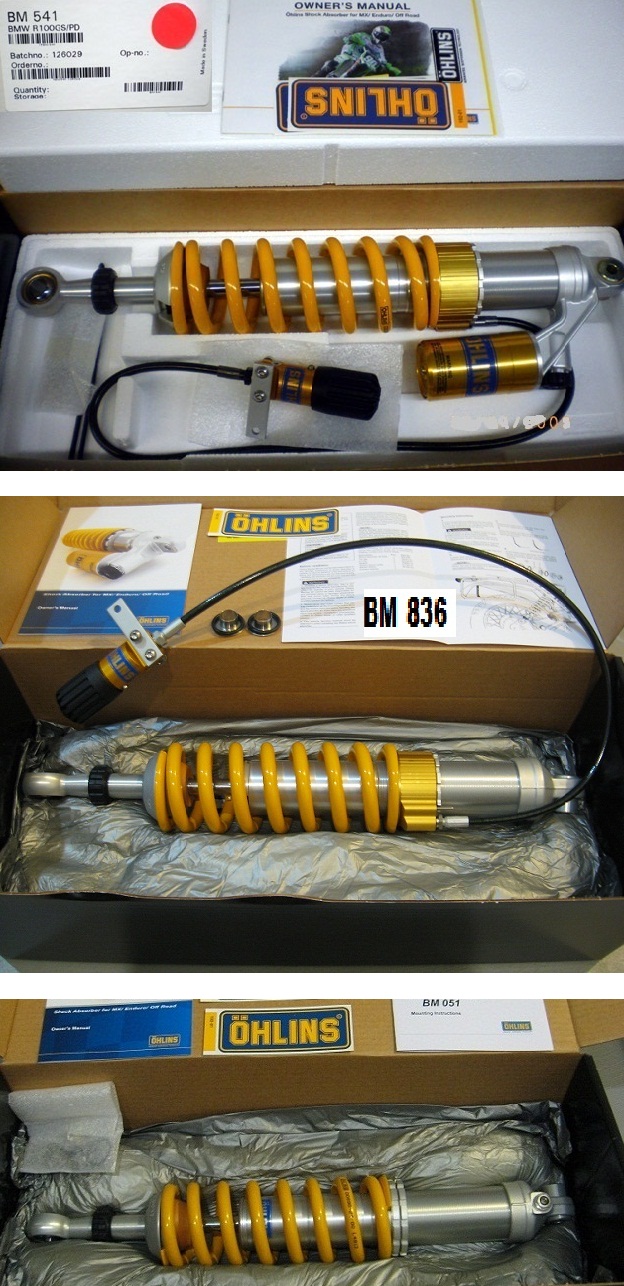 28)
Ohlins BMW R80 GS (1988-On) /100GS (1987-On ) /pd (three popular Ohlins Options)
Above (Bm541, Bm836, Bm051)
Very popular still today for the right Shock on the right machine (eye-to-eye 495mm,498mm)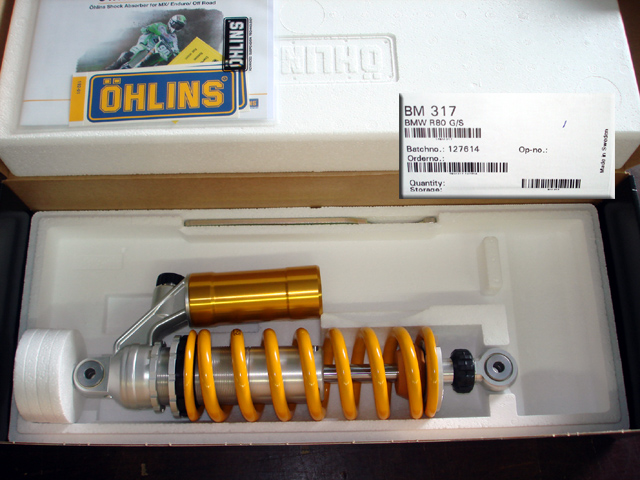 29)
1980-87 BMW R80GS
BM 317 Piggyback, Adjustable Rebound, Adjustable Compression (361mm eye-eye-Long x 89m Stroke)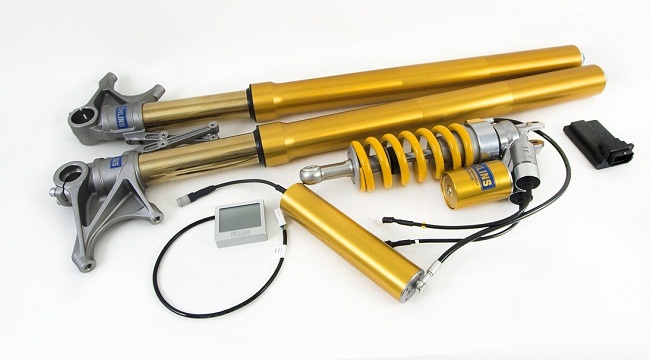 30)
Ohlins Ducati MultiStrada 2010-2014 Full EC Kit!
We never thought they would make this kit but they sure did, so if you have the base model Ducati , you can have brand New Ohlins Rt Forks EC controlled and a Ttx EC controlled Shock with everything you need to "Plug and Play" including dash. More info on this kit but it has many upgraded functions and modes.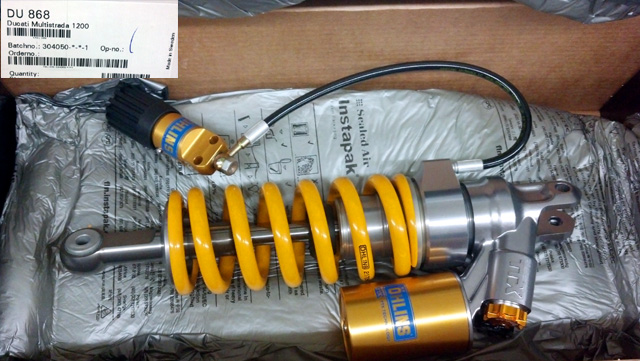 31)
Ohlins TTX Ducati MultiStrada 2010-2014 (Non EC- Ttx Shock) DU868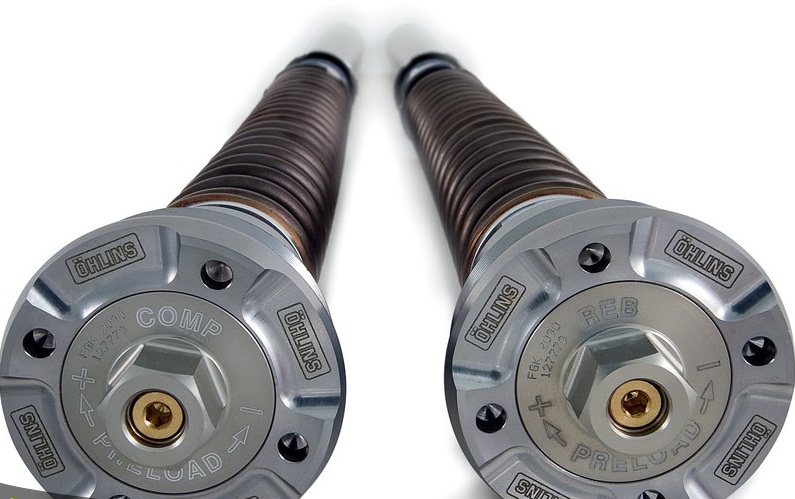 32)
Ohlins Ducati MultiStrada 2010-2014 FKA 104 30mm Cartridge Kit (popular Non EC Upgrade)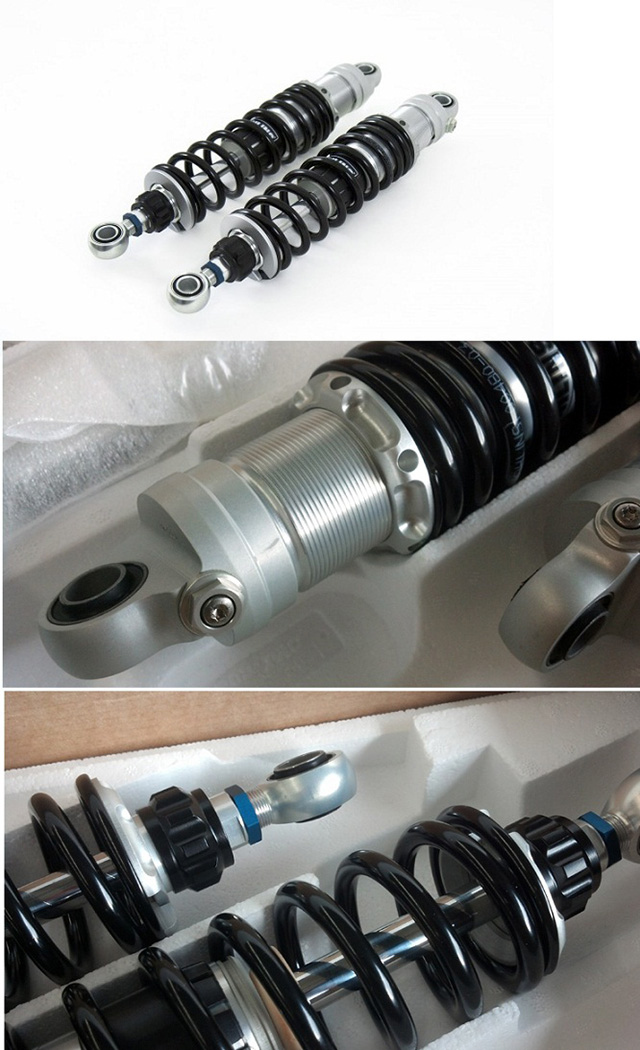 33)
Ohlins Type S36DRL (36mm Body/ 14mm shaft , divided Fluid/ Nit, 45 click Rebound, Length)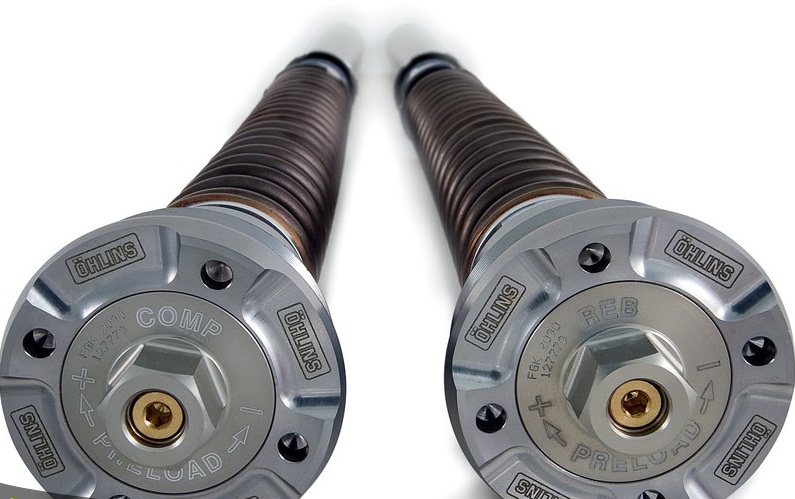 34)
CLICK ON ABOVE PIC to go to FZ9 CARTRIDGE PAGE WITH DETAILS , OHLINS is 1 LB LIGHTER THAN STOCK!
Ohlins Pistons are 50% LARGER!

Popular 2014- On Yamaha FZ9 FGK230/New # FGK237 Ohlins 30mm Cartridge Kit and Spring kit , Adjustable Rebound,Compression and Preload all at Top Caps.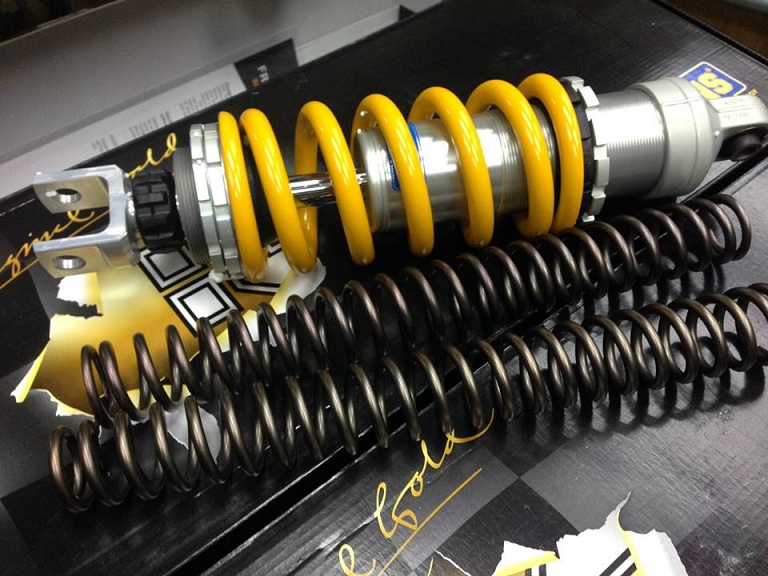 35)
popular 2014 Yamaha FZ9 / MT09 YA335 with 8422-90 Springs Forks (Note the Springs are Different Part # if using Cartridge Kit.)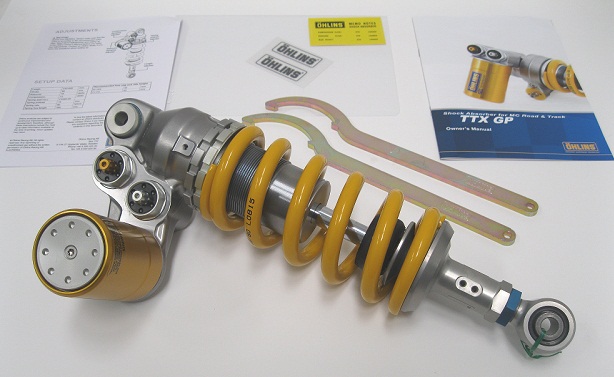 36)
2015 Yamaha R1 YA416 TTx Gp Shock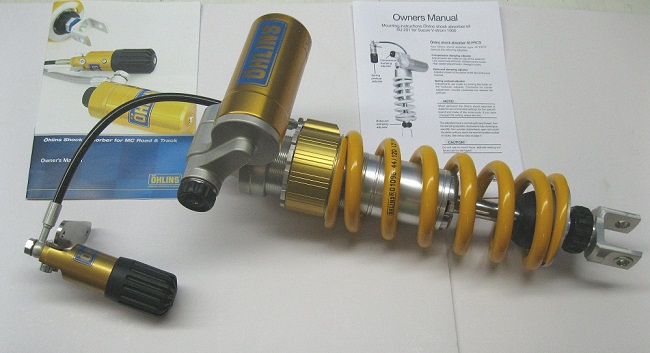 37)
Suzuki DL1000 V-Strom Ohlins SU201 / 2002-2008 (but Same OEM #thru 2012)
Shown With Rebound, Compression adjuster and Hydrualic Spring Preloader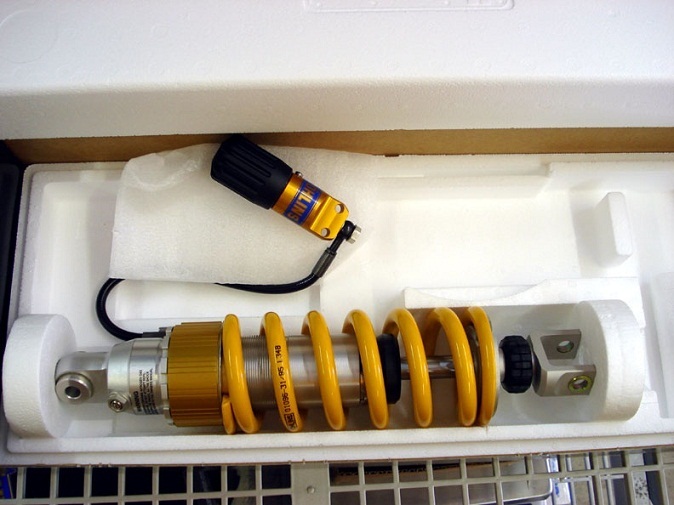 38)
Suzuki DL650 V-Strom SU823 with Remote Spring Preloader shown 2004-2011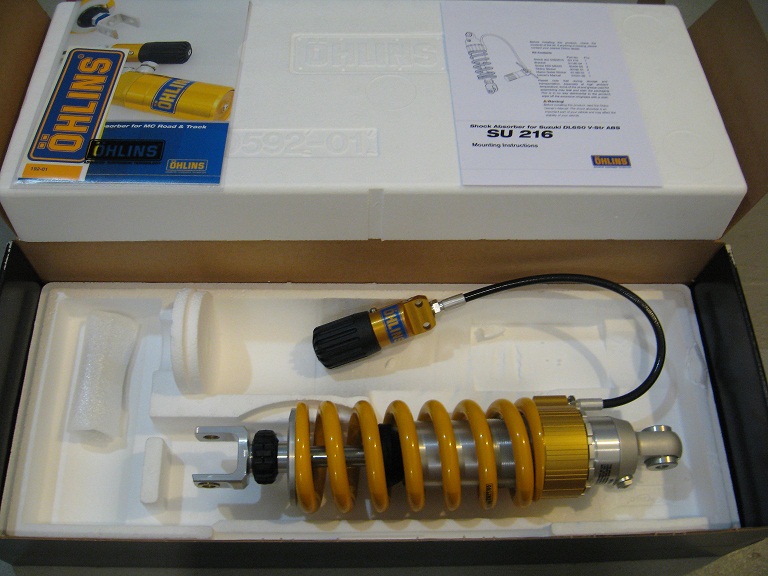 39)
Suzuki DL650 V-Strom Ohlins S46DR1S ( SU 216 with remote spring preloader 2012-2014)
** Suzuki DL650 V-strom BAse Model Ohlins (No Remote Preloader )is a SU 043 without 2004-2014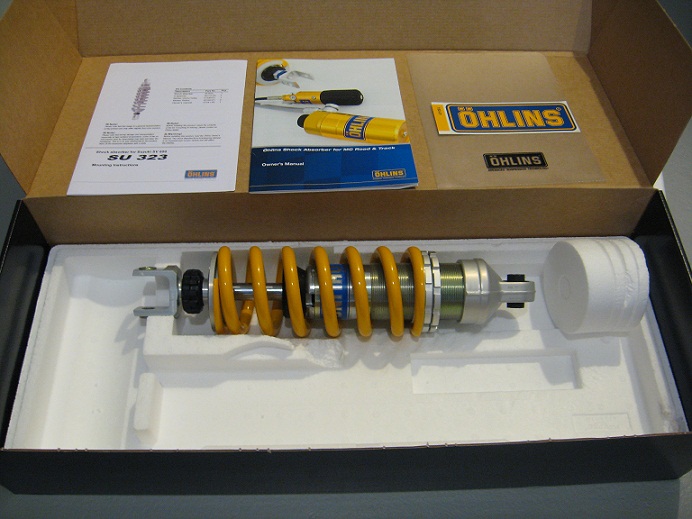 40)
Suzuki SV650 03-07 SU323 S46DR1 Series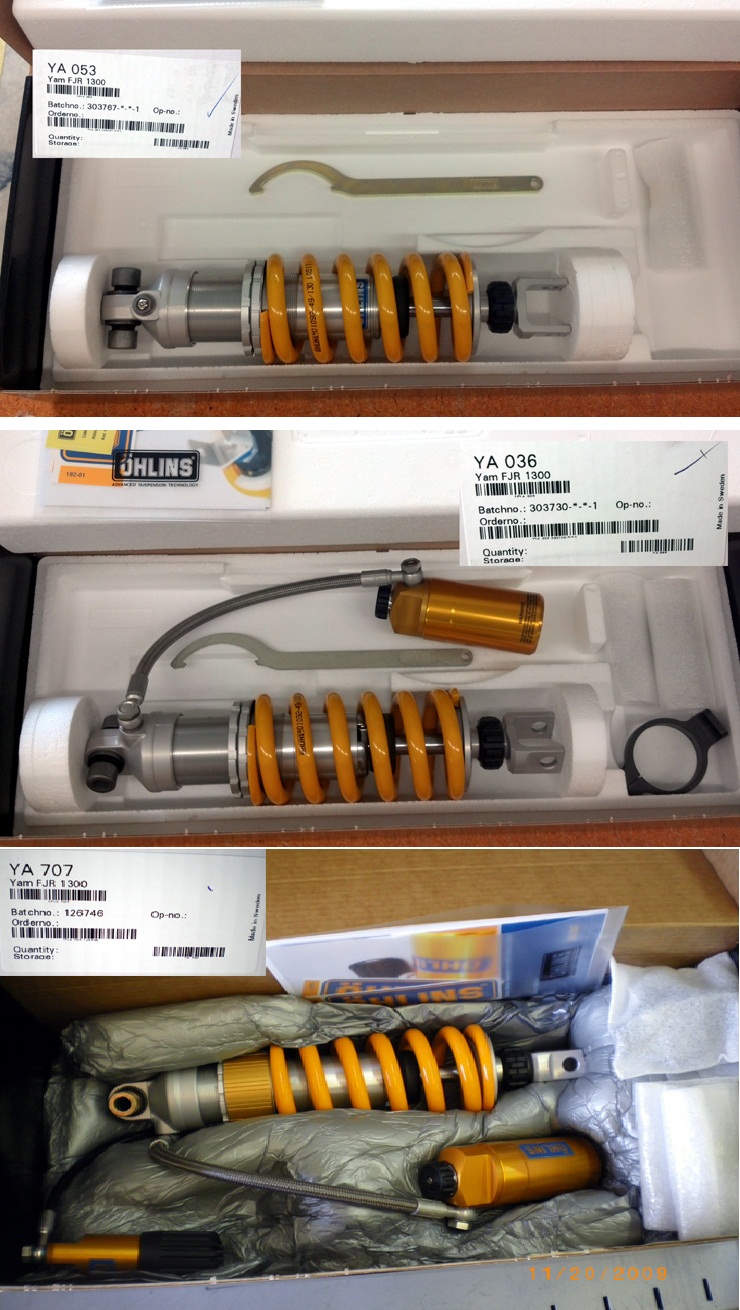 41)
Yamaha FJR 1300 Options above (YA053 , YA036, YA707)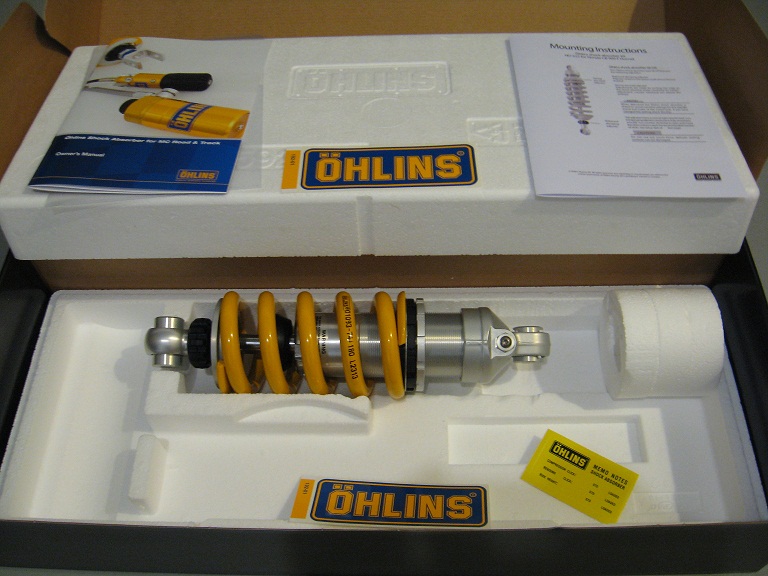 42)
Honda Hornet HO322 S46DR1 or 02-06 Hon CB900F (Divided Internal Floating Piston) Much Larger Shock than Stock , Ohlins 46mm Body /16mm Shaft with 45 Click Damping Adjust and Any Spring Option you Want.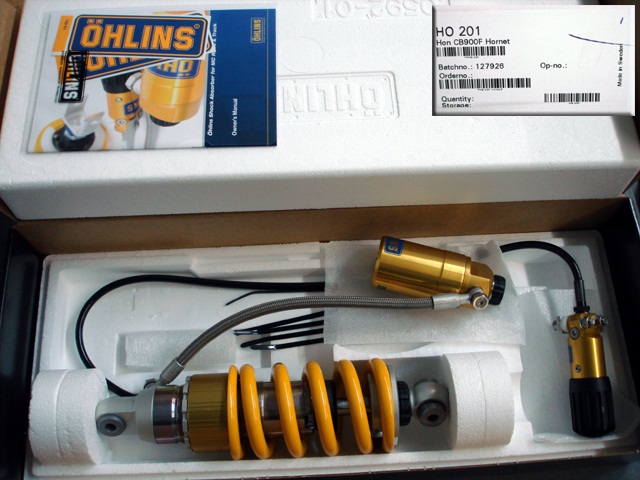 43)
Honda Hornet HO201 S46HR1C1S or 02-06 Hon CB900F (This One has all the additional Adjusters and reservoirs)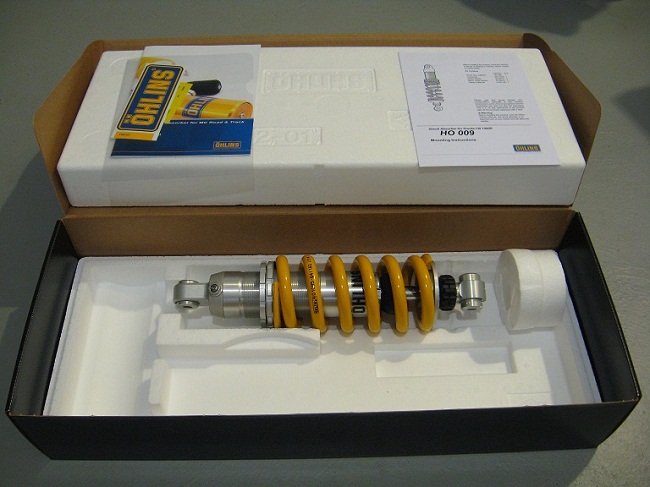 44)
Honda CB 1000R 2008-2014 Ohlins S46DR1 HO 009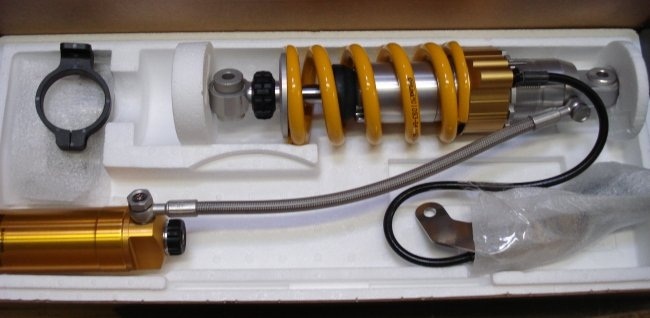 45)
Honda CB 1000R 2008-2014 Ohlins HO 808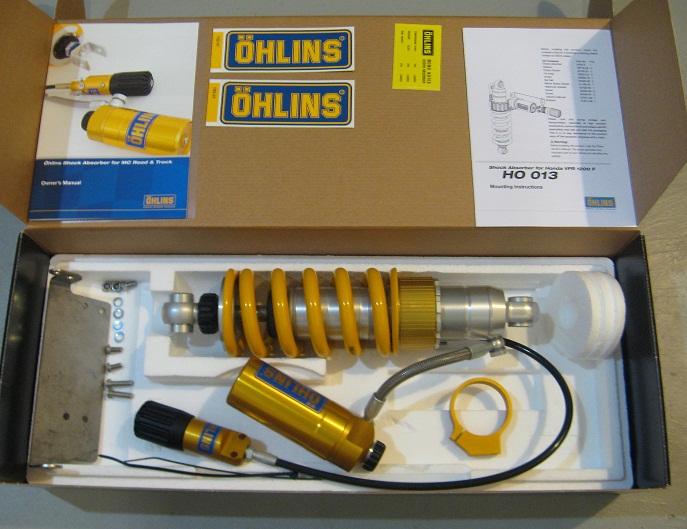 46)
Honda VFR1200F 2010- 2014 HO013 Ohlins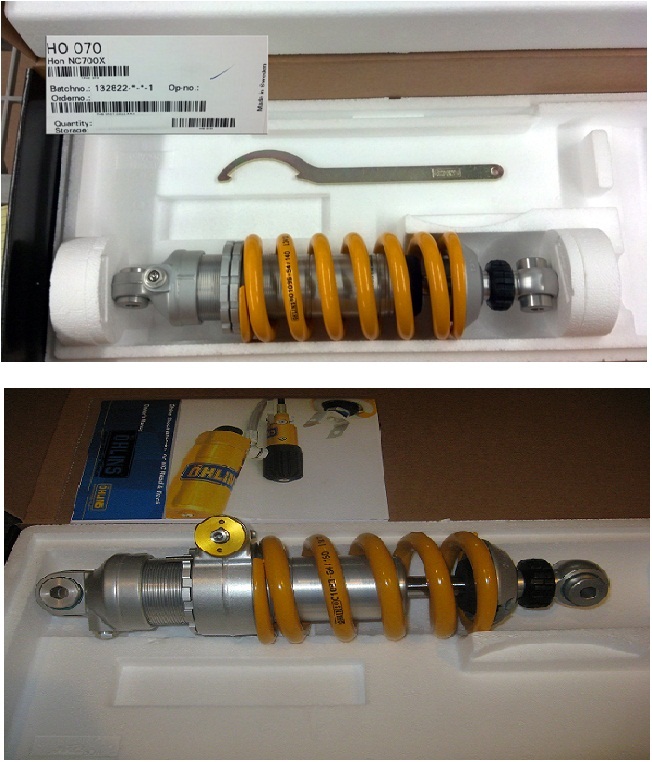 47)
Honda NC700X HO070 S46DR1 (Top pic) Other pic shows Optional Integrated Spring Preloader
Heavy Duty 46mm body /16mm shaft with Divided Internal Fluid/Nit piston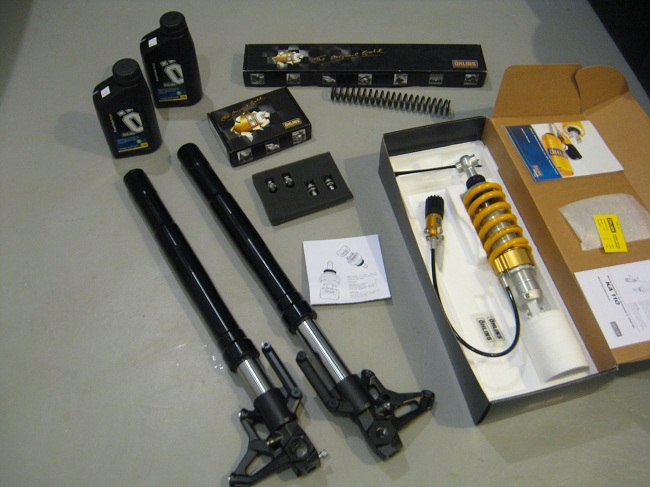 48)
Kawasaki Z 1000 SX 2011-2014 COMBO FPK20mm Ohlins Piston Kit, Ohlins Springs,Ohlins Fluid, Ohlins KA110 Shock with Remote Spring preloader and Internal Divided Piston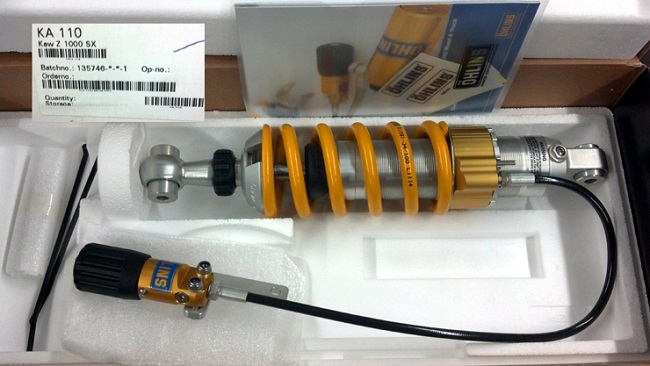 49)
Kawasaki Z 1000 SX 2011-2014 Ohlins Shock with Remote Preloader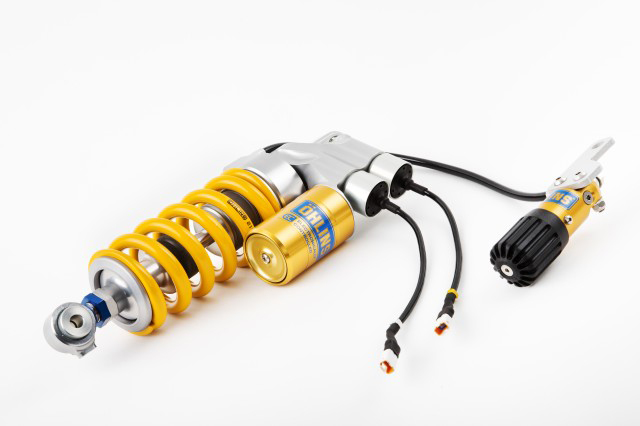 50)
ZX-10 Ohlins EC-Shocks (call for latest versions MK11/ GP1/GP11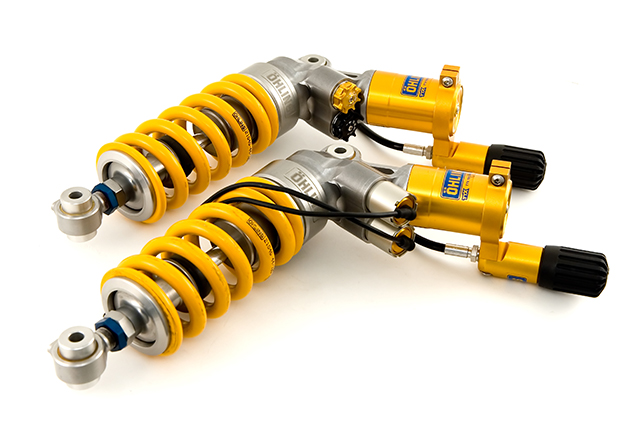 51)
Ohlins EC-Controlled Shocks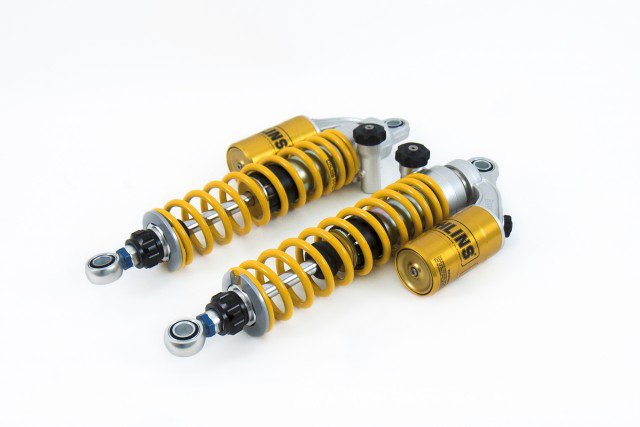 52)
Ohlins Fully Adjustable TWIN Shocks (they have adjustable Rebound and Compression)

These are shown with knob style spring preloaders than move additional 10mm plus all the body clips every 4 mm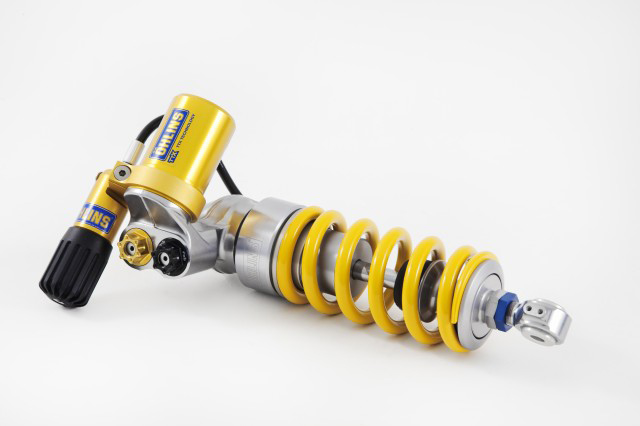 53)
Ohlins MKII and GP Shocks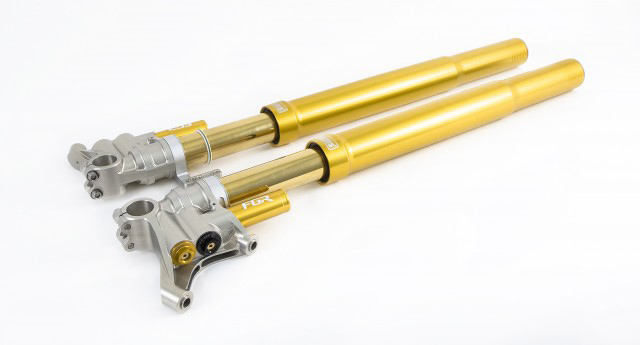 54)
OHLINS Superbike Forks
55)
Ohlins 48 RXF Forks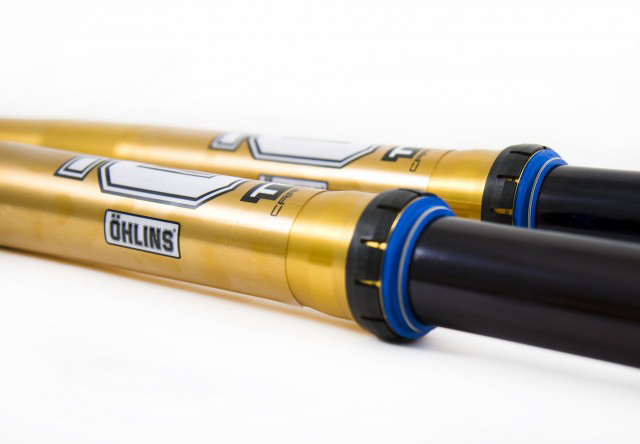 56)
OHLINS 48 RXF FORKS MX, GNCC, Enduro, Dual Sport
These are designed to easily be owner installed, you do have to know how to do that and follow manufacturers owners manuals and install guides.
They fit right into existing Triple clamps and everything else goes right on including plastic fork guards ,etc.
They have DLC inners with special Seals and Bushings with the TTx Cartridge shown below.

The upper Gold Stantion Shape and design provide additional benefits over just installing Ttx Cartridge to existing OEM Shells.
(So The Whole Forks are more than just Pretty Legs!)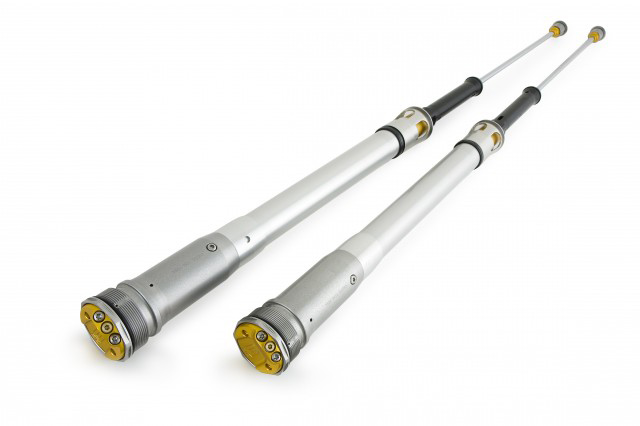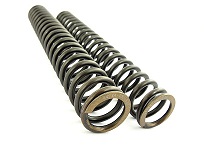 57)
AIR FORKS SOLUTION ! plus popular MX, GNCC, ENDURO, Dual Sport
Ohlins TTx CARTRIDGE kits AND Normal Springs in both legs.
These have many features you can't see from this photo,
They are TTX TWin wall design,dual floating internal piston, and have many tuning options to work in harmony with the cartridge internal top out spring and main spring preload tower settings. so a very wide range of excellent use can be found.

(More on these in Our Tech Sections,many design features unlike any traditional OEM cartridges.)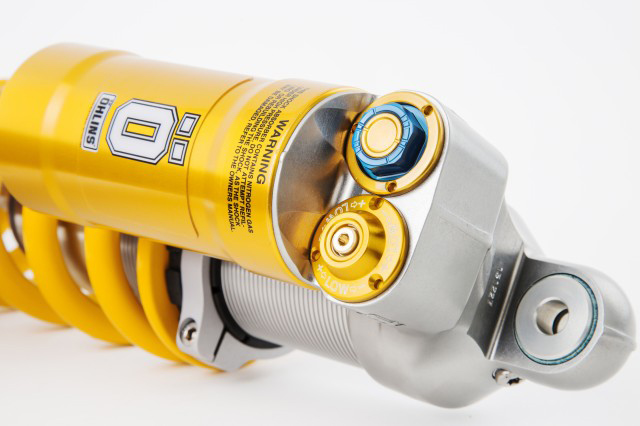 58)
Ohlins TTX Shocks for MX, GNCC, ENDURO, Dual Sport
Many design advantages your mass produced stock shock will never have.
No matter how much some one may spend on the standard shock it will never be as good as these.
Ohlins Unique Twin wall TTx design with matching tapered body end cone and cylinder head for truly independent adjustablity with no over lap , Internal floating Piston with more directional fluid flow characteristics provides unequaled improved damping feel and more consistent pressure balance when shock goes back and forth.
(More on these in Our Tech Section, many design features unlike any traditional single tube shocks with bladders found from OEM.)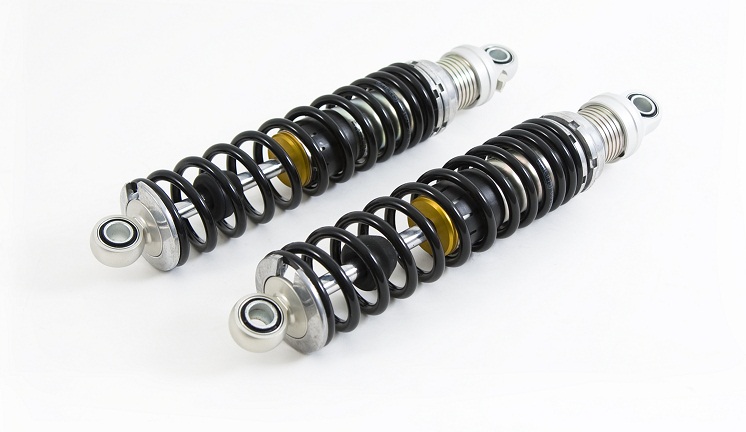 59)
Ohlins Vintage MX Twins S36D , these have Divided fluid and Nit Shocks Not Emulsion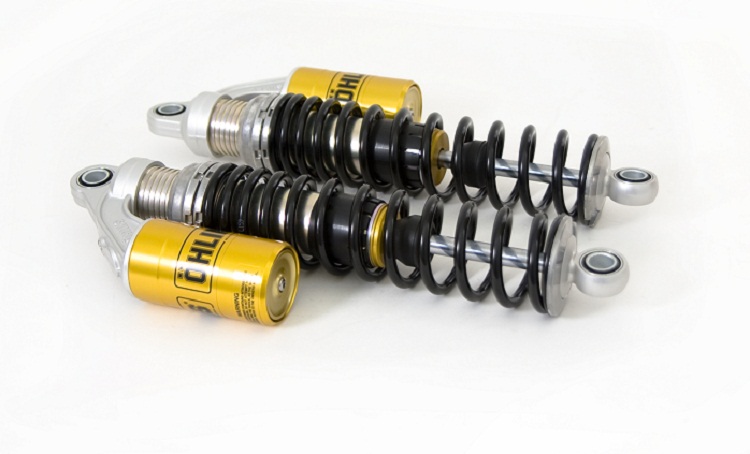 60)
Ohlins Vintage MX Twins S36P , these are Piggyback and have Divided Piston in Res.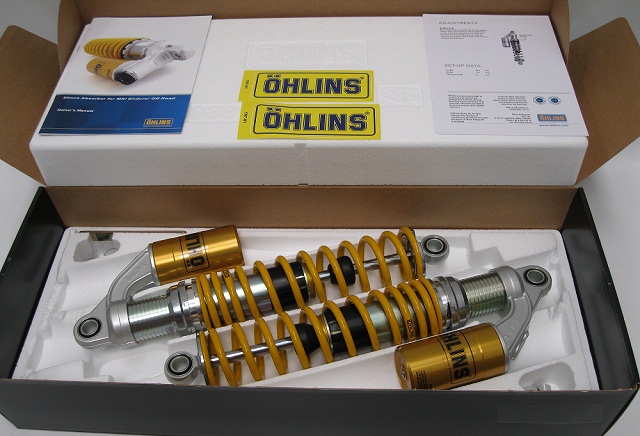 61)
Popular S36P/380mm Long with 480-12 yellow Springs / 10 ID mm Mounts all Around
62)
Triumph Thruxton 2005-2014 Tr538 Ohlins S36DR1L
63)
Ohlins HO239 Twin Shocks,Adjustable Rebound,Compression,Length,Spring Preload
360mm Eye-eye +10mm Adjustable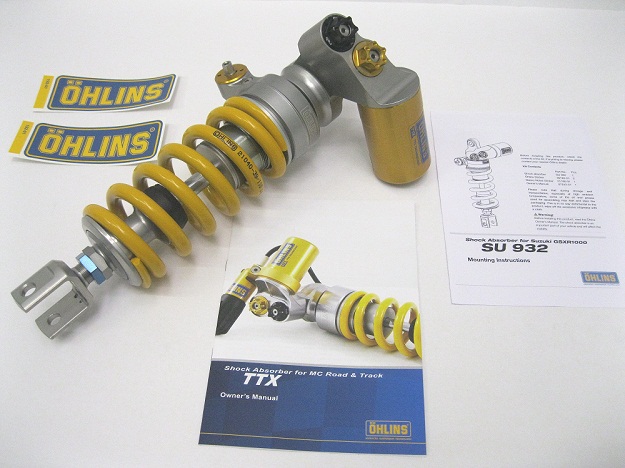 64)
SU932 TTX Ohlins Shock for Suzuki GSXR1000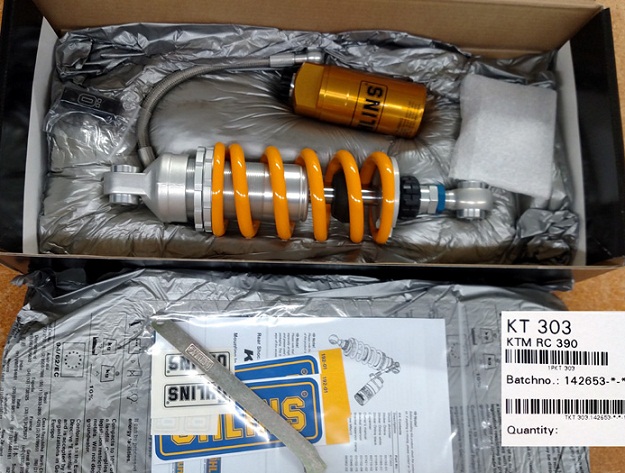 65)
Ohlins KTM Rc-390 Shock KT303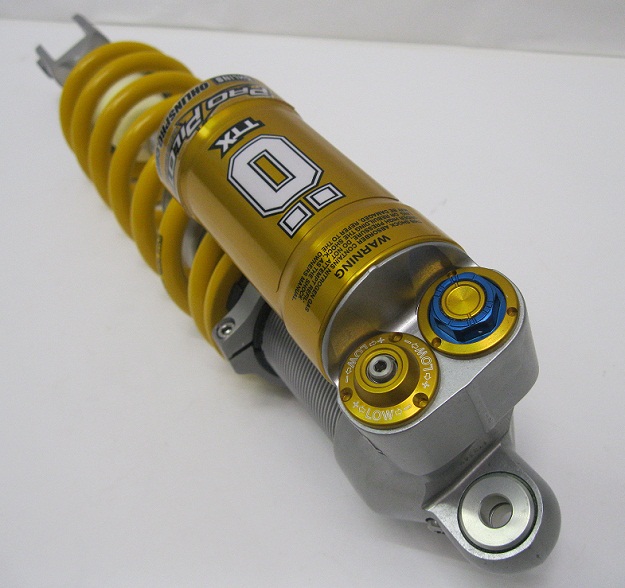 66)
Above is the Ohlins KTM KT1594 Shock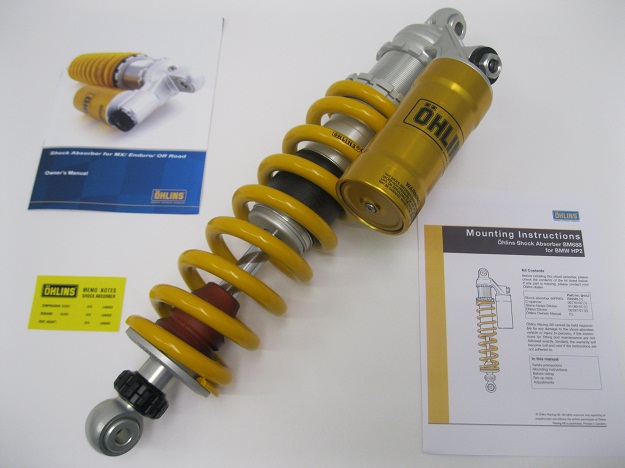 67)
Above BMW HP2 Shock BM688, it has Hi/Lo Compression, Rebound, Preload.