38) Best AIR FORKS FIX -WP / KYB / Showa
SEE  Our BIKE SPECIFIC PAGES on Menu New RELEASES!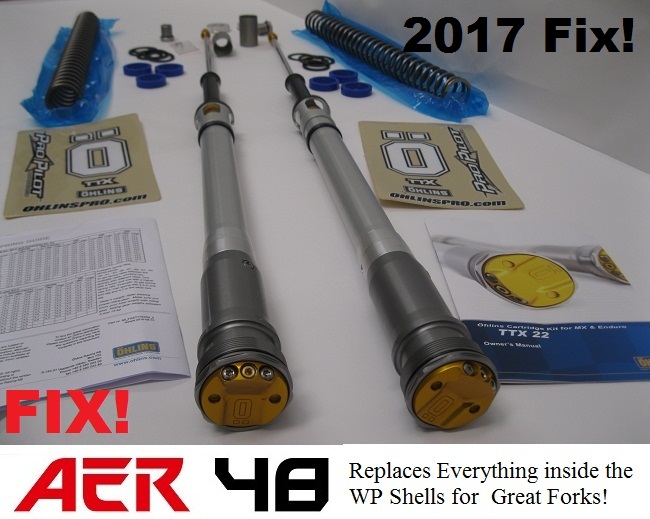 Yes, we began shipping the Firsts 2017 USA Ohlins WP 48 AER Fork Fix !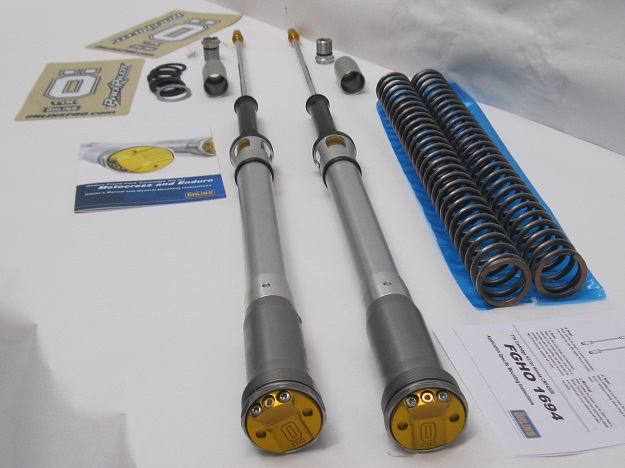 BAM!  Whoop there-iT Is!  ~BEST AIR FORK FIX!
Honda CRF450R 2015-2016 Kit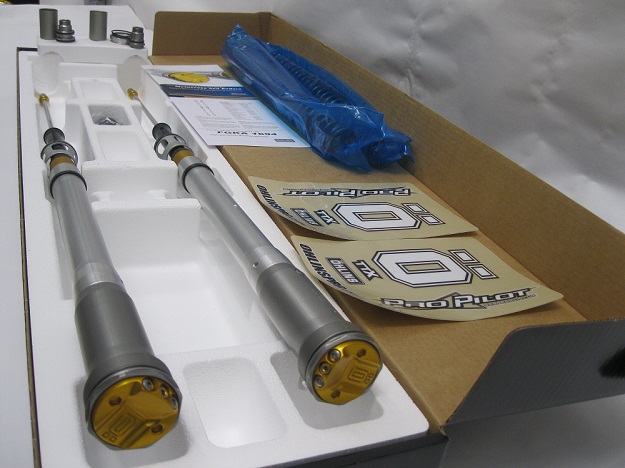 2016 FGKA1694 TTx Ohlins Cartridge Kit with Springs.
START With the PUMP and GAUGE-
AIR FORK FIX   (From Our TECH -Tools-PICS Page) SEE OUR Tech page for More!
Start with the pumps and  gauges that never work!  ( AIR has NEVER BEEN a GOOD SPRING! )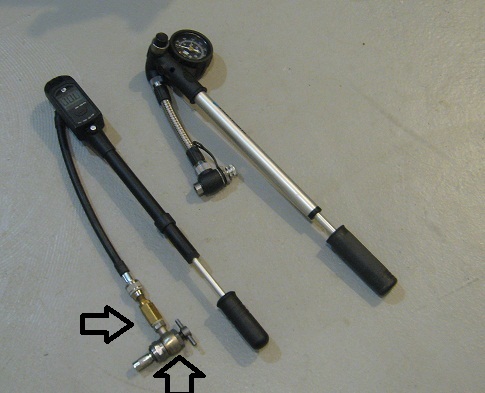 Fork Air pumps loose an unknown amount of air every time you remove them!
For Example it's almost impossible to try tuning with manufacturers recommended  6lbs-14lbs increments On The balance and Main chambers with 130psi -145psi  in them with a regular pump and gauge.
You loose more or less then that just taking the gauge off and can hear an unknown amount of air escaping.

Air Fork gauge ADAPTER ( a must have  to properly check  air in forks  )
This simple "T-Style" adapter  fits on most pumps and lets you open and close the inner shraeder valve on your forks without air loss like just taking the gauge off does.
The inner "T" pin fully closes or opens the valve before you remove the whole gauge sealing in exactly the pressure you want and has a  tunable longer stem to reach.
Even though  the above OEM pump/gauges  are not that high tech or really accurate, at least you have a much better chance  with the adapter.
Below is a Digital Shock Gauge, the are pretty accurate but $469.00!, you can still fill them slowly with your pump (or separate) by attaching to the back and then have the advantage of reading both gauges as accurate cross check.
(Order item 3256-7550  $469.00)    (Order item 3256-8550 T Adapter set )
 Air Forks (Love 'em or Hate 'em) but must check the multiple air pressures constantly before every ride!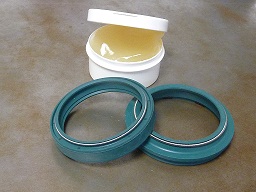 Use the  NEWEST SKF HD PSF  Air FORK SEALS !
Tired of checking air all day and never feeling the forks you want?
Yes AIR will Always Feels Different than a Spring! Period.

Ohlins TTX Cartridge/Spring Kit & AIR Fork FIX!
THIS is The Best AIR FORK Fix and See Below !
The Best Solution for the Showa and Kyb Air Forks!    These are far more than what you can see.
Ohlins sells out of TTx Cartridge kit they produce each year ( That's a good problem to have! )
These can be owner installed, you do need to know how to do that correctly, they are shipped as shown preassembled and you set as you deem fit with your choice of springs, following the manufacturer install guide and owners manuals.
No machining required  so the kit is 100% reversible.
( No more need to check your 3 air pressures all day long every ride like on the std Air forks and never be happy)
Applications including  Wp &( 4cs) forks looking for more improvement than just a shim revalve or piston swap.
Simply replace everything inside your forks with the light weight Ohlins Internals and normal primary springs for a fantastic feel of well done forks!
(Example below is a 2015 crf450r FGHO1594 with Optional Springs, and 15 per leg tunable 2mm preload tower washer)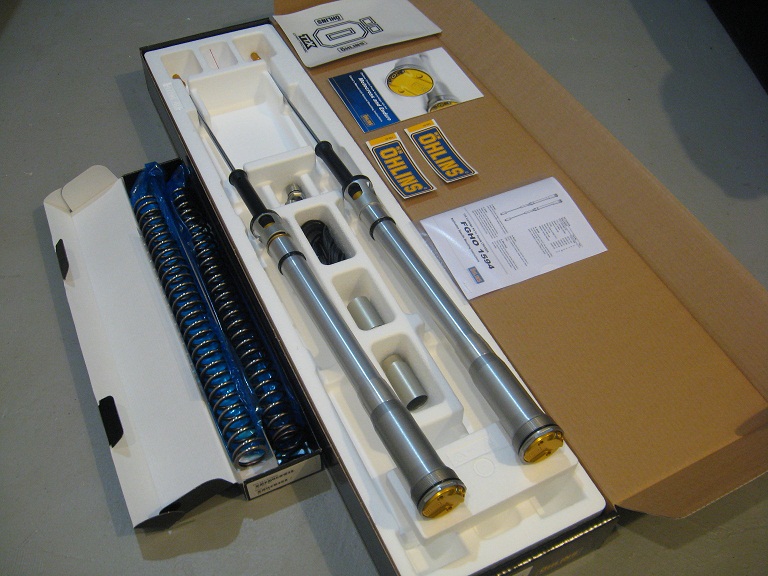 Unlike traditional fork Cartridges this Ohlins TTx Twin Wall design is very unique similar to TTx Ohlins Shocks with twin Piston and twin tube design with more directional fluid flow, less cavitation, and more equal pressure balance through shims and pistons.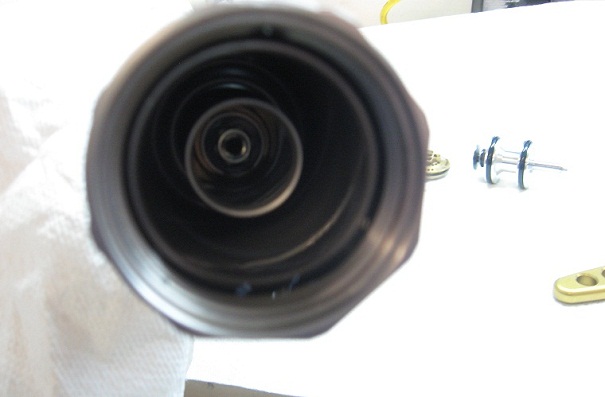 These Struts have a tunable internal Nitrogen pressurized floating Twin piston (Shown in background) and True Twin wall TTx Design features within each strut for ultimate improvement not found with a basic single tube cartridges found on all OEM forks.
This Unique design through completely different engineering than standard forks offers a much improved and more consistent feel with less fluid cavitation.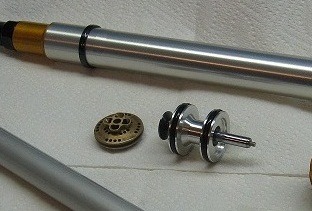 These are done on the Factory Vac machine to insure  all passages are perfect.  ( Shown Pic Below ) With specific Piston placement Ohlins tools.
Tunable Piston placement, fluid volume, Valving and overall specific details and quality of assembly is very specific and detailed way to make sure the best function as intended.
They also have unique tunable Fork Spring preload tower 2mm Shim/Washers to work as you like with the internal cartridge top out spring for a wide range of applications and needs from soft plush to firmer stouter.
You can also tune for wide range  for your needs with the outer chamber fluid volume as you wish.
Visit Our TECH-TOOLS-PIC page for more info.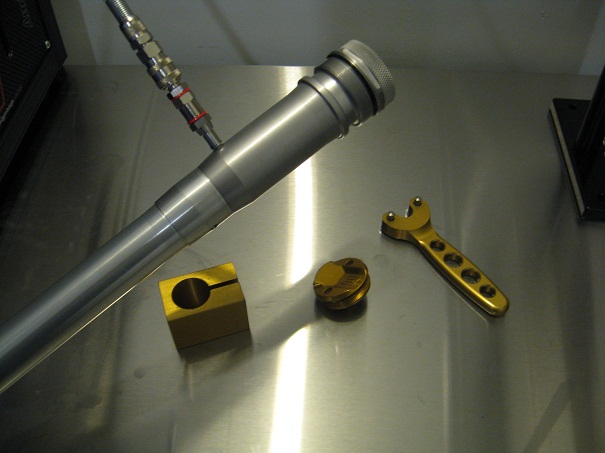 These Need to Be done on the Factory vac Machines with the correct fluids and procedures.
Visit Our TECH-TOOLS-PIC tag at top page for more info on tech and pics you need to know.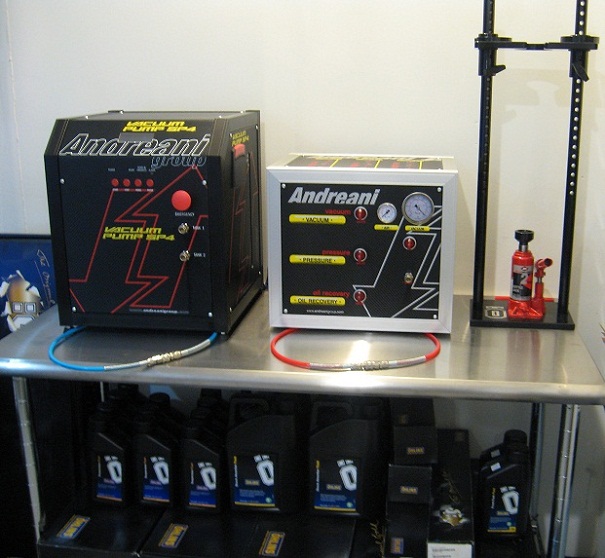 To Order Email : sales@propilotsuspension.com