Triumph Tiger 800/Xc 2011-2014
.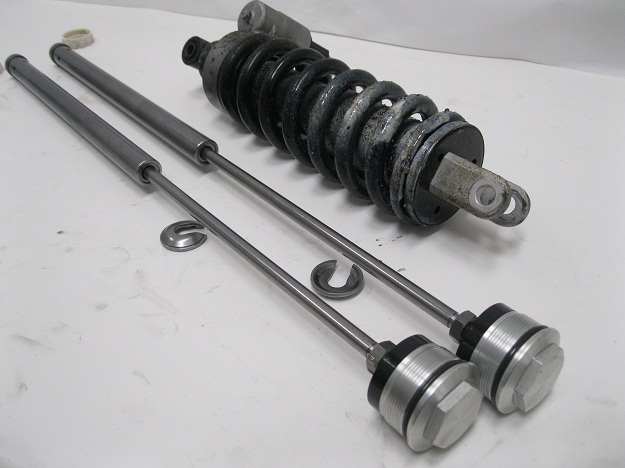 Why is your Tiger such a Suspension Lemon?
Above is the standard Tiger 800 garbage shock and stamped steel 1970's style fork cartridge non rebuildable, non adjustable, or revalveable that looks like it came from the the "Old Soviet Union!".
See below on how sweet it can be!….
1)
Triumph Tiger 800/XC (2011-2014)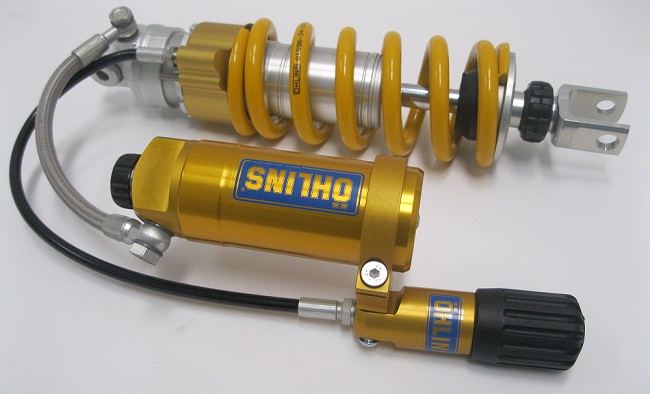 2)
BAM!~  (total sweetness!)
Ohlins TR120~ S46HR1C1S
Note: see below …
BEST Value do a Ohlins Front Cartridge / Spring Kit and rear Ohlins  shock COMBO!
.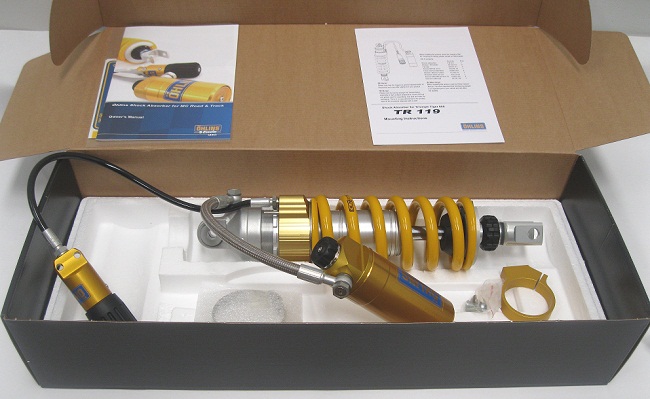 3)
Ohlins TR119 Shock, (the TR120 looks almost same but for XC)
Fully Adjustable Compression, Rebound, 23 Turn Spring Remote Preloader , Heavy Duty 46mm body with 16mm shaft.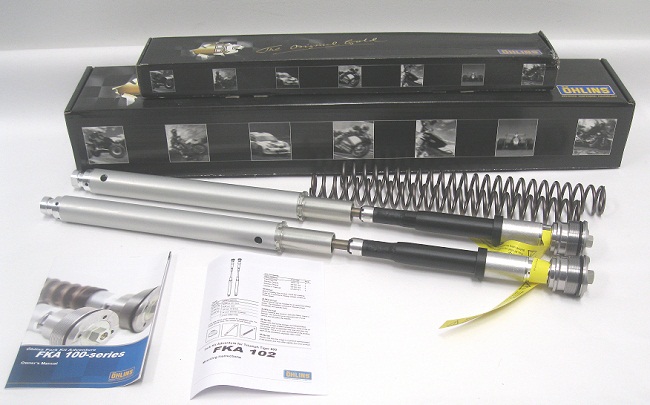 4)
Ohlins 30mm Cartridge Kit ,
(FKA 102 kit for regular 800)
(FKA 103 kit for 800 XC)
Fully External Adjustable Compression, Rebound, 18 turn Spring Preload all at top Caps.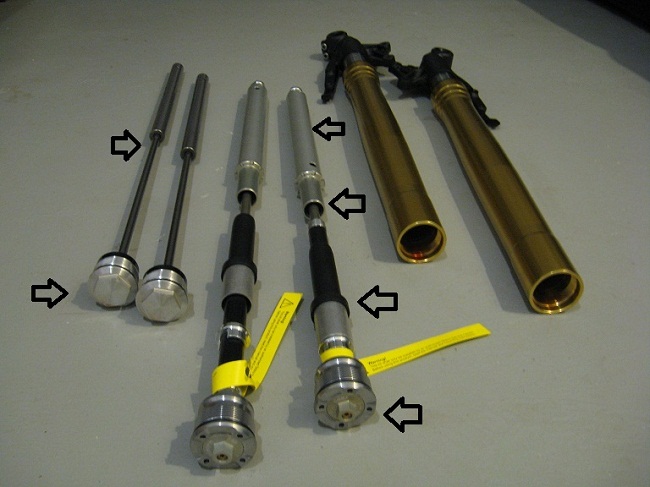 5)
Above pic is showing the difference!
(shown left two arrows)
The Standard non adjustable 20mm stamped steel inserts.
(shown right four arrows)
Ohlins 50% Larger 30mm piston / fully adjustable Cartridge kit.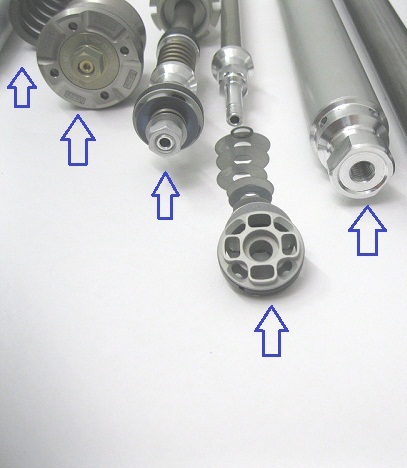 6)
Above a closeup view of the giant 30mm piston Ohlins kit.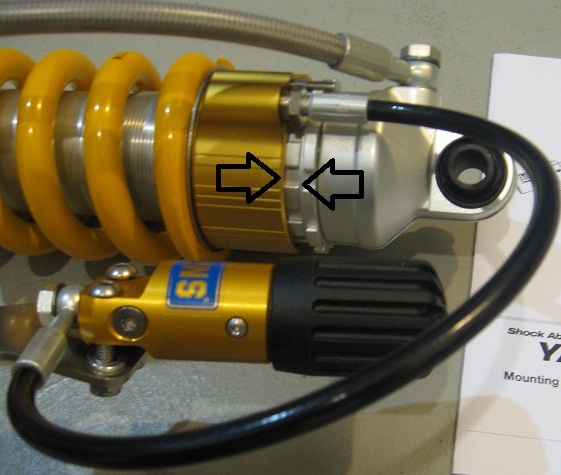 7)
This is an example of a 23 Turn Ohlins Hydraulic Remote Spring preloader.
The arrows above show some movement through out their range of adding spring preload as your loading may change or riding more offroad.
8)
Triumph Tiger 800XC
9)
Triumph Tiger XC (2011-2014)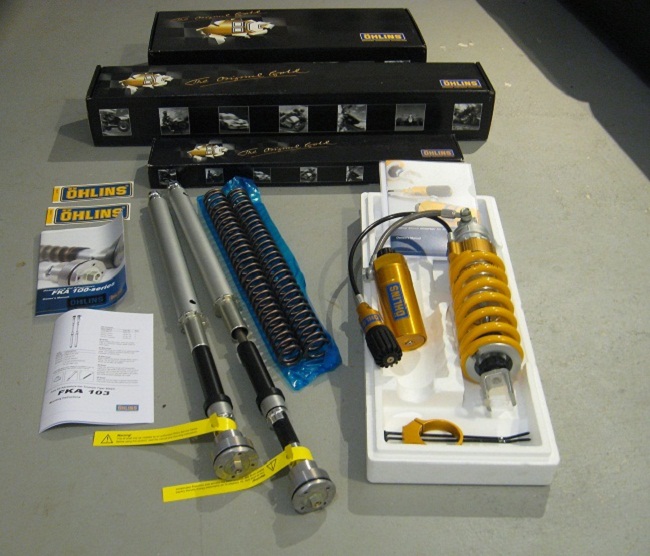 10)
Note:
Above Combo Kits are more than $1000.00 less than a comparable TT Kits! meaning you get a 30mm Ohlins Fork cartridge (biggest in industry) and a Ohlins reservoir compression adjustable shock with spring preloader and rebound adjustment with a 46mm shock body, 16mm shaft and many other features no other brand has for basically less than anything else!
TR120 Ohlins Shock, fully adjustable Compression (about 24 clicks), Rebound (about 45 clicks) , and about 23 Turn Remote Spring Preloader.
(FKC103 kit for 800Xc  and TR120 Shock) 
(FKC102 kit for regular 800 and TR119 Shock).

Note: The Ohlins combos are less than Touratech combo (by a lot…) and feature a adjustable compression shock and hydraulic anti bottoming cone forks with a larger 30mm cartridge theat measure 34.48m O.D.
Ohlins 30mm Cartridge kit, Optional Spring rates, fully adjustable Compression, Rebound, External 18 turn spring preload, all at top caps.
11)
Note:
Above Touratech Expedition shock has no compression reservoir (see above it's missing) for adjustment like the Ohlins, so its a still very good shock but with less features than Ohlins ("Apples-to-Apples"), if it was the Touratech Extreme shock and Touratech 25mm Cartridge the they would be like the New price point kits like the popular Africa Twin and so on, so compare = $3590.00 is the mark~
Above shown Touratech (Expedition Shock and 25mm cartridge Kit)  Tiger 800XC Combo $2890.00
(Shock 1095.00 and Cartridge with springs kit $1795.00)
The Touratech "Explore HP" shock with adjustable Rebound (No compression adjustment)  msrp $1095.00 and Touratech Cartridge Kit with springs  msrp $1795.00.
Note: the Touratech cartridge is XC Only and may be getting "NLA" soon?
13)
We also sell the Touratech Shock for the Triumph  800XC called the Explore HP which means Hydraulic Preloader.
(msrp 1095.00)

It has the same size 16mm shock shaft and 46mm body as the Ohlins and can use the same 57mm I.D springs except for color.

They divide the fluid and the nitrogen within the main tube with a internal floating piston where Ohlins adds a gold reservoir with the floating dividing piston in there with more fluid capacity, by doing that the Ohlins then can have fully adjustable compression damping clicker with about 24 clicks, both shocks have rebound adjustment.

The spring preloader works well and has 15mm range but really on most adds 10mm and removes 5mm  on most setups because of where you start the spring.
Either way you choose on any shock and spring combo to best suit what your own needs are.
14)
Touratech also makes a Triumph 800XC fork cartridge kit with springs, it features also adjustable spring preload caps, compression and rebound.
(msrp is 1795.00)