BMW R1200GS/GSA (Oil Cooled) Ohlins
The 2006-2013 BMW R1200 GS/GSA

1)
Most riders switch out their stock shocks well before 25K miles, the stock shocks are very basic and set for modest rider and loading even to make it that long is a stretch, otherwise a more purpose built set of shocks custom sprung and done is a huge improvement for most real needs. Good shocks can be rebuilt and maintained for the life of the bike, stock shocks are throw away units.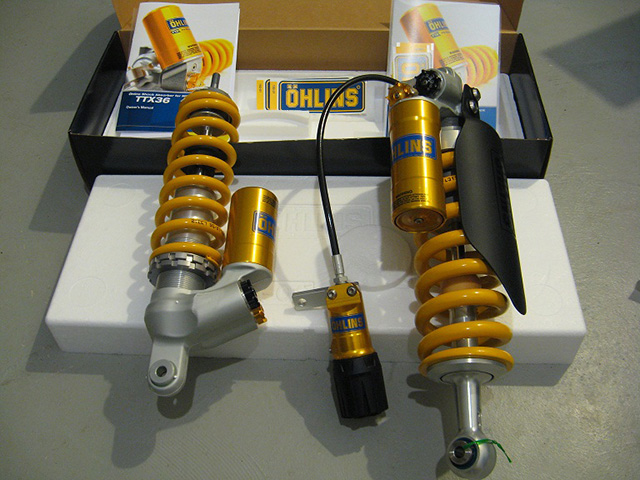 2)
Bam! ~best technology for the money!
Above these are Ohlins twin wall TTX piggy back design with New stlye preloader, fully adjustable Compression, rebound preload.
If you have a Factory ESA Bike, You can simply unplug under the seat and use these without any false computer codes etc. (follow manufacturers instructions provided) our see below for full EC Kits…

3)
Shocks can range from basic to advanced, and from very stock to more customized for your needs, or even the full "EC"- upgraded replacement kits that have not only better shocks but vastly improved functions, including Ohlins new interactive comfort mode that self adjusts depending on speed and conditions while in that mode. You would need a Factory Equipped "EC" model on any electronic controlled shocks at this time.

A wide range of shock sets are available.

 Let's start with the Non- Electronic Stuff Below….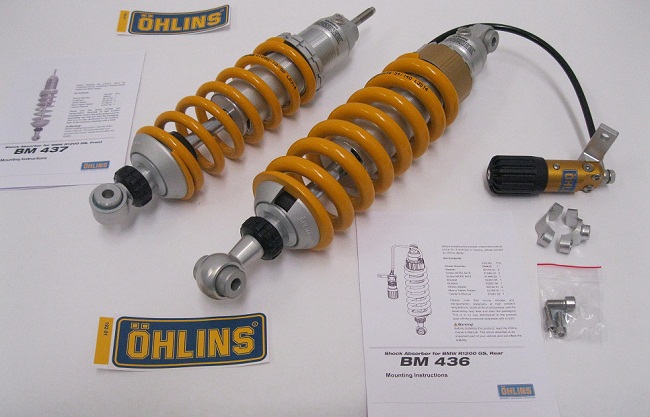 4)
Above is SIMPLE and popular with big bodies front and rear, heavy duty set of Ohlins Shocks for the R 1200GS Bm 436 and BM 437 with a rear Preloader, they are finished to order with custom springs and settings for your weight and shipped FREE with No tax O/S lower 48 USA.

(Note the GSA shocks are similar but different valving, length and springs as below..)
Both front and rear Ohlins have large 46 mm bodies and 16mm shafts with 57mm inside diameter springs and hard aluminum bodies for better heat dissipation.
Below are a few Touratech Offerings, well built for the fully loaded Adventure rider in mind that ventures off pavement and whoopy, most often. Three flavors with different features….
5)
Above these are the Touratech EXPLORE SERIES shocks  shown with "HP" for hydraulic preloader.

The above set MSRP is $1890.00 ($795.00 Front and $1095.00 Rear)
6)
Above is the next step up in Touratech, same explore front but EXPEDITION REAR with Preloader. The REAR features HI/LO Adjustable Compression on a piggyback reservoir rear.

The above set MSRP is $2290.00 ($795.00 Front and $1495.00 Rear)
7)
The above is the NEXT Step up , the EXTREME FRONT & REAR, both feature a Dual Piston Design  so they resist bottoming extremely well for fully loaded off pavement touring, they also have HI/Lo Compression, rebound and spring preloader.
The above set MSRP is $3190.00 ($1395.00 Front and $1795.00 Rear)
Below is the video of the Ohlins TTX, Twin wall ,piggyback designed shocks, they have a unique design for more equal pressure balance and better ride quality over a large range.
Ohlins TTX Shocks (These are the latest Hi Tech solutions with still mechanical full adjustment)

Ohlins is the Only brand that uses a Twin Wall design on the TTx Shocks which creates a more directional fluid flow over single tube designs, producing superior pressure balance on the valving shims and main pistons when the shock goes back and forth for unmatched performance and fluid life.
Yep, it's a very noticeable difference!, generally much improved ride quality especially in more demanding situations such as unpaved gravel roads wash boards ripples where the small initial stuff can really be adjusted out in the plusher settings. Also the preloader has more range and the twin wall piggyback divided design is for fade free performance over more miles between rebuilds.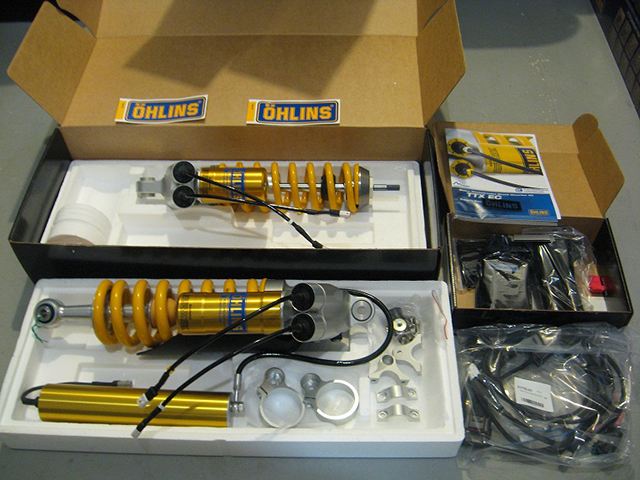 8)
These are the "Electronic Controlled" (EC) Ohlins TTx. They don't use any old parts from your standard shocks like other brands that make you reuse rebound motors or preload motors that are crusty!(MSRP is about $3553.00 Set)

They also feature an "interactive Comfort Mode" that self adjusts for speed and conditions that the stock stuff does not have in addition to the preset modes.
The Ohlins EC Shocks adjust both Rebound and Compression Electronically  and also rear spring preload!

Touratech (shown below) has updated offerings (Dec 1, 2015) for the BMW R1200 GS/GSA (oil cooled) shown below, determine if you are replacing Showa or WP style when placing orders, springs and settings are prematched for you prior to shipping.

9)
Update -may be NLA and go with Touratech's revised $3990.00 list EC kit
Above is the Touratech  ESA "Explore" style ESA shocks (msrp $3295.00) when ordering specify for Showa or Wp style replacements.
10)
Above is the "Expedition" ESA series, notice additional reservoir on rear shock ( msrp $3995.00) the rear has Hi/Lo and a reservoir,  when ordering specify for Showa or Wp style replacements.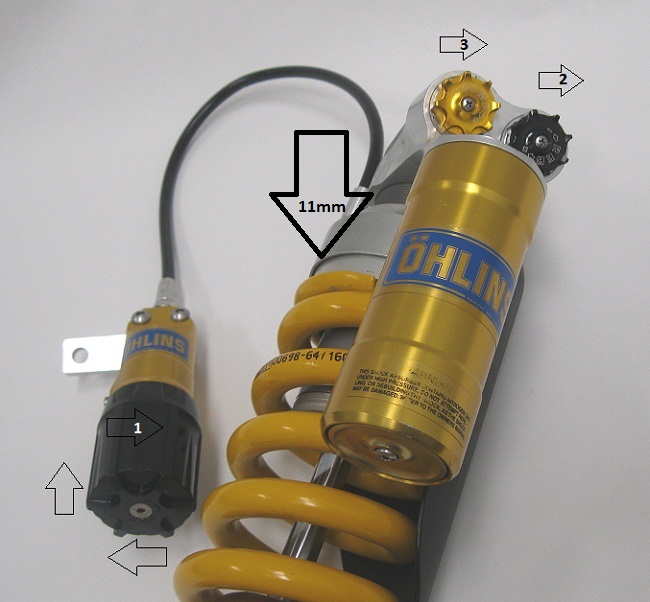 11)
IF TIRED of ESA , Super EASY ADJUSTABLE OHLINS TTx May be something to consider.
Ohlins TTx Rear Shock Adjustments Made Simple like 1,2,3!
From your solo baseline setting~

Remote spring Preloader (Shown #1) has about 28 turns or adds about 11mm more spring preload in this example at max to what you already have standard.(If standard is about 15mm already so max all in would add 11mm more to it)
Rebound (Shown #2) this clockwise direction adds more damping to solo baseline setting.
Compression (Shown #3) this clockwise directions adds more damping to solo baseline setting.
12)
Ohlins Front TTx Adjustments made Simple like 1,2,3!
From solo baseline setting~

Loosen spring spanner Locker (Shown #1) turn Spanner (shown #2) this direction adds more spring preload.
About 1 full turn adds about 2mm preload or so to what you already have standard.(If standard spring preload is about 10mm on average then 1 more turn is about 12mm preload total)
Easy tip~
Notice the small "X" mark you can put to count turns or half turns as you go, also once you loosen lock spanner you may find it very easy to grab the spring and just turn it provided main spanner follows it as you turn to actually make tighter or looser, best while front is unweighted.

Rebound (shown #3) adds more damping force this clockwise direction from solo baseline setting.
Compression (shown #4) adds more damping this clockwise direction from solo baseline setting.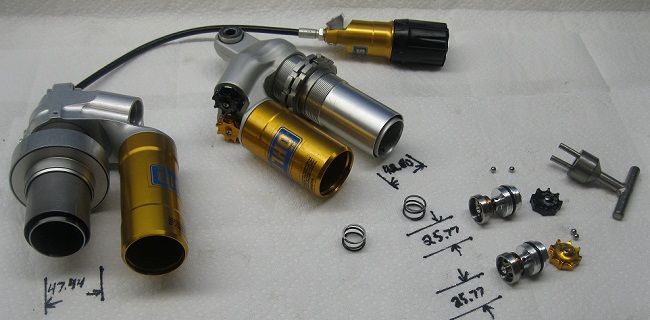 13)
Ohlins Details "TOP SECRET" Spy Photos of the TTX!
(No one will ever see these but you!)
Since the TTX Shocks have a Twin wall Design and fully contributing Rebound and Compression circuit valve, the true surface area of All Pistons / Tube must be considered when calculating TOTAL piston / Valving surface area the optimizes pressure balance within the shock for unmatched performance and fade free design qualities.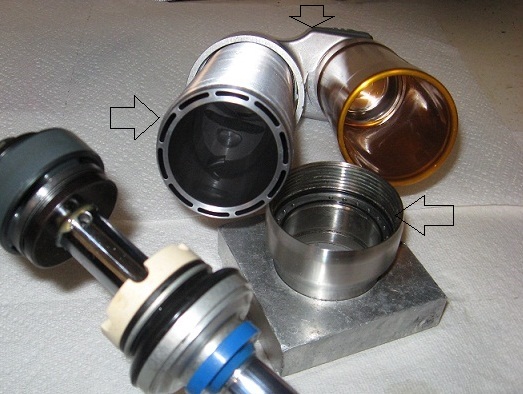 14)
The above pic shows TTx Ohlins "Twin Wall" shock main body with matching tapered end cone holes and cylinder head for more directional fluid flow unlike any traditional shock designs as shown in video at top off page.

15)
Ohlins S46 Series shocks, These are still Very Popular !
They are Surprisingly affordable as a set! Choices of many spring options.

Both feature heavy duty design with both 46mm bodies and 16mm shafts, the remote spring preloader is the traditional that has been around on many applications and has about 7mm range when fresh and purdee.!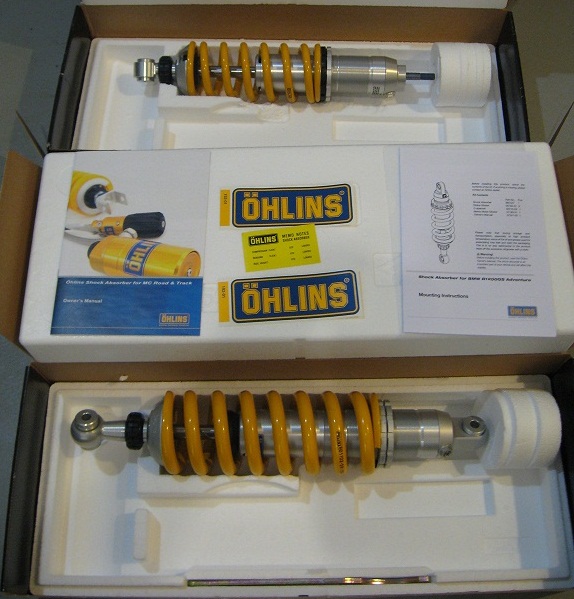 16)
2006-2013 Oil cooled BMW R 1200 GS / GSA Shown With NO rear preloader  (Spanner style Preload Adjusters both).
*Both shocks are still 46mm bodies/16mm shafts and 57mm ID Springs.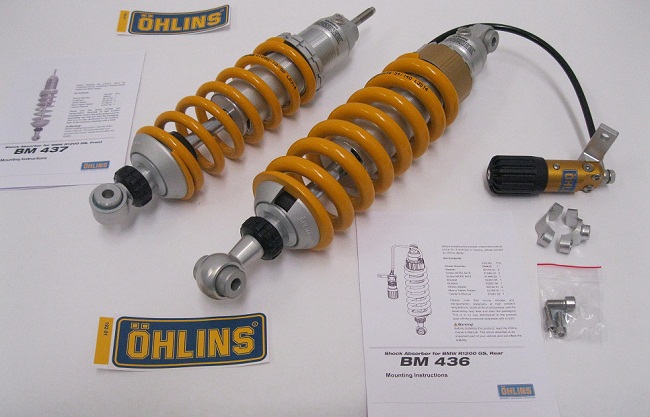 17)
Above Popular BM437 S46ER1 and BM436 (S46DR1S) with Rear Hydraulic Preloader
See PDF Mounting Instructions Page below:
Mounting Instructions Bm 436 Rear BMW R1200 GS
18)
Above R 1200GS Ohlins BM 436 with Hydraulic Remote Preloader.
46mm Body and 16mm Shaft, divided fluid and nitrogen with internal floating piston, 45 click damping adjustment.
19)
Visit Our Tech page to See How easy 100 % Air Free Vacuum built Suspension and easy servicing can be to manufacturers specs!
20)
BMW R 1200GS/ADV (Oil Cooled) 2004-2013 BMW R1200GS/ADV (water cooled 2013-On)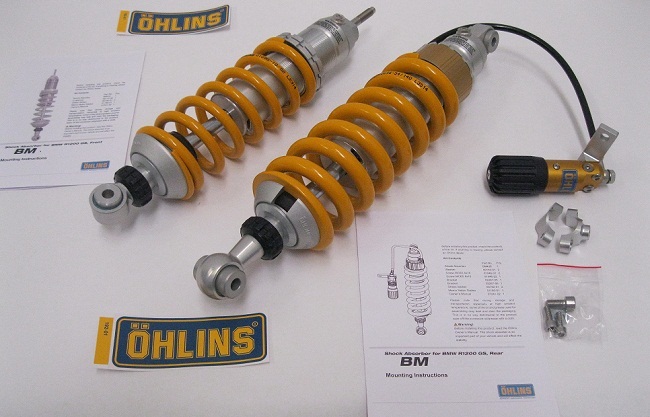 20)
Ohlins S46 Series Shocks with Rear preloader.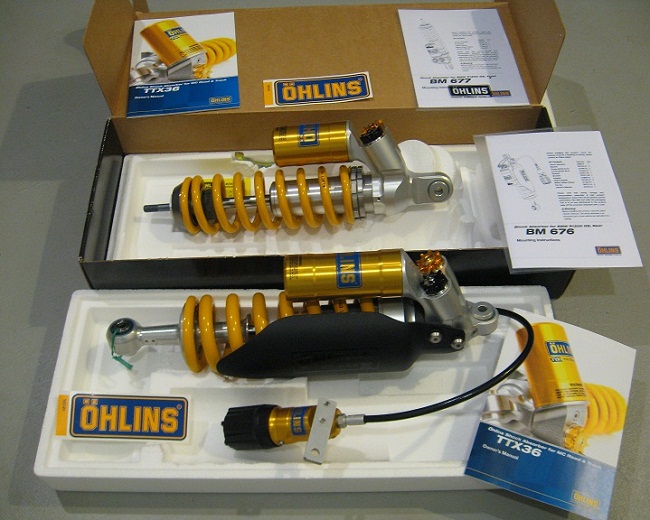 21)
Ohlins TTX Bm 676 Bm 677 Series shocks for BMW R 1200GS.
22)
Switching spring rates shown above.
These spring press machines are a must for any "Remote Hydraulic Preloader" style shocks when switching spring rates which is really the only way to get the spring retainer clip out on most all springs.