1) Ohlins TTX Shocks MX / GNCC / Enduro / MXGP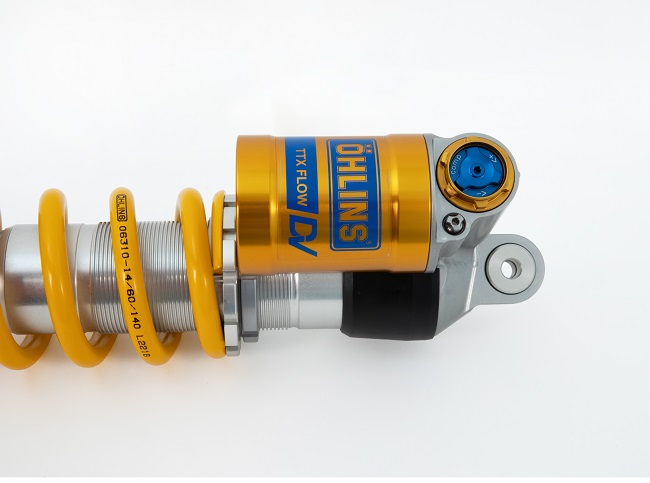 2021 New Ohlins TTX Dual Flow Shock
KT2194, HO2194, KA2194, SU2194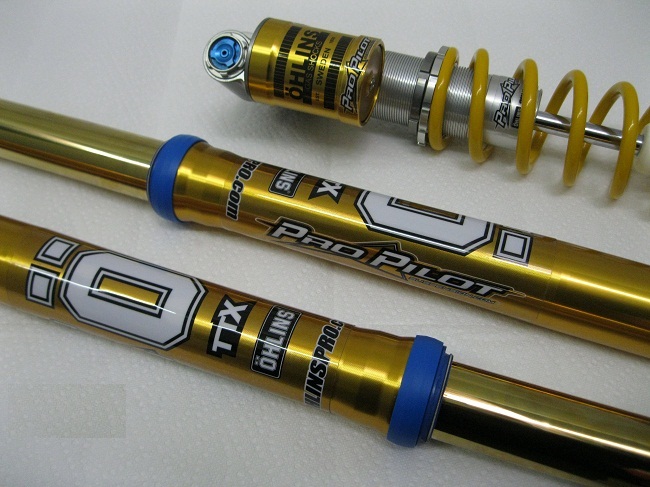 2020 Ohlins New FGKT 2096 , KT2094, FGHO2096 FGKA2096, FGYA2096
BAM!-
buy a complete Ohlins / Pro Pilot A1 Kit! (two 48S RXF forks and one TTx Flow Shock  sprung and done!)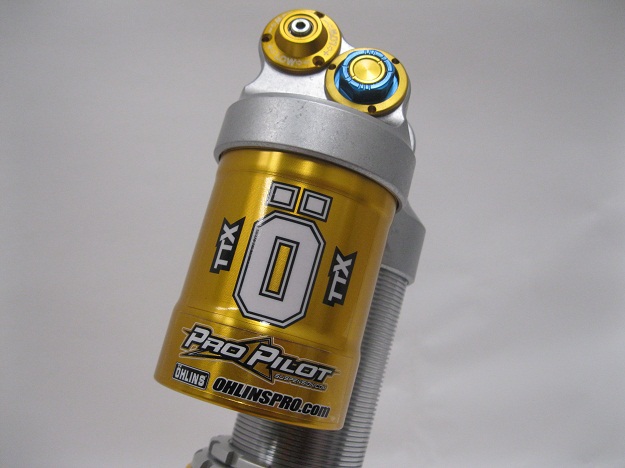 Bam!~ Whooop-There-It-IS! @%&#$~

Ohlins sells out of every TTx Mx Shock they can produce every year!   ( That's a good problem to have! )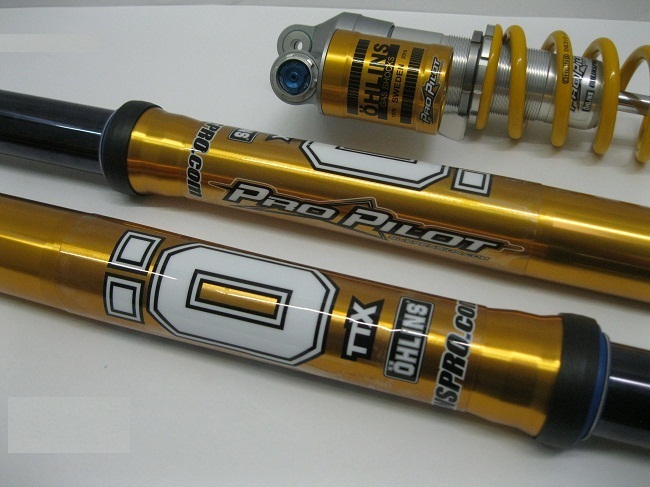 NEW for 2017 , TTx Flow Shocks and 48 RXF Forks!
We updated the Ohlins / Pro Pilot A1 Kits
(GAME CHANGER ALERT!~ BAM!)
Ohlins TTx Shocks have unique design features your OEM shock simply will never have no matter what you do to it.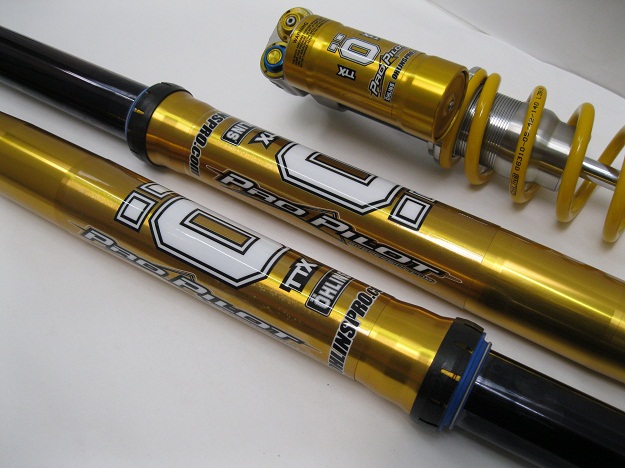 OHLINS Pro Pilot A1 Kits ~     GAME CHANGER ALERT!
Our state is the home of the 8-Time AMA National Enduro Champion, 3-Time ISDE Gold Medalist, and the XC-1 Atlantic grand Prix Champion among many others including many AMA multi time National Number Motocross racers, West Coast Supercross Champion, and many Adventure Rides including the Pine Barrons 500.
We know Dirt!
1)
The Ohlins Ttx design is very unique in many ways to any other shock which is why they work so well for many applications.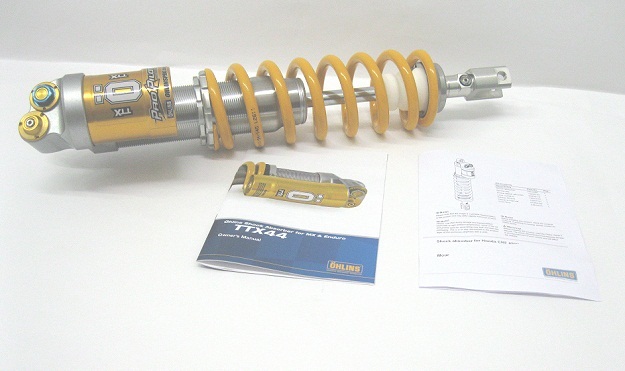 2)
2016 Honda CRF Ohlins TTX
3)
Your choice of  Ohlins spring  is required  to fit on these, many options and excellent quality.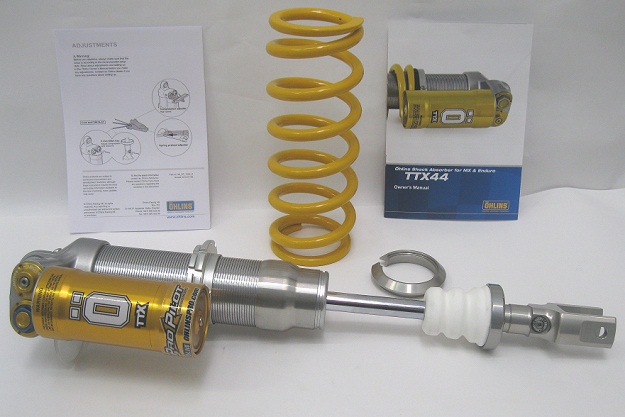 4)
2016 KTM SX-F, EX-F (250,350,450) and couple others like the 2 stroke updated chassis bikes.

The 2016 shock is 12 mm shorter eye-to-eye but the body is actually longer the other way than before (so you don't wanna use on the older models) and the bottom shock clevis bracket is different among other changes.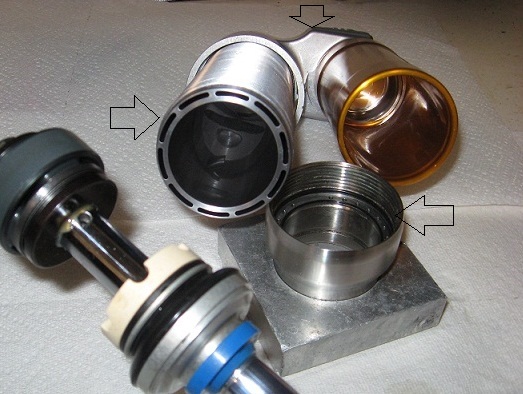 5)
The Ttx Design has Twin Wall all the way thru to the matching holes in the cylinder head and matching holes in the tapered end cone which contributes to more directional fluid flow than any other shock in the industry for more equal pressure balance and improved function.
The seals (Not shown) are also very unique design with integrated a one piece top out system.
Fluid gets far less beat up in this design than any other shock providing smoother action and longer fluid life.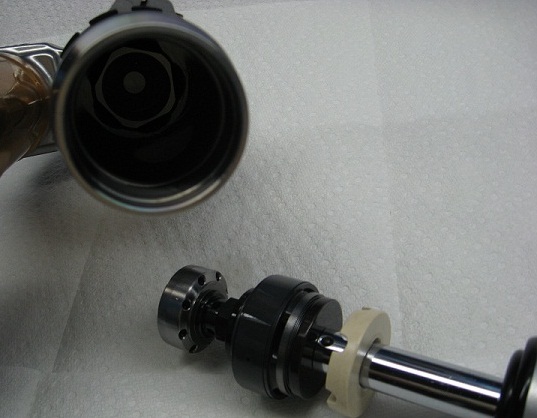 6)
Some variations are still twin wall TTx but also have Multi Piston and Dual Tapered Twin Piston Designs.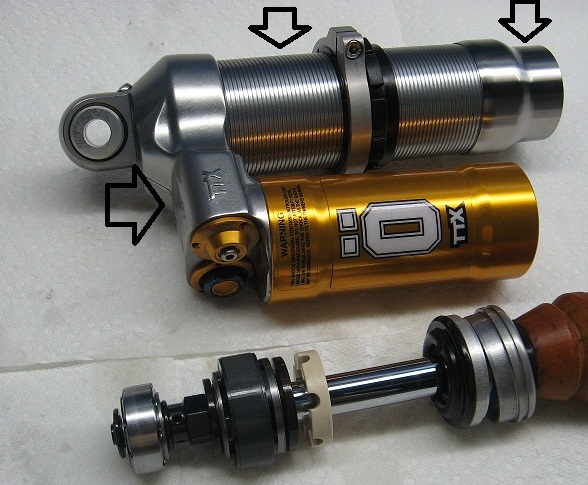 7)
No Other Shock in the Industry has this unique directional fluid pattern provided by the Twin Wall Ttx Body, The Tapered body end cones matching holes, and the Matching cylinder head casting where the independent compression  adjusters are.
8)
These should be professionally done with the correct equipment and manufacturers fluids,
with all the passages they need to be  100% Factory VAc done.
They are Factory VAc Machined to perfection, like most Wp and PDS  Shocks these day  is a must.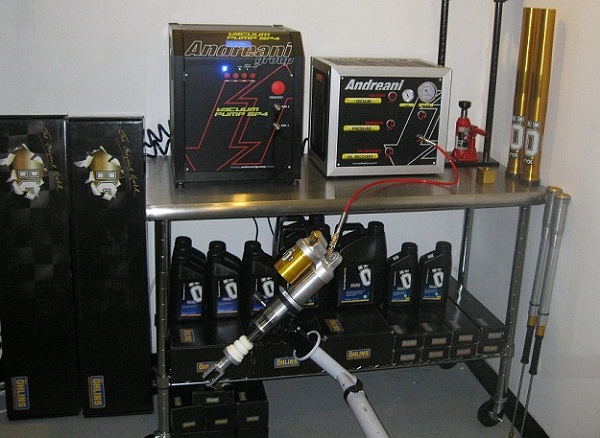 9)
Check our TECH-TOOLS-PICs  top tab page for more info and tech pics
10)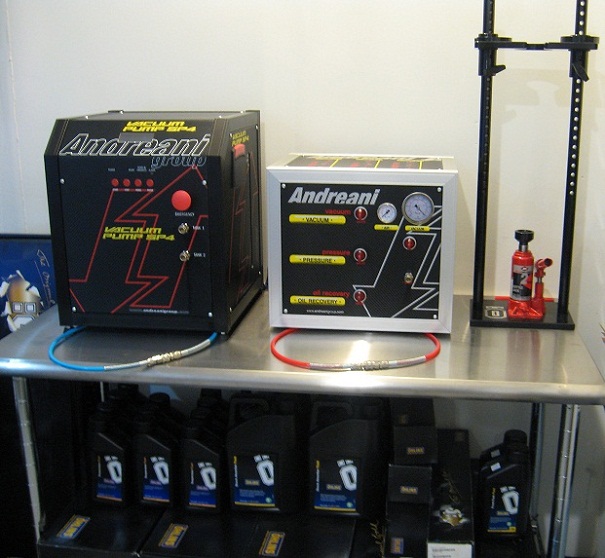 11)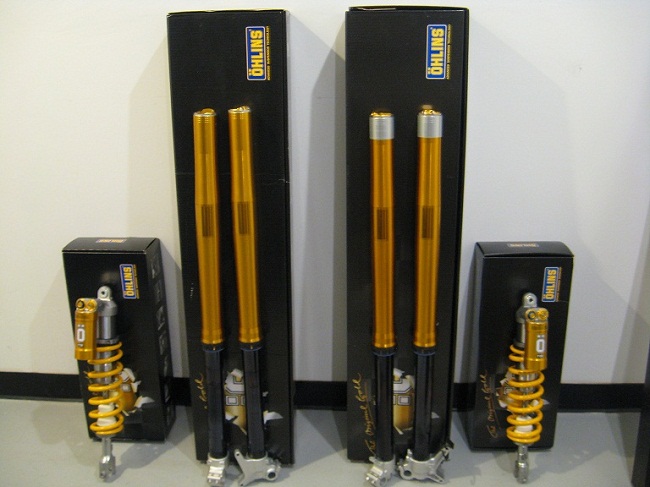 12)
2015 KTM (Shown On Left )                                                             2015 RMZ 450 (Shown on Right)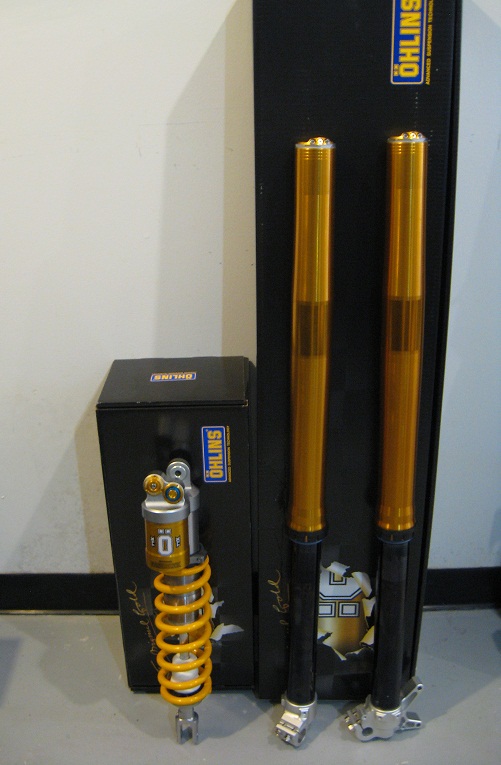 13)
2015 CRF450R (shown above)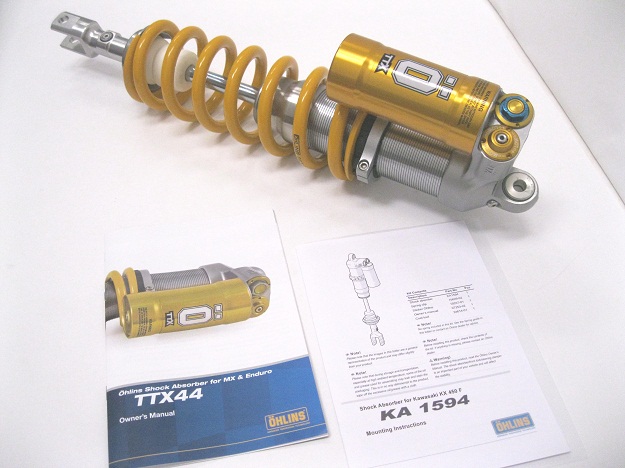 14)
2009-2016 KXF450 TTX Ohlins  Shock (2015 shown )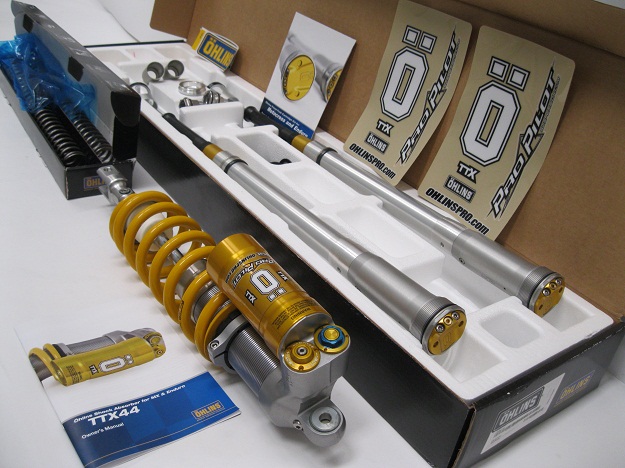 15)
2015 KXF 450 Ttx Shock and Ohlins CArtridge Kit Combo!
Cartridge 2013-2015 Air Forks and  Shock 2009-2015
16)
KXF450 TTx Ohlins 2009-2016 (2015 Shown)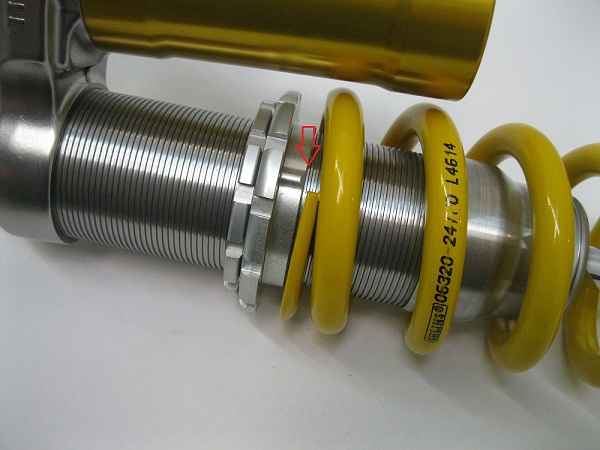 17)
Arrow above shows 2016 spring preload spanners.
 18)
Above~ (2016) Darren LilJo, Coon Rapids,  Minnesota~ Honda CRF450R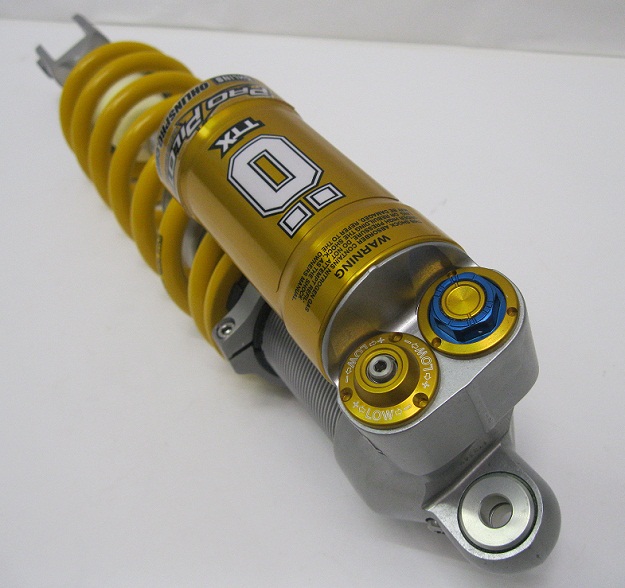 19)
Above is the Ohlins KTM KT1594 Shock
NOTE: Do Not Let Your Ohlins Fall into The Wrong Hands!
.
Please contact us at (732) 928-7800 for more information about this product.