FJ09
NEW  OHLINS Available for the 2015 Yamaha  FJ09/Mt 09 tracer 
Ohlins is THE Only Brand That has a Full Fork Cartridge 30mm System from the top cap to bottom that's  over 50% larger than the stock stamped steel internals and Spring set  with a Shock fully matched Combo Package !

(See more details below…)

UPGRADE TO This Ohlins COMBO! – Matched Set For Your Bike-
 1)
Yamaha FJ09 /MT09 Tracer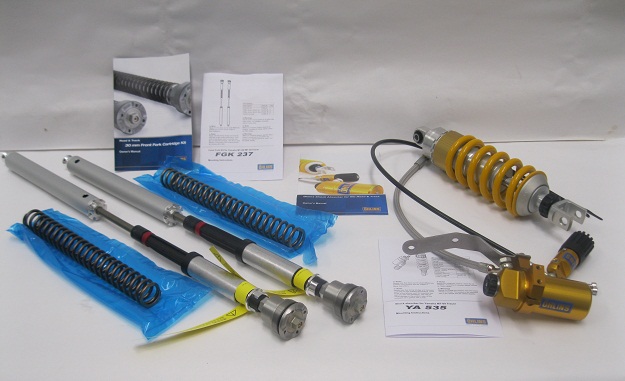 2)
"The Full-Monte" ~ Ohlins front and back Combo with all the bells and whistles! BAM!
Above the FGK237 30mm kit with fork springs and the Ohlins YA535 fully adjustable shock COMBO
(See Below For Much IMPROVED ADVenture  /  Sport Touring Upgrades)

3)
Simple but Excellent Ohlins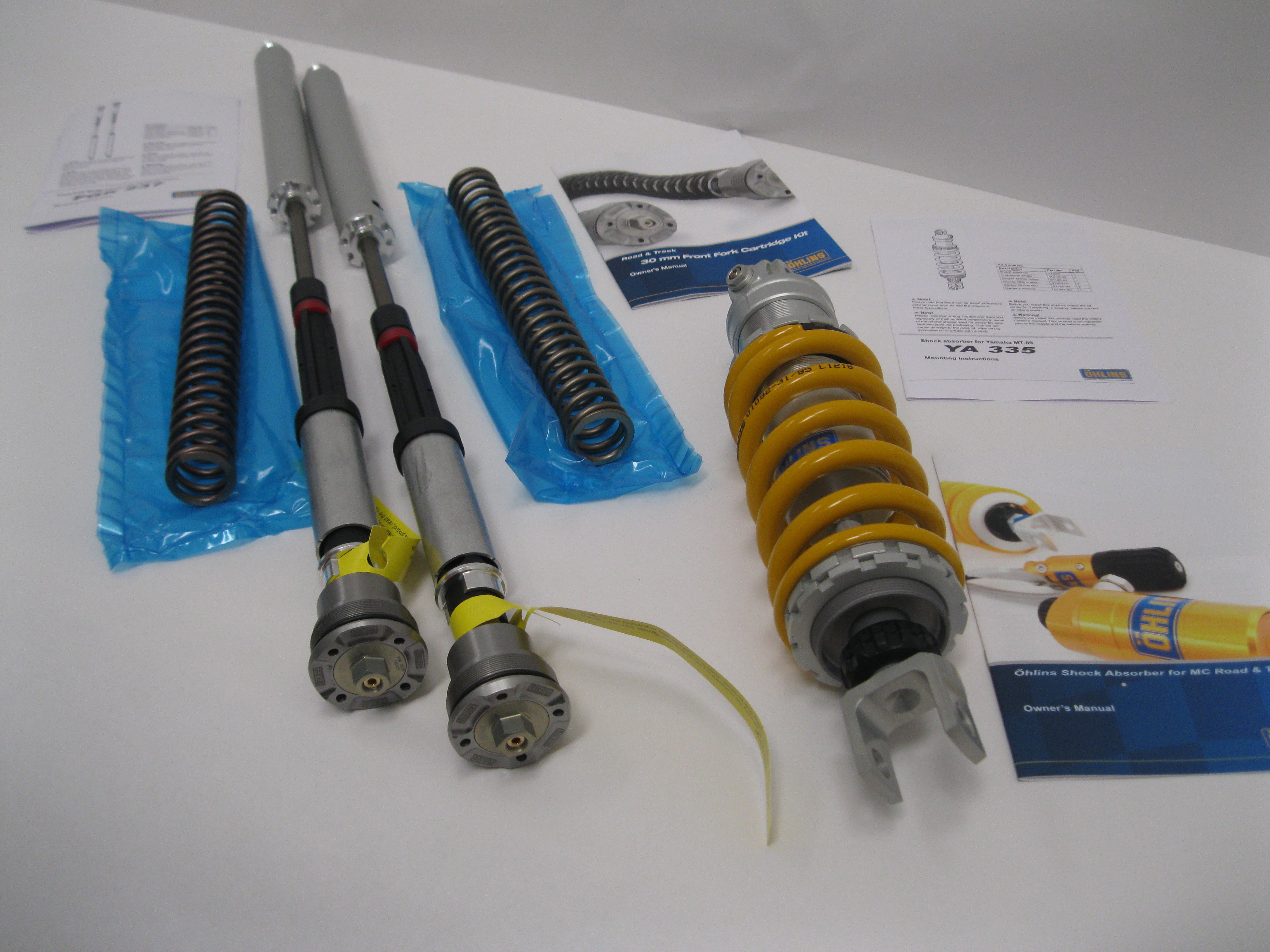 4)
"The-Plan-B"~ SURPRISINGLY AFFORDABLE!  
Ohlins Shock BASE MODEL, with 46mm Fatty Shock Body with 16mm heavy duty Shaft ,
DIVIDED Fluid & Nitrogen  (not emulsion type where mixed) 45 Click Damping Adjustment

*Multiple Spring Rate Options for ANY  Weight range, FREE to Swap when NEW  PURCHASE
Ohlins Full Fork FGK-30mm Cartridge Kit with Ohlins Springs and Fluid , Fully adjustable
5)
IDS Ktech Kit with springs, a super nice 20mm , 4 port fully adjustable kit with springs.

Above a very well made IDS (Independent Damping System 20mm) so left leg does about 32 clicks of compression adjustment, right leg about 32 clicks rebound adjustment all from top caps.

6)
Shown above is the 20mm preload and  about 18-20 turn preload range.
Fully adjustable Compression, Rebound inside the 14mm socket hex bolt preloader.

7)
A great option and can be paired with any design rear shock.
8)
Above this combo one of the least expensive options…

Above is a less expensive option, the Andreani 20mm fork cartridge kit and Ohlins YA335 shock, it' comes in less than the Ohlins 30mm Whole fork kit and YA335  combo.
9)
Opps! NOW NO LONGER AVAILABLE! (snooze -u-loose)

Elka Stage 5 FJ09 Shock, Hi /Low Compression , Rebound, Length Adjustable.
We sell these at a great price (Like $500.00 Less than a Penske triple Adjust)… and have same 46mmx16mm shaft and use the same tools to work on so very similar.

10)
FJ09  Yamaha  MT09 Tracer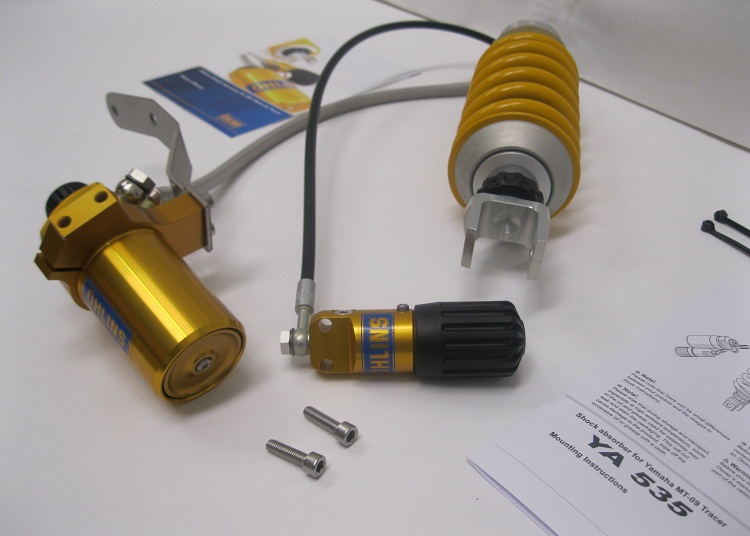 11)
Above, the Ohlins YA535 is available with the Addition of a compression adjustable reservoir and a hyraulic remote spring preloader as shown.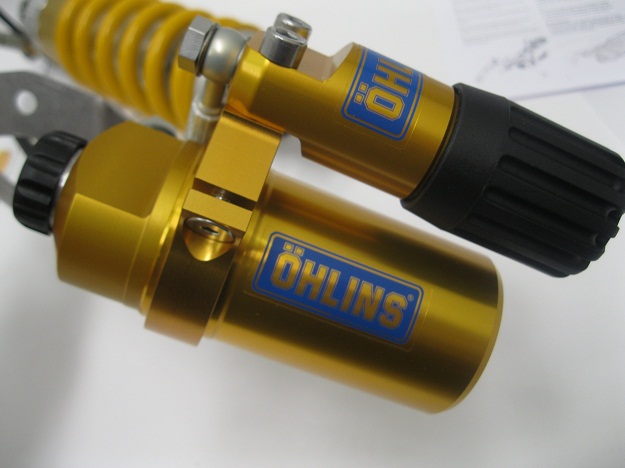 12)
Shown above YA535 Preloader knob and Compression adjuster.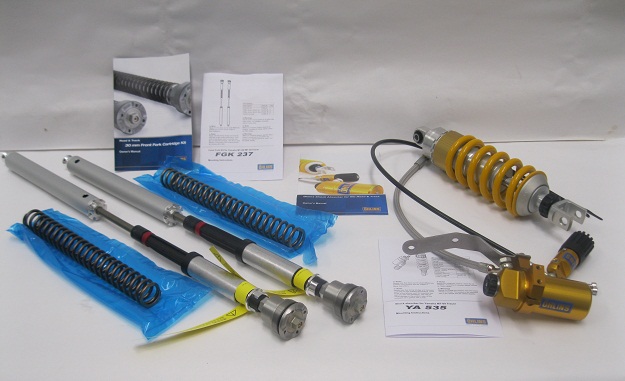 13)
Above the FGK237 with fork springs and the Ohlins YA535 shock COMBO.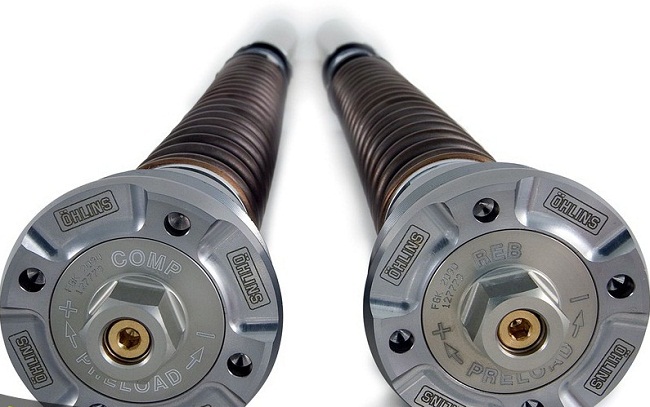 14)
Ohlins 30mm  New # FGK237  Adjustable Compression LEFT cap , RIGHT  cap Rebound , Both 18 turn Spring Preload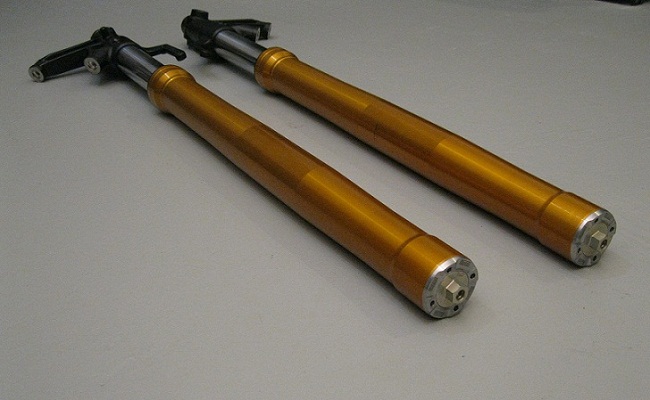 15)
Installed Pic FJ09 with OHLINS 30mm Kit,
Adjustable 18 Turn Preload Caps, Compression and Rebound with firmer Springs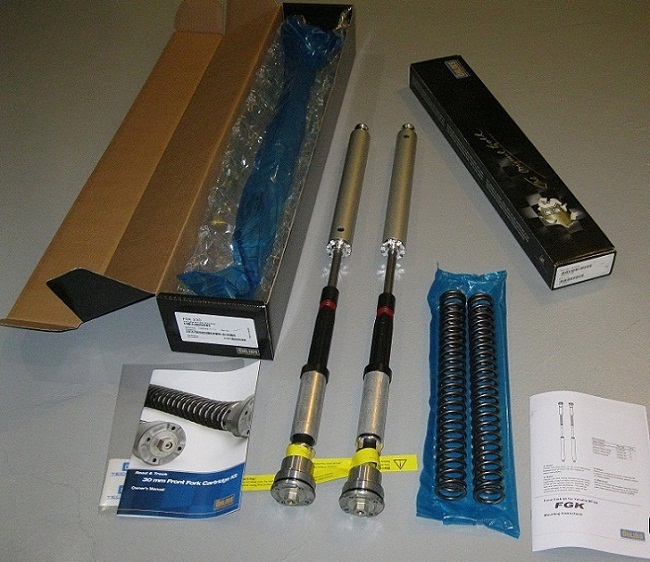 16) 
Ohlins Front Fork 30mm Cartridge Kit FGK230 or the New # FGK237  and Spring Set #8423-90
Other Rates Available With Optional preload Tube
(Requires 1 Liter Ohlins 1309-01 Fluid) Has Adjustable  Compression, Rebound, Preload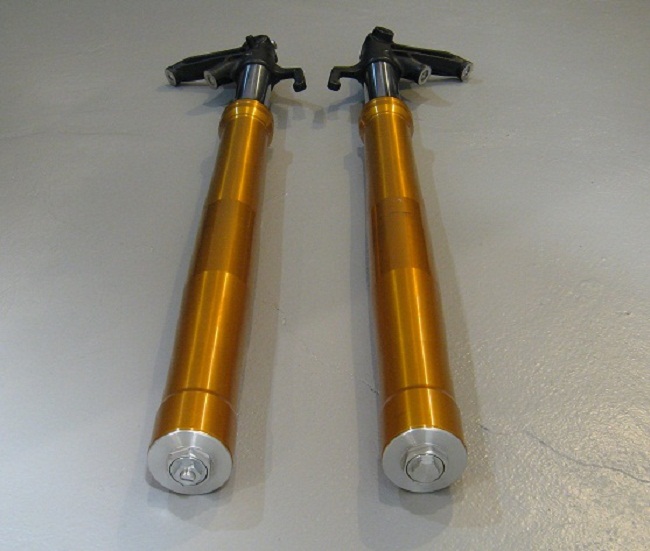 17)
Standard Yamaha FJ09/MT09 Fork with soft Standard Progressive Fork Springs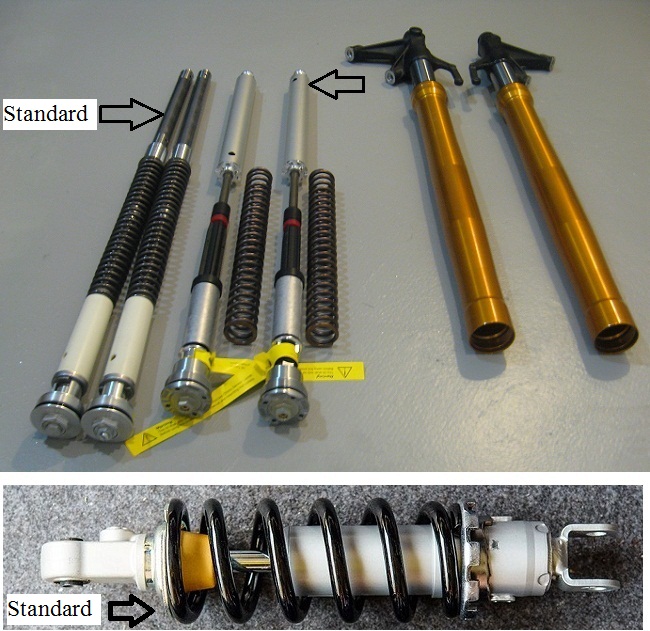 18)
On top LEFT (Arrow) standard FJ09 Stamped Steel 20mm Cartridge,  On top RIGHT (Arrow)  OHLINS  30MM Cartridge (50% bigger piston area and 1 lb lighter )
On Bottom standard Non-Rebuildable Yamaha shock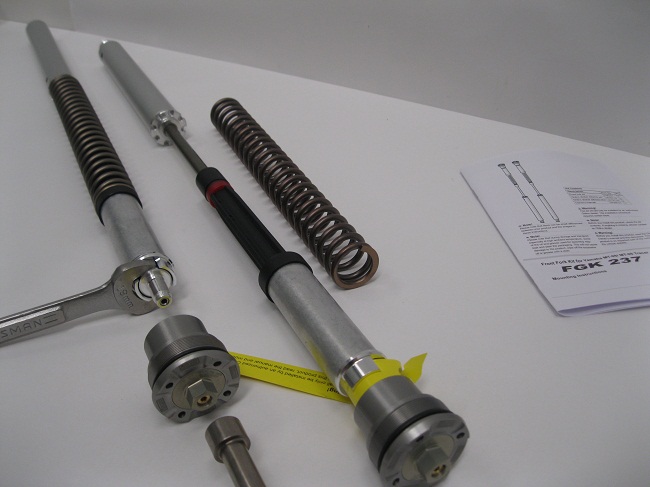 19)
20)
Yamaha FJ09  / MT09 Tracer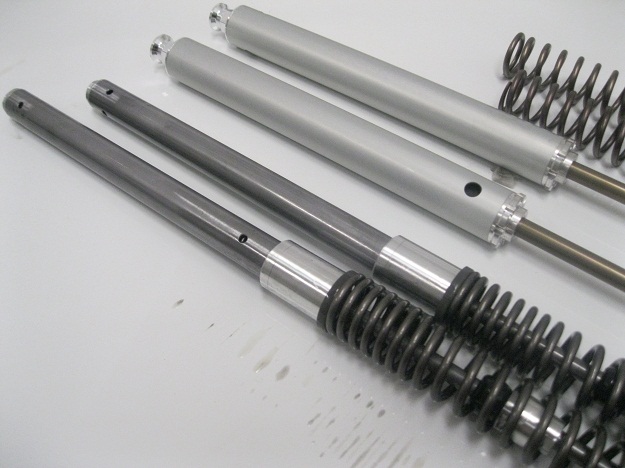 21)
The above standard 20mm stamped steel Yamaha cartridge with progressive springs  and the Ohlins 30mm cartridge (34.60mm OD) .
22)
Yamaha FJ09/MT09 Tracer Suspension
23)

Opps! NOW NO LONGER AVAILABLE! (snooze -u-loose)
Elka Stage 5 FJ09 Shock, Hi /Low Compression , Rebound, Length Adjustable.
FJ09 Elka Shock, Hi/Lo Compression adjustable, rebound, length , spanner preload , large 46mm body / 16mm shock shaft, divided fluid and nitrogen with internal floating piston in reservoir.


24)
.
Opps! NOW NO LONGER AVAILABLE! (snooze -u-loose)
We sell ELKA shocks(and Other brands as well) this one is called a Stage 5 with Reservoir HI/Lo Compression adjustment for a great price!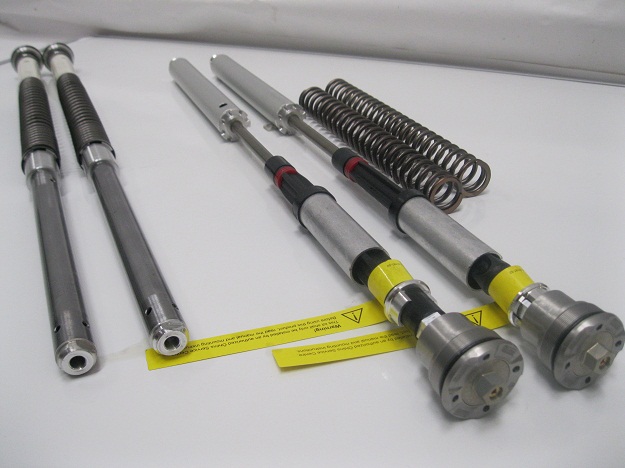 25)
Stock FJ09 and Ohlins Kit.
26)
These are the new Nitron FJ09 Shocks above, available with D1,D2.D3 and / or Hydraulic preloader.
Listed Below Options
(40mm body /14mm shaft)
NTR R1 M-14/40-GS-D1-L……
NTR R1 + HPA M-14/40-GS-D1-L-HP1……
NTR R2 M-14/40-H-GS-D2-L……
NTR R2 + HPA M-14/40-H-GS-D2-L-HP……
NTR R3 M-14/40-H-GS-D3-L……
NTR R3 + HPA M-14/40-H-GS-D3-L-HP1…….
(46mm body / 16mm shaft)
NTR R3 Race Pro M-16/46-H-GS-D3-L…..
NTR R3 Race Pro + HPA M-16/46-H-GS-D3-L-HP1…..
27)
28)
Above theseare Andreani Cartridges (20mm) with Adjustable top preload, compression, rebound, a nice upgrade for a great price of only $599.95 with springs per rider weight.