ELKA
Elka Shocks Applications!
Till then CALL us Eastern USA M-F 732-928-7800
ELKA raised their game on all Products Dec 1 2015 so from date forward and beyond expect the latest and greatest builds and updates to their shock platforms.
1)
2)
ELKA FZ09  Shocks
Stage 5 TRIPLE ADJUST (Hi/Lo, Rebound , Length )
Stage 4 DOUBLE ADJUST (Low Compression , same Otherwise )
3)
Elka Stage 5 Shock FZ09, has Hi/lo compression, rebound and length Adjustable.

4)
Elka Stage 5 FJ09 Shock, Hi /Low Compression , Rebound, Length Adjustable.
4)
Some Elka have Hi/Lo Adjustable Compression Damping.
5)
This ELKA shock above for a Suzuki DR 650  has both Hi/LO compression, Rebound, and Hydraulic Remote Spring preload adjustment.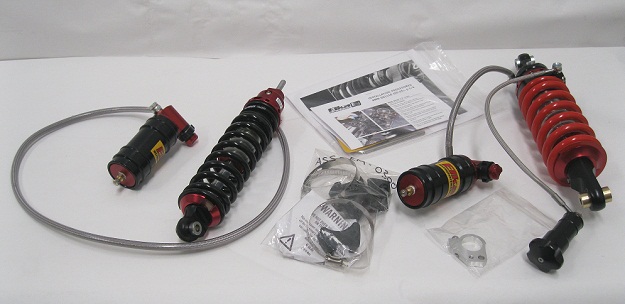 6)
Elka Set For BMW R1150GS with Hi/Lo Adjustable Compression,Rebound and Rear Prelaoder.
Any spring choice available ,rebound adjustable and rear hydraulic spring preload, reminder this is one of the brands where the front shock is smaller  36mm and a 46mm rear shock body.

The Hi Speed Compression adjusters have about 20 possible clicks of adjustment, the Low Speed about 32 possible clicks and the rebound about 40 clicks range. The Rear preloader function and about 7mm to 8 mm with about 35 clicks or so adding preload to what you already have.
New Yamaha Tenere  Application:
7)
Yamaha Tenere (XT1200Z ) Adventure Bike
 Elka  design  ( Hi/Lo Compression, Rebound , Preload Adjust)
Without Remote   FREE Shipping 48 USA
With Hydrualic Remote Preloader FREE Shipping 48 USA

8)
Yamaha Elka Tenere  Design , Hi/Lo Compression , Rebound, With Or With Out Hydraulic Preloader
9)
Yamaha Tenere  Shock HI/Lo Reservoir
 10)
ELKA   ADVENTURE / DUAL SPORT    SHOCKS
__________________________________________________________________________________
 11)
ELKA   SNOWMOBILE   SHOCKS

__________________________________________________________________________________
12)
ELKA
SIDE-BY-SIDE SHOCKS
__________________________________________________________________________________
13)
ELKA   SPORT BIKE SHOCKS

__________________________________________________________________________________
14)
ELKA
ATV- UTV SHOCK PACKAGES
__________________________________________________________________________________
15)
ELKA-Shock  SV650
16)
ELKA-Shock  SV650 , Stage 4 , Hi/Lo Adjustable Compression,Rebound,Length and Cool Spring Bearing setup

17)
ELKA-Shock  Set for BMW R1150 GS /GSA or R1200 GS/GSA
18)
ELKA-Shock Front Protector for ATV mostly (Sold in pairs)
19)
ATV Stage 3 Shocks Combo SETS
                      ATV Stage 5                    Snow Stage 5                                       Side By Side
 20)
 21)
22)


23)
ELKA set Honda Rincon 2011 set