Ducati 2016-On Multistrada 1200 Enduro
1)
Electronic Suspension Technology to wishfully select the ride outcome by poking  your nice looking dash screen!

Yes there is a cool factor to the new Ducati, but it's springs need some Viagra because it's softly sprung for most!

(unless your less than 170lbs and solo? ….)
$1250.00 = To do a Shock and Fork set with heavy Springs and Mod (in house Only) plus UPS lower 48 USA only.
No Dealer Margin, Price estimate only is clean off bike 2 forks and 1 shock in good condition.
(30 day minimum to do when time permits)
Nothing Sold Separately at this time.

2)
Above 2016 Pine Barrons 500 making a new commercial for Ducati! (see below… more pics)
It's a major challenge to get a heavier set of springs to fit this one so you can ease off the damping and feel some good ride quality.
Just removing the shock with "that" wire that goes all over that is snaked through the frame to know where and the forks is extra hassle and patents required! (allow umteen hours and extra patients or lots of money to do).
It's related to just how most all bikes are assembled at the factory and first things are put on mostly bare frames.

3)

(2016) Ryan's ~ Ducati Multistrada 1200 Enduro, Electronic Sacks Skyhook Suspension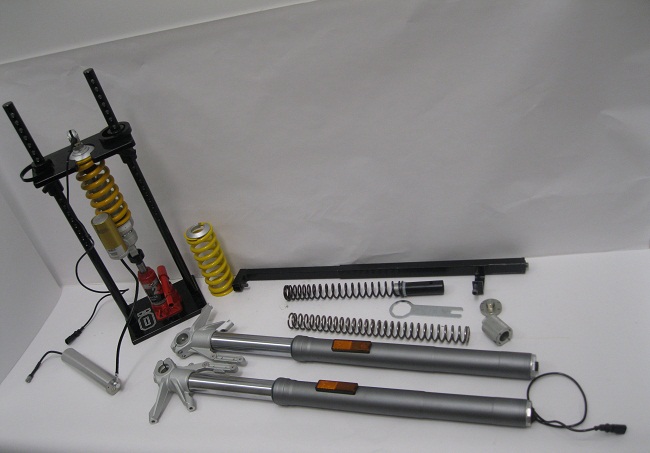 4)
We offer (in house ONLY) a Front and Rear Springs, Fork and Shock Update with tweeks to the Skyhook Sachs as well~
You would need to send them in for this ( See below more details and pics…).
To buy the Spring Press required, Sachs fork tools, Cap tools, and few other items to work on these is  more than $2000.00+  in tools alone and you still wouldn't know what to do, and most likely make a frankenstien mess of it, these are tricky and different than most other forks and shocks.
5)
Ducati's curb weight numbers generally don't account for a full tank of fuel, and with your 7.9 gallon tank topped off (so add 6.183lbs /gal.) your at 609lbs? plus everything else.
The all new 2016 Multistrada 1200 Enduro, claimed 560 pound curb weight without any added cases, racks, or camp gear with more off-road capable is its updated suspension, which has 30mm more travel (now 200mm each end) and recalibrated Ducati Skyhook Suspension (DDS) software.
The 2016 Ducati Multistrada 1200 Enduro, when adding weekend cases and camp gear as most will do, the bike became pretty wild even where it shouldn't.

A better set of springs more suited to handle a bigger range of pounds is paramount.
6)
Note the Sacks shock has no threads on shock body or spanners to remove spring.

The Sachs Skyhook Electronic controlled shock, the spring is on the soft side for most, add cases and you'll really notice if your anything but a "skinny-jean"-"man-bun" type.
The name "Skyhook stems from the unique sensation experienced during riding, as if the bike were suspended from a hook in the sky, keeping it balanced and stable" ~Ducati.
(….never felt that before…?)
If you ramp up the dash board damping to help your loading without changing springs with firmer coils the suspension just feels like a way under sprung brick.

Like most big Adventure bikes, on road is way better than off, where the vast majority sails, and just "unpaved" is extreme enough for so many.

Even with preload maxed, the springs are on the soft side to say the least, let alone adding cases and camp gear, our solo 220lbs test rider with 2/3 tank fuel had way too much fork sag and felt headshake at high speeds changing lanes, even worse loaded and had the damping cranked, not to mention the standard steering damper has non-existent function (see below…)
7)
Ducati Multistrada 1200 Enduro claims to be more offroad than any previous offerings, many updates this year.

Lots of electronic features and menu options to control various things, when it comes to the suspension real function they may be more sizzle than steak.
Cut a 100lbs off the bike and give sweet non electronic fully mechanical adjustable forks and shock for a couple thousand less off msrp? and easier access to spring rate options and dimensions anyone?

8)
The Sachs Ducati Skyhook Suspension features electronic fork damping changes.
The preload on the front right fork cap does not adjust automatically unless your turn the 19mm preload adjust on the top right cap with a wrench.

9)
The right leg preloader adds about 10mm more preload to what you already have on a "dual rate" kinda soft fork spring rate, the adjuster turns about 10 turn range overall.
The claimed "dual rate" front springs stay too soft too long for most but the super slim and skinny, if you love your groceries you'll need springs most likely.

10)
Front wheel travel 200 mm (7,9 in) Sachs 48 mm fully adjustable USD (up-side-down) forks
Rear wheel travel 200 mm (7,9 in) Sach's Shock with a 40mm body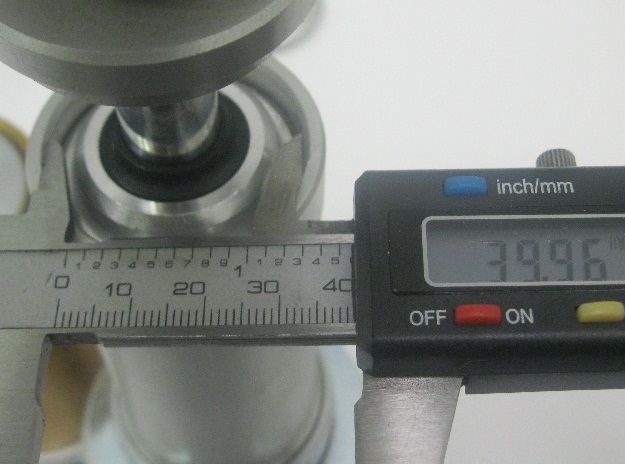 11)
Electronic compression and rebound damping adjustment with Ducati Skyhook Suspension (DSS).
12)
Tires are Pirelli Scorpion Rally Tires/front 120/70-19 rear same but 170/60-17.
It's a cool looking sexy machine.             
13)
The 48mm Sach's forks, left leg has electronic adjustable damping.
14)
Both Sach's 48mm forks have traditional good quality SKF green seals and bushings.
15)
The left leg (closer in pic) is steel stamped and pinned cartridge, the other ones aluminum.

Basically when you select harder or softer damping your using a solenoid to ramp up or down the left leg.
Maxing the front damping with the stock soft springs isn't the answer, unless you like an under sprung brick.

16)
The rear shock has a damping adjust wire that snakes thru bike and ends under seat.
17)
The rear shock is a "no -Linkage" design, so spring rate and preload is paramount for good results.
18)
The large silver "beer can" is the electronic preloader, so when you select a mode on dash the spring preload is adjusted.
The dash settings and actual spring preload in real life don't really match, more on that see below…
19)
The shock spring swap requires a spring press, the body of the shock has no threads on it, spring selection and fitment gives some challenges.
20)
"Gumby-Spring" aka leaning tower of  "pizza".

Its hard to see from the pic, but the springs ends are a little imperfect to the extent that we call it "gumby", meaning the ends are not true, sorta slopped instead of being square and straight, plum and true.
Some we see are better or worse than others but ends are slightly slanted on a lot of them.
21)
The shock damping wire disappears into the shock were the magic happens.
Same thing as front by changing damping you ramp the solenoid harder or softer settings.
22)
Menu, press once to display, press some more to scroll through the four main options, press and hold briefly to select and hear rear preloader do something, see below options…
but the actual spring preload does not actually match the dash as they list when measuring the actual shock spring movement and it's true free length, so more of a wish.
Basically four main modes….(watch spring preload as shown on dash to reality).
23)
Sport = preload at 14mm? 201mm i/(210-212 free=) really only 10mm?
24)
Touring=prelaod at 8mm pre?205mm i(210-212free=) really only 5mm?
25)
Urban=preload at 4mm pre?206mmi(210-212 free=) really only 4mm-to?,
yea!~ that ones pretty close minus the "gumby" factor of the spring end,

26)
Enduro=preload at 12mm pre 202mmi (210mm-212mm free)= really only 8?
27)
Above, shown "URBAN" mode, kind of the softest easy engine low mode, notice your choice in each mode of those icons or default:
Damping Modes shown in each big mode (SPORT/TOURING/URBAN/ENDURO)~
Helmet=( Solo )
Helmet + Bag=( Solo with Luggage )
Helmet + Helmet=( Two people )
Helmet + Helmet + Bag=( Two people with Luggage )
Default =(usually allows couple Harder or Softer Damping settings only from preset choice)

So it does damping only but not really any more rear preload, but what do we know…
28)
Most "URBAN" Modes feel like above, didn't see these icons though.
Most electronic suspension gadgets are more of a headache,
It's like having your automatic garage door opener require multiple menus that doesn't work the day it's raining and you want to get inside quickly, and a few more codes to press after that.
But the screen looks really super nice, has good colors and feels good to watch!
All that, this bike is really sweet and cool as a total riding and high mileage traveling weapon.
Bikes with electronic everything control is more of a way to hope a better experience through select of "don't fall" mode and "my elbow may not get scraped" mode, and "ease my engine delivery" mode  must be a confident boost to the masses like a comfy blue blanket.
29)
The Ducati is in need of a steering damper, oh wait?, it's sorta has one that really doesn't work (see below…)
30)
The bike comes with a non adjustable steering damper under the front, when you take it off and move it back and forth, it has almost nothing to it, so it's really a gimmick type.
31)
Don't make fun of me because i'm a little chubby, ugly, and stubby.
When off the bike, move the damper back and forth at any speed and you'll find not a whole lot going on but it's was a nice thought.
32)
Not so simple a task, on the Sach's Suspension, getting a no link shock spring on the unthreaded body with electronic preloader and same exact preload to start.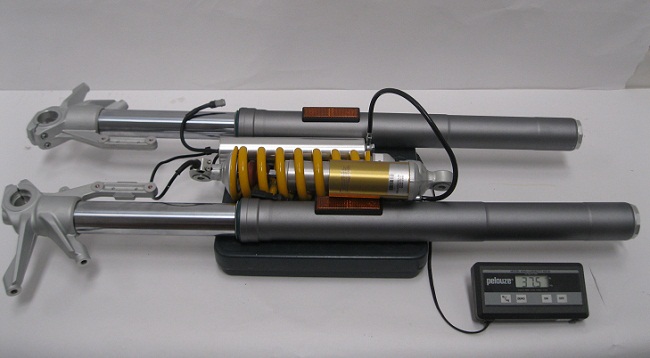 33)
The Sachs two forks with shock weigh in at 37.5 lbs without the shipping box when you send them to be updated!
The solution is way more challenging than expected.
34)
Many thanks 2016 Pine barrons 500, making a new Ducati Commercial!
35)
Pine Barrons 500
36)
Don't break that camera!