BMW R1150GS /GSA Adventure
1)
Responsible for more smiles per mile than almost any other machine!  Bmw R 1150GS / GSA (Adventure).

We sell many brands of shocks for these, lots of people bought Ohlins and they hold their value most, we also have seen every shock brand over 25+ years doing suspension only every day, we don't sell pizza slices, helmets, etc., Just Shocks!

Shocks sets (both front and rear) for this bike can range from $948.95-$2550.00 depending on what brand and features, we have sold them all and have great deals.

Ohlins has updated there shocks in the last several years so the ones we offer are the newest generation.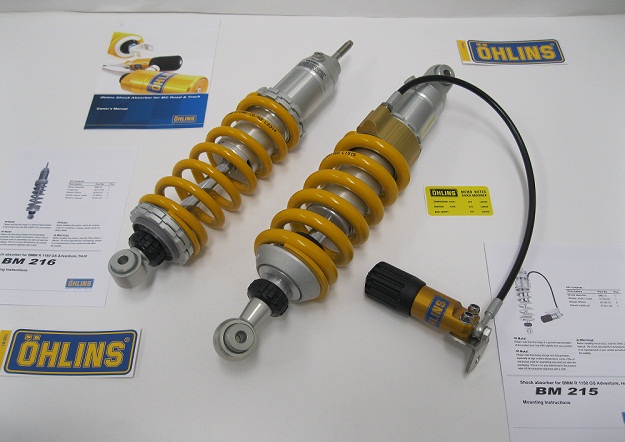 2)
(Ohlins BMW R1150 GSA Shown with preloader Above)
THESE ARE NOT YOUR GRANDMA's Ohlin's from 40 years ago!, they are not the most expensive or the least.

3)

Above, we sell a lot of these ELKA Shocks, they feature adjustable HI/LO compression at reservoir, rebound  with a preloader for the rear.
A great feature for some conditions at a great price with FREE Shipping  and NO TAX O/S.
There are many good brands for this bike, it's been out for years and many riders are the exact same weight as you and have the same loading conditions.
Some brands claim they start with a "Scratch built" 100% custom shock just for you like a "clean piece of paper" (they are dreaming) most all of the parts in a shock are similar numbers except the small percent of good stuff that makes it do its thing.
Many other brands that sell a small percent in the USA may have to say anything almost to get you to buy them. Some claim they can go 25k between services, some give you a coupon for a free first service, or any gimmick, etc.
Most issues are that the customer is completely inaccurate on weight and loading or exceeding the manufacturers max payload for each machine and the big one is never changing anything from solo empty to max loaded and expecting good results.
See below for what the stock O.E.M. Bmw throw away shocks look like after just 12k miles!
4)
For years the popular Bmw R 1150GS and GSA has brought people to many new places.
It's very popular to change out the stock OEM shocks real soon on these.
Especially when you may not be a lighter rider (200lbs or less) mostly solo (90%+) mostly street (99%) with low demand applications including very little added luggage or cases (cases and racks add 57lbs weight empty) if you leave them on even when nothings in them, it's about the same as DUCK TAPING A 50lb SACK-OF-POTATO's to YOUR CHEST!

So it is important to try and capture a range within reason that can handle one extreme to the other best, although you can not be overloaded by the manufacturers recommendations and any  add on accessories to the standard stripped machine take away from the max capacity.
5)
Some load the beast and travel to the great unknowns.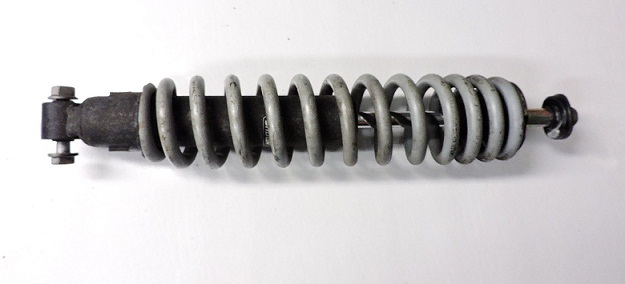 6)
What the freak is this! after just  12k miles,

They call this a shock? above the O.E.M. Bmw shock is very basic to say the most.

(PS: Bmw wants like $484.00 for this thing that is a non rebuildable throw away! and has no rebound adjustment with a skinny little body)
If a decent stock replacement is your thing for a affordable price with modest or light demends ask us about our Progessive sets.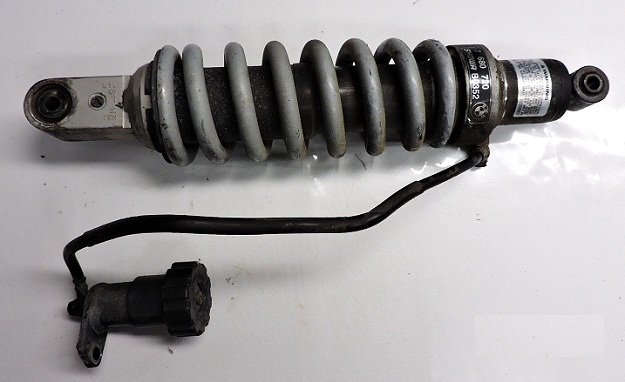 7)
Say whhhattttt????????????  again what the heck is this? 12k miles maybe.

Above the OEM Stock BMW throw away shock.
(PS: Bmw wants $896.00 GS and $1035.00 GSA for these things!)
If a decent stock replacement is your thing for a affordable price with modest or light demends ask us about our Progessive sets.
8)
BAM! (Oh-momma!)   msrp is about $1850.00 per set on these as shown.

Both are big bodies unlike some brands that have a smaller series front.
Ohlins replacements custom sprung and done for your weight and conditions as ordered preset so when you get them out of the box ready to install.
The Ohlins shocks are much more heavy duty and fully rebiuldable for years to come almost anywhere on the planet.
To make the most out of any shock you should adjust the springs preload and damping settings from a solo rider setting with no cases or added weight in them to load changes like a passenger or cases with stuff in them to fully make the most of what they can do by reading the manufacturers manual and making those adjustments.
These above have about 45 clicks of rebound adjustment and fully threaded hardened aluminum bodies for low friction and low heat build up with spanner spring preload and rear spring hydraulic remote preloader plus many options of springs and build featuring a fade free divided rear internal floating piston design.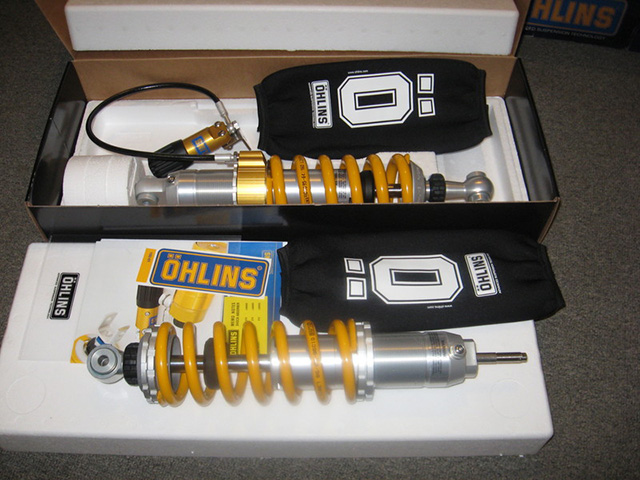 9)
Above these are the Ohlins R 1150GS shocks (the popular front Bm 425 and Bm 940 Rear).
Unlike other brands Ohlins has BOTH SHOCKS with a larger more heavy duty 46mm body 16mm shaft with 57mm I.D. springs. Some brands give you a skinny front shock and spring to match their rear shock.

Optional shock covers that can be put on and off easily with rear velcro band and stretchy top and bottoms while on the bike in minutes.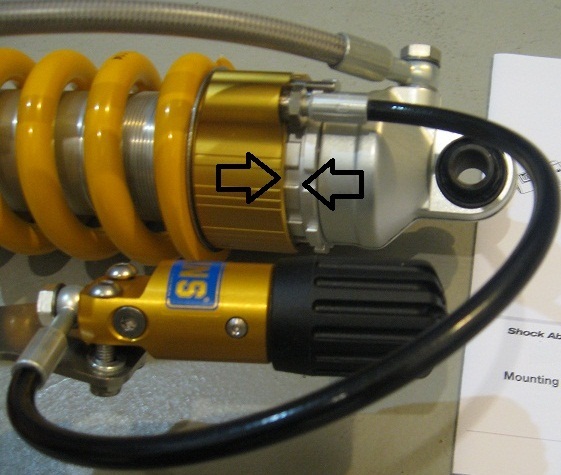 10)
The rear shock with a hydraulic spring preloader has about 23 turns or so, arrows above show spring moves when you dial in this black knob,  adding some spring preload is mostly done when adding loading or a passenger to you standard baseline solo setting.
When a shocks body is fully threaded like the Ohlins you can potentially move the entire preload gizmo to get a new range of what the preloader itself offers.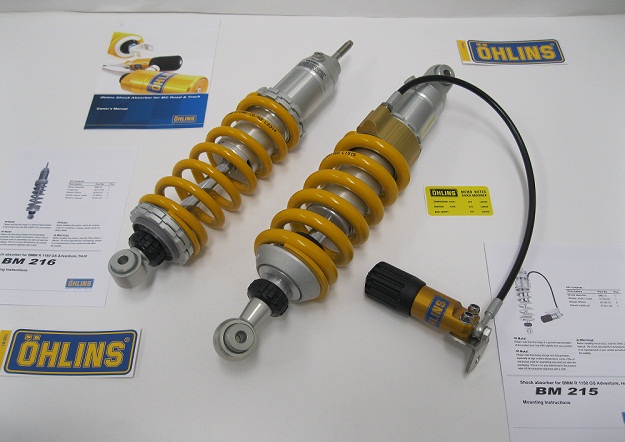 11)
Above is the BMW R 1150GSA (ADVENTURE) shocks (Bm 215 and BM216).
They are slightly longer than the  "GS"  shocks and have slightly different spring rates and valving.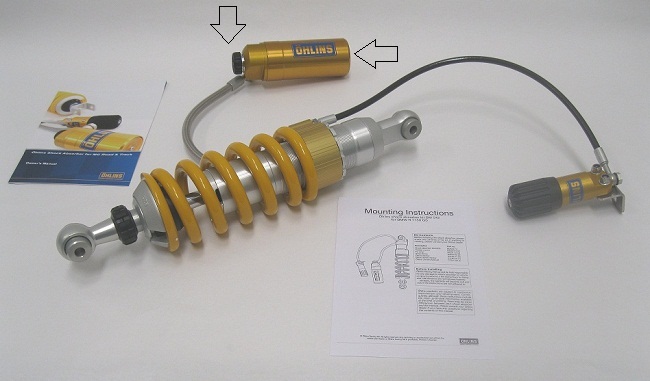 12)
Above is the Ohlins Bm 542 made for the Bmw R 1150GS.
The added reservoir that is shown with arrows to adjust compression damping  mostly for when doing fully loaded off road stuff you may add compression damping by turning the black knob as desired.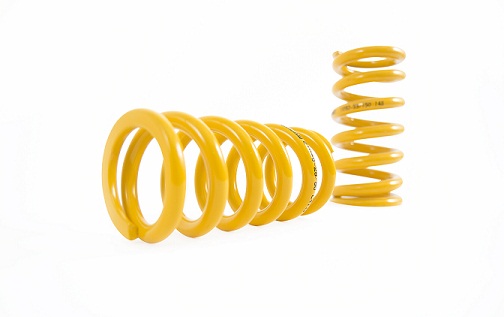 13)
Many adventure riders are buying two sets of springs when loading is extreme variations.
An example would be when doing one huge summer month journey per year heavily max loaded for a couple weeks and then returning home where most of your riding is more nominal ranges the rest of the eleven months of the year.

This is an excellent idea and also checking your shocks prior to a long ride is the thing to do.
14)
Many riders extend their riding season into the elements and leave road mung to dry on the shocks shafts and bikes metal parts, that can reduce any parts life including your shocks and good maintenance is always best.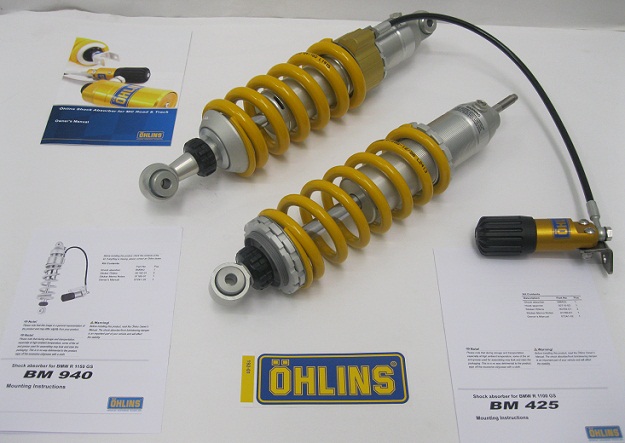 15)
Above Ohlins BM425 Bm 940 with rear preloader
16)
Above these are the Touratech shocks for the Bmw R 1150GS / GSA

The fronts (msrp $795.00 ) and the rears with preloader (msrp $ 1095.00) so the combo msrp is $1890.00 set.
They are well built and have the fully loaded most often adventure touring in mind. They have hard aluminum bodies and dividing fluid from nitrogen design for fade free performance.

The above shocks offer rebound adjust on both with hydraulic preloader with a nice range of more movement and optional spring choices.
A 220 lb rider with passenger (130lbs)  and modest luggage is a target example of the standard build.
17)
Above these are the Progressive Shocks, the front does not adjust the rebound, the rear has 5 position rebound only and remote spring preloader.
They are a sold off the shelf without spring options or choices.
The msrp on the rear is $749.95 and the front msrp is $429.95 , the set combo msrp is $1179.95
18)
Above is the ELKA shocks  (the set msrp about $1850.00)

We listed this option because the reservoirs have adjustable Hi/Lo Speed Compression damping on both front and rear shocks for a good price.

You do have to then deal with mounting the reservoirs to the frame as they show in manuals that divide the fluid from the nitrogen via internal floating pistons.

This is somewhat helpful if more true off roading adventure over whoops and G-outs in so you can easily ramp up the dampers compression as needed for the bigger stuff.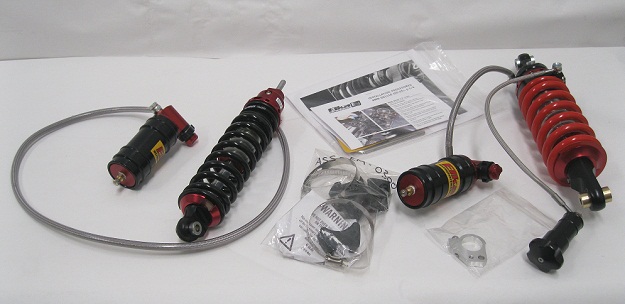 19)
Any spring choice available ,rebound adjustable and rear hydraulic spring preload, reminder this is one of the brands where the front shock is smaller  36mm and a 46mm rear shock body.
The Hi Speed Compression adjusters have about 20 possible clicks of adjustment, the Low Speed about 32 possible clicks and the rebound about 40 clicks range. The Rear preloader function and about 7mm to 8 mm with about 35 clicks or so adding preload to what you already have.
20)
Above these are Nitron shocks (they change anodizing to darker grey sometimes and update from time to time so may not look exact but blue springs are the norm).
These are 14mm shaft 40mm front and a 16mm shaft / 46mm body rear shock.
Nitron lets you customize add on features and adjustments  to both front and rear.
A popular example may be to have a front shock with rebound adjustable (msrp $699.00) and a rear shock with rebound, compression and hydraulic spring preload  (msrp $1350.00 ) so the combo would be =$2049.00
You can even add a "Hi-speed" compression circuit to the rear for another $125.00 usually.
21)
Above and below these are Wilbers shocks, they offer Blue or black springs.
They are emulsion design on both so the fluid and the nitrogen are not divided within the shock. The bodies are steel with no option for aluminum that would reduce friction and heat that is usually not an issue with on road or casual riding.
The msrp is 1495.00 a set with rebound and rear preload.
22)
The fronts are the smaller 36mm body with 22 clicks and the rear is a 46mm body
23)
Above these are Works Performance Shocks, emulsion non divided both front and rear.

Front shock msrp $619.00 (emulsion, rebound, threaded preload) rear $919.00 Rebound, threaded preload = Combo msrp=$1538.00
They have something other than true shim style valving and port style pistons like most shocks.
They use this aluminum piston blank with 4 "index drill sizes holes" and "check balls" and "small pressure springs" to control the compression damping.
24)
25)